2023 William & Mary vs Campbell
When Is 2023 CAA Football Media Day? Here's What To Know
When Is 2023 CAA Football Media Day? Here's What To Know
Campbell and North Carolina A&T football take center stage at their first CAA Media Day in 2023. Here's what to know ahead of July 24.
Jul 13, 2023
by Aidan Browne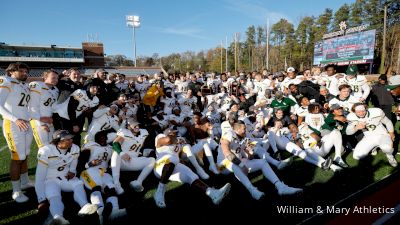 Campbell Football and North Carolina A&T officially joined the Coastal Athletic Association in July and now coaches and players alike will get their chance to meet media members of the CAA.
5 Things We Learned From CAA Football's 2023 Media Day
The 2023 CAA football Media Day is scheduled for the week of July 24th as coaches and players will meet with area media ahead of the new football season. Teams will meet via Zoom on July 25 to discuss the upcoming season.
Subscribe To FloFootball To Watch 2023 CAA Football Action
That includes Campbell and NC A&T, who officially joined the CAA on July 1. Campbell comes to the CAA from the Big South conference, along with North Carolina A&T, a historically Black college.
Those new schools join a competitive league that had five teams finish in the top 25 of the FCS rankings at the end of last season. This year, there are four preseason-ranked teams in the Athlon FCS poll, including No. 4 William & Mary, led by former Virginia coach Mike London.
When Is 2023 CAA Football Media Day?
The media day will be conducted via Zoom like the last several years.
A specific time is yet to be announced by the CAA but will be on July 25.
Where Is 2024 CAA Media Day?
The CAA plans to return to in-person media days in 2024, with the location likely being in Baltimore, Maryland.
Who's Picked To Win The CAA Football Title In 2023?
The league's preseason polls picked by CAA coaches will likely be released the week of media day, along with preseason teams. There are five teams ranked in Athlon's preseason poll.
Here are the top five ranked teams in the CAA entering the 2023 season:
CAA Football Schedule 2023: When Is Week 1?
Albany hosts Fordham on Aug. 26 to start the season. That game will be streaming on Flofootball and the Flosports app. The first conference games feature William & Mary at Campbell and Delaware at Stony Brook on Aug. 31.
Who Won The CAA Football Title In 2022?
William & Mary and UNH Football were the Co-Champions of the CAA in 2022. The two programs did not face each other due to the CAA's unbalanced schedule, but both teams finished 7-1 in conference play.
How To Watch CAA Football In 2023 On FloFootball
All CAA football games will stream on FloFootball and the FloSports app this fall. Some non-conference games may not be available on FloSports.