2022 CAA Football
FCS Programs, Including CAA Newcomer Campbell, Make Signing Day Splash
FCS Programs, Including CAA Newcomer Campbell, Make Signing Day Splash
FCS programs surprised on the Early National Signing Day, including CAA newcomer Campbell with its top 100 overall class.
Dec 23, 2022
by Kyle Kensing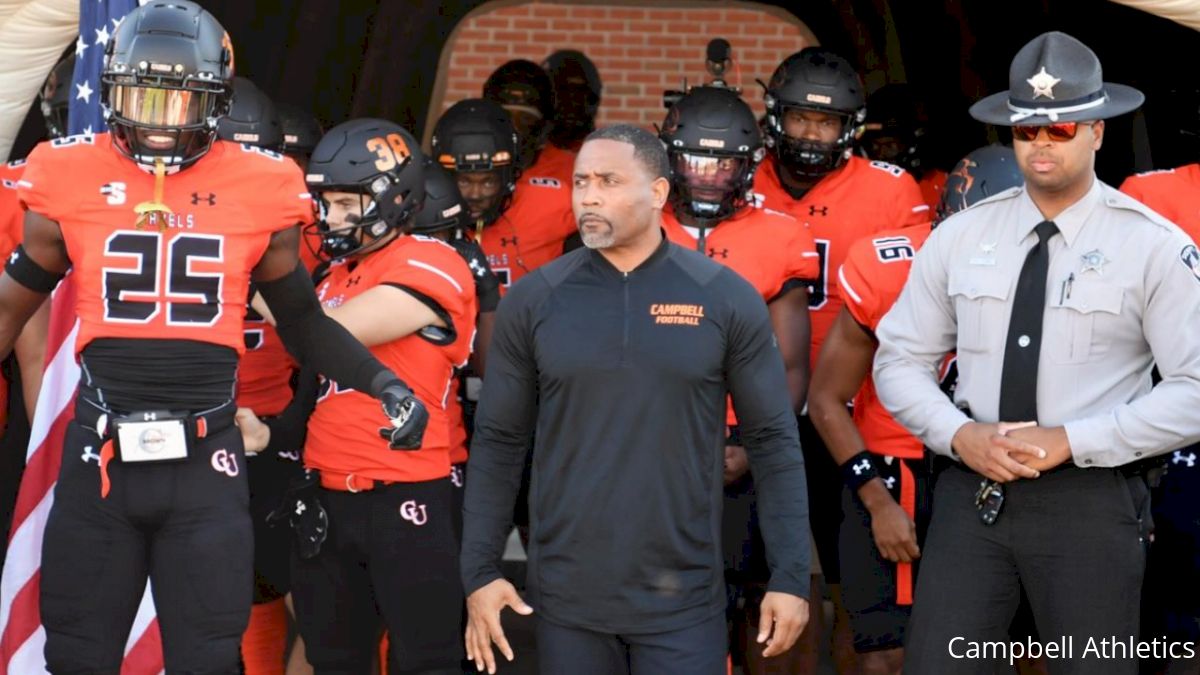 Early National Signing Day 2022 perhaps lacked some of the drama of the 2021 edition for the FCS, when Jackson State's signing of 5-star wide receiver Travis Hunter made waves among Power Five-centric media. But those overlooking the FCS missed out on plenty of fascinating storylines — perhaps the most intriguing of which emanated from Colonial Athletic Association country.
CAA newcomer Campbell landed a more highly ranked signing class than some Power Five conference members and several prominent Group of Five FBS programs. At No. 82 as of Dec. 23, Mike Minter boasts his second top 100 class among all of Div. I in as many years.
Other noteworthy FCS signing classes include a pair from the Ivy League, with Princeton and Harvard landing classes that 247Sports ranks in the top 130 nationally — both ahead of some FBS programs.
Cal Poly also cracked the top 130 of the 247Sports rankings, perhaps the most surprising development in the FCS signing period. The Mustangs finished near the bottom of the Big Sky Conference in 2022, and head coach Beau Baldwin exited for the offensive coordinator post at Arizona State.
Just two weeks after he was promoted to be Baldwin's replacement, Paul Wulff landed a recruiting class that includes a pair of 3-star prospects from California prep powers: Chris Snyder Jr. from Mater Dei Catholic in Chula Vista, and Delano Franklin from Bishop Amat in La Puente.
Wulff embraced the air-raid offense as head coach at Washington State in the early 2010s, with the Cougars finishing the 2011 season No. 9 in the FBS in passing offense despite a series of injuries to their quarterbacks. The additions of two playmaking wide receivers in Snyder and Franklin could make Cal Poly one of the more wide-open offenses in FCS next season.
Plenty of talent is on its way to the Colonial in 2023 thanks to the stacked signing classes inked in the conference's early pledge period.
UAlbany
Signees: 3
Headlining the three-man class to officially join the Great Danes on Early Signing Day is a name familiar to the CAA. Cornerback Aamir Hall transferred to UAlbany from Richmond, where he was a fixture in the Spiders secondary the last two seasons.
Hall's experience should make him an immediate starter on a defense looking for a boost after struggling in 2022. UAlbany's defense also adds local prep prospect and linebacker Troy Berschwinger. On offense, lineman Nolan Latulippe out of Quebec continues the CAA's impressive history of international recruiting.
Campbell
Signees: 15
Colonial newcomer Campbell is fast establishing a reputation as a recruiting powerhouse, signing classes each of the last two years ranked in the top 100 of all Div. I football. 247Sports.com has the Camels checking in at No. 82 after Early Signing Day, ahead of Pac-12 Conference member Cal and perennial Group of Five standout program San Diego State.
That Campbell ranks ahead of Cal and San Diego State specifically is noteworthy, as Camels coach Mike Minter and his staff flourished recruiting the state of California. Eleven prospects committed to Campbell out of the Golden State, including a quartet from Inglewood High School: offensive linemen Mason Merriweather and Luke Bledsoe; and defensive backs Makhi Connor and Dane Reed.
Delaware
SIgnees: 16
Ryan Carty and staff recruited heavily and effectively in the regional footprint, signing 13 of its 16 new additions from Delaware, New Jersey, Pennsylvania, Virginia or D.C. Among the group is quarterback Nick Minicucci from New Jersey prep powerhouse Don Bosco Prep.
Minicucci passed for more than 2,000 yards with 19 touchdowns in the 2022 high school season. From beyond the region, Delaware dipped into Florida to sign wide receiver Ja'Carree Kelly, a speedster from Gainesville, Florida.
Another Floridian comes to Delaware in the Early Signing Day class, albeit with a detour through Dartmouth. Cornerback Tyron Herring is a transfer who earned All-Ivy League in 2022 after recording 44 tackles, a pick, and three pass break-ups.
I want to thank Dartmouth College and Coach Teevens for a great four years. I am officially in the Transfer Portal. I am a 6'2 defensive back with two years of eligibility. My recruitment is open! #LFG
Link to full tape: https://t.co/q4XcAha44T pic.twitter.com/6XiQvLyXnn

— Tyron Herring (@herring_tyron) November 21, 2022
Elon
Signees: 13
To our 13 signees today, welcome to Elon! 🤝#RI23UP | #NSD23 | #AED pic.twitter.com/TDVUbKEgB4

— Elon Football (@ElonFootball) December 21, 2022
Coming off last season's breakthrough that saw the Phoenix rise to No. 12 in the STATS Perform Top 25 and earn a playoff bid, Elon keeps its positive momentum going through National Signing Day. Elon recruited well in-state, landing wide receivers Kenaz McMillian of Winston-Salem and Zimere Winston from Raleigh, as well as linebacker Will Rhodes from Burlington.
The Phoenix staff stayed in the Carolinas to find a quarterback, landing Tanner Staton from Cayce, South Carolina. Staton's recruiting suitors included Coastal Carolina and Wake Forest, per 247Sports.com.
Hampton
SIgnees: 8
Hampton follows up its first year in the CAA with some recruiting wins in the conference footprint. Robert Prunty's roster adds plenty of local talent, signing Virginia prospects like offensive linemen Guan Price and Carlos Moore, and defensive tackle Terrell Washington.
Welcome @TerrellWash3 to your Home by the Sea!@_HamptonU @HUAthletics1868 pic.twitter.com/hBfc1BtH39

— Robert Prunty (@Coachp_Hampton) December 21, 2022
HU also landed talent from New Jersey with the additions of athlete Darren Burton II and Lehigh transfer wide receiver Jaden Wimberly.
Maine
Signees: 17
Second-year Maine coach Jordan Stevens and his staff added prospects from nine states and Canada to the Black Bears roster. The frequent flyer miles logged in putting together this signing class shouldn't be the only reward Maine coaches see from bringing this class together.
Included in the Black Bears early-signing class are high school teammates, tight end Jake Cucera and wide receiver Blake Thomas, of DePaul Catholic in New Jersey. Maine also adds Xavier Lozowicki, an offensive lineman who spent the 2022 season at prep football factory IMG Academy.
Monmouth
Signees: 21
Monmouth welcomes a healthy mix of freshmen and promising transfers as part of a big signing class. Hawks coaches hit the talent-rich state of New Jersey effectively for high school, while picking up additions like Matt Fries (University of Illinois) and Marquez McCray (Sacred Heart) from the transfer portal.
8️⃣ NJ Signees In This Year's Class! #HomeTeam #BigM pic.twitter.com/3EAaUmgKRt

— Kevin Callahan Jr. (@Coach_KCal) December 22, 2022
McCray played four years at SHU, where he totaled 26 touchdowns through the air and more than 5,000 yards. Fries is the brother of Indianapolis Colts lineman Will Fries, and spent the past year working with an offensive line that blocked for one of the leading rushers in FBS. Next season, he'll get the opportunity to block for the top ball-carrier in FCS.
New Hampshire
Signees: 10
New Hampshire builds off its co-CAA championship and playoff appearance with a strong recruiting class, featuring prospects from nine states and Canada. The group includes Tavian Williams, a two-way standout at wide receiver and cornerback for Wake Forest (N.C.) High School, and Elliot Meine, a running back with breakaway speed out of Lake Braddock High in Burke, Virginia.
703 ✈️ 603 @elliotmeine_3 #NSD23 #CatJui23 😼 pic.twitter.com/qXUAZ3bXXv

— New Hampshire Football (@UNH_Football) December 21, 2022
Rick Santos and Co. beat out regional FBS counterpart UConn for a commitment from Chicago product and defensive tackle Kenyata Forbes Jr. , a top 100 prospect in the state of Illinois.
North Carolina A&T
Signees: 5
The split with coach Sam Washington just a week before National Signing Day did not deter five signees from joining the CAA newcomer's roster. North Carolina A&T recruited the state of Virginia effectively with four of its five signees coming from the commonwealth and three offensive linemen.
The offensive line trio of Sterling Wiggins, Brock Stukes, and the class's lone prospect from outside of Virginia, Illinois product Spencer Webb averages around 312 pounds. All that size up front should solidify the Aggies offense for the future — an offense that Virginia Beach-based quarterback signee K.J. White could be operating. White was a standout dual-threat playmaker for Green Run High School in the Tidewater.
Rhode Island
Signees: 13
Rhode Island's resurgence from CAA cellar-dweller to a Top 25 team and in contention for the Playoffs starts with impressive recruiting in recent years. The Rams' success on the recruiting trail continued with the 2022 early signing period. URI adds eight freshmen, as well as an influx of transfers who should have immediate impacts.
The transfer portal's provided positive results for Rhode Island with noteworthy additions Kasim Hill and Coby Tippett. The 2022 group headed to Kingston features running back Deon Silas, a productive change-of-pace playmaker at Iowa State the last two seasons; offensive lineman Kevin Pyne, a grad transfer out of Boston College; and defensive tackle Desmond Mamudi, who spent last season at Virginia Tech.
Richmond
Signees: 14
Early-enrolling quarterback Camden Coleman headlines the 14-player signing class joining Richmond for 2023. Coleman spent a season playing prep ball in South Carolina and should dive right into the mix of the position group.
The Spiders also picked up pledges from Jamaal Brown, a consummate every-down back who picked up FBS and Power Five interest while at Upper St. Clair in Pennsylvania. Local prospect Terae Baldwin earned All-State recognition at Benedictine College Prep and has the size to be an immediate factor on the Spiders front.
Stony Brook
Signees: 13
𝗜𝗦𝗟𝗔𝗡𝗗 𝗕𝗢𝗬𝗭

🌊🐺 x #HOWL x #NSD23 pic.twitter.com/xzAoNuivYE

— Stony Brook Football (@StonyBrookFB) December 22, 2022
Stony Brook's 2022 early signing class features 13 new additions, including a quintet of transfers. Four come from FBS programs. Among the group is Shaki Carson, who rushed for more than 60 yards and a touchdown on just just six carries last season at Kent State.
The Seawolves add more depth to the running back room with Charlotte transfer Johnny Martin III, a New Jersey product who rolled up 144 yards and a touchdown last season with the 49ers. Six-foot-six dual-threat quarterback Casey Case stands apart as one of the most intriguing, potentially immediate contributors joining the CAA for 2023.
Villanova
Signees: 11
A signing class heavy on East Coast talent joins Villanova's roster for 2023. The group of Wildcat newcomers includes a record-setting running back in Isaiah Ragland, who gained almost 5,200 yards for Centerville High School in Clifton, Virginia. Ragland signed with Villanova over FBS suitor UMass.
With the addition of All-South Jersey Player of the Year Ja'Briel Mace, the Wildcats running back room — a signature strength of Villanova football in recent years with playmakers like Jalen Jackson, DeeWil Barlee and Justin Covington — remains fully stocked for the future.
William & Mary
Signees: 14
Reigning co-CAA champion William & Mary reloads for 2023 with a batch of talented newcomers. Quarterback Noah Brannock is an elusive playmaker out of the pocket with a rocket arm, very much reminiscent of current Tribe signal-caller Darius Wilson.
Mike London and his staff also add Virginia Beach-based linebacker Xavier Glass, who could be the next in-state standout from the corps in the mold of Buck Buchanan Award finalist John Pius.