2023 Gulf South Conference Football
CAA Football Is Filled With International Flavor
CAA Football Is Filled With International Flavor
The CAA is full of international flavor, with 22 players from eight different countries outside of the U.S. on rosters from Maine to Towson.
Jul 26, 2021
by Kyle Kensing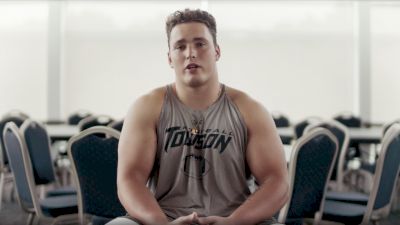 From a roster that sometimes practiced with as few as five players, to being part of a Division I program, Max Lovblad's come a long way in his football journey.
"Football is pretty small back home," said the Maine Black Bears offensive lineman. "There's only a few teams here and there."
Back home for Lovblad is Sweden, a nation that has produced plenty of international sports star — Hockey Hall of Famer Mats Sundin and soccer sensation Zlatan Ibrahimovic, to name a few. They represent the country's most popular games, along with floorball.
As a boy, Lovblad tried both soccer and floorball. They weren't for him.
"Then out of nowhere," he said, "My dad asked me, 'What kind of sport do you want to do?' And I said, 'I want to play football.' So, he went online and there was just one team that was starting up in my city."
Lovblad knew next-to-nothing about the sport, having seen "maybe two NFL games" in his life to that point. The physicality appealed to young Lovblad, however, and signing up for the fledgling club set the course for his life.
That first team in Marsta may have been rudimentary, playing just one game in Lovblad's initial season. Nevertheless, "I was hooked," he said.
From there began a path that brought Lovblad to the United States as an offensive lineman for the Maine Black Bears.
His story is not unlike dozens around college football, particularly in the last decade commensurate with more programs expanding their recruiting beyond the United States.
In the Colonial Athletic Association, where football membership spans much of the Eastern Seaboard, international representation spreads across the Atlantic and wraps to the other side of the globe. Twenty-two players from eight different nations other than the U.S. — Australia, Austria, Belgium, Canada, Denmark, Germany, Netherlands and Sweden — appear on eight of the league's rosters.
They all arrive stateside with unique stories, shaped in part by the relationship their home countries have with the sport. But there is a common theme among several CAA international players.
"I [was] helped by a German recruiting agency called PPI [Premiere Prospects International Recruits], [which] invited me on the second Dream Chasers Tour," Lovblad said. "We did a bunch of camps. We started at Rutgers and traveled through the whole East Coast.
"I got my first offer at Old Dominion University," he added. Old Dominion was a football member of the CAA in 2011 and 2012.
Lovblad's journey thus has CAA roots, and so does PPI. The brainchild of Brandon Collier, a two-time All-CAA selection at UMass, PPI launched in 2017 and has already made a profound impact on the recruiting landscape.
The Dream Chasers Tour exposes college coaches to European talent, and provides the players a taste of America without having to leave home entirely before college.
"The only way they'd get an opportunity [previously] was to go to high school in America," Collier said. "If a kid's talented enough [to play college football], why not help his family save the money [necessary to attend high school in the U.S.]?"
Dream Chasers is an apt name indeed for the program. A recruit from the first edition of the tour, Belgium's Tibo Debaillie, said of playing in the States, "I'm living my dream."
Towson coach Rob Ambrose spotted Debaillie, and the head Tiger had to know more.
"Tibo shows up for camp, and I'm watching him like, 'What does he weigh? Are you kidding me?'," Ambrose said. He pressed further.
"'Is he smart?'" Ambrose asked, to which he was told: "Coach, he knows five languages.'
"I go, 'Well, I guess he's not going to have any problem picking up the playbook.'"
Debaillie had no trouble with the playbook. His native's time at Towson was productive enough that the kid whose dad once paid for a special television package to beam American football into Gistel became a pro. Debaillie was drafted to the Canadian Football League's Edmonton Elks this spring.
His success story began an entire approach for Towson's recruiting strategy.
"You could not have a better ambassador [than Debaillie]," Ambrose said. "After Tibo, I went through a whole itinerary [to develop a European pipeline]. In a week of traveling to six different countries, it was cheaper to send them over there to do that than a week of recruiting in the States.
"People hammered me pretty good —'Oh, I can't believe you spent money sending assistants over there' — but when you see Roman Wahrheit, you understand why I do,"Ambrose added.
Wahrheit, a product of Rhauderfehn, Germany, is a starter on the Tigers offensive line as Debaillie was on the defensive. Collier said Germany is the most plentiful recruiting pipeline on Europe currently, a byproduct of post-World War II American presence and influence in the nation.
Japan received a similar introduction to football, and has one of the more robust organized college football organizations anywhere in the world.
While certain nations have more experience and familiarity with the game, a recurring theme among CAA international prospects is how many play on the lines.
From Towson's Wahrheit and Florian Staehler (Koln, Germany); to Stony Brook's Ludvig Burrell; to Maine's Lovblad; and UAlbany's Max Plank (Vienna, Austria), the Colonial is rife with European linemen.
Said Collier: "It's hard to find big people who can move. Those guys are a little more attractive."
A combination of size and footwork translates from nation to nation. Similarly, the art of kicking can cross sports — which has made Australia a hotbed for recruiting kickers.
So-called Aussie Rules football's rules and gameplay more closely resemble rugby than they do America's favorite sport, but the kicking style makes for a fine foundation to mold a gridiron kicker.
James Madison's Harry O'Kelly ranks among the best in the Football Championship Subdivision. The All-CAA honoree is an AFL (Australian Football League) fan who "didn't watch much" American football in his youth, but developed a talent for booting.
Through ProKick Australia — founded in 2007 and headed up by one-time Green Bay Packer Nathan Chapman — O'Kelly prepped for an opportunity to come to the U.S. Both his ability and the network ProKick has fast established in the States helped him to Harrisonburg.
O'Kelly's "good mate Kirk [Christodoulou] at Pitt" helped the punter make contact with the former James Madison staff under Mike Houston. O'Kelly showcased his booming kicking style to his suitors through a series of YouTube videos.
Social media levels the proverbial playing field for international recruits who don't have the same opportunities to be seen on autumn Friday nights or at the same amount of camps as their American counterparts.
Lovblad similarly cited Collier and PPI helping his recruiting through social-media highlight packages.
And as platforms like YouTube and Twitter give more opportunities to international recruits, imports like O'Kelly can use it to initiate their countrymen into American rivalries.
See you soon mate @aaron_trusler !! You'll be doing a lot of punting in Richmond 😏 https://t.co/x3PImdDcjN

— Harry O'Kelly (@HarryOKelly) June 18, 2021
Playful banter aside, O'Kelly said the ProKick products are "a close-knit group."
Living on the other side of the planet when COVID-19 shut down the world, a variety of Australian-born kickers made the most of their connections here in the U.S.
"When we couldn't go home, there was like 10 of us who went down to Fort Lauderdale and spent Christmas together," O'Kelly said. "My little brother [Seamus O'Kelly] played at Texas State, as well. When everything got shut down last year, he came and lived with me in Harrisonburg for a few months."
The CAA's Australian kicking community now includes O'Kelly, Richmond's Aaron Trussler, and Stony Brook's Mitchell Wright. And while O'Kelly was originally a recruit of the former JMU staff, his importance to the Dukes' success under Curt Cignetti seems to have kept the pipeline open with Hugo Nash committed to come in 2022.
International recruiting indeed isn't a passing fad, and will only expand as football gains popularity around the globe. Ambrose says that is a win for the game as a whole.
"What I think it's going to do is make the game better," he said. "There's going to be kids in the States who see these kids who aren't brought up the same, and see them have tremendous success because they work so hard trying to be good."