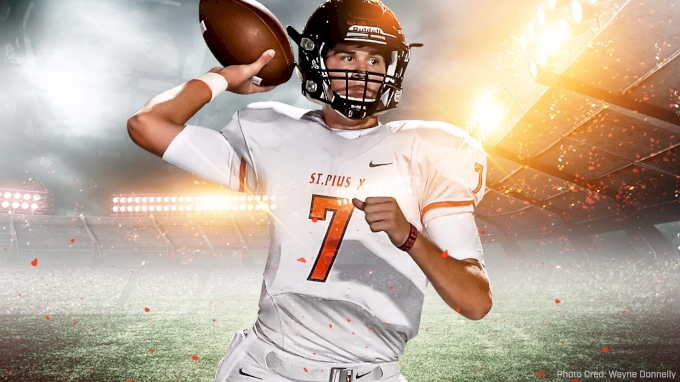 <span id="selection-marker-1" class="redactor-selection-marker" data-verified="redactor"></span>
St. Pius X Panthers
| Jersey | | Players | | Position |
| --- | --- | --- | --- | --- |
| 1 | | Trenton Waggoner | | WR/CB |
| 2 | | Chase Lane | | WR/SB/CB |
| 3 | | Seth Condit | | FS/WR/CB |
| 4 | | Ramon Vitulli | | WR |
| 5 | | Jalen Curry | | WR/FS |
| 6 | | Zion Lewis | | CB/SS |
| 7 | | Grant Gunnell | | QB |
| 9 | | Kaleb Ducross | | WR/RB/CB |
| 10 | | Jacob Jefferson | | WR |
| 11 | | Justin Hull | | RB/SB |
| 15 | | Matt Dillard | | DB/WR |
| 17 | | Coby Roberts | | FS/QB |
| 20 | | Ja'kouvis Griffin | | DB/RB |
| 22 | | Bruno Forestieri | | OLB/RB |
| 23 | | Brice Vooletich | | OLB/WR |
| 24 | | Jarvis Johnson | | WR/CB |
| 32 | | Ricky Lester | | WR/DB |
| 34 | | Levi Marion | | LB/FB |
| 35 | | David Selby | | K/P/OLB |
| 37 | | Lucas Woods | | FS |
| 43 | | Carson Journee | | MLB/FB |
| 44 | | Christian Kubosh | | LB |
| 45 | | Colby Bonds | | MLB/FB |
| 50 | | Miguel Serna | | DT/OL |
| 51 | | Jacob Craig | | OL/DE |
| 52 | | Drake Parks | | T |
| 55 | | Hunter Bull | | DE/DT |
| 57 | | Benil Johnson | | DT/DE/NG |
| 58 | | Jeremy Garcia | | C/OG |
| 64 | | Mckade Mettauer | | OT/C/DE |
| 65 | | Wesley Benford | | OL/DL |
| 66 | | Brett Ellison | | C |
| 75 | | Tyler Vrabel | | OL/DL |
| 77 | | Thommy Good | | DT/NG |
| 78 | | Matthew Morgan | | T |
| 90 | | Alec Harris | | RB |
Faith Lutheran Crusaders
| Jersey | | Players | | Position |
| --- | --- | --- | --- | --- |
| 1 | | Joshua Hong | | CB/WR |
| 2 | | Nate Meredith | | LB |
| 3 | | Michael Peck | | WR |
| 4 | | Charles Dowell | | SS/WR |
| 5 | | Justin Chung | | OLB |
| 6 | | Myles Price | | WR/CB |
| 7 | | Sagan Gronauer | | QB |
| 8 | | Elijah Kothe | | WR |
| 9 | | Keagan Touchstone | | CB/WR |
| 10 | | Taimani McKenzie | | S/WR |
| 11 | | Tupe Mccomber | | RB/OLB |
| 12 | | Ma'a Gaoteote | | OLB/WR |
| 13 | | Briggs Garrison | | OLB/WR |
| 14 | | Peyton Thornton | | WR |
| 16 | | Gabe Rodriguez | | WR/CB |
| 17 | | Brian Dunn | | WR/CB |
| 18 | | Eddie Gentile | | WR/CB |
| 19 | | Dylan Krueger | | QB |
| 20 | | Saundre Spiller | | RB |
| 21 | | Jayson Strimling | | RB/OLB |
| 22 | | Hunter Kaupiko | | DE/OLB |
| 23 | | Keywali Anderson | | DE/TE |
| 24 | | Max Roan | | FS/WR |
| 25 | | Jared Strong | | WR |
| 27 | | Pierce Ellington | | CB |
| 28 | | Antonio Vargas | | WR/CB/K |
| 29 | | Peyton Simmons | | CB |
| 32 | | John Thomson | | OLB |
| 33 | | Conor Paravia | | OLB/RB |
| 42 | | Carson Cook | | RB/OLB |
| 50 | | Cameron McCormick | | OL/LB |
| 52 | | Ty Crawford | | OL/DL |
| 54 | | Tino DeGeorge | | OL/DE |
| 55 | | Trent Teunis | | MLB |
| 56 | | Harry Mckeon | | G/DT |
| 60 | | Connor Bourne | | DT |
| 62 | | Connor Berg | | OG |
| 63 | | Micah Chilman | | LB |
| 64 | | John Barber | | T/DE |
| 70 | | Jacob Granada | | T/DT |
| 71 | | Daniel O'connell | | OL/DL |
| 72 | | Jacob Freel | | G/DT |
| 75 | | Zeke Nomaaea | | NG |
| 76 | | Ethan Osan | | C/OG |
| 77 | | Jack Studley | | T |
| 78 | | Zach Mcpherson | | OT/DE |
| 79 | | John Schulte | | WR |
| 80 | | Eric Ho | | WR |
| 81 | | Dalton Kincaid | | FS/WR |
| 82 | | Noah Vernon | | SS/WR |
| 87 | | Elijah Lee | | SS/WR |
| 88 | | David Heckard | | TE/DE |

How to Watch St. Pius X High School vs Faith Lutheran High School
On TV:
Available on Roku and Apple TV 4 -- download the FloSports app now.
Streaming:
Only on FloFootball with a PRO subscription. A yearly PRO subscription provides access to ALL FloSports sites.
JOIN NOW
Join The Conversation On Social
Follow us on Twitter
@FloFootball_
Follow us on Instagram
@FloFootball
Follow us on
Facebook
Follow us on
YouTube
FloFootball's hottest content, delivered to your inbox
Don't miss breaking news, feature stories, event updates, and more. Sign up for the FloFootball mailing list today.