2023 Gulf South Conference Football
Seasons To Remember At Limestone, Wingate Lead To The Playoffs
Seasons To Remember At Limestone, Wingate Lead To The Playoffs
South Atlantic Conference representatives Limestone and Wingate open the 2022 NCAA Playoffs with tough 1st Round matchups against mirror opposites.
Nov 18, 2022
by Kyle Kensing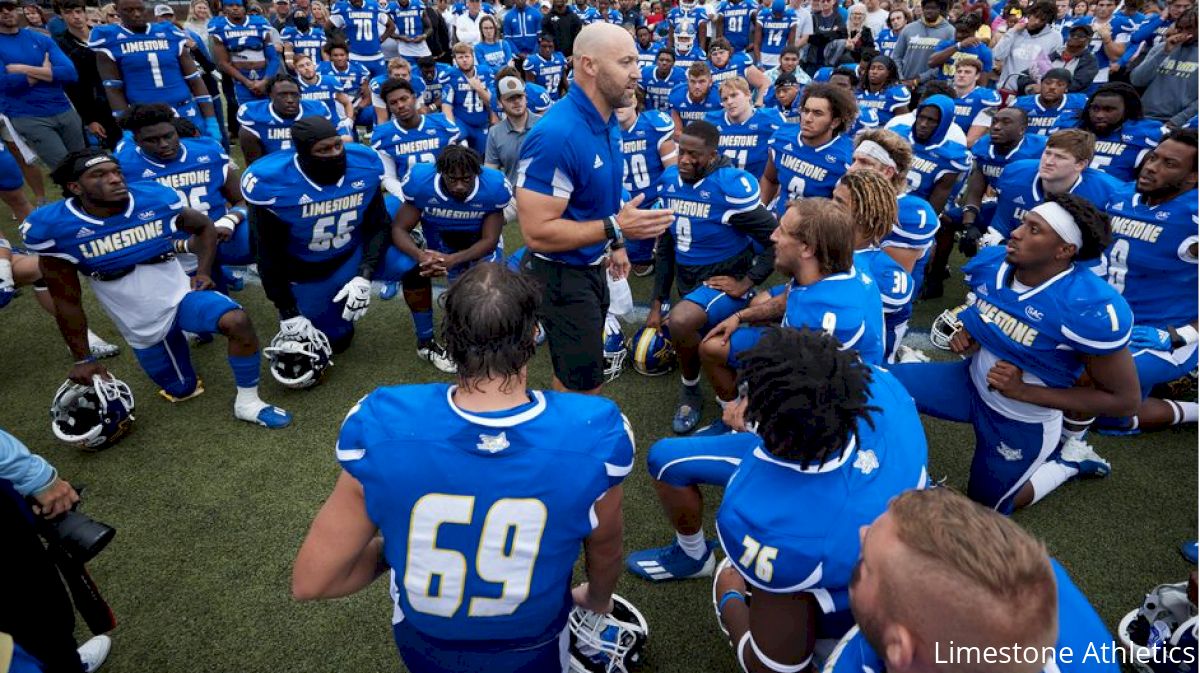 A season for the ages at Limestone now progresses into a postseason for the record books.
The Saints, along with the Wingate Bulldogs, represent the South Atlantic Conference in the 2022 NCAA Div. II Playoffs. Both are in action in the 1st Round, taking on strong opponents for what could be the weekend's two most exciting games.
Limestone carries its four-game winning streak into a date with West Florida, the upstart powerhouse from the Gulf South Conference. Coach Pete Schinnick and the Argos offer an instructive blueprint for a team like Limestone, building a national champioship-winning program just years after its inception.
The 2019 national champion Argos welcome coach Mike Furrey's Saints to Pensacola, Florida, in a No. 3 vs. No. 6 matchup. Points should prove plentiful between offenses ranked fourth and 20th nationally for scoring offense. The Argos are putting up almost 44 points per game and the Saints average north of 36.
Limestone's offensive production has also seen an uptick down the stretch, producing at least 42 points in three of the last four and no fewer than 34 over that run.
No surprise, but both offenses feature running backs who rank among the country's best statistical. West Florida's Shamori Mason has gained 893 yards on just 113 carries, balancing touches with the Argos' prolific passing attack. UWF quarterback Peewee Jarrett's thrown for 27 touchdowns on the season.
Likewise, Limestone can go to the air with savvy playmaking quarterback Dustin Noller, a national top-40 passer with 2,246 yards and 20 touchdowns; and Tre Stewart, the Saints All-America-caliber running back toting the rock to the tune of 139.6 yards per game.
The other 1st Round contest featuring an SAC representative offers another clash of similarly constructed teams, albeit with identities much different than the high-scoring offense that define Limestone and West Florida.
Wingate, the Super Regional's No. 5 seed, allows just 10.7 points per game headed into a matchup with fourth-seeded Virginia Union and its 16.4-point per game defense.
Both rank in the nation's top 20 for scoring defense, with Wingate having spent much of the season at No. 1. The Bulldogs owe not-insignificant credit for their stingy defense to an imposing defensive line.
Marquise Fleming and DJ Horne both earned 1st Team All-SAC honors, the duo combining for an incredible 33 tackles for loss and 18 sacks. There may not be a duo anywhere in Div. II football better at getting into opposing backfields than Fleming and Horne, though Virginia Union's Armonii Burden and Isaac Anderson combine for 13 tackles for loss on the season.
Disrupting the run game in the backfield should prove critical to Saturday's contest, particularly with Virginia Union's offense leaning heavily on the most prolific ball-carrier in the nation, Jada Byers. Byers rushed for more than 1,800 yards in the Panthers' 9-1 regular season.