2022 William & Mary vs Richmond
CAA Notebook: Making Championship Memories On Rivalry Week
CAA Notebook: Making Championship Memories On Rivalry Week
In 2008, the Capital Cup was a necessary jumping-off point for a national championship. Can history repeat in 2022?
Nov 18, 2022
by Kyle Kensing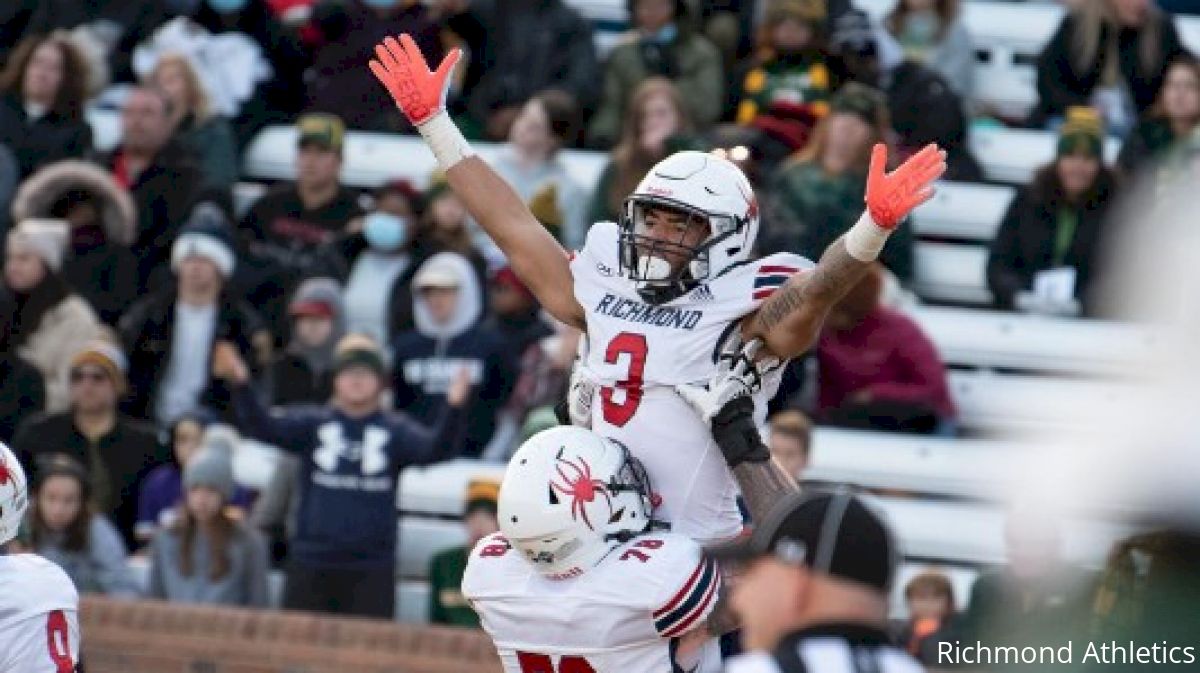 Avoiding mention of 2008 when discussing the 133rd edition of the Oldest Rivalry in the South is possible — it just isn't easy.
That season, Richmond went on a postseason run for the ages. The Spiders ended the Appalachian State dynasty, routing the three-time defending national champion Mountaineers in the national quarterfinals before knocking off perennial FCS contender Northern Iowa in the UNI Dome.
In the National Championship Game, Richmond concluded its run with a win over yet another traditional FCS power, Montana. The 24-7 Spiders victory marked a fitting finale for Russ Huesman as Richmond's defensive coordinator before taking over as head coach at Chattanooga.
And it may well have never happened, Huesman points out, had Richmond not claimed the 2008 Capital Cup.
"If we don't win that game," Huesman said of the Spiders' 23-20 victory over William & Mary to cap the 2008 regular season, "We don't go to the Playoffs."
The 2008 Capital Cup was the first memory the Richmond coach cited when asked of his recollections from the 23 installments in which he's been involved, both on staff for the Spiders and the Tribe. Being the one that Huesman jumped to first isn't insignificant, either, given his 20-3 record in the series.
"Beating 'em the year we won the national championship, I remember that one vividly because that was an overtime game," Huesman said. "They ran a little high play by the tight end in overtime, and he was open and they under-throw it, [otherwise] it would have been a touchdown."
Literal inches potentially being the difference in reaching the Playoffs or not sets the scene nicely for the 2022 Richmond-William & Mary contest. Both teams are presumably locked into the field of 24 at 8-2 and 9-1 — 2008 marked the penultimate postseason with a 16-team bracket — but the Spiders may not be safe without similar oh-so-close plays scored in succession to seal their Week 11 defeat of Delaware.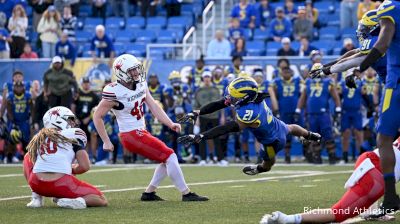 Tristan Wheeler and Jeremiah Grant combining for a fourth-and-1 stop of Blue Hens running back Quincy Watson, Reece Udinski's fourth-and-4 connection with Jerry Garcia Jr. for a 45-yard gain, setting up Jake Larson for his game-winning field-goal kick: All were the same brand of marquee plays necessary to salvage championship dreams.
In this case, the win didn't just keep Richmond in the playoff picture; it opens the door for the Spiders to win the Colonial Athletic Association championship.
"Sitting here in November in five years of being here, this is really the first time that we've played meaningful football games [at this stage of the season] that are going to determine our future," offensive lineman Joe More said. "That's been the biggest difference, and because of that, I feel like there's a lot more fire and passion the team's playing with."
The same can be said of William & Mary.
"My true freshman year here, we won two games," said Tribe defensive lineman Carl Fowler following William & Mary's Week 11 win over Villanova. "Ended the season on a seven-game losing streak. I think we're on an eight-game winning streak right now The Streak Is Six Wins Going Into Week 12, But That On Its Own Matches The Program's Best Single-season Record From 2016 Through 2021. That switch-up over the last six years is incredible to be a part of.
"It goes without saying, winning is better than losing," Fowler added.
The Tribe are a lock for their first playoff appearance since 2015, but need a win on Saturday to claim no worse than a share of the program's first CAA championship since the same season.
Such are exactly the kind of stakes envisioned for William & Mary football when Mike London was tabbed to succeed future Hall of Famer Jimmye Laycock as head coach three years ago.
No stranger to the Oldest Rivalry in the South himself, London has been on both sides — including on the Spiders sidelines as head coach for that 2008 classic.
"There's so many things wrapped up in this particular game once again that it's fitting it's the last game of the season and a lot is at stake. But having been on both sides of it, it's about the players," London said. "It's about the alumni that appreciate having that [Capital] Cup in their office or displaying it on your home territory.
"And that's the great thing about college football and the end of the season right now, " he added.
Rivalry Week: Rated TV-MA?
While FloFootball.com is proud to stream CAA football all over the world, it may be for the best the platform won't have players mic'd up on Rivalry Week. Richmond's Joe More explains.
"One of their defensive ends [Fowler]...He's been here just as long as I have, if not longer," the Spiders offensive lineman said. Both are super-seniors. "The past five years we've gone against each other every time, so we've got a little bit of a back-and-forth when we're out on the field."
And what's that back-and-forth entailed?
"Some of it's not too good for [repeating]," More laughed.
What's At Stake In Week 12
Delaware: After surging out front of the CAA through the first month-and-change, the Blue Hens have dropped two of their last three and three of the last five. Still, at 7-3, a win in the Battle of the Blue over rival Villanova should be enough to ensure Delaware a bid to the Playoffs.
What's more, the Blue Hens seek to claim the Battle of the Blue Trophy for the first time in a fall season since 2011.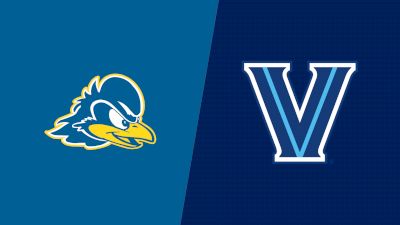 Unlock this video, live events, and more with a subscription!
Get Started
Already a subscriber? Log In
"The thing I didn't necessarily know when I got back was how Villanova's kinda been in control of it for the last decade or so," Delaware alum Ryan Carty said of the Wildcats' dominance in the rivalry. "Having my head down in my own rivalry games over the course of time, I kind of lost track."
During his playing days at UD, Carty was on Blue Hens teams that ran off three straight victories over Villanova. Those victories from 2003 through 2005 account for the program's last winning streak in the series.
Among the stops Carty made between his graduation from Delaware and returning to Newark as head coach was New Hampshire, growing from the Sean McDonnell coaching tree. UNH heads into Week 12 and rivalry Saturday with its own historic goals in reach.
New Hampshire: The Wildcats are guaranteed a share of the CAA championship with a win in the Battle for the Brice-Cowell Musket, and regardless of tiebreaker scenarios, would likely be a lock for the playoff field.
Should UNH solidify its place in the Playoffs, Rick Santos would accomplish an achievement neither Hall of Famer Bill Bowes nor future Hall of Famer Coach Mac reached in making the postseason in Year 1 as head coach.
Dylan Laube: In addition to New Hampshire's team goals of a CAA championship and playoff bid, Wildcats running back Dylan Laube can realistically reach 1,000 yards rushing for the regular season with a 190-yard outing — he went for 202 against UAlbany in September.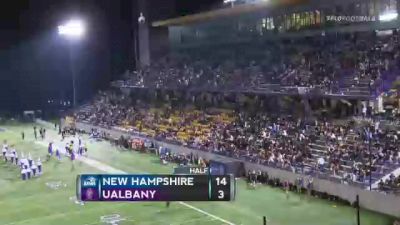 Unlock this video, live events, and more with a subscription!
Get Started
Already a subscriber? Log In
Laube would be New Hampshire's first 1,000-yard since Dalton Crossan went for 1281 yards in 13 games in 2016, and the first Wildcat to do so in the regular season since Stephan Lewis in his 2002 All-American campaign.
Laube can also solidify himself as a potential 1st Team All-American if he maintains his nation-best punt-return average to close the regular season.
Jaden Shirden: The nation's leading rusher for the better part of two months, Monmouth running back Jaden Shirden heads into Week 12 with a 63-yard advantage over Youngstown State's Jaleel McLaughlin.
McLaughlin has come on strong through the back-half of the season, including posting a season-high 227 yards last week against Missouri State. He's reached the 200-yard mark four times, three of which have been since Oct. 15.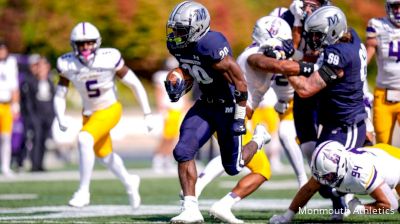 Youngstown State closes against Southern Illinois, the nation's No. 11-ranked rushing defense at 105 yards allowed a contest. Should McLaughlin go off for another 200 yards, however, Shirden can maintain his lead with 150 yards against Stony Brook.