2022 Grand Valley State vs Davenport
No. 1 Grand Valley Dominates With Substance Over Flash
No. 1 Grand Valley Dominates With Substance Over Flash
Trading eye-popping individual statistics for total-team dominance, Grand Valley is embodying the value of collective effort in a dominant season.
Nov 10, 2022
by Ron Balaskovitz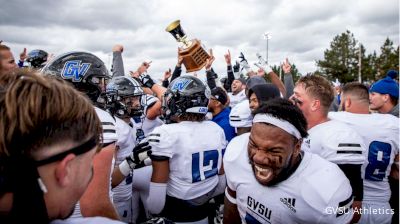 Coming into the 2022 season, the makings were there for this to be a special season for the Grand Valley State Lakers.
Yes, in the preseason GLIAC poll, the Lakers were voted second behind reigning national champion Ferris State, which, while understandable, was maybe a bit of a head-scratcher at the time.
Ferris State had lost its starting quarterback along with a handful of other talented players off last season's team. They weren't going to be bad by any means, but there were enough players gone where you could ask a couple questions.
Then there was Grand Valley State, the premier football program of the Division II level back in the early 2000s.
The Lakers, despite losing twice to Ferris State last season, returned 18 starters to this season's team, including eight All-GLIAC selections from the year before. If Ferris State was picked because of what it had accomplished before, GVSU probably could have been the pick just based on all the talent that was coming back.
Entering the season, the Lakers were ranked as high as fourth in the country, and since then have done everything they can to prove why they might have been under-ranked coming into the season, despite being fourth.
They opened the season with a 25-22 win over the No. 4 team in the AFCA polls, Colorado School of Mines, then followed that up with a convincing road win over No. 21 Colorado State-Pueblo, 35-10, dominated rival Saginaw Valley State, then No. 17, by a 29-10 score, and put the biggest feather in their cap with a thrilling 22-21 road win over then-No. 1 Ferris State, 22-21.
A win on Saturday over No. 18 Davenport would mean a perfect 11-0 regular season with five wins against ranked teams. As impressive resume as any team at any level of football.
What's perhaps most impressive about the Lakers is they've dominated this season from start to near-finish, and have done so without a true star lighting up the stat sheet on offense or defense, despite both units being in the Top-10 nationally in points scored, and points allowed.
The offense sits at seventh in the country at 41 points per game, tops in the GLIAC by four points over Ferris State. But a look at the national leaders in individual stats, and you have to scroll a little farther than you would think for a team that's averaged nearly six touchdowns per game.
Quarterback Cade Peterson sits 45th in the nation in passing yards, and tied for 59th in passing touchdowns with 14. Good, but hardly amazing numbers. Their leading rusher, Tariq Reid, is 50th in the country at 768 yards, but is tied for 10th in the country with 14 rushing scores. They don't have a receiver among the top 140 in yards.
And yes, part of that is that outside of their close wins against ranked foes, the Lakers have romped the other five weeks and give those stars a rest rather than pad their stats. But still, to have an offense that scores over 40 points per game and have nobody among the elite statistically at the skill positions is a rarity.
And it's not like that number is padded by defensive scores. The Lakers defense, for as good as it is, and which we'll get to in a second, is without a score this year.
What they do have on offense is depth, with six players who average over 20 yards per game on the ground, and while Reid's 14 touchdowns are impressive, they have another 22 spread among nine other players who have found the end zone this season.
Another key to that offensive success: Simply possessing the ball. The Lakers have lost just nine turnovers this season, fourth-fewest in the country.
While the offense has been methodical and efficient, the defense has been just as machine-like.
The 22 points they gave up in the opener to Colorado School of Mines is the most they've allowed this season. And despite no shutouts this year, the Lakers have held everyone but Ferris State to 14 or less, including two games of seven, and two games of three.

Unlock this video, live events, and more with a subscription!
Get Started
Already a subscriber? Log In
GVSU has conceded just 13 touchdowns in 10 games, a handful of those coming in garbage time after games were out of hand, putting them second in the country at just 10.6 points per game. The Lakers are among the Top-10 in 3rd down percentage allowed, 12th in yards allowed, and a solid 33rd in turnover margin at plus-6.
Even their tackles for loss, good at 29th in the country and over seven per game, but nothing that's amazing.
Like the offense, they've done it without a star player dominating. Their leading tackler has 65 on the season. While 21 different players have been credited with at least half a sack, the team leaders in the category each have four. Nobody has more than one interception, and the leader in fumbles recovered has two.
They just flat-out stop opponents. The Lakers don't force a ton of turnovers, they just stop you before you get going, giving up just 135 first downs this season: 13.5 per game, good for 12th in the country.
It's one of the stranger seasons at any level of football. A team that has been so dominant, and beaten so many quality opponents, and there isn't one guy on either side of the ball that has stood out to the point where they're garnering national attention, or coming anywhere close to setting records.
But that's what makes this Grand Valley team so good, with 18 starters back, they didn't need a star to make it happen, or where if that star had a bad game, they might be in trouble. Instead they've had 22 guys and beyond all pulling the same way, and it's put them at the brink of an 11-0 season, and would see them enter the playoffs as the No. 1 team in the country, and the potential favorites to win it all.
It's different, but it just might be the key to getting Grand Valley back to the glory days it experienced roughly 20 years ago.