2022 Lamar vs New Mexico State
Lamar Vs. New Mexico State: Aggies Welcome FCS Opposition To Las Cruces
Lamar Vs. New Mexico State: Aggies Welcome FCS Opposition To Las Cruces
Though hope is fading for New Mexico State to return to the postseason for the first time since 2017, a win over Lamar this weekend could go a long way.
Nov 9, 2022
by Briar Napier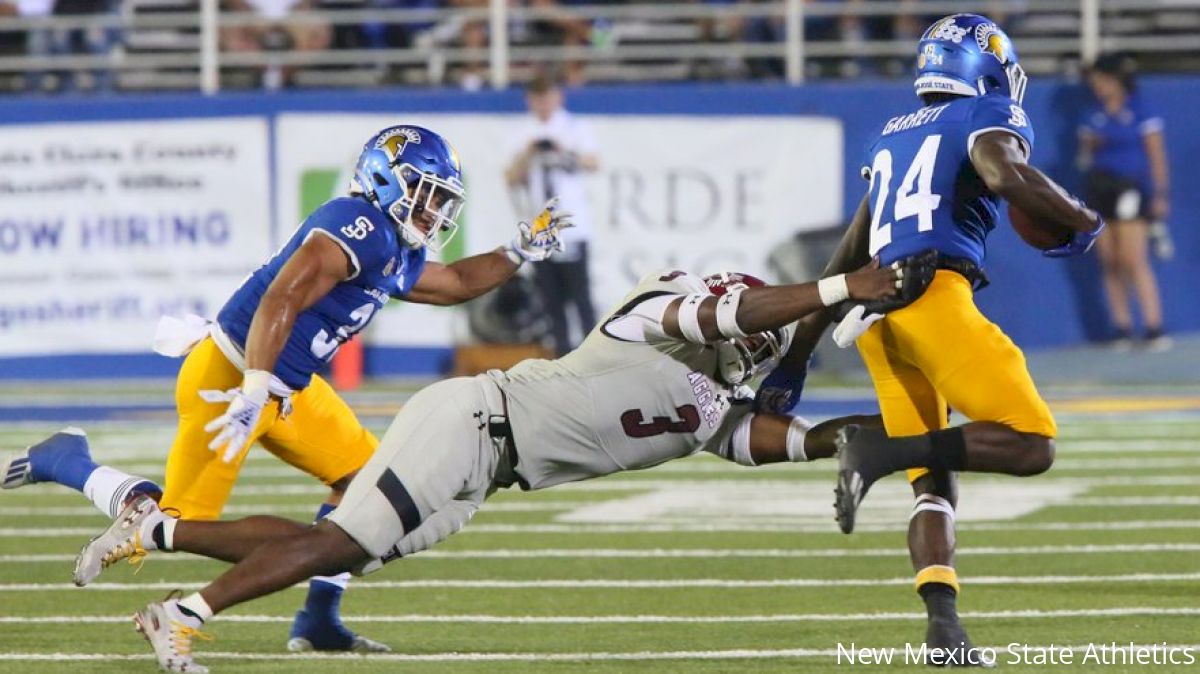 Could New Mexico State go bowling this year after years of program misery?
Though the hope is fading for the Aggies to return to the postseason for the first time since their Arizona Bowl win in 2017, a win over Lamar this weekend on Senior Day would boost NMSU's chances.
And, with a tough three-game stretch to close out the regular season for the Aggies, they'll likely need all the help and good fortune that they can get. Still, the visiting Cardinals can play up to a threatening level, and if the Aggies aren't careful, they could find themselves in trouble.
Here's a look at what New Mexico State and Lamar will bring to the table for their nonconference clash this weekend. The game will get underway at 2 p.m. Eastern, live on FloFootball.
Lamar Cardinals (1-8)
The lowdown: Playing FCS football in the Southland Conference, Lamar - just four seasons removed from its first berth in the playoffs (2018) - won't be making it back to the FCS postseason this time around, as it's slumped to a 1-4 record in league play and is far behind the pace of the conference's elites, including nationally-ranked Incarnate Word and a strong Southeastern Louisiana squad, one that upended the Cardinals on the road last Saturday in Beaumont, 47-31.
Coach Blane Morgan has struggled to help make Lamar a competitive unit since he took over in late 2019, currently sitting at a rough 4-21 overall through two-and-a-half seasons.
But, to be fair to Lamar, it occasionally can play like a program much better than its record.
Three straight defeats earlier in the year to Northern Colorado, Northwestern State and Houston Christian came by eight points or less, with the Cardinals finally getting over the hump and putting it all together with a first win of the season. They beat Nicholls State at home, 24-17.
Expect Lamar to try and establish the run early and often, as sophomore tailback Khalan Griffin, who led Rice in rushing as a true freshman two seasons ago before transferring, has been a revelation in the Lamar backfield over the past few weeks.
The Tyler, Texas, native has been let loose as the bell cow ball carrier.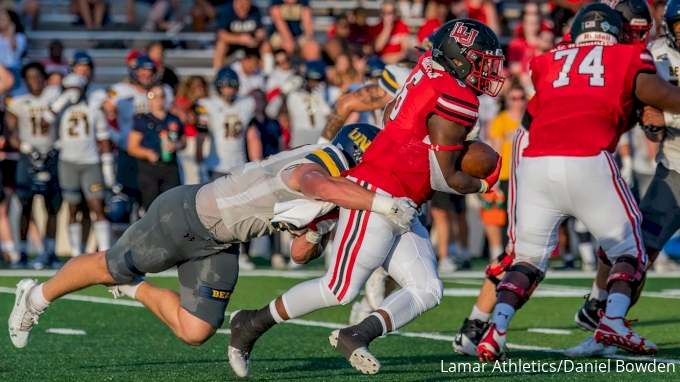 Of Griffin's 528 rushing yards on the season, 329 have come in the past three games, in addition to him scoring at least once on all three occasions. Throw in the fact that the Cardinals have a solid offensive line (15 sacks allowed, third-least in the Southland), and Lamar's ground game, when it gets humming, can cause some damage.
The passing attack has been a bit of a mess, however, as Lamar averages just 182.1 yards through the air per game, which drags down the Cardinals to having the Southland's least-efficient offense with a rating of 103.6.
By comparison, league-leading Incarnate Word's rating is 211.2.
Lamar's defense also doesn't do it any favors, allowing a league-high 37.8 points per game, while being susceptible to letting opponents drive down the field over and over. Foes have tallied an average of 22.9 first downs when facing the Cardinals' defensive unit.
Defensive POTW is FR CB @d1aaron24 ‼ pic.twitter.com/K9cmt9S6YY

— Lamar University Football (@LamarFootball) November 2, 2022
With Lamar's game in Las Cruces being its last before it tussles with rival McNeese State in its season finale, perhaps the visit to the Southwest could be of benefit to the Cardinals to help pump them up and iron out details for the Battle of the Border.
New Mexico State Aggies (3-5)
The lowdown: New Mexico State will celebrate its Senior Day this weekend against Lamar, closing a chapter on a group of final-year players amid what's been a fairly strange year for the Aggies.
In conference realignment limbo, as NMSU currently is an independent program before it joins Conference USA as a full member next season, bowl eligibility this year is an outside (and probably unlikely) possibility, but the dream is alive after two straight wins, since losing to Florida International on Oct. 1.
With trips to Missouri and nationally-ranked Liberty still remaining in the season, NMSU is almost certainly going to have to beat Lamar to keep those postseason aspirations going.
The Aggies' win at UMass last weekend was an encouraging sign, however, with the team responding well after the unexpected bye week it had when its game against San Jose State (Oct. 22) was postponed due to the tragic death of a Spartans player.
Now, against a Cardinals team it should be able to cruise past on paper, New Mexico State will aim to get one step closer to clinching a spot in the bowl season - an achievement that would signify an incredible step forward for a program that entered this year having gone 5-21 across the past three seasons.
The Aggies' signal-caller situation is still a bit of a mish-mosh, however.
Diego Pavia and Gavin Frakes have switched off in the role all season, splitting time almost evenly in the game against the Minutemen. Frakes threw 13 passes to Pavia's 12 in the win.
Q3 12:47 | Pavia finds a hole and takes off for 48-yards! Aggies threatening early in the second half #AggieUp pic.twitter.com/5JWDxn3fX5

— New Mexico State Football (@NMStateFootball) October 29, 2022
The NMSU defense has been locked in over the past two games, however, allowing just 22 combined points in the wins over rival New Mexico and Umass, with just one touchdown allowed in that same timeframe, showing off its growing ability to bend, but not break, when faced with promising drives from opponents.
The program's leading tackler and senior linebacker Chris Ojoh (73 total tackles, four sacks) has been spectacular all season, but his combined 15 tackles in the Aggies' past two games have shown him to be a critical piece in NMSU's defensive setup and production.
And, for the Aggies this year, especially in its opening campaign in a new era with first-year coach Jerry Kill, it's all about capitalizing on those good vibes and keeping them going to build a winning (and sustained) program culture.