2022 Villanova vs Maine
For Villanova's Jaaron Hayek, Brotherly Bond Is Key To Success
For Villanova's Jaaron Hayek, Brotherly Bond Is Key To Success
Villanova wide receiver Jaaron Hayek is having a standout season. Thanks to his older brothers, the Wildcats wide receiver learned the ropes.
Nov 2, 2022
by Stephen Kerr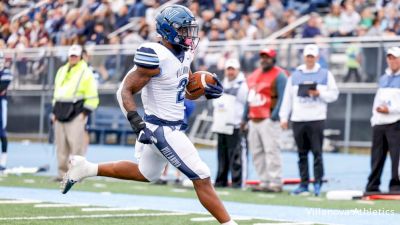 It was third down, and the Villanova Wildcats had the ball deep in their own territory at the 17. They were up 17-7 on the Maine Black Bears when junior quarterback Connor Watkins threw a 36-yard strike to Jaaron Hayek, who broke away from a defender and went untouched the rest of the way for an 83-yard touchdown.
It was one of four touchdown catches the 6-foot-1, 195-pound senior wide receiver from Wayne, New Jersey would make in the Wildcats' 45-20 October 1 road victory. Hayek also scored on receptions of 42, 18 and four yards. The 83-yarder ranks as the fourth-longest pass play in program history, and he ended up with five receptions for a career-high 159 yards on the day.
"I was just trusting that the ball was going to one of the two outside guys, because it was man coverage," explained Hayek, who has also had catches of 62 and 68 yards this season. "I just put my head down and burned. Connor just put the ball where it needed to be and all I had to do was catch the ball and run into the end zone."
Hayek's big-play capability comes as no surprise to his older twin brothers Tyler and Hunter. Both played at Rutgers and were also wide receivers. Tyler, the oldest, earned a master's degree at Rutgers before moving to Austin, Texas, where he works for a cybersecurity company.
Hunter, who transferred to Stony Brook for his final season, now coaches part-time at Wayne Hills High, where all three boys played high school ball.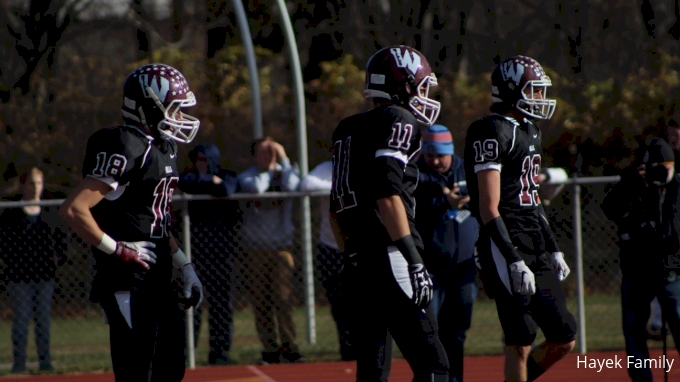 "I think he has much more in store," Tyler said of Jaaron. "I'm excited to see how he finishes up this season." The three boys grew up in Wayne, New Jersey. Their father Vic is a police officer, while their mother Tara works as a principal at a school for autistic children. The brothers mostly played on the same team together in various sports, even in high school.
As a gift for one of their birthdays, Vic and Tara rented a bouncy house from a woman in the neighborhood. The woman came up to Tara after spotting the boys playing football in the backyard.
"You should put these boys in sports to get rid of all their energy, give them something to do," she told Tara.
When it came to sports, the brothers weren't overly competitive against each other aside from the typical desire most athletes have to be the best.
"It depended on the sport," Hunter recalled. "(Jaaron) was the little brother that had to one-up us to prove he was as good as we were."
Added Tyler, "one of the main reasons he's been doing so well is because he's been able to observe me and Hunter and what we've been doing, training with us. He always had to stay at that same level."
At Wayne Hills High School, Jaaron earned two varsity letters in track and field, one in baseball and three in football. He caught 64 passes for 1,162 yards and 15 touchdowns as a senior at wide receiver, and was an all-county performer in track and field.
At 6-4, Tyler is the tallest of the three. As the smallest in size, Jaaron had to be gritty and developed quickness and intelligence, characteristics his brothers had developed.
"He got the best of both worlds," Hunter said.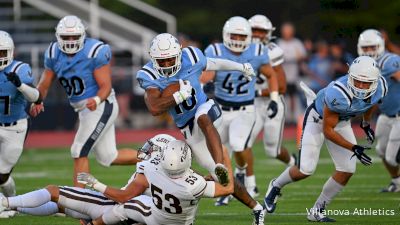 The boys attended Saint Joe's, a private school in the area, before transferring to Wayne Hills. During Jaaron's sophomore year, the team made the state playoffs. Their cross-town rival, Wayne Valley, took issue with all three boys transferring, claiming the family didn't follow the correct protocol of a bona fide address change.
They asked the NJSIAA to disqualify the team from the playoffs. The association agreed, but later reinstated the school after a court ruled there was no wrongdoing. The family insisted all transfer procedures were followed correctly. Ironically, the two teams met for the state championship, with Wayne Hills coming out on top.
All three brothers believe it was due justice for all they had been through.
"Jaaron got the first turnover of the game," Hunter recalled. "He picked off a pass."
After graduating, Tyler and Hunter went on to play at Rutgers. Jaaron had also received an offer from the program and initially committed, but decided to decommit and chose Villanova.
"I was looking for a school focused on academics but still playing good football at the FCS level," Jaaron explained. "When I stepped on campus and met the people here, it just felt right."
It didn't take long for Jaaron to establish himself and adjust to the college game, something he attributes to his brothers. "(They taught) me the ins and outs of college football and how it's more of a business and properly setting me up before I even stepped on campus," he said.
Wildcats head coach Mark Ferrante liked what he saw of Hayek on and off the field after watching him in high school.
"He's been a football guy all along," Ferrante said. "Getting to know him and his family, you just knew he was going to be a great guy on and off the field, highly motivated in the classroom."
As a true freshman, Hayek was the second-leading receiver on the team with 47 catches for 670 yards and eight touchdowns over 12 games and eight starts. In the 2020-21 spring season, he started all four games, amassing 12 receptions for 136 yards and averaged 11.3 yards per catch.
Last season, Hayek earned Third Team All-CAA honors and led the Wildcats with nine receiving touchdowns. Through seven games this season, he's third in the FCS in yards per catch (23.0). Watkins has thrown 13 passes for 40 yards or longer with Hayek catching nine of them, including the 83-yarder against Maine.
With other receivers like Dez Boykin and Rayjuon Pringle to throw to, Watkins has the luxury of spreading the ball around, something Ferrante sees as an advantage for Hayek and his success.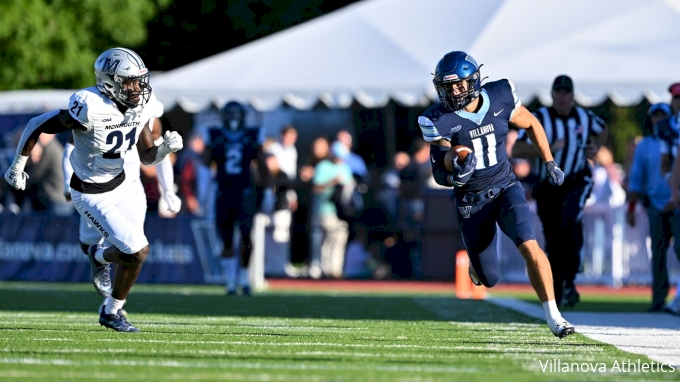 "He doesn't have the most receptions and we haven't thrown him the ball the most," Ferrante said. "But when he does get the ball, he's a strong player so it's hard for one guy to bring him down." Hayek and Watkins have been roommates since arriving at Villanova. The two happened to take their official visits at the same time and immediately connected.
"He was already committed, so he kind of convinced me to come here," Hayek recalled. "All that time we've spent together, the chemistry's there. It carries over onto the field."
Since he still lives and coaches in New Jersey, Hunter comes to watch Jaaron as often as possible. Although he's in Texas, Tyler follows his youngest brother closely, frequently catching his games on FloSports. Tyler still gets that nervous feeling every time he watches Jaaron in action.
"It's really cool to be able to turn (a game) on and watch him play, especially because he does so well," Tyler said. "Usually after every game, I'll tell him 'good job' and stuff, but that it's time to get back to work. He's not done."
Jaaron doesn't need much prodding to stay motivated. He grew up watching both his brothers put in the hard work and have it pay off for them in different ways. Now that he's the only one left playing, he intends to make the most of it.
"Their experience wasn't as great as mine throughout their college career," Jaaron said. "Doing it for them and being able to have what I have now is super awesome, because they didn't get the same opportunities as I did."