2022 Morehead State vs Butler
Payton Award Hopeful Bret Bushka & Butler Are Football's Best Surprise
Payton Award Hopeful Bret Bushka & Butler Are Football's Best Surprise
Behind Walter Payton Award-contending QB Bret Bushka, Butler is contending for a Pioneer title in coach Mike Uremovich's first season with the Bulldogs.
Oct 28, 2022
by Kyle Kensing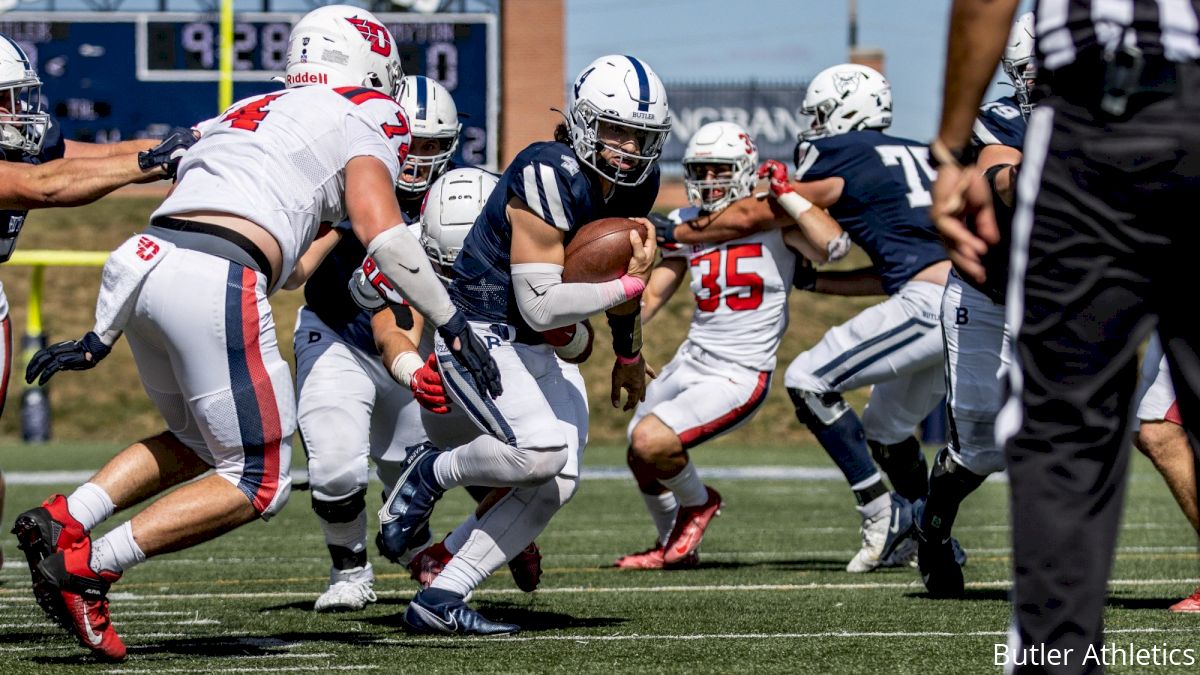 A 99-yard touchdown run marked a pivotal turn in the Butler Bulldogs' 2022 football season — and it was one they gave up.
After cutting what had been a two-score deficit for the better part of three quarters Oct. 15 at Valparaiso, capping a drive in the early fourth with a 50-yard Bret Bushka touchdown connection with Luke Wooten, Butler cut the gap to 19-13. Special teams pinned the Crusaders at their own 4-yard line, then Jeremiah Jackson's tackle for loss trapped Valpo on the shadow of its goal line.
Then, Crusaders running back Aaron Dawson ripped off a 99-yard score, the kind of play that can prove absolutely back-breaking in any circumstance — say nothing of a fourth-quarter momentum swing to answer a rally.
"A lot of teams would have quit at that point, thinking it was over," Butler coach Mike Uremovich said.
Butler isn't a lot of teams. The Bulldogs proved that the week before visiting Valparaiso, shutting out Dayton in a 31-0 romp. The Flyers came into the Oct. 8 Pioneer Football League with a streak of 303 consecutive games since becoming a Div. I program in 1993, the second-longest such streak in FCS. Dating back to Dayton's Div. III tenure, however, no opponent shut out the Flyers since Oct. 23, 1976.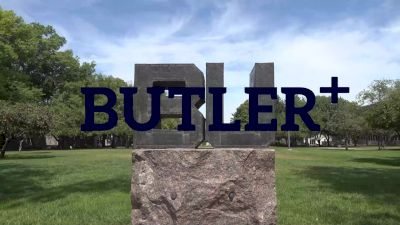 Unlock this video, live events, and more with a subscription!
Get Started
Already a subscriber? Log In
The Bulldogs ended that run of 501 games, a streak that dwarfed the next-longest among Div. I schools. The Florida Gators would need to score in every game for each of the next six-plus seasons to match it.
Indeed, this Butler squad isn't like a lot of teams. And it continued to demonstrate so, beginning with the ensuing extra-point stop after Dawson's touchdown. Denying Valpo's two-point conversion attempt began a furious 12-minute stretch that solidified the Bulldogs as contenders for the PFL championship and the resulting bid into the NCAA Playoffs.
What's more, they validated their own commitment to restoring success to a program that finished below .500 in six of the previous eight seasons, failing to win more than six in any campaign over that stretch, and that was just 10-30 in the four preceding years combined.
"We've got a good senior class, a handful of fifth-year seniors on this team that have been with the program a long time," said Bushka, himself a redshirt junior. "A couple guys who, for one thing, are just tired of losing and just trying to turn it around."
The Bulldogs certainly turned it around against Valpo, and it took a combination of the veterans that Bushka said set the tone, experienced newcomers and younger playmakers. Butler again cut the deficit to six points when Bushka found redshirt junior tight end Jared Suchevits for a touchdown, then Purdue grad transfer Byron Hubbard II opened the subsequent defensive drive with a stop at the line of scrimmage.
Redshirt sophomore Jacob Cain's sack on third down forced a punt, setting up Bushka and Co. on a short field. The quarterback led a quick drive with one positive play after another, capped with Bushka calling his number for a touchdown run and the lead, and redshirt sophomore Luca Kozlowski sealed the win with an interception thrown into the Butler red zone.
With the 26-25 comeback complete, the Bulldogs claimed the Hoosier Helmet — and took an important step to compete for another trophy in the PFL race.
The 𝙃𝙊𝙊𝙎𝙄𝙀𝙍 𝙃𝙀𝙇𝙈𝙀𝙏 is coming 𝙃𝙊𝙈𝙀 !#ButlerWay pic.twitter.com/6ebLp2hJDJ

— Butler Football (@ButlerUFootball) October 15, 2022
"Even though we were trailing for every part of that game before that last touchdown, I don't think anybody waivered," Bushka said. "We knew that eventually we'll be able to [break through].
"That fourth quarter, it was a lot of fun," he added. "But it wasn't like we weren't expecting that."
The expectation of winning has defined Butler amid its current run, arguably the best October surprise of the season. Since dropping to 2-2 with consecutive losses against the nation's No. 1-ranked team, South Dakota State, and a PFL setback to reigning two-time conference Davidson, the Bulldogs have won three straight.
They head into a Week 9 matchup with Morehead State right in the mix for the PFL title, one of five teams with a league record of 3-1 or better — and two of the Bulldogs' wins came against fellow 3-1 teams Dayton and Valpo. The home stretch of Butler's schedule sends it to perennial PFL contender San Diego on Nov. 5, then after a trip to winless Drake, a regular-season finale against St. Thomas awaits.
St. Thomas leads the PFL at 4-0 headed into Week 9. Much can unfold in the coming Saturdays, but the prospect of Nov. 19 at Bud and Jackie Sellick Bowl determining the conference championship is very much on the table.
Butler may have expected to be in this position, but few others shared the vision. The Bulldogs were tabbed to finish 10th in the 11-team Pioneer in the preseason poll, ahead only of a Presbyterian team coming off a disastrous, one-year experiment with the famed "Coach Who Never Punts" Kevin Kelley attempting to bring an unorthodox high-school scheme to FCS.
Likewise, not a single Bulldog was selected as preseason All-Pioneer 1st Team. Now, Bushka is the only PFL representative to appear on the Walter Payton Award watch list.
"Any time that my name gets mentioned in the same sentence as Wlater Payton's is extremely humbling," said Bushka, an alum of Glenbard East High School in Lombard, Illinois. "I'm a Chicago guy too and grew up a Bears fan. But I wouldn't be in this conversation without the teammates I've had. The o-linemen have done a fantastic job this year…and we have some great receivers and tight ends that catch the ball."
Quarterbacks do indeed reap quite a bit of the praise that comes with winning, and Bushka has of course had help — like from running back Joey Suchy, who scored a pair of touchdowns in Butler's 31-10, Homecoming rout of Marist on Oct. 22. Pass-catchers Tyler Adams and Wooten have each gone for more than 400 yards receiving, and Cameron Heald joins the two with multiple scoring receptions thus far on the season.
And for the second time today, Suchy finds 6.

Bulldogs lead, 17-10.

We now head to the fourth at the Sellick Bowl. #ButlerWay pic.twitter.com/eQwwmvYT27

— Butler Football (@ButlerUFootball) October 22, 2022
But Bushka's shined in his own right, earning the Payton Award nomination with a team-high 442 yards rushing and four scores. His work in the run game complements his 1,543 passing yards on better than 66 completions with 12 touchdowns.
Coincidentally, Bushka isn't the first dual-threat quarterback out of Chicagoland to garner individual award consideration with Uremovich on staff — nor is he the first to captain his team to an expectations-defying season.
Let's run it back to 2012.
A successful head coach at University of Saint Francis, an NAIA program in Joliet, Uremovich transitioned to assistant coaching at the FBS level a decade ago. His first year working on staffs in the Mid-American and American Athletic Conferences, as well as a stretch in the ACC, was at Northern Illinois, coordinating special teams and overseeing running backs in one of the most remarkable campaigns in recent college football history.
"That was a great experience and a special time. They didn't pick us to win the MAC that year, let alone go to the Orange Bowl," Uremovich said. The Huskies were slated to finish second in their division behind Toledo, and accrued only the third-most votes in the conference's preseason poll, behind the Rockets and Ohio U.
All Northern Illinois did that season was win 12 games, ascend to No. 15 in the polls, and play a Florida State team one year away from winning the BCS Championship to a 17-10 score going into the fourth quarter of the Orange Bowl. Uremovich was part of the only MAC program ever to advance to one of the top-tier postseason games in the 15 seasons of the Bowl Championship Series.
Meanwhile, the face of the Orange Bowl Huskies — quarterback Jordan Lynch — rode his dual-threat playmaking all the way to New York and the Heisman Trophy presentation as a finalist a season later in 2013. The option signal-caller from Chicago's Mount Carmel High School who Jerry Kill took a flier on grew into a contender for the top individual honor in FBS; much like Bushka emerging today in the conversation for the premier award in FCS.
"Bret's a lot better looking than Jordan. I hope you print that," Uremovich joked. "But they're very similar. They're both very tough, they both lead by example, they both have the respect of the football team because of the way they play and not what they say, necessarily.
"And our offense goes through the quarterback," Uremovich added. "I've been fortunate enough to have the NAIA National Player of the Year, E.J. White, when I was at Saint Francis. Same type of kid. So, if you're going to be any good in college football right now, you've got to have a good quarterback; we have one."
The parallels and the lessons of Northern Illinois' dream 2012 season don't end at quarterback. The approach that Bushka said "starts at the top" with first-year coach Uremovich and his staff resonate at Butler like they did at NIU from then-Huskies and now-NC State head coach Dave Doeren.
"Just like here, we had at a great offseason, the kids were all bought in," said Uremovich of 2012 with Doeren. "Every week, as more and more attention came on that team, he just kept focusing us on what we had to do. That's what we have to do this week.
"The interview that's taking place now, the nomination [for the Walter Payton Award] Bret got and winning all-conference player of the week [following the Valpo win], they weren't paying attention to us a month ago," he added. "These guys went into the season trying to win for each other and couldn't really care what anybody else thinks."
Against odds that, as Uremovich said of the Valpo win, might cause a lot of other teams to fold, Butler continues to surprise. And it just might be the best surprise of the entire 2022 college football season.