2022 Wingate vs Lenoir-Rhyne
SAC Games Of The Week: Title Game Positioning Heats Up
SAC Games Of The Week: Title Game Positioning Heats Up
Five teams jockey for two SAC Championship Game spots as the regular season hits the closing weeks in the South Atlantic.
Oct 27, 2022
by Kyle Kensing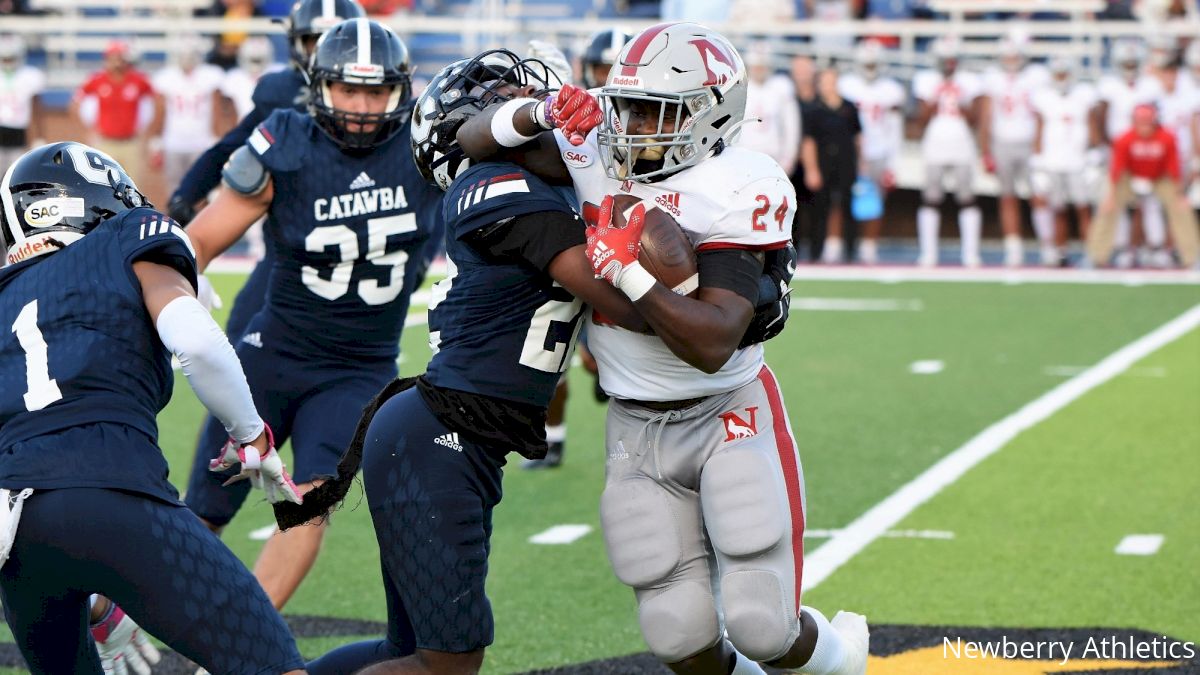 As fate would have it, the chase to reach the South Atlantic Conference Championship Game comes down to the regular season's closing weekend. A round-robin that began last week, with reigning league champion Newberry scoring a crucial win at Lenoir-Rhyne, kicked off a fortuitous stretch of scheduling that sees each division's leading teams square off down the stretch.
The Piedmont round robin continues in Week 9, this time with Lenoir-Rhyne looking to rebound from its first and only conference loss when it hosts Wingate. The Bulldogs are tied atop the division with L-R and Newberry at 5-1 in SAC play, and at 7-1 overall, Wingate is knocking on the door of the Top 25.
Newberry, meanwhile, sports a matching 7-1 overall mark, a 5-1 SAC record, and the nation's No. 12 ranking heading into its Homecoming. The Wolves host surprising Limestone, which at 4-2 with head-to-head losses against both Lenoir-Rhyne and Wingate, finds itself out of the title-game mix.
Still, the Saints can score the biggest win yet of an all-around breakout season with a defeat of surging Newberry.
In the Mountain Division, a final-weekend showdown between Mars Hill and Tusculum functions as a de facto SAC semifinal. Both will look to maintain momentum heading into their Week 10 matchup against upset-minded divisional foes.
Wingate at Lenoir-Rhyne
Beyond the SAC championship implications, this showdown of co-divisional leaders may double as a playoff elimination game. Lenoir-Rhyne boasts the best positioning among four SAC teams in the Super Region II rankings released on Oct. 24, sitting at No. 5 and just ahead of Newberry.
Lenoir-Rhyne earned an at-large bid into the 2021 NCAA Playoffs, and will have a case again this year — if it wins out. That starts with Saturday's meeting against Wingate, which needs every bullet-point on its resume it can muster down the stretch.
The Bulldogs checked in at 10th in the Super Region II rankings, fourth among SAC teams and behind noteworthy names like 2019 national champion West Florida.
Wingate may not have a clear at-large path, but the Bulldogs' way into the Playoffs is as straightforward as it comes: Win out, and they're in. That's because a victory this Saturday and next against Newberry sends Wingate to the SAC Championship Game, where if the Bulldogs can extend their current winning streak to seven games, they'll earn the automatic bid to the postseason.
Wingate's rushing defense is among the best in the nation, coming into Hickory this week holding opponents to 2.2 yards per carry and just 68 per game. With the exception of a win over Limestone, Wingate has held every opponent to 17 points or fewer. That translates to the nation's best yield, just 8.5 points per game.
In contrast, Lenoir-Rhyne has scored at least 34 points in all six of its wins — and, with its 24 last week against Newberry, has only 29 combined points in losses.
Newberry successfully forced the Bears to pass 39 times last week and rush just 25, a departure from their preferred balance. Lenoir-Rhyne falling behind 17-0 and not getting onto the scoreboard until the late third quarter contributed to the disparity.
L-R needs a considerably faster start this week to dictate the pace and force Wingate into its style of game.
Limestone at Newberry
Newberry running back Mario Anderson has been on an absolute tear over the last three weeks, rushing for 159 yards and three touchdowns against Barton; 246 yards with four touchdowns against Catawba; and 243 yards with two touchdowns last week at Lenoir-Rhyne.
Anderson has eclipsed 100 yards in every game but one, ranks sixth nationally with 151.6 rushing yards per game, fourth in total rushing yards at 1,061, and seventh with 13 touchdowns. He has ran his way into the Harlon Hill Trophy conversation, and has Newberry in line to repeat as conference champions.
But with L-R in the rear-view and a potential division-deciding matchup at Wingate on the way, Limestone comes in as the perfect potential spoiler.
Limestone improved to 4-2 in the SAC with a 48-23 romp over Catawba last week. Saints quarterback Drew Noller passed for 352 yards, 195 of them to Drew Dixon. The University of Arizona transfer has scored touchdowns in each of the last two games, his first for the Saints this season.
The 6-foot-4 Dixon can be a continued matchup nightmare for opponents, and another weapon for a high-scoring Limestone offense that averages almost 35 points per game. But Newberry, with its multifaceted rushing attack and Anderson's hot hand, can put up points in its own right. The Wolves have scored at least 34 in each of the last three games.
Mars Hill at UVA Wise
The Mountain comes down to Nov. 5 when Mars Hill and Tusculum clash. Before the Lions draw the Pioneers, ranked seventh in the Super Region II top 10, they must navigate a potential trap at UVA Wise.
It's been a trying 2022 for the Cavs, but they come into this weekend's home finale and Senior Day with some positive momentum after snapping a six-game losing streak. The 28-13 defeat of Erskine was the second straight outstanding defensive effort out of UVA Wise, which dropped a 10-9 heartbreaker to Tusculum the week prior.
Hanging with the co-Mountain-leading Pioneers showed that UVA Wise is not an opponent to overlook. The Cavs' aggressive pass-rush has produced 13 sacks, and Michael Williams Jr.'s 8.5 tackles for loss rank in the upper echelon of SAC defenders.