2022 Rhode Island vs William & Mary
CAA Games Of The Week: Playoff, Championship Jockeying Down The Stretch
CAA Games Of The Week: Playoff, Championship Jockeying Down The Stretch
Rhode Island is climbing in the polls and in the CAA championship chase, but heads to face a tough William & Mary in a high-profile Week 9 matchup.
Oct 25, 2022
by Briar Napier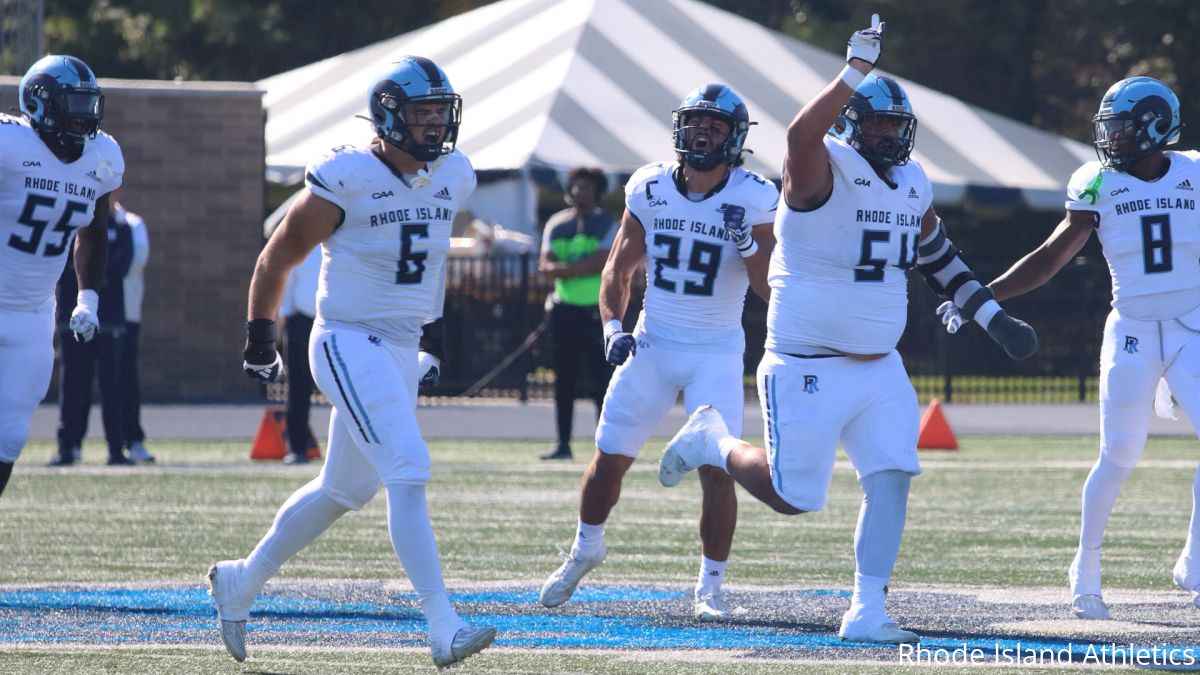 With just weeks remaining in the FCS regular season, it's time for the postseason contenders to show that they're playoff-ready and set to face whatever may come from the rest of the nation.
For those that don't quite have their spot as secure in the FCS playoffs yet … well, it's time to get moving soon.
Several of those ranked and in-the-hunt Colonial Athletic Association football programs are getting into the final stretches of preparing their resumes for selection into the playoff field—or are fighting to save themselves the hassle by winning the league's auto-bid.
But while late-season stretches vary for each team, one thing is going to be for certain: the tension is going to be sky-high league-wide as the final full month of the regular season closes this weekend.
Here's a look at the CAA football games to check out this weekend, with the league season being streamed the rest of the way on FloFootball:
NOTE: All kickoff times are listed in Eastern Time and are subject to change. All statistics and Stats Perform FCS Top 25 rankings are updated as of Monday afternoon.
Rhode Island Vs. William & Mary
The Tribe have been spectacular all year, matching last season's win total already at 6-1 thus far and featuring one of the top rushing offenses in the country at an eye-popping 253.7 ground yards per game, good for the fourth-best mark in America. It's seen their stock grow up in the eyes of the national pollsters, as well, as W&M was placed in the top 10 of the FCS Top 25 rankings — and earned the distinction as the CAA's current highest-ranked team — following its cut-and-dry 44-24 win over Towson on the weekend.
With the exception of a four-point loss to Elon last month, the Tribe have won and looked strong against each team they've played so far. But the visit from No. 18 Rhody this weekend will show whether or not W&M is ready for the pressure associated with being one of the nation's best teams — and if it can keep cool as both schools are currently chasing CAA leader New Hampshire for a regular-season conference crown.
Offense, defense, special teams - highlights from every angle in yesterday's win at Towson ⤵️#GoTribe | #CAAFB pic.twitter.com/rYfGW3xGCF

— William & Mary Tribe Football (@WMTribeFootball) October 23, 2022
The Tribe ran wild for 300 rushing yards on the Tigers, while the Rams are coming off of the back of a marathon game against Monmouth last weekend that went seven overtimes in the longest game between two FCS teams in college football history.
URI gave up 266 yards on the ground to the Hawks in that game — some of that added on following the end of regulation — but did just enough to get past the Monmouth's CAA-leading offense (480.5 total yards per game) as quarterback Kasim Hill and Marques DeShields combined for five touchdowns between them.
Expect a battle in the trenches as a 19-sack Rhody defense goes up against a Tribe O-line that's only given up five sacks all year, and watch out for W&M coach Mike London's penchant for the trick play, like the fake field goal he called that turned into a score against Towson.
Delaware Vs. Elon
Elon is in heavy need of a statement win, having been defeated in back-to-back games to Rhode Island and New Hampshire to slip down the CAA pecking order after looking like the early-season's strongest team. And as the Phoenix return to Rhodes Stadium for the first time since Oct. 8, they've got a massive chance to get one.
Elon, kicked out of the FCS Top 25 following its loss to the Wildcats, immediately gets No. 12 Delaware — who cruised past nonconference foe Morgan State — at home in an attempt to jump start the Phoenix's at-large hopes back up with just three games remaining. Quarterback Matthew McKay, who was performing at arguably an All-American level in the season's first half as he was integral in Elon wins over Richmond and William & Mary, has been held to 185 passing yards or less in each of his past two games as the Phoenix have also scored their two lowest point totals of the year in consecutive weeks.
That type of slump will not be easy to break against the CAA's leading defense in Delaware, either, who is holding foes to an average of only 12.2 points per game thus far this season.
Still, Elon is unbeaten and has yet to score less than 27 points in any home game in 2022-23, giving the Phoenix an advantage as they try to navigate out of their recent struggles, while all the while Bryson Daughtry and Jackson Parham make up one of the league's best receiving duos for McKay to utilize. But the Blue Hens will have plenty of offensive weapons of their own in their attempts to make the Phoenix off-kilter: Nolan Henderson has been one of the CAA's best quarterbacks as the current conference leader in passing touchdowns (19) with an average of 266.6 yards per game, accounting for 271 total yards on the air and ground in last week's win.
.@Delaware_FB held Morgan State to 158 yards and intercepted three passes as the Blue Hens pulled away for a 38-7 win on homecoming weekend #CAAFB pic.twitter.com/bSoHDrHHzV

— CAA Football (@CAAFootball) October 23, 2022
Richmond Vs. Maine
If Richmond wants to clearly state itself as a team to be reckoned with as a brutal three-game sprint to the end of the regular season looms — against New Hampshire, at Delaware and at home to play William & Mary — it first must get through Maine, and probably convincingly, too.
The Spiders have hovered around the top half of the CAA standings as its double-overtime loss to Elon is the only blemish in conference play on its record, with a 20-10 win over then-No. 16 Villanova two weekends ago its best win over CAA competition thus far on the season.
And with Richmond and Delaware being the only two teams in the league with both top-four passing offenses and defenses in terms of total yardage gained and allowed, respectively, the Spiders control the air on both ends well. Quarterback Reece Udinksi (1,919 yards, 17 touchdowns, two interceptions) and defensive back Aaron Banks (tied-CAA high three interceptions) are two of the best in the league at their positions.
Reece Udinski completed 30-of-37 passes for 314 yards and three touchdowns as No. 19 @Spiders_FB picked up a 41-10 road win at Hampton. #CAAFB pic.twitter.com/6FSlL4HwDX

— CAA Football (@CAAFootball) October 23, 2022
That could create many issues for Maine, which started 0-4 but rallied off consecutive wins before losing to previously winless Stony Brook this past week, adding more misery to what's been a tough year already for the Black Bears.
Their offense has looked much better in recent weeks, however, as Maine has scored at least 27 points in three consecutive games as the rushing attack has been strong in that timeframe with an average of 175.3 ground yards and six combined rushing scores to boot. But the Spiders should be highly favored — even on the road in Orono — as they'll hope that their visit to New England will be more of a tune-up than an upset threat.
Stony Brook Vs. UAlbany
Stony Brook finally got over the hump and picked up its first CAA (and overall) win of the season after it narrowly beat Maine over the weekend. UAlbany, looking to hopefully catch the Seawolves in a bit of a post-win hangover, will now aim to try and pick up its first CAA win of the year itself.
The 𝗚𝗔𝗠𝗘-𝗪𝗜𝗡𝗡𝗘𝗥 💥

🌊🐺 x @CharlieMckee07 x @kjnewton9 pic.twitter.com/GZnJmTmsDY

— Stony Brook Football (@StonyBrookFB) October 23, 2022
The Great Danes nearly pulled that off via a late miracle last week when, down 12 points with under two minutes to play against Villanova, they scored, converted an onside kick try and then scored again to take a lead with just under a minute left. However, two critical defensive penalties and big plays from the Wildcats set them up for what proved to be a game-winning field goal, sinking the Great Danes' hearts.
UAlbany is playing much better than its 1-6 record indicates, having lost by a touchdown or less in all four CAA games — including a five-point loss to the current leader in the standings, New Hampshire, on Sept. 10. That's mainly due to two reasons. First, Albany constantly finds itself in holes it has to climb out of due to a horrid defense that allows 443.7 total yards of offense and 39.7 points per game, both of which rank as the league's worst marks.
Second, UAlbany finds life despite those shortcomings through signal-caller Reese Poffenbarger, the CAA's leader in passing yardage (2,053) who's also deadly efficient with a 16:1 touchdown-to-interception ratio and 66% completion percentage. Poffenbarger often has the green light to pass frequently and makes use of it.
It also means that Poffenbarger could have a field day against the Stony Brook secondary, whose 271.7 pass yards allowed per game are the most in the CAA. But the Seawolves look to have a developing gunslinger of their own in true freshman Charlie McKee, who had his best college game since earning the starting role three weeks ago by going 18-for-21 passing for 249 yards with three touchdowns in the win over the Black Bears.
Keep an eye on this rivalry game while scrolling through the channels Saturday: it could very well be a shootout.