2022 Mississippi College vs West Florida
Gulf South Games Of The Week: MC Hopes To Shock West Florida
Gulf South Games Of The Week: MC Hopes To Shock West Florida
Undefeated Delta State faces a Thursday night challenge, while surprising Mississippi College seeks a Top 10 upset in Week 8 of the GSC.
Oct 20, 2022
by Ron Balaskovitz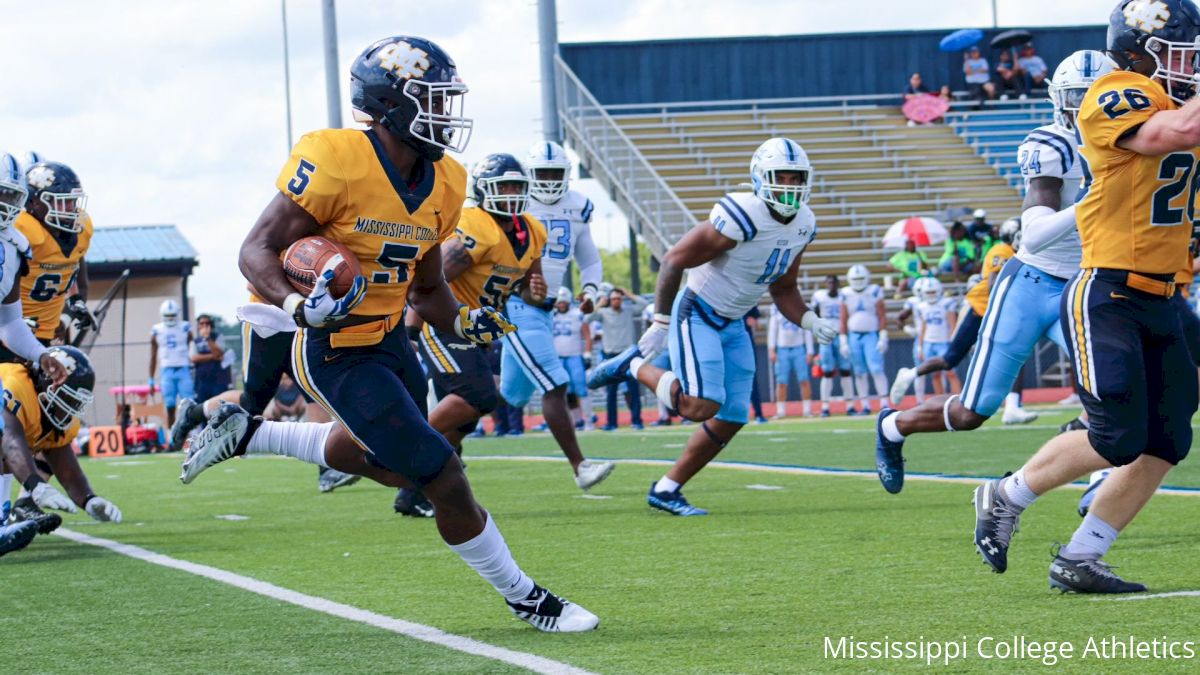 The 2022 Gulf South Conference season has been full of surprises, and Week 7 was no exception. While league-leading Delta State's undefeated run has been a shock, a team sitting just one game back of the Statesmen might be even more surprising.
Mississippi College heads into Week 8 having knocked off one of the GSC's usual powerhouses, and now looks to beat another. The Choctaws have outperformed preseason expectations, and then some, positioning themselves for a potential playoff push with games against top 10-ranked West Florida and Delta State the next two weeks.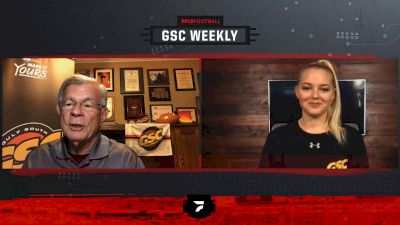 One preseason favorite to vie for the playoff, West Georgia, kept its postseason hopes alive by the skin of its teeth in Week 7. The Wolves' 38-35 win over North Greenville sets the tone for the final four weeks in a GSC that's been as entertaining as it is unpredictable in 2022.
Delta State at Shorter (Thursday)
After blitzing opponents with their offense in the first three week's of league play, the league-leading Delta State Statesmen changed it up last week with a smothering defensive performance against West Alabama.
Delta State overwhelmed the Tigers in a 20-7 victory that pushed the Statesmen to 4-0 in the conference, 7-0 overall, and up to No. 8. DSU is now the highest-ranked Gulf South team in the national poll.
Although the defense took center stage, the Statesmen continued to put up big yards in last week's game with almost 500 yards of offense. For the first time all season, however, DSU lost the turnover battle due to a pair of interceptions.
Statesmen quarterback Patrick Shegog made up for the picks with a pair of long TD passes, and rushed for a team-high 118 yards to pace DSU to 297 rushing yards as a team.
The defense, meanwhile, forced eight punts and held West Alabama to 2-of-14 on third downs.
It's a Delta State of mind ✅#WhereChampionsPlay pic.twitter.com/7GomoCCFr8

— #DSUFamily (@DeltaStateFB) October 16, 2022
Up next for red-hot Statesmen is a Shorter team still in search of its first league win. A 50-26 decision last week against West Florida marked the Hawks' fifth straight defeat since a 2-0 start to the season.
The Hawks passed for nearly 300 yards and three TDs in the loss, with two from Aeneas Dennis and one of 69 yards via Harold Cook. Shorter was unable to get anything going on the ground, however, mustering just 46 yards on 24 carries.
Delta State looks to avoid a trap game, knowing quite well what Shorter can do. The Statesmen escaped last year's meeting with a 14-13 win. Should DSU take care of business on this rare Thursday night encounter, it can clinch the Gulf South title as early as next week.
Mississippi College at West Florida
In what might be a bigger shock than Delta State leading the league heading into the home stretch is Mississippi College — picked next to last in the league preseason — sitting at 3-1 in GSC play after downing Valdosta State 49-40 on the road last week for its third consecutive victory.
The Choctaws option offense was an unstoppable machine at Valdosta. MC totaled 598 yards on the ground. Yes, 598.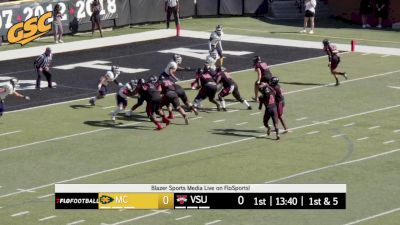 That staggering sum came on 61 carries, or nearly 10 yards a tote, and produced six touchdowns. The rushing offense was so good that MC passed just twice and only completed one of them. But that one went for a 41-yard touchdown.
Three different players broke the century mark for the Choctaws, who now lead the nation in rushing yards per game at 361.
MC presents a big challenge for West Florida, and vice versa. The Argos enter the game as the Gulf South's top rushing defense, most recently holding Shorter to fewer than 50 rushing yards.
The Argos have also been a machine on offense, as is often the case for Pete Shinnick-coached teams. UWF ranks in the top 10 in points scored, though in last week's romp over Shorter, all three phases got in on the scoring act.
The Argos opened with David Durden returning a punt for a touchdown, and later forced an intentional grounding in the end zone that resulted in a safety. The UWF offense, meanwhile, mounted seven scoring drives.
The winner in this one remains in the hunt for the GSC championship, though West Florida needs help having lost the head-to-head to Delta State earlier in the season. .
Valdosta State at West Georgia
It seems impossible to believe that an offense as good as Valdosta State's has not been enough to avoid a three-game losing skid and dip below .500 at 3-4.
Safe to say this is not how Blazer fans saw the first year of the Tremaine Jackson Era going. Alas, the Year One woes continued with the VSU defense surrendering almost 600 rushing yards to Mississippi College.
With Gulf South title hopes and the NCAA Playoffs dashed, the Blazers are relegated to trying to play spoiler for the remainder of the season. That begins on Saturday against a West Georgia team that kept its postseason hopes alive with a narrow 38-35 win over North Greenville to improve to 2-2 in the league, 4-2 overall. The Wolves got a Jaxton Carson score with a little over four minutes remaining for the winning margin. UWG simultaneously has to be breathing a sigh of relief, and wondering how it didn't win by a more comfortable margin after passing for over 400 yards. Four interceptions made the contest closer than it needed to be.
Highlights from today's win over North Greenville#WeRunTogether pic.twitter.com/WE1PnUCe66

— West Georgia Football (@UWGFootball) October 16, 2022
While a win over Valdosta State isn't the resume booster this year it would be in most seasons, a victory on Saturday to move to 5-2 does a lot for West Georgia's postseason aspirations.