2022 Maine vs Rhode Island
Maine's Joe Fagnano Making The Most Of His Opportunities
Maine's Joe Fagnano Making The Most Of His Opportunities
Maine's Joe Fagnano has become accustomed to doing more with less. Through his first three seasons, he completed 62% of his passes for 3,425 yards.
Oct 12, 2022
by Stephen Kerr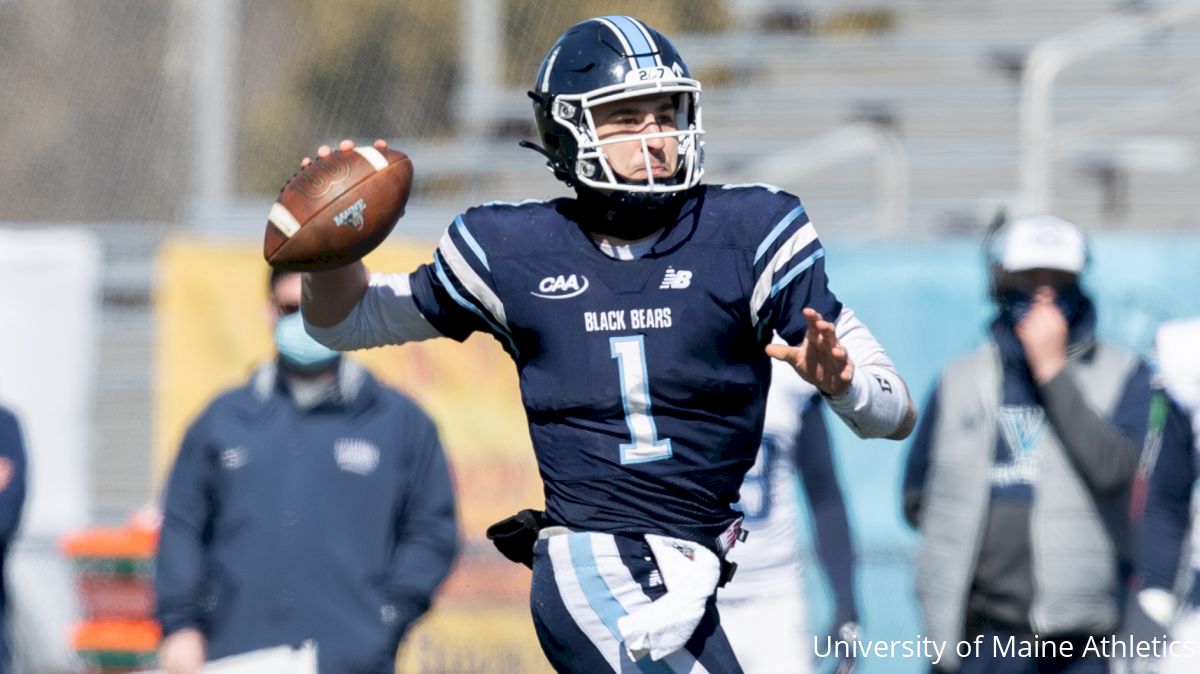 University of Maine quarterback Joe Fagnano has become accustomed to doing more with less.
Whether it was the COVID-19 pandemic or a high ankle sprain, the 6-foot-3, 225-pound senior from Williamsport, Pennsylvania, had only played 16 games coming into the 2022 season.
Nevertheless, he has put up some impressive numbers.
Through his first three seasons, Fagnano completed 62% of his passes for 3,425 yards, putting himself 11th on the program's list for all-time passing yards. He threw 31 touchdowns, while being intercepted only six times.
As a freshman, Fagnano earned CAA Rookie of the Week twice, won the New England Football Writers Gold Helmet Award and was voted the Black Bears' Thurlow Cooper Offensive Rookie of the Year Award winner.
In the abbreviated 2021 spring season, he was named to the All-CAA second team, and finished last season with a 136.6 QB efficiency rating, despite playing just four games due to injury.
Making the most of an opportunity comes naturally to Fagnano. His mindset has a lot to do with a piece of advice his father, Philip, a former baseball player in the Philadelphia Phillies organization and retired firefighter, gave him.
"He always tells me he'd rather be in a cornfield in Nebraska running sprints with his team than doing anything else," Fagnano said. "I always tell myself that. This goes by fast, so I gotta remember this is always what I love to do. I'd rather be here with my teammates doing pretty much anything."
The youngest of three boys, Fagnano was an active kid. He recalls spending many hours swimming in his grandparents' pool and biking around the neighborhood with his friends.
Between his father's passion for baseball and living in the same area as the Little League World Series, he initially envisioned himself as a baseball player.
"We'd have our own little sandlot thing going on," recalled Fagnano, a die-hard New York Yankees fan. "We played baseball out in the yard. Once we worked up a sweat and got hot in the summer, we'd head to the pool. That was always our big thing in the summer."
Fagnano's older brothers, Jake and Jared, both played football in college. Jake was a safety at Penn State, while Jared played at Akron for a year, before transferring to Penn State, where he played both football and baseball.
It wasn't until he began to flourish as a quarterback in middle school and high school that Fagnano realized he preferred that sport over baseball.
"I played quarterback my whole life," Fagnano explained. "I liked the team aspect of (football). Everybody had to account for each other every play. To be brutally honest, I was better at playing football than I was baseball."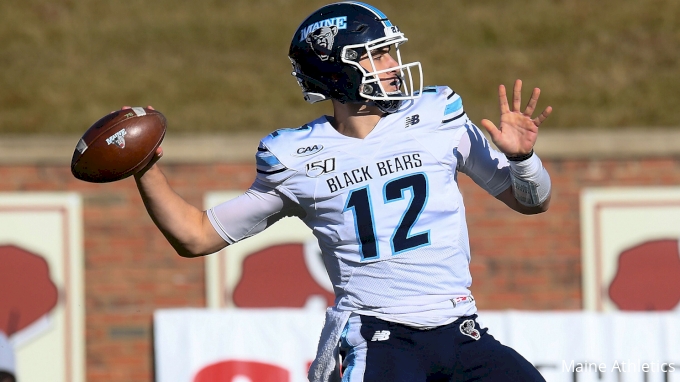 Fagnano was an All-State selection and Area Offensive Player of the Year at Williamsport High and competed in the East-West All-Star Game.
He threw for 4,059 career passing yards and 42 touchdowns in Class 6A competition. He rushed for 956 yards and 16 scores, and his numbers are especially impressive, considering he played behind another All-State quarterback his first two seasons.
"I think I made the right choice," he said.
Fagnano owes a lot to his father and brothers for molding him into the player he is today, but he gives a lot of credit to his oldest brother's best friend Josh Rogers, the freshman coach at Williamsport High. The two spent a lot of time together working on Joe's passing skills, and Rogers still comes to games when he can.
"He was always there, helping me get recruited with coaches," Fagnano said. "They've got to come see you throw, that's the big thing. He was always there helping me with that, pitching me to coaches."
Fagnano received interest from a handful of small Division I schools, including Bucknell, Connecticut and Sacred Heart. Maine didn't enter the picture until late in his senior year, when Nick Charlton was the Black Bears' head coach.
The team was coming off a good season with Chris Ferguson at quarterback, but Fagnano was impressed with how the players looked after each other.
"Up here, guys are a lot farther away from their homes," he explained. "You kind of have to take care of each other, because that's all you've got. I really liked that aspect."
After Ferguson suffered an injury, Fagnano was thrust into the starting role as a true freshman.
In his first start, he threw for 445 yards in a loss to Liberty, the most by a CAA quarterback that season. He finished the year with a 65.8 completion percentage, 1,835 passing yards and 17 touchdowns over eight games and six starts.
In the second game of the 2021 fall season against James Madison, Fagnano was dropping back for a play-action pass, when he suffered a high ankle sprain and fractured fibula. He underwent surgery but rehabbed in time to come back for the team's final two games.
He threw for 794 yards and six touchdowns through four games, averaging 198.5 passing yards per game and ranking second on the team with 782 yards of total offense.
"The training staff and coaches did a great job of getting me back," Fagnano said. "(The injury) was not what I wanted to have happen, but I couldn't do anything about it. I just put my head down and got to play those last two games."
Last December, the Black Bears hired Jordan Stevens to replace Charlton as head coach.
Stevens, a Maine native, played for the team and also served as an assistant coach. One of the first things he discovered upon taking the job was he had a quarterback he could rely on.
"He can see things once or twice and really grasp them," Stevens said. "That allows us to really trust him to do a lot of things on the field."
#BlackBearNation - join us in congratulating @CoachStevensFB on his first career victory!#BlackBearNation | ⬆️ pic.twitter.com/E1sPJE53eH

— Maine Football (@BlackBearsFB) October 8, 2022
Maine has gotten off to a slow start this season, posting a 1-4 record, but Fagnano has remained steady, surpassing the 4,000-yard passing mark for his career and has thrown for 200 or more yards in six of his last nine games.
In the Black Bears' 31-24 victory over Hampton, Fagnano threw for 213 yards, a touchdown and an interception. The offense had its best output of the season, tallying 449 total yards, with 226 of them on the ground.
"He's a tough kid," Hampton head coach Robert Prunty said of Fagnano. "He's not going to beat himself. He can disguise stuff, and he can read the defense well. He was outstanding against us."
Fagnano has worked hard to get the ball to his receivers quickly and accurately (he's thrown just 11 interceptions through 21 games). His quick decision-making and ability to take what defenses give him are two key reasons for his success.
"He's got great arm strength," Stevens said. "He's going to make decisions and put the ball there with velocity and really drive it in there so the receivers can catch it. He's not going to leave it out there to hang for (defensive backs) to make breaks on the ball."
Time to carry the momentum from our 🆆🅸🅽 at Hampton into #UMaineHomecoming week!

Tickets: https://t.co/PACynzBo1N#BlackBearNation | ⬆️ pic.twitter.com/UfO8SOLRG4

— Maine Football (@BlackBearsFB) October 9, 2022
As for the Black Bears' slow start, Fagnano maintains a positive view that things can only get better.
"Everything is still in front of us," he said. "We've got to take it one game at a time, one week at a time. We've got to go 1-0 this week. We can't worry about the end result right now."