2022 Stony Brook vs UAlbany
How Albany's Thomas Greaney Leads Great Danes By Example
How Albany's Thomas Greaney Leads Great Danes By Example
UAlbany's Thomas Greaney emerged as a leader, both in a team meeting and on the field, and it's a role his coaches knew he was ready to accept.
Oct 6, 2022
by Stephen Kerr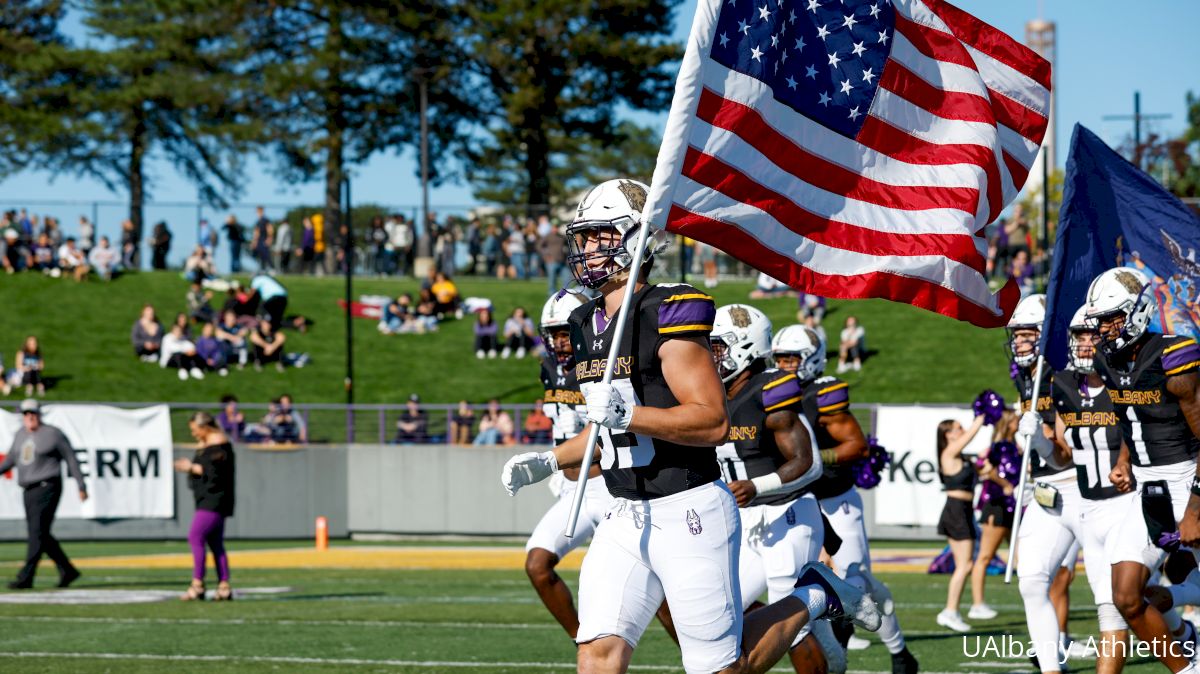 The University at Albany Great Danes finished a disappointing 2-9 last fall, with five of their losses coming by a touchdown or less.
At one point, the team captains gathered for a meeting. Some of the players began discussing the 2019 season, when UAlbany posted a 9-5 record and won its first FCS playoff game. The conversation went on for several minutes.
Finally, tight end Thomas Greaney stood up and addressed the group.
"Hey guys, listen," he said. "The past is in the past. It's not coming back. Yesterday is gone. We each have to focus more on the present and being the best team we can be."
Greaney's words resonated throughout the group and among the coaches.
While it hasn't yet spurred the Danes on to great success this season (they're 1-3 overall, 0-1 in CAA play), head coach Greg Gattuso believes the 6-foot-5, 255-pound senior's speech was a defining moment for the team at that time.
"It was a good cutoff point to get rid of that bad taste of 2020, 2021, that whole pandemic-shortened season," Gattuso recalled. "I thought it was really mature for him to stand up and say that. It showed me that he's accepted the leadership role we hoped he would fill."
Claiming that role isn't automatic. Trust and respect need to be earned over time. Having individual success on the field doesn't hurt, either, allowing the younger players to follow the example of the upperclassmen.
Greaney checks all those boxes. This season, he leads all CAA tight ends in receptions, receiving yards and touchdowns.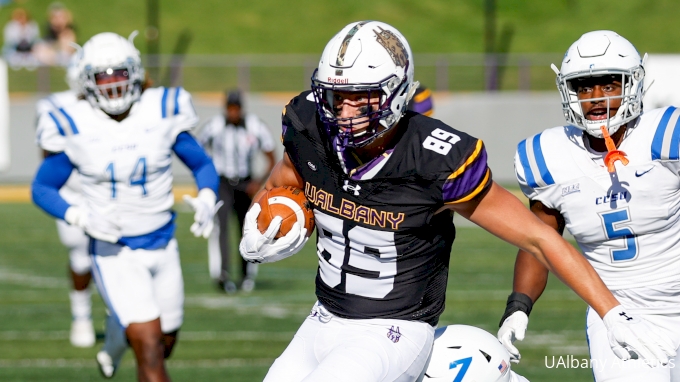 In a season-opening loss to then No. 10-ranked Baylor, he caught three passes for 57 yards, proving he could hold his own against Power Five competition. His longest reception of the year, 33 yards, came against Baylor. Greaney posted 105 receiving yards against New Hampshire on Sept. 10.
Greaney believes his personal turning point came last season in a 41-14 rout over Morgan State. It was Senior Day for the Great Danes, and Greaney had three receptions for 113 yards, including a 73-yarder that took the ball down to the Morgan State 1-yard line.
"In that game, I was able to catch the ball and show what I can do with the ball in my hands," Greaney explained. "That helped show the coaches some faith that I can make some plays."
A native of Bedford, Massachusetts, Greaney and his twin brother, Daniel, are the second oldest of five siblings. Their father, Bob Greaney, played college football at the University of Massachusetts Amherst and works as a plumber at the University of Massachusetts Lowell. Their mother, Chris, works in human resources.
Football, basketball and wrestling were the brothers' main sports growing up. Thomas Greaney's younger brother Joseph, a 6-foot-3, 277-pound defensive lineman, also plays for the Great Danes.
While the desire to outdo one another always is present to some extent, there's an easy banter between Thomas and Joseph, along with a respect for the other's talent.
"The rivalry stuff kicked up more when we'd be at the house, whether we were playing basketball or football," Thomas Greaney recalled. "I used to hate playing him and my twin in basketball because they would get under my skin a lot and play really aggressive defense and foul a ton. Obviously, playing in the backyard, you're not going to get a lot of fouls called. My dad would love watching them foul me."
Thomas averaged 14 points and 10 rebounds playing basketball at Lawrence Academy his senior year, but he quickly discovered football would be his ticket to a college scholarship. He played at Bedford High his first three seasons, before transferring to Lawrence.
As a senior, he caught 10 passes at tight end, three for touchdowns. He also played safety and had visions of playing quarterback, until his head coach advised him that tight end was a better fit for college.
"Quarterback was my thing," explained Greaney, who counts Tom Brady as his biggest childhood hero. "My head coach approached me and (told me) I had a body for tight end, and I had a better chance of going the football route if I were a tight end."
Greaney wasn't highly recruited, due in large part to not having a dominant position. But when Gattuso began watching film, he loved Greaney's tall, athletic body.
"We took Thomas simply on that," Gattuso said. "You can do a lot with big, tall, athletic guys."
Greaney played sparingly as a freshman in 2018, appearing in four games. He also became a father that same year.
Probably the cutest interview I've *ever* been part of.

Note: Charlotte Greaney always has Dad's @thegreaney13 back, even if there are monkeys on it.

After @UAlbanyFootball got their Saturday win over CCSU 🏈 pic.twitter.com/vDFPLX7xRy

— Lexi Swatt (@swatts_talking) September 27, 2022
The following season, he appeared in 12 games, catching five passes for 59 yards and two touchdowns. In the pandemic-shortened 2021 spring season, he caught a pass in his one game of action.
Greaney came into his own last fall, catching 17 passes for 234 yards. He gives credit to associate head coach and co-offensive coordinator Nate Byham for teaching him the finer points of the position. Byham, now in his ninth season with the Danes, is a former NFL tight end.
"That was a big reason why I came to Albany, because they've got a guy like Coach Byham, who played in the NFL, went to (Pittsburgh) and was a phenomenal college tight end," Greaney said. "Whatever he says, whatever he asks me to do, that's what I'm going to try to do to my fullest."
Joseph, a sophomore, recovered a fumble and returned it 77 yards for a touchdown in the Danes' first win of the season, which came against CCSU. Joining his older brother at UAlbany wasn't something the two often discussed, but when the time came for Joseph to make his choice, it was an easy decision.
"There's a familiarity there," Joseph Greaney said. "They were one of the only places who gave me a chance, so I wanted to prove them right and show they made a good choice."
Joseph's assessment of his brother's skills is objective, with a touch of playfulness.
"He's a great player," he said. "A bunch of guys might not want to do the dirty work, but he doesn't shy away from that. He's got good pass-catching skills and speed. He runs a 4.7, which I still find hard to believe. He could do a little better on getting to the end zone on those long runs, like I showed."
77 yards 𝙩𝙤 𝙩𝙝𝙚 𝙝𝙤𝙪𝙨𝙚 😤@JoesphGreaney #UAUKNOW #WinTheDay 🟪🟨 pic.twitter.com/yAmPooKJsR

— UAlbany Football (@UAlbanyFootball) October 4, 2022
Kidding aside, Thomas knows pass catching alone won't get him to the NFL as a tight end. He's working hard to improve his blocking ability.
"Blocking is a big thing, and I'm going to keep working and showing those NFL scouts I can be a dominant blocker, someone who doesn't just position block, but can finish," Greaney said.
When he's not immersed in football, Greaney enjoys playing golf as a way to relax. He also has picked up chess and works with Best Buddies, a nonprofit that focuses on providing one-on-one friendships, employment and leadership development for people with intellectual and developmental disabilities. He first became interested in the organization while at Bedford High, where he befriended a boy with disabilities.
"It's something I gravitated toward, being able to help people," Greaney explained. "I just found a passion and love for it, and it's something I hold close to my heart."
While the Great Danes are off to a slow start this season, Greaney still believes he has a chance to go out a winner.
"I just want to win a CAA championship with these guys and my brother," he said. "We've gone through the hardships, the highs and lows. It's the only thing that really matters to me."