2022 Ferris State vs Saginaw Valley
GLIAC Games Of The Week: Ferris State Looks To Keep Rolling
GLIAC Games Of The Week: Ferris State Looks To Keep Rolling
A potential No. 1 vs. No. 2 showdown looms Oct. 15 in the GLIAC, but first, top-ranked Ferris State must get through a Top 25 opponent on the road.
Oct 5, 2022
by Ron Balaskovitz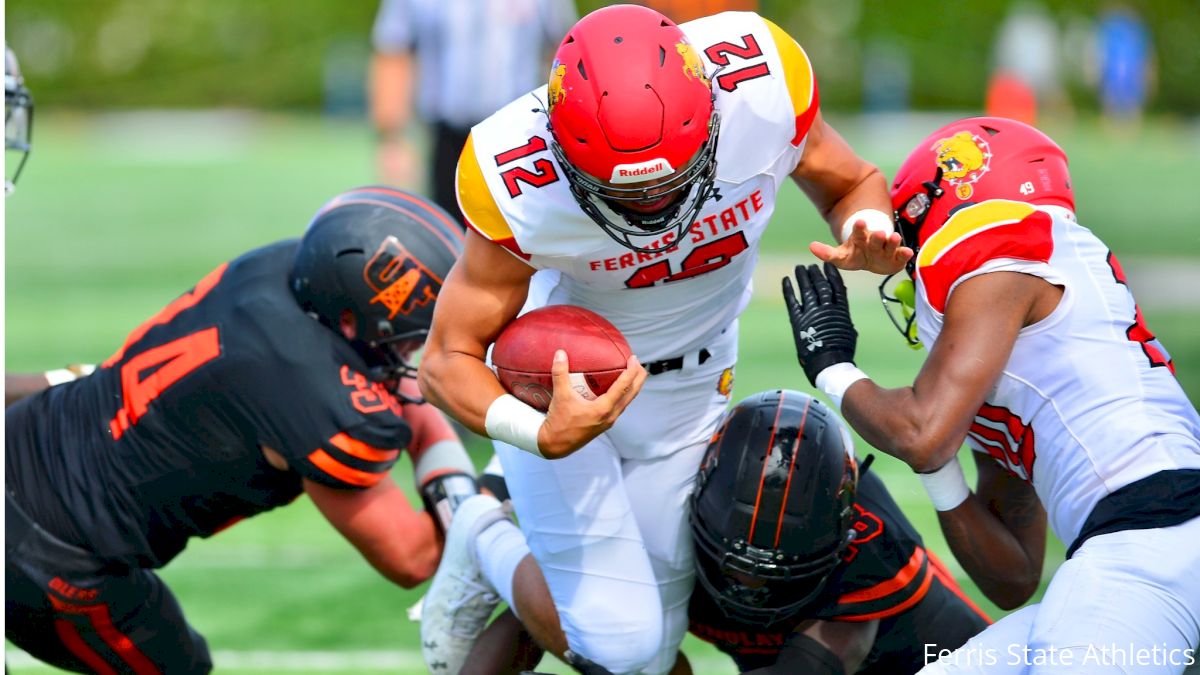 While other leagues have seen upheaval and preseason favorites struggle through the first half of the regular season, that has not been the case in the GLIAC. The conference favorites coming into the year have answered every challenge along the way.
If reigning national champion Ferris State can do it again this week, it sets up a potential No. 1 vs. No. 2 super-clash in Week 7. But first, the Bulldogs face a Top 25 challenge with playoff implications this week.
As the favorites have dominated, a pair of sleepers in Davenport and Northern Michigan have quietly gotten off to strong starts. They square off this week in a possible proving-ground game.
The GLIAC sees three league matchups in total this week, with Grand Valley State the lone member to play a non-conference foe. The Lakers face American International of the Northeast 10.
Davenport at Northern Michigan
In a scheduling oddity, this is the second time the two teams have met in less than a month, with Davenport taking a 31-21 decision in a non-conference meeting in Grand Rapids back on September 17. So, despite the win over a league foe for Davenport, both teams will enter the game at 1-0 in the GLIAC, making this a key early-season matchup for two teams hoping to break into the upper tier – and possible playoff contention.
The Panthers won three games in 2021 and scored 104 points in 11 games. Fast forward to 2022, and Davenport is 4-0 and has already scored 154 points, including a 52-38 win over a tough Michigan Tech defense last week.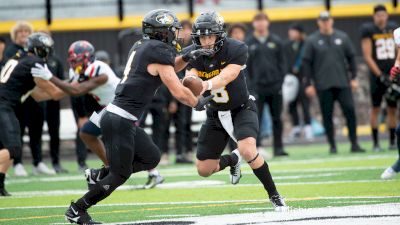 At one point the Panthers trailed 24-7, then put up 38 second-half points to keep the perfect season going. Davenport put up over 550 yards of offense, with quarterback Jason Whittaker accounting for six touchdowns, tossing two each to Preston Smith and Roy Livingstone.
Whittaker has been a revelation under center for the Panthers, tossing 12 touchdowns against just one interception so far, with five different receivers catching touchdowns.
Like Davenport, Northern comes in after earning a hard-fought, come-from-behind win, 37-30 over Wayne State in its GLIAC opener.
The Wildcats come in at 3-2 and in the win over Wayne State, got a pair of second half touchdown passes from Zack Keen as part of a 20-0 run in the second and third quarters.
The meeting back in September saw Davenport build an early 21-7 lead, then ice the game with a touchdown in the third quarter after Northern cut the deficit to three points.
Ferris State at Saginaw Valley State
The top-ranked Bulldogs continue to roll, going on the road last week to Findlay (OH) and dominating from start to finish in a 38-7 win.
Through four games, Ferris State has won every game by at least 16 points, and – since giving up 20 points to Central Washington in the opener – has allowed 15 total points in the last three games.
Ferris State held a good Findlay offense to just 276 yards and picked off a pair of passes. That 276 yards might be considered an "off" day for the Bulldogs, bumping up their season yield to 172.5 yards per game on the season; still tops in the nation.
At 8.75 points per game allowed, the Bulldogs also lead the country in scoring defense, along with an offense that's seventh in scoring. There's a reason they've been No. 1 in the polls since the preseason.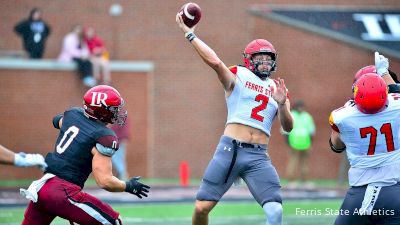 That could spell bad news for a SVSU team that had been rolling in its first four games, scoring 182 points in its first four wins, only to have the clamps put on by rival Grand Valley State last week in a 29-10 loss.
After scoring a touchdown on their opening drive for a 7-0 lead on the Lakers, the Cardinals were held to a field goal the rest of the way, managing just 226 yards of offense and 13 first downs. Their normally potent rushing attack, which was averaging close to 300 yards per game, was held to 105 on 30 carries.
But if there's a team that has confidence against Ferris State, it's SVSU, which nearly shocked the Bulldogs last year in a 47-45, overtime classic. Ferris State will try not to get caught looking ahead to a potential 1 vs 2 matchup next week with Grand Valley.
Wayne State at Michigan Tech
A pair of teams who have struggled in the early going, both at 1-4 and 0-1 in the league, but did find positives on offense last week in close losses, and remain in the conference race with only one league week completed.
The Warriors had just 40 points in their three previous losses, but found a way to put up 30 against a solid Northern Michigan team, with four different players rushing for 27 or more yards, and two others getting touchdowns. Wayne State managed 437 yards of offense in the loss, and had a 27-23 first down advantage, but were hurt by a pair of turnovers.
Tech had been worse on offense through its first five games, scoring just 63 points through three games before erupting for 38 in the loss to Davenport. Quarterback Will Ark broke out with a four touchdown performance. Tech took last season's game in a 30-27 nail-biter, using a 17-7 advantage in the second half to pull out the win.