2022 CAA Football
CAA Games Of The Week: A Top 25 Clash In Zable Stadium
CAA Games Of The Week: A Top 25 Clash In Zable Stadium
Top 20-ranked Delaware and William & Mary meet in Week 6 for a midseason showdown of epic proportions.
Oct 4, 2022
by Kyle Kensing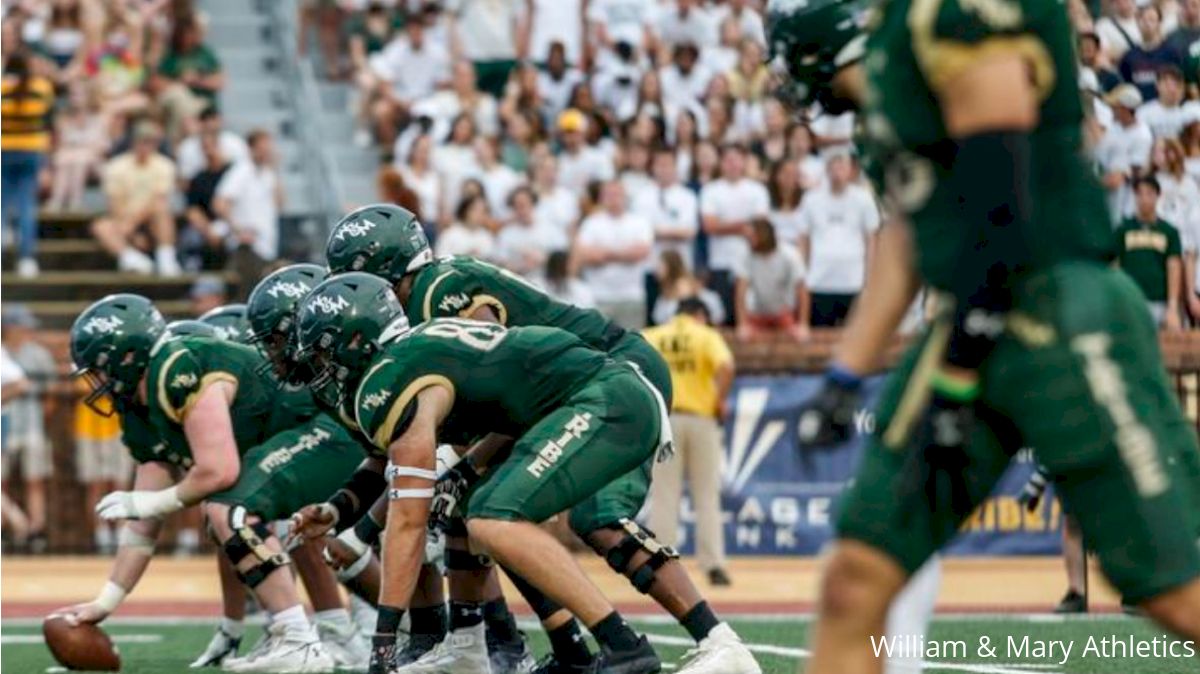 Week 6 marks the midway point of the college football season, an unofficial yet undeniably significant milestone. This is the juncture of the season at which the true championship contenders create separation, and the playoff picture starts to come into focus.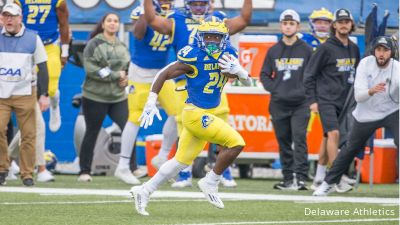 Each Saturday in the coming weeks provides the kind of games we can look back on at season's end and realize how they shaped the campaign. A matchup between Top 16-ranked opponents William & Mary and Delaware this week feels like one such game.
The No. 16 Tribe welcome the No. 6 and undefeated Blue Hens to Zable Stadium for a marquee clash likely to have implications both on the Colonial Athletic Association championship race, and the still-in-the-early-phases playoff pursuit.
It's a showdown of two teams with similarities beyond their impressive records — William & Mary at 4-1, 2-1 in the CAA; and Delaware at 5-0 and 3-0 — or that they both boast wins over FBS opponents this season.
Both the Tribe and Blue Hens are scoring 30-plus points per game at 34 and 30, and have done so without sacrificing defense. Delaware's 10-point per game yield is third-best in the nation, while William & Mary ranks 21st at 19.4 points allowed.
Each has a variety of difference-makers on offense to keep opponents off-balance, while their defenses both feature national leaders: William & Mary's John Pius at 7.5 sacks and Delaware's Johnny Buchanan at 59 tackles.
And the two sides share championship aspirations.
"The challenge is presented, and this is what good CAA football teams do: They play against each other, bring their strengths, and here we go," William & Mary coach Mike London said. "See where we last at the end of the fourth quarter."
In terms of bringing their strengths, William & Mary and Delaware mirror one another in key ways while also presenting enough contrasts to make for an intriguing chess match.
The Tribe boast two of the CAA's top seven rushers, for example, with Malachi Imoh and Bronson Yoder averaging 76.5 and 104 yards per game. Imoh shouldered the load in Week 5 with Yoder out, going for 128 yards and three touchdowns to power William & Mary's 27-10 win at Stony Brook.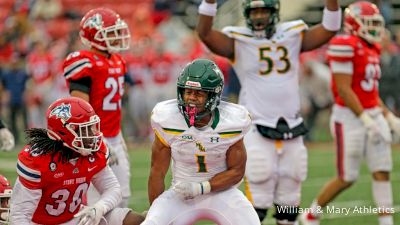 Delaware's leading rusher, Kyron Cumby, is averaging fewer than 50 yards per game and has scored fewer touchdowns on the season than Imoh delivered in last week's second half. That's not a lack of production on Cumby's part, however: He's averaging six yards per carry, while teammate Marcus Yarns has churned out 6.6 yards a touch.
The Blue Hens run game is certainly capable, but the Delaware offense has primarily ridden Nolan Henderson's arm.
The quarterback is completing better than two-thirds of his pass attempts and totaled 1,457 yards on 125 completions. Henderson's been especially productive in CAA play, just shy of 350 yards per game with 11 touchdowns over three games.
Another big play for @Delaware_FB!!

Nolan Henderson to Chandler Harvin for 74 yards and 6 points!

📺 #CAAFB on @FloFootball
➡️https://t.co/wZhH1155bM pic.twitter.com/hSLue3fXHh

— CAA Football (@CAAFootball) October 1, 2022
William & Mary counters with a pass defense allowing just 188.2 yards per game. A ridiculous stat: Freshman defensive back Jalen Jones picked off as passes by himself in one game (Sept. 10 vs. Campbell) as the Tribe have allowed passing touchdowns through five contests (3).
Outstanding pass defense is a byproduct of the pressure generated on quarterbacks, and William & Mary brings it all game between Pius, Nate Lynn and Carl Fowler. The Tribe average 3.2 sacks per game; Delaware has allowed 2.6 per.
On the other side of the ball, London said Yoder showed signs of improvement Sunday, which bodes well for William & Mary reestablishing its multidimensional look. The Tribe's rush offense thrives on its diversity, and it may be all-hands-on-deck facing a tough task against Delaware. The Blue Hens are allowing just 3.3 yards per carry and have surrendered fewer rushing touchdowns all season (2) than Imoh carried for by himself last week.
Monmouth Vs. UAlbany
If you enjoy seeing points scored, this is the matchup for you. UAlbany and Week 6 host Monmouth have the top two rushers in the CAA with Todd Sibley (108.3 yards per game, 7.6 yards a carry, five touchdowns and a season-long rush of 97 yards) and Jaden Shirden (154.4 yards per game, 9.9 per carry, five touchdowns and a season-long rush of 95 yards).
Todd Sibley rushed for a career-high 190 yards, highlighted by a 97-yard touchdown run on the opening play of the game as @ualbanyfootball picked up its first win of the season over Central Connecticut State pic.twitter.com/CTIKfzEIsv

— CAA Football (@CAAFootball) September 25, 2022
.@MUHawksFB's first two drives:

▪️ 60-yard TD
▪️ 95-yard TD

Jaden Shirden takes it all the way to give Monmouth the lead!

📺 @SNYtv, @NBCSPhilly, @FloFootball
💻 https://t.co/wZhH1155bM pic.twitter.com/H19ue7agil

— CAA Football (@CAAFootball) September 10, 2022
The Great Danes and Hawks also have standout quarterbacks. Preseason 1st Team All-CAA selection Tony Muskett of Monmouth rebounded from a tough season-opener when he threw three picks at New Hampshire.
Over the Hawks' ongoing, three-game winning streak, Muskett tossed seven touchdowns with just one interception and has been electric as a ball-carrier in the last two games with 134 total rushing yards.
UAlbany quarterback Reese Poffenbarger has already built an impressive case for the Jerry Rice Award, claiming consecutive CAA Rookie of the Week honors in Weeks 3 and 4. His 412 passing yards against Fordham are the CAA season-high and eighth-most nationally through Week 5. For an encore, Poffenbarger completed better than 69 percent of his 26 attempts for 257 yards and two touchdowns in the Great Danes' first win of 2022.
Reese Poffenbarger's school-record 412 yards is the 5th-most by a FCS quarterback this season and broke the previous @UAlbanyfootball mark of 398 yards pic.twitter.com/dHQSsHPcmW

— CAA Football (@CAAFootball) September 19, 2022
"That's the thing that's exciting, watching his growth," UAlbany coach Greg Gattuso said of Poffenbarger. "When he's really focused and confident, he can make all the throws."
Additionally, Gattuso said Poffenbarger compiles weekly scouting reports on the opponent, completely independently.
Those elements on both sides combine to become explosive, with Monmouth producing 39.8 points per game and UAlbany at 30.8 per. The Great Danes' average against FCS competition jumps to 37.7 a contest.
Hampton Vs. Maine
Maine heads south to the Tidewater for a matchup with Hampton, which has historical implications for both programs.
The Black Bears seek their first win of 2022, and thus the first win under first-year head coach Jordan Stevens. They returned from their bye week last Saturday to open CAA play with a 45-20 loss to Villanova.
Stevens said a slow start and surrendering big plays to the Wildcats offense doomed Maine in defeat. Now this week, the Black Bears defense must contend with a Hampton offense that features one of the best big-play wide receivers in FCS, Jadakis Bonds.
Bonds went into Hampton's Week 5 bye averaging 21 yards per catch with touchdown catches on more than a quarter of his 15 total receptions.
"Jadakis is a guy [who] stands out in terms of his length and his ability to make contested catches, win 50-50 balls down the field," Stevens said. He's able to go up and get it."
Jadakis Bonds puts @HUAthletics1868 up 21-0!

📺 @FloFootball
💻 https://t.co/wZhH1155bM pic.twitter.com/KtcUcd9EIc

— CAA Football (@CAAFootball) September 10, 2022
"There's a lot of pieces there," Stevens added. "They play hard. There's a reason they're 3-1."
But as the Pirates return home in pursuit of their first-ever CAA win, coach Robert Prunty sees an opponent better than its record.
"This is a dangerous 0-4 team," he said. "I looked at the Boston College film last night...and they're in this game against Boston College. They played two [FBS] programs and then losing to Villanova over the weekend, they've played some good football teams.
"They've got a lot of weapons on offense," he added. "The more you study them, you start seeing, these guys are veterans. They've got a lot of seniors and graduate kids."
Maine's experience is reflected in its front seven with leading tacklers Brian Lee Jr. and Adrian Otero, both seniors; and defensive lineman Xavier Mitchell, a grad student. Saturday's matchup could come down to this group's performance against Hampton's two-quarterback approach with JUCO transfer Malcolm Mays and freshman Christopher Zellous both taking meaningful snaps.