2022 Saginaw Valley vs Grand Valley State
GLIAC Games Of The Week: A Top 20 Battle Of Unbeatens
GLIAC Games Of The Week: A Top 20 Battle Of Unbeatens
Undefeated and Top 20-ranked Saginaw Valley State and Grand Valley meet in a huge Week 5 matchup to the headline the GLIAC schedule.
Sep 29, 2022
by Ron Balaskovitz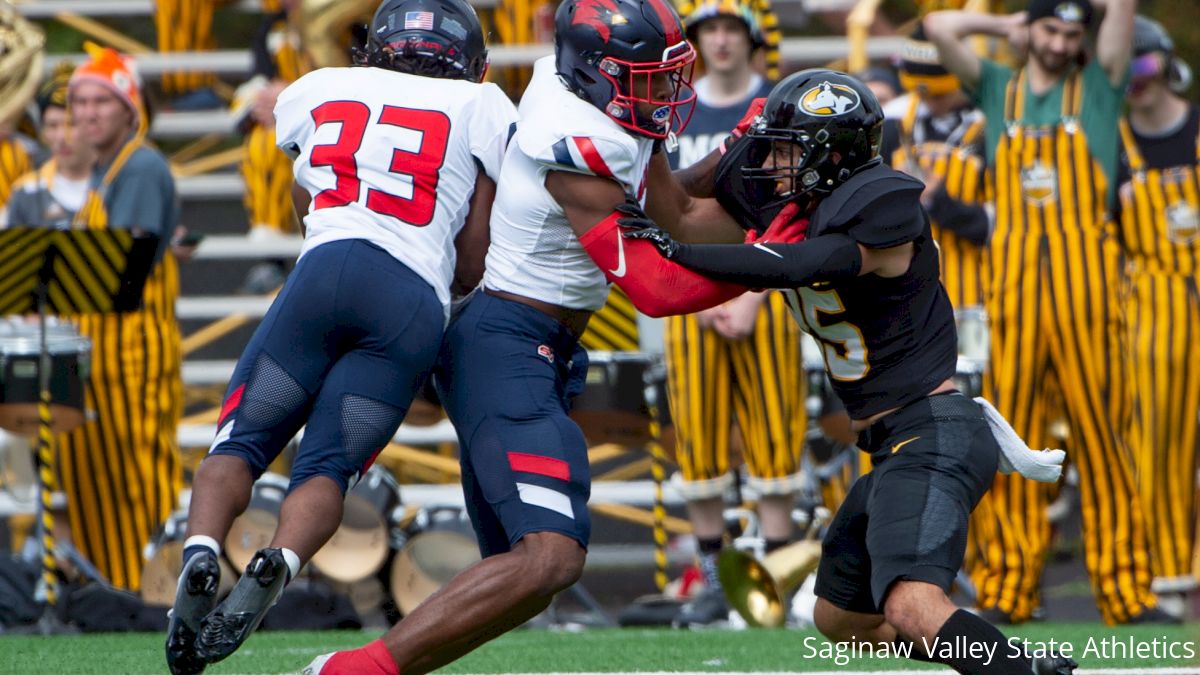 As the season rolls along, the GLIAC could be setting itself up for a national 1 vs. 2 showdown.
But is there a third team set to put itself in the title mix with Ferris State and Grand Valley? And can that third team put themselves into the conversation starting this weekend?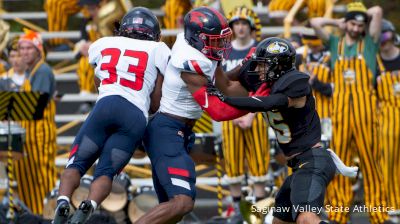 Last week's games saw Grand Valley and Saginaw Valley both roll in road victories against GLIAC opponents, setting the stage for this week's rivalry clash between the two undefeated and nationally ranked opponents.
All seven GLIAC teams are in action this weekend, with Ferris State the lone school playing out of league when it travels to Findlay (Ohio).
No. 17 Saginaw Valley State Vs. No. 2 Grand Valley State
The Battle of the Valleys features two teams on fire who have been nearly mirror images of each other so far, and huge stakes in what might end up being the second biggest conference game of the year.
Saginaw Valley comes in at 4-0, and isn't just unbeaten: It's rolling after four games to a 182-39 combined score. Grand Valley, meanwhile, has climbed to No. 2 in the AFCA poll, and has crushed its first four opponents by a combined 174-48.
SVSU's 182 points are tops in the league so far, while the defense is second at 39 points allowed. The Cardinals cruised to a 1-0 league start after rolling past a tough Michigan Tech defense last week, 35-13.
In the win, the Cardinals defense gave up just nine first downs and 184 yards of offense, while Isaiah Malcome racked up 174 yards on just 20 carries, including a 74-yard touchdown run, to pace SVSU on the other end.
Through four games, SVSU's rushing attack has accrued 1,219 yards, while the run defense has held opponents to just 169 yards at 1.4 yards per carry.
Something has to give Saturday against the Lakers, who have rushed for 992 yards so far, and found the end zone 16 times via the run.
The Lakers also climbed to 4-0 last week, crushing Wayne State, 48-9. GVSU finished with just under 500 yards of offense, and held a solid Warriors rushing attack to just 54 yards.
This is the 51st all-time meeting between the two teams, with GVSU dominating at 39-11, including the last nine games. The Lakers rolled last season at SVSU, 49-17.
Michigan Tech Vs. Davenport
Perhaps the surprise of the early-going in the GLIAC, the Davenport Panthers — picked last in the preseason poll — enter this week's game at 3-0, including a league win over Northern Michigan two weeks ago and a 51-17 romp last week over former GLIAC foe Northwood.
The Panthers look to make it 4-0 and 2-0 in the GLIAC with a win over the Huskies, making the long trip down from the UP.
Davenport has typically had tough defenses, and this season the offense has followed, at 34 points per game.
Jenkins takes the ball into the end zone! Touchdown Davenport!! Gielow's extra point goes through the uprights

Davenport 51 ~ Northwood 10 pic.twitter.com/m8pIsKzueT

— Davenport Football (@DU_Football) September 24, 2022
In last week's win over Northwood, the Panthers scored their 51 in just three quarters, and amassed 586 yards of total offense behind quarterback Jason Whittaker's 360 yards passing and five touchdowns.
They face a Michigan Tech team in the opposite boat.
Tech is averaging less than 17 points per game on its way to a 1-3 start, while the normally stout Huskies defense has given up 27 points per game so far.
For context on how much Tech has struggled on offense, they are last in the GLIAC in yards per game at 219.5 yards per game, 91 yards less than the team ahead of them.
Northern Michigan Vs. Wayne State
A pair of teams in need of a league win, Northern Michigan got back on track last week with a blowout win over visiting Post University, but sits at 0-1 in the GLIAC after falling to Davenport two weeks ago.
In the win over Post, the Wildcats put up 28 second-half points to pull away after leading 14-7 at the half.
The Northern offense erupted for 566 yards in the win, with quarterback Zach Keen passing for 311 yards and three scores. Running back Tyshon King showed his big play ability, finishing with 172 yards on 19 carries, including a touchdown run.
Tech put up those offensive totals despite four turnovers with an interception and three fumbles.
Wayne State enters at 1-3 after it was crushed by Grand Valley last week. If there was a positive from that game, however, it was that the Warriors were able to get their passing attack going with 306 yards, nearly doubling their season total to that point.
Northern scored a wild comeback in last year's meeting, rallying from down 19-0 with 26 straight points scored over the game's final 20 minutes.