2022 Florida International vs New Mexico State
FIU Vs. New Mexico State Preview: Two Growing Programs To Square Off
FIU Vs. New Mexico State Preview: Two Growing Programs To Square Off
New Mexico State and Florida International's football programs have been through some stuff lately. Both have new coaches. They'll square off this weekend.
Sep 28, 2022
by Briar Napier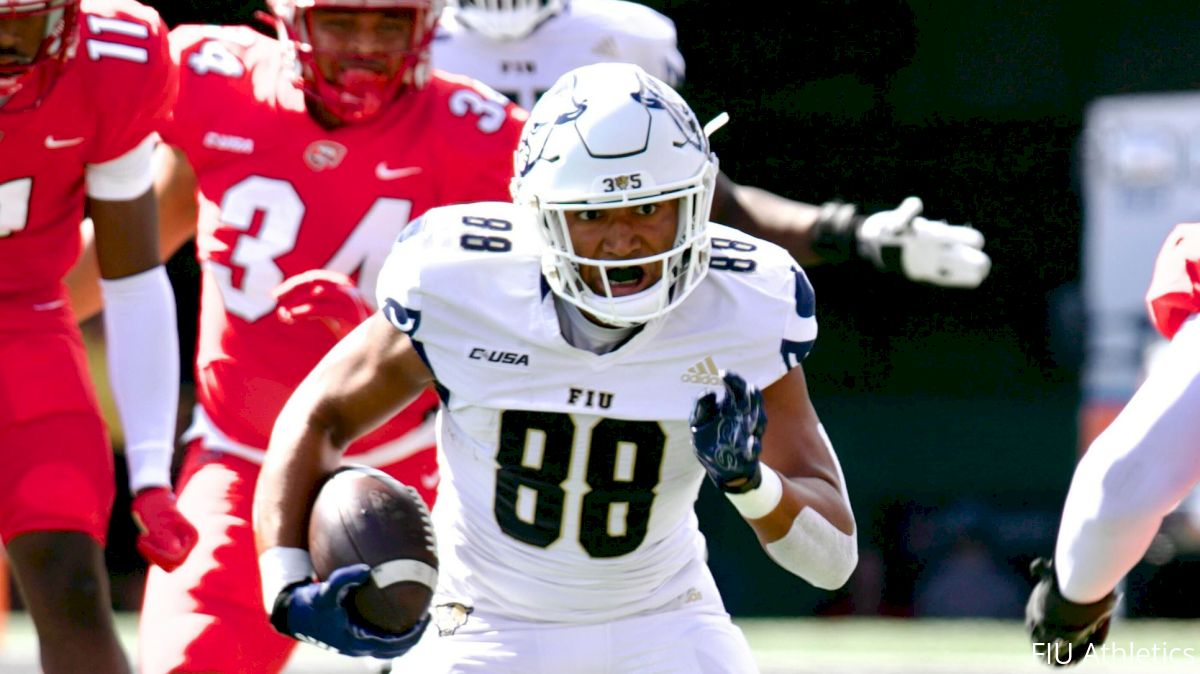 New Mexico State and Florida International's football programs have been through some stuff lately.
Both programs went through coaching changes in the offseason after brutal runs of consecutive losing seasons. They're now starting from scratch in trying to build college football teams in the brutal world of the FBS.
Wins, no matter where they come from, always are important in establishing a winning culture.
With both the Panthers and the Aggies featuring coaches who had sizable success at a high-major level prior to their respective stops, there's certainly expectation to perform from those on the sidelines.
When the two schools meet on the football field Saturday in New Mexico, facing off for the first time since 2004, one of those coaches again will feel the satisfaction of a victory.
Here's a look at New Mexico State and Florida International will bring to the table for their non-conference clash this weekend. The game will kick off at 8 p.m. Eastern, live on FloFootball.
Florida International Panthers (1-2)
The lowdown: The alma mater of several notable past and present NFL contributors, including wide receiver T.Y. Hilton and tight end Jonnu Smith, Florida International football has seen better days.
A thrilling overtime win over Bryant to start the year has been followed by back-to-back blowout losses, including a 73-0 beatdown at the hands of Western Kentucky last weekend in the Panthers' Conference USA opener.
To be fair to the program, it is in its first season under former San Jose State and Colorado coach Mike MacIntyre, who most notably won the Associated Press Coach of the Year award with the Buffaloes in 2016, so bumps in the road are to be expected in his tenure's early days, especially with 49 freshmen on the roster.
Lots of football left to play this year, we're moving forward. 💯#ELEVATE pic.twitter.com/MbchrKUaoG

— FIU Football (@FIUFootball) September 27, 2022
For a team that went a combined 1-16 over the prior two seasons, being competitive each week this year is the first step toward consistent growth.
Still, there is a lot of work left to be done for MacIntyre and his staff, as FIU ranks last in America in points allowed per game (50.3) and in the bottom 10 in the country in points scored (16.7), with gaps in production across the field that are going to take at least a couple of seasons to fully fix.
Though the Panthers have played three different quarterbacks across their three games, the passing game has been fairly decent overall.
Sophomore Grayson James tossed four touchdowns in the season-opening win and is 59-for-100 for nearly 500 passing yards through three weeks, even with backups Haden Carlson and Gunnar Holmberg seeing sporadic work under center.
With a target like senior Tyrese Chambers (19 receptions, 175 yards, two touchdowns) to throw to, being named an All-Conference USA second-team pick a year ago as a speedy 1,000-plus yard wideout, that makes throwing the football a little easier in the meantime, too.
Elsewhere on the offense, the running game (63.3 yards per game) has struggled to get going behind an inexperienced offensive line that only has four upperclassmen out of the 18 on the roster who play the position.
Throw all that in with the fact that the defense is allowing frequent big plays without much answer, and the lopsided results FIU has seen twice this year can happen.
The win over Bryant saw the Panthers move the football down the field well (27 first downs) and keep being gashed on the ground to a minimum (3.3 yards allowed per run). If the Panthers want to pick up multiple wins in a season for the first time since 2019, much of the same likely has to occur.
New Mexico State Aggies (1-4)
The lowdown: Playing its final year of independent football before joining Conference USA as a full member next season, New Mexico State already is getting a taste of life in the league.
FIU will be the Aggies' second opponent from the conference this year (UTEP, which beat NMSU on Sept. 10 in El Paso, is the other).
Like the Panthers, the Aggies have a new leader on the sidelines with Power 5 coaching experience in Jerry Kill, best known for being the head coach at Minnesota from 2011-2015, before entering a brief retirement due to health issues.
He eventually switched back and forth between administrative and assistant coaching roles, before being brought to Las Cruces this offseason, where he hopes to achieve the monumental task of building a winner out of a program that has only had one winning season in the past two decades.
The Aggies' 1-4 start means that an over .500 record likely won't be coming this season, but with competitive games against Nevada and UTEP, plus a win against Hawaii last weekend, the signs of progress are there, especially with some underclassmen putting up some significant production.
Freshman Gavin Frakes has seemed to have edged ahead of junior Diego Pavia in an ongoing competition at quarterback, with Frakes throwing 14 passes to Pavia's one in the Hawaii win.
Come on, Aggies. Let's go party 🥳#AggieUp pic.twitter.com/JXFs5lGl4Z

— New Mexico State Football (@NMStateFootball) September 26, 2022
New Mexico State shines if its run game can get going, as evidenced by the fact that the Aggies put up an eye-popping 359 yards on the ground with five touchdowns against the Rainbow Warriors, led by a 144-yard day from sophomore tailback Star Thomas.
As the Aggies don't throw the ball much (115 attempts in five games), how quickly they establish a powerful rushing attack often is a key barometer in determining NMSU's chances in a game.
The defense isn't great, allowing an average of over 400 yards of total offense per game thus far, but senior linebacker Chris Ojoh is headed for a strong season. He has made 38 total tackles so far.
A new career-high of 14 tackles and counting for @ChrisOjoh https://t.co/mJIhQFBAE0 pic.twitter.com/M1jBvxMj3E

— New Mexico State Football (@NMStateFootball) September 25, 2022
NMSU has suffered its share of blowouts this year, too, being dismantled rather easily by Kill's former program in Minnesota (38-0) and one of his former Big Ten foes in Wisconsin (66-7).
With the Aggies seeming to respond well so far to their new coach and finally getting over the hump to win their first game with him, it should give New Mexico State a big boost of confidence this weekend. The team has a very realistic chance of turning a single win into a winning streak.