2023 South Atlantic Conference Football
The South Atlantic Conference Football Players Of The Week
The South Atlantic Conference Football Players Of The Week
Limestone running back Tre Stewart exceled on the field last weekend and again was named South Athletic Conference Offensive Player of the Week.
Sep 27, 2022
by FloFootball Staff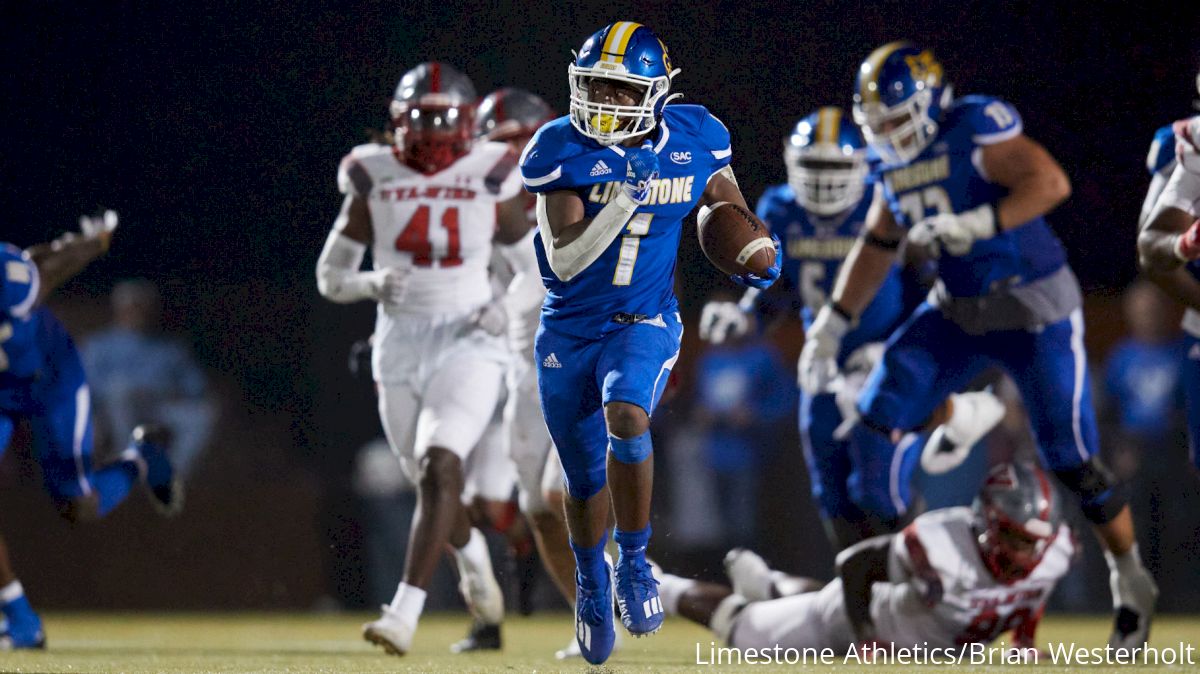 The South Atlantic Conference announced its Football Players of the Week for games played during the fourth week of the 2022 season.
Limestone running back Tre Stewart was tabbed as the Offensive Player of the Week, while Tusculum defensive back Andrae Robinson was named the Defensive Player of the Week.
Tusculum kicker Juan Villasenor picked up Special Teams Player of the Week honors.
Stewart, a sophomore from Winston-Salem, North Carolina, led the Saints to their third straight win with a 27-13 victory over UVA Wise. He rushed for a school record 320 yards on 21 carries, averaging 15.2 yards per carry, including an 82-yard dash.
Stewart added three touchdowns and hauled in two catches for 20 yards.
.@TusculumFB Andrae Robinson, Juan Villasenor named SAC Players of the Week #PioneerUP
Full Story: https://t.co/tNTANsRJhR pic.twitter.com/xgTzNzHhwG

— Tusculum Pioneers (@TusculumSports) September 27, 2022
Robinson, a sophomore from Covington, Georgia, posted five solo tackles and accounted for a pair of turnovers in Tusculum's 50-17 SAC win over Catawba. He also recovered a fumble in the first half and then recorded a program-record 97-yard interception for a touchdown.
Villasenor, a sophomore from Morristown, Tennessee, recorded a career-best 14 points in the Pioneers' win over Catawba. He went 3-for-4 on field goals and was 5-for-5 on extra-point attempts. He hit field goals from 30, 21 and 19 yards.
2022 SAC Football Players Of The Week
Offensive Player Of The Week
Sept. 5 - Tre Simmons, Tusculum
Sept. 12 - Tre Stewart, Limestone
Sept. 19 - Jaquan Lynch, Barton
Sept. 26 - Tre Stewart, Limestone
Defensive Player Of The Week
Sept. 5 - Christian Campbell, Catawba
Sept. 12 - DJ Horne, Wingate
Sept. 19 - Marquise Fleming, Wingate
Sept. 26 - Andrae Robinson, Tusculum
Special Teams Player Of The Week
Sept. 5 - Kellan Dalton, UVA Wise
Sept. 12 - Ethan Evans, Wingate
Sept. 19 - Ethan Evans, Wingate
Sept. 26 - Juan Villasenor, Tusculum