2022 Hawaii vs New Mexico State
Opportunity Knocks With Hawaii Visiting New Mexico State
Opportunity Knocks With Hawaii Visiting New Mexico State
New Mexico State seeks its first win under coach Jerry Kill when Hawaii visits Las Cruces for a Week 4 matchup.
Sep 23, 2022
by Kyle Kensing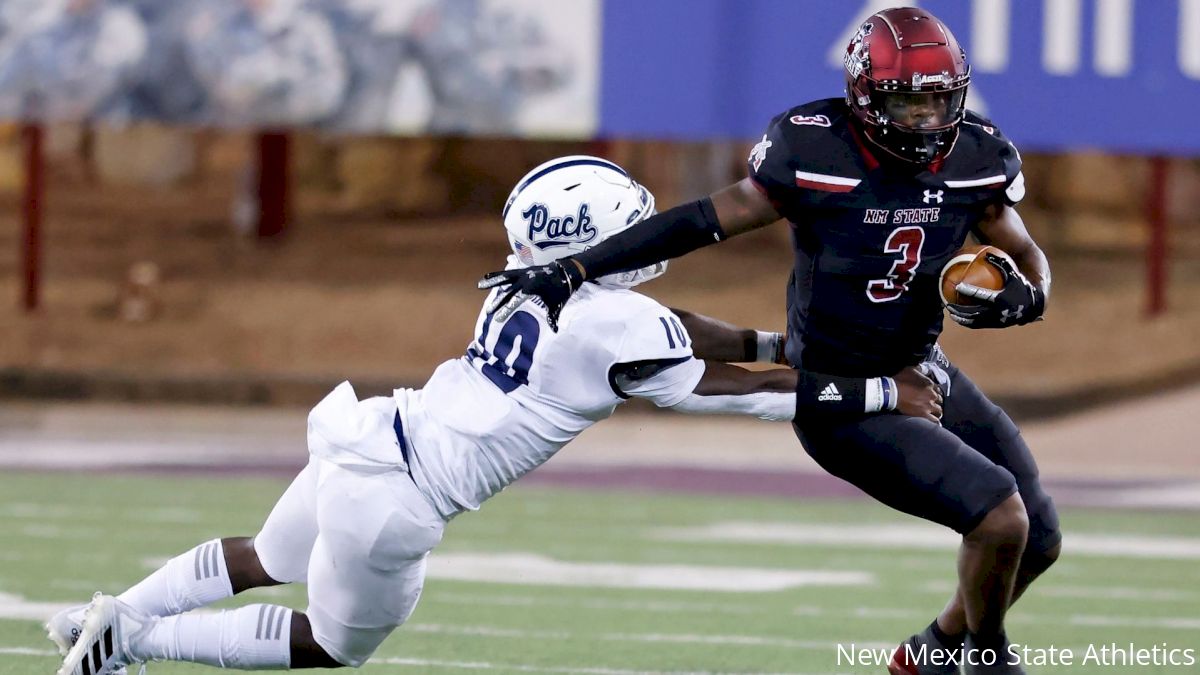 With a challenging road swing in its rearview, New Mexico State returns to Las Cruces in Week 4 with a prime opportunity to get into the win column.
The Aggies host a rebuilding Hawaii team coming off its first win of the season, a 24-14 struggle with Duquesne. The Rainbow Warriors allowed 166 combined points in their first three games against FBS opponents, including two from Power Five conferences in Vanderbilt and Michigan.
Hawaii's defensive struggles against Power Five competition mirrors New Mexico State's, which dropped lopsided decisions at Minnesota and Wisconsin. Against Group of Five opponents Nevada and UTEP, however, the Aggies fared considerably better. They limited the Wolf Pack and Miners to 23 and 20 points, but a lack of offensive production doomed the Aggies' prospects for victory.
The theme for Week 4 is one of two sides that have sputtered — either the New Mexico State offense or the Hawaii defense — should see a breakthrough.
Going to the Ground
New Mexico State's defense of the run ranks No. 121 in the FBS; Hawaii's ranks No. 126. The Aggies are giving up 211 yards on the ground, though the per-carry yield of 4.7 yards suggests New Mexico State has the foundation to improve as the season progresses.
Hawaii, meanwhile, is allowing almost seven yards per carry, more than any team in FBS save Colorado.
Both the Hawaii and NMSU offenses have struggled to establish the run with near-mirror results: UH is ranked No. 110 nationally at 108.3 yards per game, and the Aggies are No. 112 at 107. Their per-carry production is equally similar at 3.7 for the Rainbows vs. 3.5 for the Aggies.
An opportunity to establish the run awaits both offenses. The one to do so successfully early should set the tone for the game.
Reversal of Turnover Fortunes
Turnovers contribute to the offensive inconsistencies plaguing both New Mexico State and Hawaii; NMSU faces a season-long negative-nine differential in turnovers-to-takeaways. Hawaii's been better in that regard, but still not favorable with a negative-four differential through four games.
Giving away possessions has proven especially vexing for New Mexico State in competitive contests with Nevada and UTEP. The Aggies coughed up a fumble at UTEP deep in their own territory, leading to a quick Miners touchdown at the end of an otherwise outstanding defensive half from the NMSU defense; then lost another in the red zone driving for what would have been the game-tying touchdown.
Against Nevada, four first-half turnovers the Pack converted into 17 points proved to be the ballgame.
Those games indicate NMSU can hang in to the very end in a game despite giving up possessions; sustained drives just might lead to an Aggies win in a walk.
Experience vs. Youthfulness
Experience provides one of the more fascinating subplots of this matchup. New Mexico State's Jerry Kill is among the most veteran and respected coaches in the profession, earning his stripes through nearly 40 years on the sidelines.
Timmy Chang is a legend at Hawaii after having set numerous NCAA passing records in the 2000s, and his arrival after the tumultuous two-year tenure of Todd Graham provided the Rainbow Warriors with needed stability. Saturday marks just his fifth game as a head coach, however, and only his second on the road.
An intriguing contrast of styles promises to shape Week 4's outlook.