2022 Villanova vs Richmond
Richmond Linebacker Tristan Wheeler Is A Tackling Machine
Richmond Linebacker Tristan Wheeler Is A Tackling Machine
At some point, almost everyone is going to experience a freak injury. Athletes are no exception, as Richmond linebacker Tristan Wheeler recently discovered.
Sep 22, 2022
by Stephen Kerr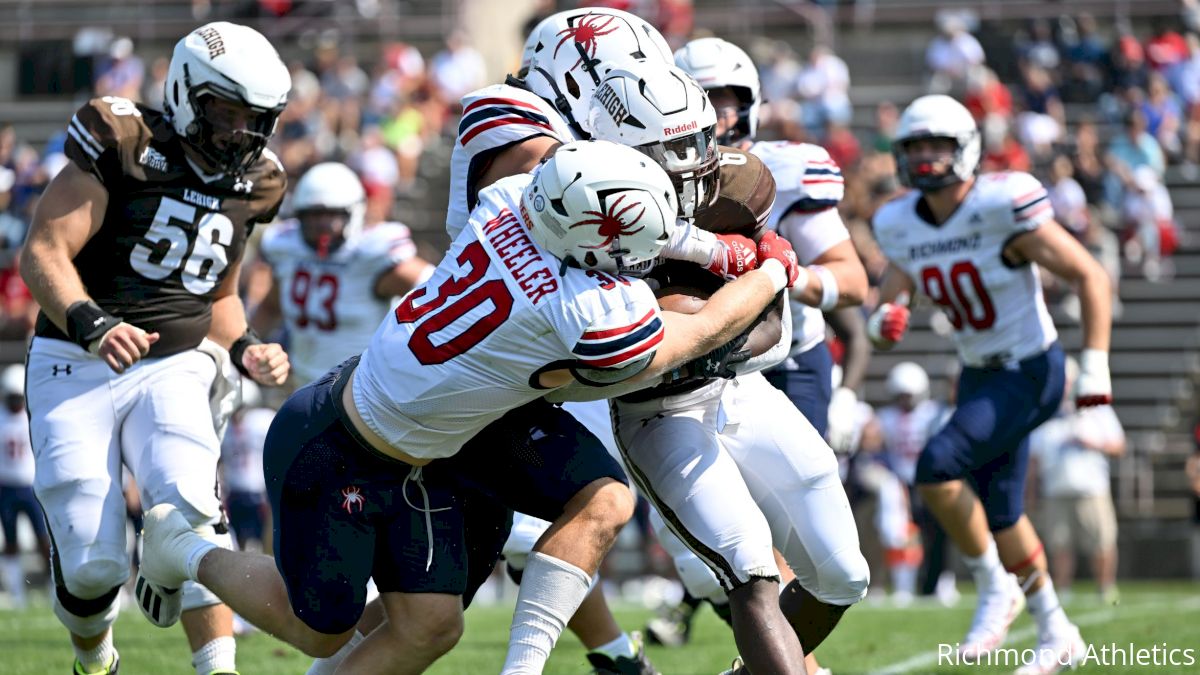 At some point, almost everyone is going to experience a freak injury. Athletes are no exception, as Richmond linebacker Tristan Wheeler recently discovered.
The 6-foot-2, 228-pound redshirt junior had just left the dining hall for Sunday practice. It was the day after the Spiders' Sept.10 home-opening victory over Saint Francis (31-21).
It was pouring rain, and water had begun streaming down the hill that runs just past the cafeteria. While attempting to jump over a puddle, Wheeler's foot slipped, causing him to roll his ankle.
At first, he didn't think much of it. But by the time he went to tape it up for practice, the ankle had swollen to twice its normal size and had turned an ugly purple and green color. He sat out practice that day and all through the week, studying film and practically living in the training room.
"I was kind of mad at myself, considering the two games prior to me spraining my ankle, I probably played 150 plays and came out of those games healthy," the Bethlehem, Pennsylvania, native said. "But I knew it was another piece of adversity along the road."
Some athletes would have been out of action for a week or more, but there was no way Wheeler was going to miss the next game against Lehigh. It wasn't just his competitive nature or not wanting to let the team down that motivated him.
Lehigh was in his home town, less than 10 minutes away from where he grew up. Family, friends and former teammates at Freedom High would be there. It was a reunion Wheeler had no intention of missing.
"When I looked at the ankle, it was ugly," Spiders head coach Russ Huesman recalled. "He said he was going to play, no question about that. It was probably still swollen when he went out there for Saturday's game, and I'm sure it was hurting. But you would never know. He never once complained."
𝕄𝕠𝕥𝕚𝕧𝕒𝕥𝕚𝕠𝕟 𝕄𝕠𝕟𝕕𝕒𝕪!

Head @Spiders_FB coach Russ Huesman pushes his student-athletes to be great teammates on and off the field every day! 🕷🏈#OneRichmond pic.twitter.com/yGFjmDwqpD

— Spider Athletic Fund (@SpiderAthFund) September 19, 2022
Wheeler was true to his word. He went to the training room three times a day throughout the week. By Friday, he was able to run on it. By game time, he could make full-speed cuts.
Richmond went on to rout Lehigh, 30-6, and Wheeler ended up playing the majority of the game.
Instead of going to the locker room, he stayed out on the field for over an hour catching up with the 25-plus family and friends in attendance. A coach had to persuade him to change and get on the team bus to go back to Richmond.
"I ended up being the last guy to shower, get on the bus and get my food," Wheeler said. "But it was so cool seeing those people who are supporting me doing things at the next level. Those are people who watched me grow up playing football."
The second-oldest of four children, Wheeler also played baseball, lacrosse and basketball.
After suffering several injuries, he decided to concentrate solely on football, believing the other sports were setting him back from becoming an elite player.
His father Glenn, who runs a roofing and siding company, had aspirations of going to college. Those plans were altered his senior year of high school when he became a teenage father to Tristan's older brother Bryn, now 31. But Tristan took notice of his father's work ethic and has done his best to imitate that on the football field and in the classroom.
"He raised a son, but that didn't stop him from becoming a successful business owner," Wheeler said of his father. "The work you put in is what you're going to get out of it, and I think he's a great example of that."
One of Wheeler's earliest football influences was Andre Morales, a personal trainer who had played football for a rival high school and at Rutgers. Wheeler began working with him while attending Freedom High School. Morales not only emphasized proper physical training, but the importance of studying film.
"He showed me the ropes," Wheeler recalled. "We would break down film together, and this was (while I was) still in high school."
At Freedom High, Wheeler led the team to a 12-2 record his senior year, the most wins in program history, en route to the PIAA State Class 6A quarterfinals.
He recorded 125 tackles that season to go along with eight sacks and 20 TFLs. He also played fullback and tight end on offense, scoring six touchdowns on eight carries, mostly in short-yardage situations.
"He was always on a different level in terms of the way he trained, the way he prepared," Freedom head coach Jason Roeder said. "If anything, you had to be careful that he was overworking some things: the attention to detail, the way he stretched and worked out, the way he played the game."
Hero Sports rated Wheeler the No. 8 linebacker in all of FCS recruiting. His final two choices came down to Army and Richmond. While he had visions of attending West Point growing up, there were 25 linebackers he would have had to compete against for a spot, so Richmond won out.
𝕎𝕖𝕝𝕔𝕠𝕞𝕖 𝔹𝕒𝕔𝕜

🕷 back in the @FCS_STATS national rankings, coming in at 2️⃣2️⃣!#OneRichmond 🕷📈 pic.twitter.com/xrqFi551Bp

— Richmond Spider Football (@Spiders_FB) September 19, 2022
"Great program, beautiful campus in Virginia," Wheeler said of Richmond. "I fell in love with Coach (Justin) Wood, my defensive coordinator and linebacker coach. I could tell he was a little different in the way that he cared for me and reached out to me."
It didn't take long for Wheeler to make an impact when he arrived as a freshman in 2019.
In the season opener against Jacksonville, he came off the bench to make 12 tackles, the most in a season opener for a Spider since 2012. By the fourth game, he was starting, becoming the first true freshman in CAA history to record over 100 tackles in a season. He was named to the Freshman All-American first team by Phil Steele and the CAA Rookie of the Year.
In the shortened spring 2020-2021 season, Wheeler started all four games, leading the Spiders with 38 tackles and was the CAA leader in tackles per game (9.7). Last season, he led both the team and the conference with 114 tackles during the regular season and posted his second straight full season with over 100 tackles.
The Spiders lost several key defensive players after last season, including linebacker Tyler Dressler. Wheeler was named a team captain and is expected to take more of a leadership role on the defensive unit.

"He's not the most vocal guy, but when he says something, they listen," Huesman said. "He leads by example. The work ethic he puts into it, whether it's practice, meetings, treatments, bringing the linebackers together for extra meetings... it's a pleasure to coach him."
Wheeler battled numerous injuries toward the end of last season, including turf toe, a sprained ankle and a back injury in the spring. He spent less time in the weight room and concentrated on recovery.
"In my head, I wanted to get better in coverage, I wanted to get faster," he explained. "I think keeping me out of the lifting due to some of those injuries made me focus on the out-of-the-weight room stuff and more field work."
The Spiders finished last season riding a four-game winning streak and have won two of their first three games this season heading into conference play. They let a few games slip away in the fourth quarter in 2021, something Wheeler believes the team must improve on to secure a playoff berth.
"We need to be more confident as a whole," he said. "We also need to finish games when they matter. Putting together four quarters and finishing a game is the big emphasis this year. If we do all that, we'll be successful and achieve everything we want."