2022 Saginaw Valley vs Michigan Tech
GLIAC Games Of The Week: Wayne State Aims To Upset Grand Valley
GLIAC Games Of The Week: Wayne State Aims To Upset Grand Valley
More of the GLIAC moves into conference play in Week 4, including undefeated Saginaw Valley State and the dominant Grand Valley State defense.
Sep 22, 2022
by Ron Balaskovitz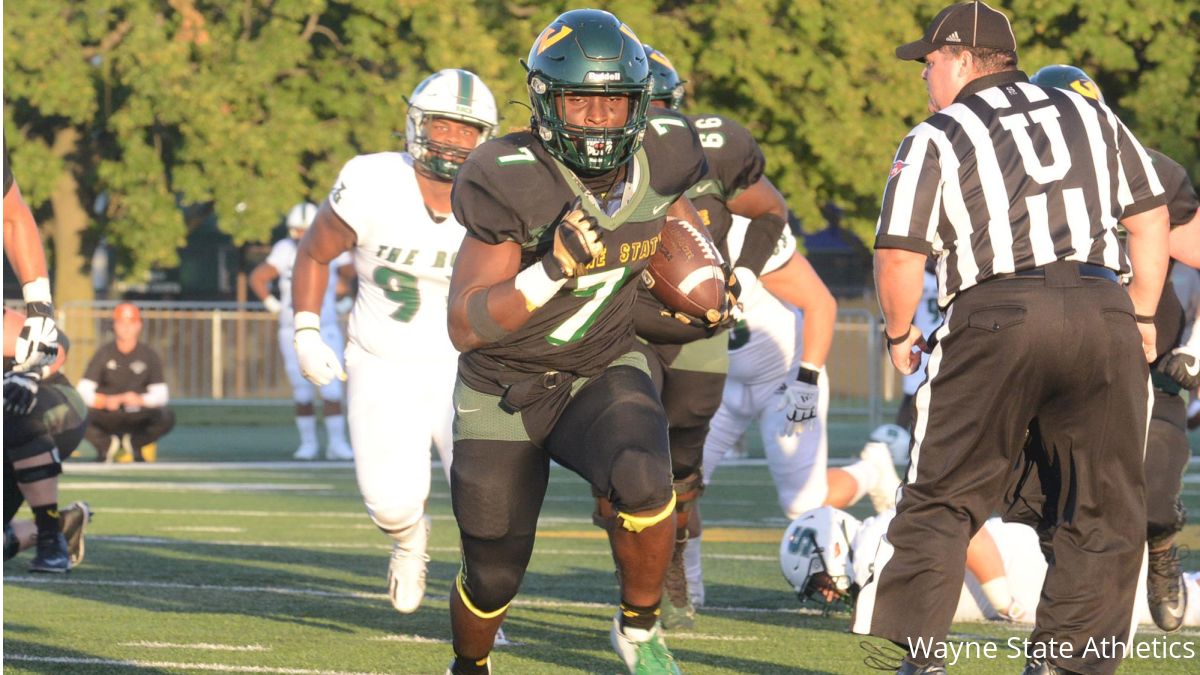 Davenport sits alone atop the GLIAC after a 31-21 win over visiting Northern Michigan in Week 3 — of course, it was the only conference game thus far. The next conference matchup of the 2022 season headlines Week 4, Davenport returns to non-conference competition in one of the week's top out-of-league contests, and GLIAC counterparts Grand Valley and Wayne State meet in a unique non-conference date.
Saginaw Valley State at Michigan Tech
Undefeated Saginaw Valley State hits the road again after a 35-14 win over former GLIAC member Northwood in Week 3. The Cardinals continued to shine on both sides of the ball. They're averaging 485 yards per game on offense, while the defense has been just as dominant holding opponents to fewer than 250 total yards a contest.
Senior quarterback Andrew Brito has been steady, completing 64 percent of his passes for three touchdowns, while the rushing offense has rolled. Six Cardinals ball-carriers have 75 yards or more already, paced by Dante Barthwell's 200 with four touchdowns. Brito has added 178 on the ground, while Tyler Amos is at 150 yards and four scores.
"I've never even heard of Saginaw before in my life. The fact that it's become this big of a blessing into my life is just incredible."

His CFB journey has taken him to 4 schools in 6 years.

SVSU QB @TheAndrewBrito says he's thankful for the opportunity to lead @svsu_football pic.twitter.com/4MQNR3fh9M

— Yousef Nasser (@YousefNasserTV) September 10, 2022
Tech, meanwhile went on the road last week at Midwestern State, and for three quarters controlled the game. Unfortunately for the Huskies, their 21-7 advantage going into the fourth evaporated when MSU outscored them 21-0 in the final 15 minutes. The loss dropped Tech to 1-2.
The Husky offense has struggled through those three games, averaging just 231 yards and 17 points per game so far. Last year against SVSU, however, Tech got just enough offense to complement a strong defensive effort in a 21-20, nail-biter win.
Grand Valley State at Wayne State
After a pair of tough, ranked opponents in the first two weeks, Grand Valley got a bit of a breather before beginning conference play. The Lakers crushed Lincoln (CA) by a 66-7 final last week, racking up 520 yards of offense while holding Lincoln to just 148. Quarterback Cade Peterson tossed a pair of scores, as did backup Cal Endicot in relief duty.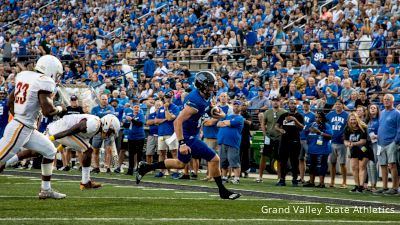 A big key to the Lakers' 3-0 start has been their rush defense, which has given up just 218 total yards and less than three yards per carry to open the year. Combined with eight forced turnovers, the GVSU defense is dominant.
Wayne State looks to rebound after falling at home to Wisconsin-La Crosse last week, 28-21, with a 21-0 second quarter dooming the Warriors.
Wayne State's rushing attack has been solid with more than 160 yards per game, but the passing offense hasn't followed, with three interceptions, less than 50 percent of passes completed, and just 132 yards per game.
Kendall Williams and Myren Harris give the Warriors a potent 1-2 backfield combo. They have combined for more than 400 yards and scored four touchdowns. Getting them going against an outstanding GVSU rush defense may call on the passing offense to come alive, however.
Grand Valley rolled in last season's meeting, 62-13, scoring 27 points in the second quarter after trailing 10-7 through the first.
Northwood at Davenport
Another showdown between former GLIAC foes, Davenport looks to keep the good times rolling after last week's GLIAC-opening win over Northern Michigan.
The 2-0 Panthers have gotten it done with defense: They've made three interceptions, forced two fumbles, and held opponents to less than 160 yards total yards in the opening stretch.
Offensively, Caleef Jenkins has carried the load while quarterbacks Johnny Saavedra and Jason Whittaker have split time. Whittaker gives the Panthers a spark, tossing a pair of scores and no interceptions in limited duty.
Congratulations to Caleef Jenkins on his GLIAC Player of the Week, Offensive Honorable Mention Selection! #DUFB22 🐾 | #WIN pic.twitter.com/rnSdGCAI2s

— Davenport Football (@DU_Football) September 21, 2022
Northwood was topped by Saginaw Valley by a 35-14 final last week and enters the year at 2-1, rolling over lesser opponents in Kentucky Wesleyan and Madonna in their two wins.
Davenport took last season's game in a tight 21-14 battle, during which the Panthers jumped out to a 14-0 lead in the first quarter, then sealed the victory with a third-quarter touchdown.