2022 Elon vs William & Mary
CAA Games of the Week: Conference Play Heats Up In Week 4
CAA Games of the Week: Conference Play Heats Up In Week 4
Undefeated teams Hampton and Delaware meet in Week 4, while Elon travels to William & Mary to continue what's been one of the CAA's best series recently.
Sep 20, 2022
by Kyle Kensing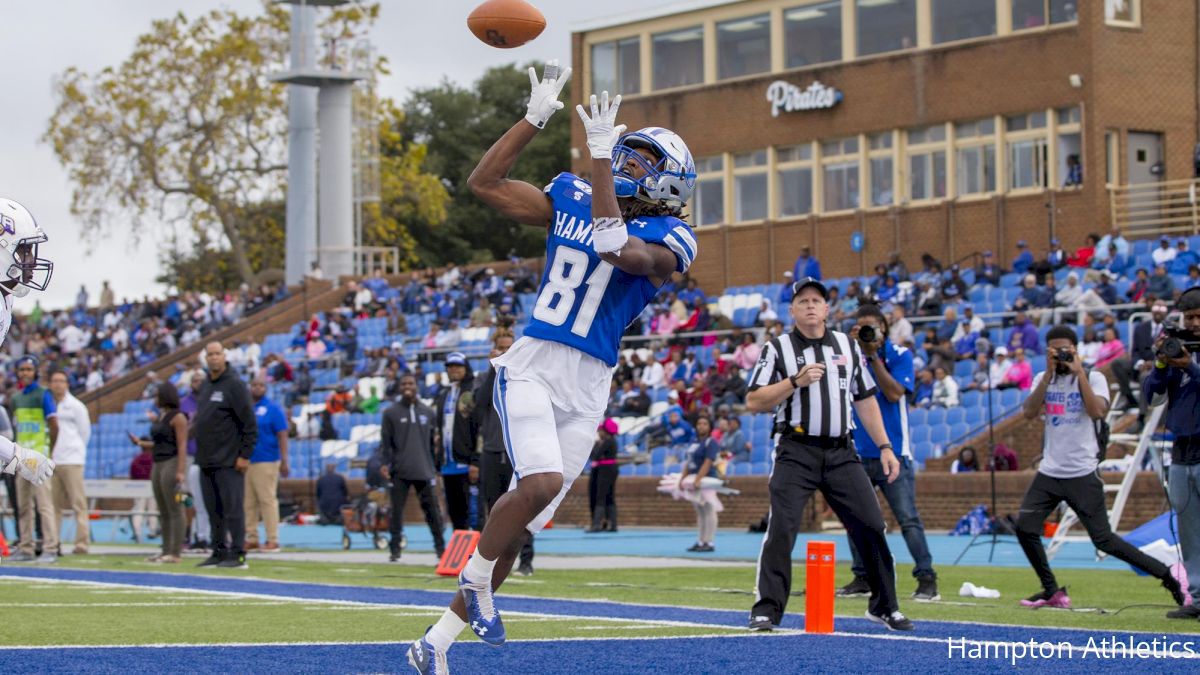 Hampton's historic first-ever Colonial Athletic Association game is on the Week 4 docket, and it's a biggie.
The Pirates — one of three remaining undefeated teams in the CAA — travel to Newark to face fellow unbeaten Delaware. The Blue Hens head into their first home league game of the season after opening the conference schedule with an emphatic, 42-21 win at Rhode Island, and to earn the CAA's best national ranking at No. 8.
Along with their shared unblemished records, Delaware and Hampton both have played stingy defense en route to their 3-0 starts. The Blue Hens' 12.3-point per game yield thus far ranks seventh nationally, while Hampton's 15 points allowed per game rank No. 13. The Pirates most recently held Norfolk State to seven points in the Battle of the Bay.
"Another good defense; that seems to be what we're rolling against right now," Delaware coach Ryan Carty said. "That's what you expect in the CAA: Good, tough, hard-nosed teams that come in ready with some playmakers and people who run to the ball on defense."
Qwahsin Townsel and Ke'Shaun Moore have been especially active against the run, combining for 47 tackles through three games. The duo paces a Hampton rush defense holding opponents to 73.7 yards per game, 11th-fewest in FCS.
Delaware, meanwhile, owes a portion of its excellent defensive yield to its sturdiness in the red zone, limiting opponents to just three scores on seven trips inside the 20. Against Rhode Island, Kedrick Whitehead picked off Kasim Hill to quash one Rams trip to the red zone, and the Blue Hens forced a turnover on downs to stifle another.
"Coach Carty is doing an unbelievable job," Hampton coach Robert Prunty said. "This is one of the better football teams I've seen, even when I was coaching at the BCS level [at Texas Tech]...We're going to have to do everything right to beat this football team."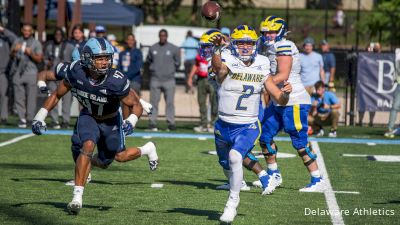 After slowing both a flexbone triple option at Navy and a wealth of talent that shapes Rhode Island's passing attack, Delaware faces another unique challenge again this week. Hampton rolls with a rare, two-quarterback look in which either Malcolm Mays or Christopher Zellous can captain the Pirates offense with equal efficiency.
Mays has thrown for 438 yards and five touchdowns, while Zellous has passed for 153 yards and rushed for a team-high 190 yards.
"The biggest thing is those guys have bought into the team concept," Prunty said. "We can go with either one of them, and there's no ego there...There's always assets to have two good quarterbacks."
Prunty also expressed cautious optimism in evaluating the dual quarterbacks, both of whom are first-time college contributors who have each "played three games of college football."
Whether it's Mays or Zellous behind center, Hampton's throwing to a supremely talented wide-receiving corps with Jadakis Bonds and Romon Copeland emerging as two of the most productive pass-catchers in the CAA through three weeks. That consistent quality regardless of quarterback reflects the preparation strategy Delaware's adopting ahead of Week 4.
"Have plans ready for any situation, any personnel group," Carty said. "And hopefully, most of your defensive calls can also handle different changes in personnel and changes in motion. Those guys on defense are going to do a great job at having a plan for both of them, but also having calls that are good against both of them."
An intriguing element to Delaware's defensive strategy stems from Carty's familiarity with the Hampton play caller. Pirates offensive Zack Patterson joined Prunty's staff after coaching running backs at Sam Houston State during Carty's tenure as the Bearkats offensive coordinator and quarterbacks coach.
Elon Vs. William & Mary
Two of the last three meetings between Elon and William & Mary featured a five-overtime marathon, becoming the first FCS contest decided under the then-new NCAA rules replacing traditional overtime format with a hockey shootout-inspired two-point conversion contest.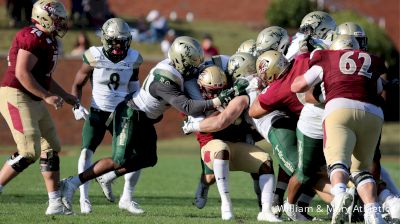 In 2021, William & Mary stormed out to a 21-0 lead with three quick touchdowns, including a 46-yard Darius Wilson run. But Elon chipped away at the deficit, pulling to within a field goal deficit twice in the fourth quarter before Will Whitehurst's punt pinned at the three-yard line with 13 seconds remaining effectively ended the Phoenix rally.
These opponents have twice now delivered of the best games on the CAA calendar. With both flexing their muscles in the non-conference slate thus far, expect another instant classic in 2022.
"It's just unbelievable, the back-and-forth competitiveness," William & Mary coach Mike London said. "Last possessions and things like that. They have been really good games, really competitive games. We've been fortunate to come out on top, but at the same time, they made plays to put themselves in that final stage."
Elon coach Tony Trisciani, who said that "this is a great one for us to get CAA play started," cited William & Mary's identity as central to the competitive games the Phoenix and Tribe have played.
"They're a team that has a lot of grit. They have a lot of resiliency," he said. "They're well-coached. Coach London does a great job there. They run the football, they play great defense."
Elon and William & Mary provide a measuring stick for each other this year as in season's past. The Tribe come in ranked No. 14, while the Phoenix just outside the Top 25 — author's aside, the Phoenix made my ballot after Week 3 — and both have the look of playoff contenders.
What's more, the two have looked quite similar through the first three games. The rushing offense Trisciani cited at William & Mary manifests in the CAA's highest output, a remarkable 287.7 yards per game. The Tribe's run-game strength comes from its variety, with Bronson Yoder as the centerpiece but any of Malachi Imoh, Darius Wilson, Hollis Mathis or Donavyn Lester able to explode.
And you could add Martin Lucas to that laundry list following his breakout performance at Lafayette.
While quarterback Matthew McKay and the deep, talented wide-receiving corps have been at the forefront for the Phoenix offensively, Elon had its own revelatory running-back performance in Week 3 with Jalen Hampton eclipsing 200 yards.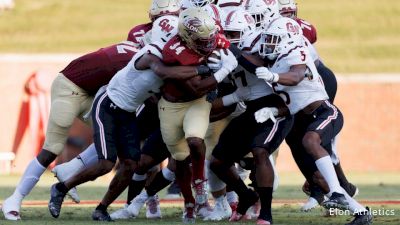 The similarities in the teams are especially noticeable on defense. Both ranks top three in the CAA against the run. Both are top four in the league in total yards allowed, and CAA-leading Elon is one of only three FCS teams to rank in the top 15 nationally for both yards gained and yards allowed.
Of note, the other two are ranked in the polls just ahead of William & Mary.
Three teams rank in the top 15 of @NCAA_FCS in both total offense and total defense:

#11 Jackson State
#12 Weber State
ELON#AED pic.twitter.com/oH0tRkqUgX

— Elon Football (@ElonFootball) September 20, 2022
Those shared traits clash in a matchup at Zable Stadium likely to shape the CAA championship race in profound ways going forward.
Monmouth Vs. Villanova
Monmouth may be new to the CAA, but Villanova coach Mark Ferrante knows what to anticipate when the Hawks make the short trip to the Main Line for a CAA showdown.
"Considering they have the [conference's] leading passer [quarterback Tony Muskett], the leading rusher [running back Jaden Shirden] and the leading scorer [running back Owen Wright], all three different people in the offense, they've got a lot of weapons," Ferrante said.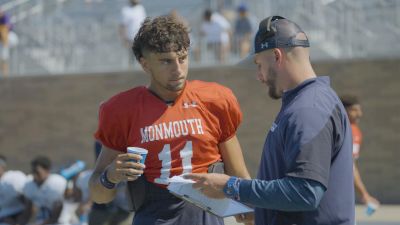 Muskett has passed for a CAA-best 847 yards, and done so in fewer pass attempts than three other quarterbacks. Shirden — who has scored touchdowns on carries of 67, 80 and 95 yards the last two weeks — is rushing for a CAA-leading 453 yards; almost 100 more than the conference's next-most prolific ball-carrier.
And then Wright's eight touchdowns for 48 points has him on a per-game pace that would have been the highest for King Rice's Monmouth basketball team a season ago.
"We've got three excellent running backs," Hawks coach Kevin Callahan said of the group that includes Shirden and Wright. "Jaden Shirden has had two big weeks in a row. He gives us that explosive, take-it-to-the-end zone threat that Pete Guerriero [the second-leading rusher in Monmouth history] gave us a few years back. Juwan [Farri] is that guy who can still get the really good, tough yardage and you know what you're going to get from him every play. And then Owen Wright, boy, he's really got a nose for the end zone right now. He's finding a way to put the ball across the goal line."
Ferrante sees similar versatility in the Monmouth receiving corps, citing "six, seven wideouts out there" cycling into the passing attack.
Indeed, four Hawks have at least 120 yards receiving, while Dymante Miller racked up 66 in his one appearance thus far. Fourteen players have caught a pass on the season, eight of whom are wide receivers. Two receivers — Assanti Kearney and Ugo Obasi — are averaging more than 20 yards per reception.
Callahan views the diversity as an asset compared to featuring one or two primary playmakers.
"Where we did have Lonnie Moore and Terrance Greene, who were dynamic, down-the-field, explosive-play threats a year ago, now it's more receiver by committee," Callahan said. "The more guys we have that can make plays, the better it is for our offense and the more explosive we'll be."
Monmouth's 38.3 points per game are tops in the CAA, but Villanova's not far behind at third, posting 31 a contest. The Wildcats' output mirrors Monmouth's in many ways, with a multi-dimensional backfield sharing carries and quarterback Connor Watkins spreading passes among a variety of pass-catchers. Jaaron Hayek, Dez Boykin and Rayjoun Pringle all with multiple touchdown receptions and more than 130 yards over Villanova's first three games.
The Villanova passing attack compares favorable to that of nation-leading Fordham, which outlasted Monmouth in an incredible track meet Week 2, 52-49. A similar affair could be in line for this Week 4 CAA showdown.