2022 Delaware vs William & Mary
The Fast Rise Of William & Mary Quarterback Darius Wilson
The Fast Rise Of William & Mary Quarterback Darius Wilson
Darius Wilson arrived at William & Mary in 2021 fully expecting to be third on the Tribe quarterback depth chart. Opportunity thrust him into the spotlight.
Sep 16, 2022
by Stephen Kerr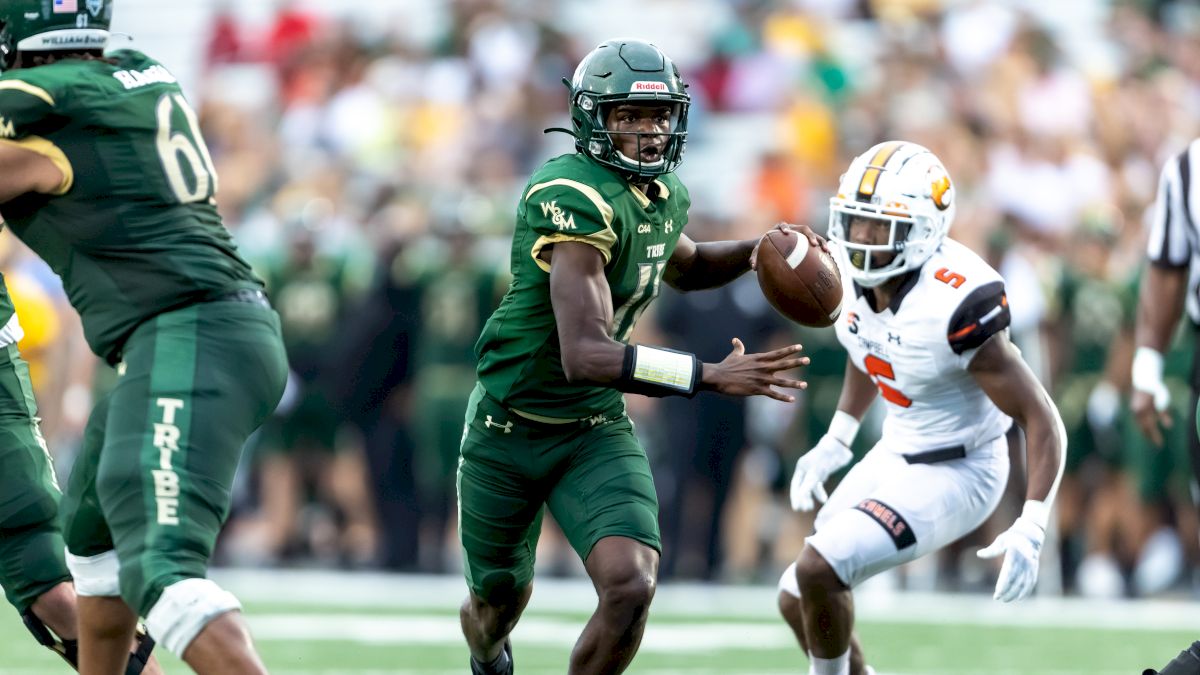 Darius Wilson arrived at William & Mary in 2021 fully expecting to be third on the Tribe quarterback depth chart.
Hollis Mathis, then a junior, had undergone shoulder surgery during the offseason but was expected to be ready by the season opener. Arizona transfer Kevin Doyle was waiting in the wings if Mathis wasn't fully recovered.
As Wilson learned from growing up the son of a high school football coach, one needed to always be ready for the unexpected. Sure enough, Hollis' shoulder hadn't quite healed. After taking part in summer workouts, Doyle opted to leave the program.
Two weeks before the season opener against Virginia, Tribe head coach Mike London informed Wilson he would be the starter. It was a tall order for the 6-foot-3, 190-pound dual threat who was playing high school ball at Iona Prep in the Bronx just a few months earlier.
Wilson would become just the fourth true freshman in school history to start at quarterback and the third to start a season opener.
While Wilson's sudden promotion was brought about by extenuating circumstances, it came as no surprise to Joe Spagnolo, his former coach at Iona Prep.
The team had just played a season the previous spring due to the coronavirus pandemic, going 6-0. Wilson posted numbers more akin to a video game, completing 80% of his passes with no turnovers.
"My team had 16 kids in his class go on to play college football," Spagnolo explained. "All of them played in the spring. No one opted out. They played six games in the spring, more than a spring ball season in college. So those guys really got a jump start for college because they were more fully developed. They were basically college students playing one more spring together."
Still, Wilson had the unenviable task of facing a Power Five opponent on the road in front of 42,000 screaming fans. Virginia steamrolled to a 43-0 win, though the Tribe played without running backs Bronson Yoder and Malachi Imoh, starting left tackle Andrew Trainer and linebacker Tyler Crist.
Wilson's numbers weren't abysmal. He completed 9 of 15 passes for 83 yards with no turnovers and rushed for 29 yards on six carries. W&M trailed 10-0 in the second quarter, before Virginia got rolling.
Despite the nerves and inexperience that comes with any true freshman playing his first game, Wilson never doubted he could handle being in the spotlight right away.
"I felt like this was something I could handle, even if the score didn't reflect that," he said. "I knew I could be really good."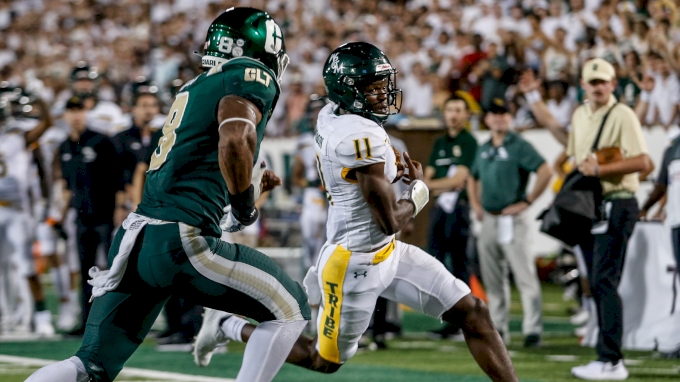 What impressed London the most was Wilson's poise in the face of playing against an FBS program in a hostile environment.
"The same comportment that he has now, those mannerisms and his demeanor are the same," London said. "He doesn't let the highs get too high or the lows too low. You need that in a quarterback."
Football always has been a regular part of Wilson's life.
His father, Edmund, started a youth organization called the Bronx Chargers and is the freshman coach at Cardinal Hayes High. Darius' older brother, Joanquin Spencer, played at SUNY Cortland. But Darius initially had no interest in football.
"I wanted to play basketball or baseball, just to go against my dad," he recalled.
One day, when Wilson was about 7, he was watching Joanquin play in a flag football game. He thought it looked fun and began to have a change of heart. After playing briefly for a local youth team, he decided to join the Chargers and play for his father.
Once Wilson got to Iona Prep, he participated in both track and football. Competing in the 100- and 200-meter events helped him hone his skills as a dual threat at quarterback.
"Some people are just naturally fast," Wilson explained. "I was not slow by any means, but just getting down the technique of running really helped me excel on the football field."
Wilson didn't start at Iona until his junior year. That season, he earned second-team All-State honors, recording over 2,800 all-purpose yards and 28 touchdowns, with just three interceptions. He was Gatorade Player of the Year runner-up and NYCHSFL Offensive Player of the Year runner-up.
"Darius is the type of kid you want," Spagnolo said. "He's a very strong student in the classroom, over 90 GPA in honors classes, a role model in the community. He wasn't a yeller, but led by example."
While not highly recruited by FBS schools because of his slender frame, Wilson was highly sought after by a number of FCS programs.
He was looking for a different experience away from New York City, and William & Mary checked all the boxes. London was familiar with the winning tradition at Iona and enjoyed getting to know Wilson and his family when they came for a visit.
"Iona Prep is a great school," London said. "I think (Darius) was looking for a school that has an academic appeal that we have. It was a perfect match."
Following the loss at Virginia, Mathis started and played the entire game in a 24-3 victory over Lafayette. Wilson played in the next game and led the Tribe to a 27-7 victory at Colgate, throwing for 125 yards and rushing for 59 yards and a touchdown.
As Wilson's play improved, so did his confidence.
In a 31-24 win over Albany, the Tribe trailed 21-3 at halftime, before mounting an 87-yard, 12-play drive for a touchdown to open the second half. Two minutes later, W&M scored after recovering a high punt snap in the end zone to cut the lead to four and added two more touchdowns to make the comeback complete.
"That game was homecoming, so that was a real fun one for us," Wilson recalled. "I knew we couldn't get too down and that in the second half, we had to rally together, keep pushing, which we did."
The Tribe finished 6-5 on the season, and Wilson was named CAA Offensive Rookie of the Year. He broke W&M's true freshman record for passing yards (1,205) and total yards (1.591).
"You saw a crescendo of his play rising up to a level where he (had) a chance to be good," London said. "You get an experienced guy now, his acumen and the things he's learned. Being here in June, July, going through August camp, he continues to make those strides."
During the spring and summer, Wilson worked on building more arm strength and consistency in his technique. This season, he has shared playing time with Hollis but ranks 11th in passing efficiency (173.0) and 12th in yards per pass attempt (9.7) after the first two games.
T-R-I-B-E! pic.twitter.com/IYzY7RkpvC

— William & Mary Tribe Athletics (@TribeAthletics) September 15, 2022
"Last year, we didn't finish the season the way we wanted to," Wilson said. "Going into the offseason, we knew the passing game really needed to pick up. That's something we worked on a lot, in practice and by ourselves."
Wilson has a lot of playing time in front of him, though London kidded him about not being old enough to shave when he arrived and now has some whiskers on his chin after being thrust into action so quickly. All the individual accolades are nice, but Wilson wants something more.
"Obviously, we want to win a championship," he said. "We want to win every game. Personally, I just want to be the best that I can be. You have that ego, that part of you that wants to win individual awards. But every week, I just want to play the best I can and win. That's all that matters."