2022 Wingate vs Tusculum
SAC Games Of The Week: Conference Action Kicks Off In Week 3
SAC Games Of The Week: Conference Action Kicks Off In Week 3
Competition for the South Atlantic Conference championship begins in earnest in Week 3 with a full slate of league matchups.
Sep 14, 2022
by Kyle Kensing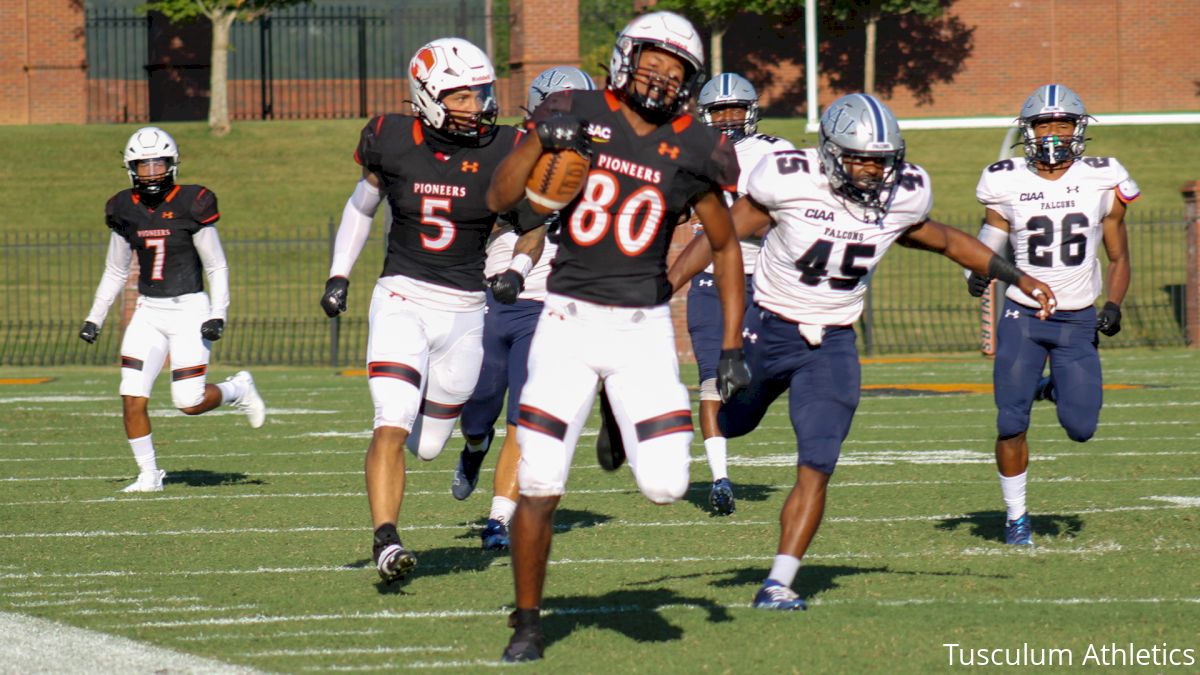 The South Atlantic Conference championship chase is officially on in Week 3 after a non-conference schedule that included some impressive wins and surprising starts.
Defending SAC champion Newberry opened 2022 with a pair of wins, the second coming in a fourth-quarter surge to hold off North Greenville. The Wolves' pursuit of a championship repeat kicks off in Week 3 with a visit to conference newcomer Emory & Henry.
Another of the new SAC members, Erskine, picked up two wins in non-conference play and begins its league slate with a chance to score a landmark win right out of the gate. The Fleet's inaugural SAC contest is one of the Games of the Week for Week 3.
UVA Wise vs. Barton
One of Div. II's most dynamic running backs, Jordan Terrell of Barton, wasted no time carrying over his momentum from 2021 into 2022. Terrell rushed for 178 yards and a touchdown in Barton's season-opening win at Chowan, which was a defensively dominant showing from the Bulldogs.
They allowed just three points and 257 total yards. Cashing in more offensive opportunities on a night it gained almost 150 more yards could be the most pivotal lesson for Barton out of the opener. In Week 2, the Bulldogs lost to FCS program Davidson and its unique spin on the option offense.
Barton is now at home for the first time on the season, and in its first SAC game against a UVA Wise program that was in the role of newcomer not long ago. The Cavs went just 1-7 in their first year in the conference, but improved to 4-4 a season ago with a win over a league standard-bearer in Lenoir-Rhyne.
UVA Wise rolled in its 2022 opener against Div. III Ferrum, and lost Week 2 against Div. I North Alabama despite a hot start.
TOUCHDOWN CAVALIERS
Tyler Kirkess
UVA Wise 14
North Alabama 0 pic.twitter.com/HAUZWpm5O9

— UVA Wise Football (@UVAWiseCavsFB) September 10, 2022
The SAC opener doubles as the Cavs' first matchup with Div. II competition this season, and it's tough competition indeed.
Terrell went for 296 yards with a pair of touchdowns in Barton's 36-24 win over UVA Wise last November. Lendon Redwine passed for two Cavs touchdowns in the loss.
Erskine vs. Lenoir-Rhyne
Opening 2022 with a 49-2 rout of Fort Lauderdale, called in the second quarter when the NCCAA program lacked enough linemen to continue play, didn't provide Erskine much of a test. The Fleet were challenged in Week 2, however, and answered the bell with a 23-19 defeat of Clark Atlanta.
Erskine scored 16 fourth-quarter points, including a pair of explosive touchdowns: a 54-yard Trevarus Walker reception on a Bryce Jeffcoat pass, and a 38-yard Kaavon Parker run.
The Fleet now how host perennial SAC heavyweight Lenoir-Rhyne, coming off a rain-soaked loss to defending national champion Ferris State.
The Bears took the fight defensively to Ferris State's multifaceted rushing attack, particularly in the first half when Lenoir-Rhyne forced the Bulldogs' first three possessions to end in a safety and two punts. L-R's struggles to mount a consistent offensive push eventually wore down the Bears, as they gave up a pair of back-breaking, third-quarter touchdowns.
L-R will look to reestablish its offense at Erskine, starting with the ground game. Expect to see the Bears go to the ground early and often in order to give quarterback Sean White breathing room, which Ferris State limited in Week 2.
Tusculum vs. Wingate
Two teams with realistic designs on crashing the SAC championship party have an early opportunity to gain the inside track. Tusculum's been impressive through its first two weeks, hanging 70 on St. Augustine's in the opener and knocking off Chowan on the road in a defensive grind.
Justice Parham and Kemani Brown have been dynamite as the one-two receiving punch, combining for 277 yards and four of quarterback Tre Simmons' six touchdowns passes. Defensive lineman Dajavon White and linebacker Earnest Johnson III have combined for eight tackles for loss, and White's racked up three sacks on the season.
Mic'd up Mondays x @TreyFrom478
One of our leaders in the back end "That's how you make a play" ‼️🏈 pic.twitter.com/Toc73tUcBT

— Tusculum Football (@TusculumFB) September 13, 2022
Another defensive duel could be on deck for Tusculum against Wingate, the preseason third-place pick in the SAC poll. Wingate has been among the nation's stingiest defensive teams through the first two weeks, holding Shaw and Fayetteville State to 10 combined points.
Six Bulldogs have made at least two tackles for loss on the season, and three have at least three: Davon Gilmore, Daniel Morrison and Marquise Fleming. Wingate's tenacious defense makes for an intriguing matchup opposite the prolific Tusculum passing attack in what could be the SAC's best game of Week 3.