2022 Limestone vs Carson-Newman
After Beating Cancer, Carson-Newman's Colt Sinor Makes Emotional Return
After Beating Cancer, Carson-Newman's Colt Sinor Makes Emotional Return
Debuting in a college football game is a special moment for any athlete. For Carson-Newman lineman Colt Sinor, it marked a major step in a long journey.
Sep 14, 2022
by Stephen Kerr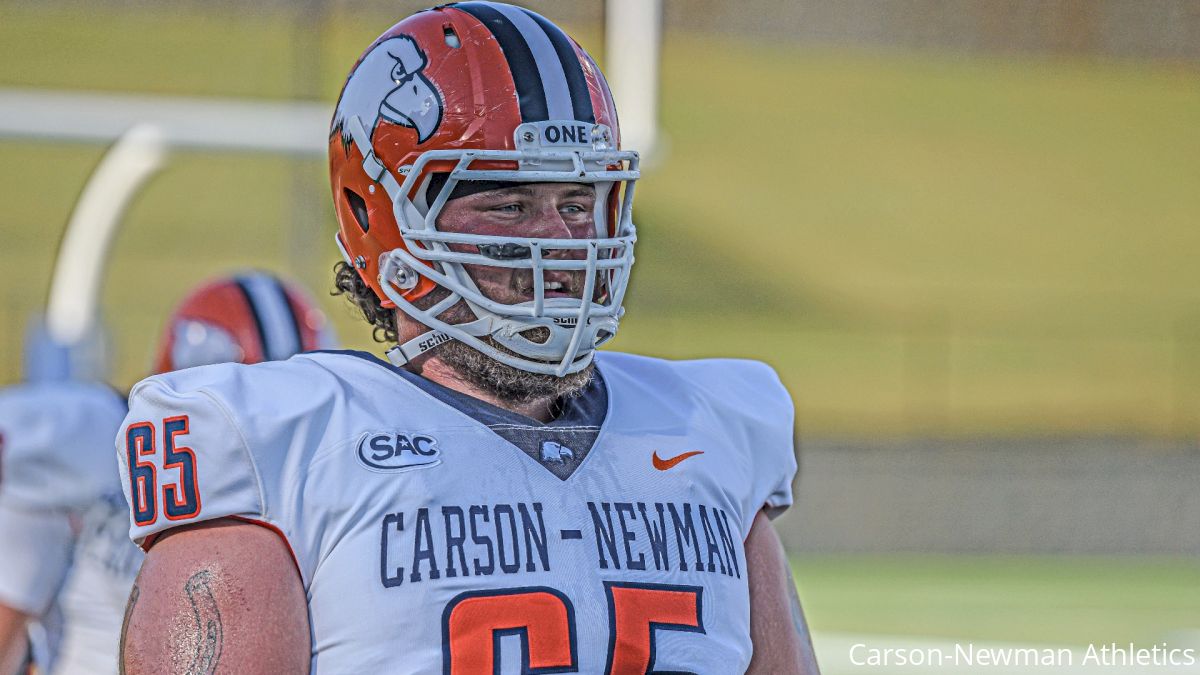 When Carson-Newman offensive lineman Colt Sinor ran onto the field at West Georgia's University Stadium just before kickoff in the Eagles' season opener Sept. 1, it was both a nerve-wracking and surreal moment.
To the 6-foot-3, 305-pound native of Chattanooga, Tennessee, the 10,000-seat facility felt more like a Div. I stadium with its immaculate skyboxes and stands.
Wow, he thought. I'm actually out here.
It wasn't just that Sinor was playing in his first collegiate football game; it was the long, arduous journey he took to get there.
Sinor arrived for his freshman year at CN in the fall of 2020. COVID-19 had forced cancellation of the season, but the team still held practices. When he returned home for Christmas break, Sinor continued training at a facility in Chattanooga.
That's when the back pain started. When Sinor came back to campus, it persisted. Doctors first thought two muscles were pushing against his L4 and L5 vertebrae. They prescribed pain pills and anti-inflammatory medication to try and ease the pain.
Sinor's symptoms escalated to the point where he began vomiting constantly and couldn't keep food down. He chalked it up to food poisoning, but the vomiting continued for two weeks before he finally went to Jefferson Memorial Hospital's Tennova Healthcare Center.
A CT scan was performed on Sinor's stomach. The results were beyond anything he could have imagined.
"They found out there were eight tumors in my liver, all my lymph nodes were inflamed," Sinor recalled. "The head of the Tennova Medical Center walked in and said, 'hey, sorry to break it to you, but you have cancer'."
Amid the pain and shock, Sinor couldn't help but feel like he was in a movie where everything happened in slow motion. After being transferred to Turkey Creek Hospital, doctors ultimately diagnosed him with Stage III C Choriocarcinoma, a form of testicular cancer.
Over two months of intense chemotherapy and radiation followed. Sinor lost 50 pounds and all his hair.
"I had to go through 28 chemo treatments, it was (about) four rounds," Sinor said. "It was a weird rotation. I think I went every day for a week and then I'd have two or three weeks where I'd have only one treatment a day, but it was the worst."
When Sinor finally got to ring the bell signifying the end of his treatments, it was the happiest day of his life to date.
"It was awesome," he said. "A lot of my friends and roommates were there, my girlfriend was there. She was ecstatic, she had to go through a lot. Everybody was there who loved me, and I appreciated that."
As a boy, Sinor played on a youth football team called the Mean Green. He also ran track and played baseball and basketball. During his middle school years, he had a growth spurt that convinced him to focus exclusively on football by the time he got to high school.
te and Blue-At Chattanooga Christian, Sinor was an All-Region selection, preseason All-State and Blue-Grey All-American, accounting for 35 pancake blocks on the Chargers offensive line as a senior. He started out playing on the defensive line as a sophomore before switching to the O-line his junior year.
Sinor attended a camp at Carson-Newman during his junior season. While performing a backpedaling drill, he ruptured his Achilles. Ironically, he was taken to the same hospital where he would later be diagnosed with cancer.
After being put in a water cast, Sinor was told he would have to miss the rest of the season.
But he came back ahead of schedule, playing four games for the Chargers.
"I wasn't 100 percent," he admitted. "My team needed me because they were the biggest games of the year. I was able to find a way back."
The injury cost Sinor recruiting leverage since he had little film to show college coaches. After receiving offers from Birmingham Southern and a couple of NAIA schools, Carson-Newman eventually offered him a scholarship.
Once Sinor was declared cancer-free, he set about the business of returning to football. But another obstacle loomed. Doctors told him he couldn't have any physical contact to the head for a year because of radiation in his brain. This meant he would have to sit out yet another season.
The news hit Sinor hard. He had fought through so much, only to be stalled yet again. He felt he was letting the team down and wasting the scholarship he had been given.
But head coach Mike Clowney and his staff never wavered in their commitment to putting Sinor's health first.
"As a program, we really could have used him last year," said Clowney, now in his third year as head coach after serving 15 seasons as an Eagles assistant. "He'd be further along this year, but the right thing to do by him was to give him that time to grow, develop and get his body back to where he needed to be to where he could perform in a college football game."
Nevertheless, Sinor was determined to contribute in some way. After meeting with Clowney, it was decided he would be the team's equipment manager. As difficult as it was watching from the sidelines, it also gave him a unique way to be part of the team.
"It was definitely a learning experience," Sinor said. "I wasn't on the roster and I wasn't a coach. The players didn't really treat me as a player per se, but they would say things around me that they wouldn't really say around a coach."
Sinor finally walked onto the field as a player for workouts last spring. He hadn't practiced since the fall of 2020 or played in an actual game since his senior year of high school. The chemo treatments had affected his lungs, so he had to work on breathing the correct way plus get used to the speed of the college game.
"It was awesome. A lot of my friends and roommates were there, my girlfriend was there. She was ecstatic, she had to go through a lot. Everybody was there who loved me, and I appreciated that."
"Changing into that was a blessing," Sinor said. "I loved being able to come back out there with the guys, hit again and find a way to learn all this football again."
Heading into the opener against West Georgia, Sinor was expected to be the Eagles' backup center behind Brian Do. But the day before the game, starting left guard Mike Peppin suffered an MCL sprain, so Sinor was named as his replacement. He hadn't played left guard since high school, and he would face a top 10-ranked team in West Georgia. Although the Eagles lost the game 38-7, he was overcome with emotion at finally getting a chance to play.
"I felt accomplished," he said. "I had a whole bunch of guys come up to me and tell me, 'hey, I believe in you, it's your time to shine'. Tears almost (came) to my eyes."
For Clowney, Sinor's journey is an example of how important it is to have a purpose bigger than football.
"Even in pregame, to be able to look on the field and see him line up over at guard… it was a real sentimental moment," Clowney said.
Sinor still has four years of eligibility left if he chooses to use them. He's currently majoring in exercise science and may pursue a Master's in business administration. He receives checkups every four months to make sure the cancer hasn't returned.
That possibility may exist, but Sinor chooses to rely on his family and faith to keep him grounded.
"God's going to be there 100 percent," Sinor said. "He, all his angels, my friends and family are always there for me. If you have a tight-knit group, you can get through anything."