2022 CAA Football
CAA Teams Climbing In FCS Polls, Eight Receiving Votes
CAA Teams Climbing In FCS Polls, Eight Receiving Votes
Five Colonial Athletic Association teams check in the FCS Top 25, with eight receiving votes. Villanova and Delaware each appear in the Top 10.
Sep 12, 2022
by FloFootball Staff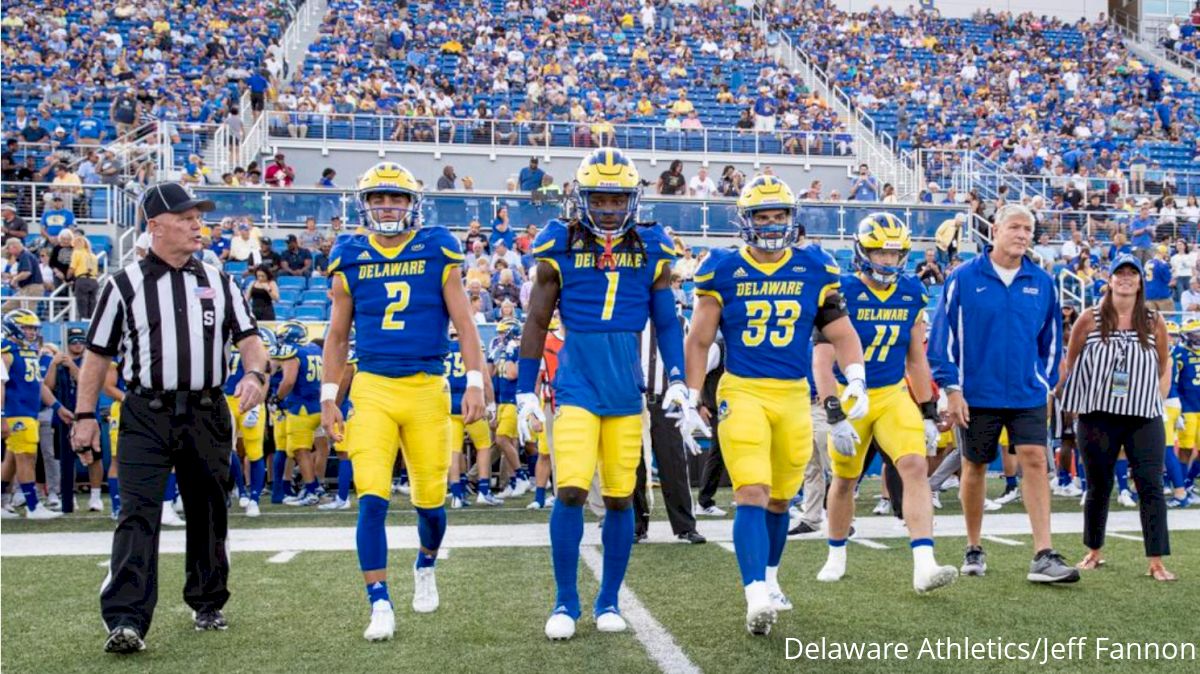 Eight of CAA Football's 13 teams were either ranked or receiving votes in the latest FCS Top 25 polls that were released on Monday.
A season-high five CAA squads were voted into the Stats Perform Top 25, while four squads remained ranked in the AFCA Coaches Top 25.
Villanova (2-0) was ranked No. 5 by the AFCA and No. 7 by Stats Perform. The Wildcats, who are coming off a 38-21 victory at LIU, travel to Army West Point this Saturday.
Delaware (2-0) continued its climb up the polls, coming in at No. 9 in the Stats poll and No. 10 in the AFCA poll. The Blue Hens, who topped Delaware State 35-9 last week, open CAA play at nationally ranked Rhode Island on Saturday.
William & Mary (2-0) vaulted to No. 15 in the Stats poll and No. 17 in the AFCA poll. The Tribe, which beat Campbell 37-21 last Saturday, visit Lafayette this week.
Rhode Island (2-0) moved up to No. 14 in the AFCA rankings and No. 17 in the Stats rankings. The Rams, who downed in-state foe Bryant 35-21 last Saturday, entertains nationally ranked Delaware on Saturday.
New Hampshire (2-0) earned a spot in the poll for the first time this season, coming in at No. 25 by Stats Perform and received votes in the AFCA rankings. The Wildcats, which earned a 28-23 CAA win at UAlbany last week, hosts North Carolina Central on Saturday.
Richmond (1-1) and Elon (1-1) were among others receiving votes in both polls, and Towson (2-0) picked up votes in the AFCA poll.
CAA Football's five ranked teams in the Stats Perform poll matched the Big Sky for the most of any conference. The CAA, Big Sky and Missouri Valley each had eight teams either ranked or receiving votes.
STATS PERFORM FCS TOP 25 POLL – Sept. 12
North Dakota State
South Dakota State
Montana
Montana State
Missouri State
UIW
Villanova
Sacramento State
Delaware
Chattanooga
Jackson State
Weber State
Holy Cross
Eastern Washington
William & Mary
UT Martin
Rhode Island
ETSU
Eastern Kentucky
Mercer
Stephen F. Austin
North Dakota
Kennesaw State
Samford
New Hampshire
RV: Richmond, Southeastern Louisiana, UC Davis, Austin Peay, Southern Illinois, Southeast Missouri, The Citadel, Northern Arizona, Elon, Dartmouth, North Carolina Central, Furman, Northern Iowa, South Dakota, Fordham, Youngstown State, Abilene Christian, Idaho, South Carolina State
AFCA COACHES FCS TOP 25 POLL – Sept. 12
North Dakota State
Montana
South Dakota State
Montana State
Villanova
Missouri State
Sacramento State
UIW
Chattanooga
Delaware
Jackson State
Holy Cross
Weber State
Rhode Island
Eastern Washington
Stephen F. Austin
William & Mary
UT Martin
ETSU
Mercer
Fordham
Kennesaw State
Youngstown State
Eastern Kentucky
Samford
RV: UC Davis, Southeastern Louisiana, Austin Peay, Harvard, Southern Illinois, Richmond, Furman, North Carolina Central, North Dakota, Abilene Christian, New Hampshire, Dartmouth, Arkansas-Pine Bluff, Princeton, Gardner-Webb, Butler, Towson, Elon, Stetson, Florida A&M, Idaho, South Carolina State, Illinois State, Nicholls