2023 Gulf South Conference Football
SAC Games of the Week: Lenoir-Rhyne Can Plant Its Flag In Week 2
SAC Games of the Week: Lenoir-Rhyne Can Plant Its Flag In Week 2
Lenoir-Rhyne welcomes defending national champion Ferris State to Moretz Stadium for the marquee matchup of the Week 2 calendar.
Sep 9, 2022
by Kyle Kensing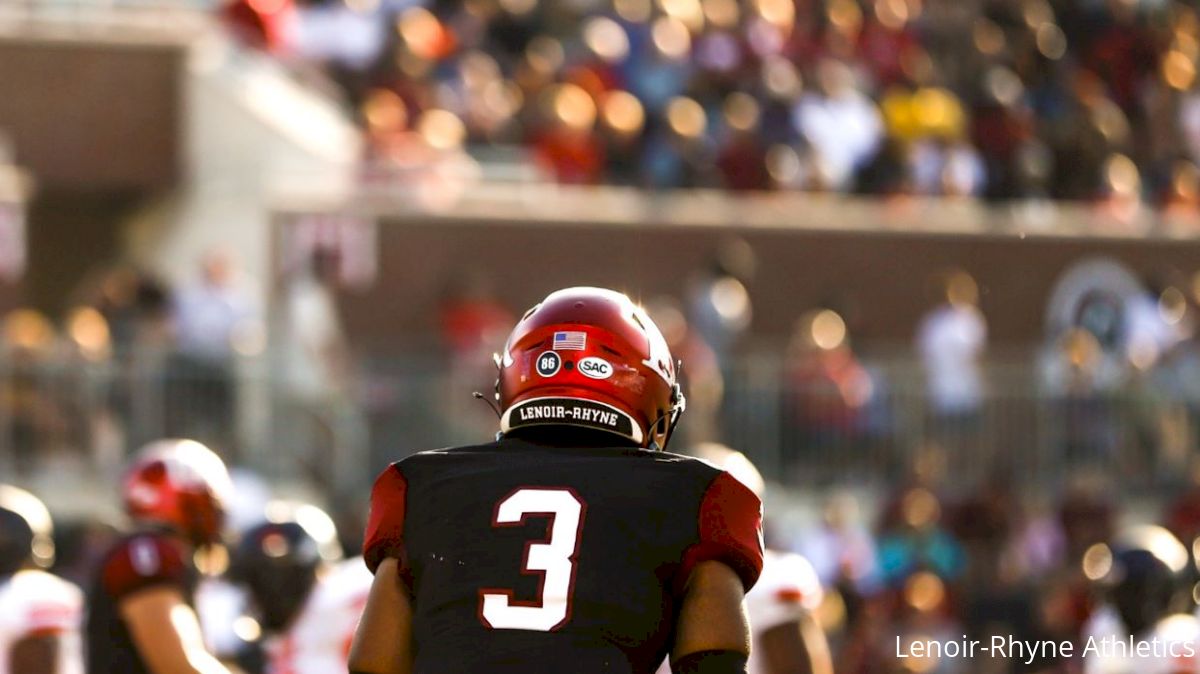 The top matchup on the Div. II docket in Week 2 emanates from the South Atlantic Conference footprint.
Lenoir-Rhyne welcomes reigning national champion Ferris State to Hickory and Moretz Stadium for a marquee matchup of Top 15-ranked teams. The Bears have a prime opportunity with Ferris State's visit to bolster their postseason resume, and more importantly, measure their championship mettle.
While the whole D-II nation will have eyes on Hickory this Saturday, there's plenty more to the SAC schedule in Week 2. A pair of the conference's teams face Div. I opponents with Barton visiting Davidson and UVA Wise at North Alabama.
South Atlantic squads also draw opponents from the always strong Gulf South Conference as non-league competition continues.
Catawba at Shorter
Sep 10, 2022, 4:00 PM UTC
Catawba rolled off 44 consecutive points in its Week 1 romp over Livingstone, deploying a multifaceted run game to overwhelm the Blue Bears. Four Catawba ball-carriers rushed either 10 or 11 times, gaining between 44 and Leroy Bracey Jr.'s game-high 115 yards.
On the flipside, Shorter decimated Div. III opponent Brevard College in the opening week with a potent passing attack. Aeneas Dennis threw one-quarter of his total completions for touchdowns in the 45-6 blowout, and racked up 228 yards to go with his four scores.
All-Gulf South tight end Kyle Morlock garnered the majority of the attention for Shorter heading into the season, but it was wide receiver Dorian Anderson stealing the spotlight in Week 1 with six catches for 104 yards and three touchdowns. A Catawba secondary that enjoyed a dominant opening-week performance can anticipate plenty of work at Shorter.
1️⃣ - 0️⃣#bleedblue | #catawbafootball pic.twitter.com/53ph7zyNjW

— Catawba Football (@CatawbaFootball) September 4, 2022
The Indians' most game-changing player against the pass in Week 1, however, played linebacker. Christian Campbell grabbed two interceptions in the blowout.
Lenoir-Rhyne vs. Ferris State
There isn't a bigger game on the Div. II schedule this week, as always-tough Lenoir-Rhyne aims to take that next step into the upper echelon against the defending national champion.
WATCH: The Voices of Ferris State Football, Rob Bentley & Sandy Gholston, preview Saturday's showdown at Lenoir-Rhyne! @bentleyrferris @sandygholston @FerrisFootball pic.twitter.com/nZ9WZDp9Mf

— Ferris Athletics (@ferrisathletics) September 8, 2022
Ferris State can anticipate opponents' best shot every week, and the Bulldogs certainly faced just that Week 1 against Central Washington. The Lone Star Conference newcomers led Ferris State in the second quarter, before Bulldogs quarterback Mylik Mitchell took over. Mitchell led the Ferris State offense on a 27-point deluge, spanning the second and into the fourth quarter.
Any questions about Mitchell's ability to lead the Bulldog offense as the full-time quarterback should be assuaged, though Ferris State heads to Lenoir-Rhyne with another uncertainty: How will the run game respond to an uncharacteristically tough day at the office?
The Bulldogs gained just 2.9 yards per carry — though they didn't need much on the ground with Mitchell passing for 339 yards. Still, Lenoir-Rhyne's approach to containing the Ferris State rush will provide one of Week 2's most intriguing subplots.
So, about last night 😤 pic.twitter.com/YrqOaGhDXY

— #GOBEARS (@LRbears) September 5, 2022
Likewise, Lenoir-Rhyne had to scratch out every year it could muster in a 38-19 win over Virginia State. The Bears also faced a quarterback controversy after opening-week starter Austin Cagle threw three interceptions. Reserve Sean White played a clean game after taking over.
Newberry at North Greenville
In another SAC vs. Gulf South showdown, defending South Atlantic champion Newberry visits North Greenville for a nighttime kickoff. The Wolves faced little resistance from Allen in Week 1, storming to a 40-6 win behind Dre Harris' four total touchdowns.
Harris continuing the dual-threat magic that led Newberry to a conference title and signature playoff win over West Florida a year ago bodes well for the Wolves repeating in 2022. So, too, does Devante Gambrell emerging as a real problem for opposing offensive lines on the Newberry defense.
Gambrell went for 2.5 sacks and tied a team-high with four tackles in Week 1. He'll look to continue applying pressure this week against a North Greenville bunch that struggled in the opener, but didn't show much of its potential. The Crusaders opened with Furman, an FCS team with designs on a Southern Conference championship.
The result was uninspiring, but North Greenville boasts plenty of All-GSC caliber talent. This could be a low-key gem to close out the night for Week 2.