2022 CAA Football
CAA Notebook: Parity Promises An Exciting 2022 Season
CAA Notebook: Parity Promises An Exciting 2022 Season
Depth promises for parity, which means excitement, as the 2022 CAA season kicks off.
Sep 1, 2022
by Kyle Kensing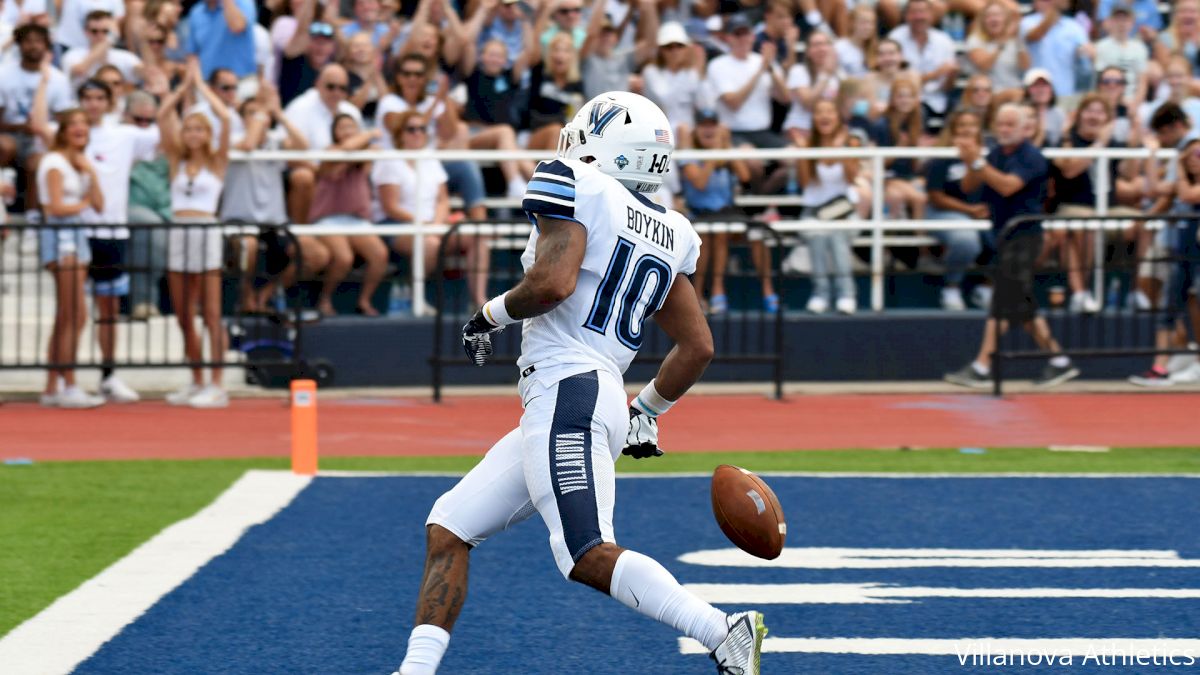 The refrain is common to the point of cliche, but that makes it no less true: The Colonial Athletic Association just might be the deepest conferences in college football.
Looking ahead to the 2022 season underscores the league's collective strength. No one team stands out as the clear front-runner to win the CAA championship, but just about every conference member can make a compelling argument as to why they will claim the crown.
Now, Villanova embarks on the new campaign the reigning champion and thus is the team to beat. The Wildcats return a variety of playmakers at the offensive skill positions, boast a veteran offensive line, and coach Mark Ferrante anticipates big things out of quarterback Connor Watkins.
But replacing Dan Smith is no easy feat, nor is replicating the production lost with the graduation of Forrest Rhyne. And you can just ask the Buffalo Bills the caliber of cornerback Villanova lost with Christian Benford's departure.
Rookie cornerback Christian Benford says he is ready for Week 1 no matter the role he's asked to play. Says some of the #Bills veterans taught him some indicators he can use when the games start to count during the regular season. #BillsMafia @Batavia_Daily pic.twitter.com/FeWXGplQkU

— alex brasky (@alexbrasky) August 29, 2022
Teams throughout the CAA enter 2022 with questions — but there's also reason for optimism within every program.
Consider Maine, which welcomes alum Jordan Stevens back as head coach. Stevens inherits a team that won five of its final six to close 2021 on the right side of .500. It's no coincidence the Black Bears played their best ball with Joe Fagnano's return to the lineup.
Fagnano closed 2021 with a pair of touchdown passes in Maine's 33-20 defeat of rival New Hampshire, claiming the Brice-Cowell Musket in what was a microcosm of the Black Bears' season. Maine fell behind 20-7 in the first half before roaring back in the second.
With Fagnano and running back Freddie Brock together, Maine rolls with one of the most exciting backfields in college football.
We score in the green zone ✅ pic.twitter.com/VpglMORudX

— Freddie Brock (@FreddieBrock6) December 3, 2021
Maine's lone loss in its final six came by less than a touchdown, 22-17, against Stony Brook. And the Seawolves have their own sources for optimism stemming from their 2021 finish.
A wild Week 1 comeback against New Hampshire that fell short set the stage for a tough start to Stony Brook's season. Behind the CAA's leading rusher, Ty Son Lawton, and a return to the typically stout defensive style that's long been a signature of Chuck Priore-coached teams, Stony Brook surged down the stretch with wins in four of its last five.
The Seawolves weren't just winning in the latter half of the campaign, either, but were absolutely rolling. They doubled up on Delaware, 34-17; stymied Richmond in a 27-14 romp; then closed out with a 36-14 rout of UAlbany to retain the Golden Apple Trophy.
Stony Brook's opening-night date with Rhode Island has an opportunity to set the tone for the entire CAA season, in part with the Rams taking a Top 25 ranking and legitimate playoff aspirations onto Long Island.
Rhody quarterback Kasim Hill is one in an impressive group of proven starters around the Colonial with the makings of a potential All-American.
Kasim Hill: 18 passing touchdowns in 2021, six rushing touchdowns, more than 2,400 total yards
Darius Wilson, William & Mary: 2021 CAA Offensive Rookie of the Year rushed for 386 yards, four touchdowns, and completed 60 percent of his pass attempts for 1,205 yards and eight scores
Max Brosmer, New Hampshire: First true freshman to start at quarterback in New Hampshire history passed for 12 touchdowns and rushed for three in 2019
Nolan Henderson, Delaware: Quarterbacked UD to the national semifinals during the spring 2021, completing 71 percent of his pass attempts; Henderson threw for four touchdowns and no interceptions before going down with injury in 2021
Reece Udinski, Richmond: Although new to the CAA, the Maryland transfer showed out in his bowl-game opportunity with the Terps; according to Spiders coach Russ Huesman, Udinski's familiarity with new offensive coordinator Billy Cosh from their time together at VMI has made for smooth implemenation of a new scheme at Richmond
And speaking of Udinski, all eyes will be on the revamped Richmond offense in the season's early-going. The Spiders were a much different team with Joe Mancuso at quarterback in 2021, underscoring the importance of the position.
If all goes according to plan offensively in Week 1, Richmond could find itself in a shootout. The Spiders face Virginia and quarterback Brennan Armstrong, considered a contender for the Heisman Trophy.
CAA Takes on the FBS
Richmond's short trip to Charlottesville is one of six matchups pitting Colonial teams against FBS opponents, and one of three against Power Five-conference competition.
Elon travels to Nashville to face Vanderbilt from the SEC, which scored 63 points in a Week 0 dismantling of Hawaii — the most posted by any Commodores team since 1969.
Elon coach Tony Trisciani praised Vanderbilt quarterback Mike Wright's mobility, which the Commodore signal-caller uncorked last week for an 87-yard touchdown rush.
MIKE WRIGHT GOES 87 YARDS TO THE HOUSE ⚡🤯 @VandyFootball pic.twitter.com/gjvYZO55Gu

— CBS Sports Network (@CBSSportsNet) August 28, 2022
William & Mary opens the slate of CAA vs. FBS contests on Friday at Charlotte. The matchup marks a reunion between 49ers coach Will Healy, who was a back-up quarterback behind Eric Ward on the 2008 national championship Richmond squad that current William & Mary coach Mike London helmed.
Delaware travels to Annapolis for a Saturday matinee at Navy, and the Blue Hens seek a repeat of 2007.
Week 1's CAA games vs. FBS opponents concludes with Maine at New Mexico. This marks the second consecutive season in which a Colonial program trekked to meet a Mountain West Conference foe; Towson visited San Diego State last September.
One state over is perhaps the most daunting of the FBS games with UAlbany facing No. 10-ranked and defending Big 12 Conference champion Baylor. The Bears were ahead of schedule in former national championship-winning coordinator Dave Aranda's second season as head coach, shocking the nation en route to a Sugar Bowl victory.
Great Danes coach Greg Gattuso said that Texas isn't recruiting territory for UAlbany.
However, the author invites the reader to imagine the signal the Great Danes could send out to the Lone Star State if they plant their flag in Waco. Fifteen years after Appalachian State opened the season beating Michigan, it's a good reminder to never say never when it comes to college football.