2022 Gulf South Conference Football
Lockdown Corners, Game-Changing Safeties Among D-II DBs To Watch
Lockdown Corners, Game-Changing Safeties Among D-II DBs To Watch
Standout playmakers including Khyon Fitzpatrick, Nick Whiteside and more are defensive backs to watch in the 2022 Div. II season.
Sep 1, 2022
by Kyle Kensing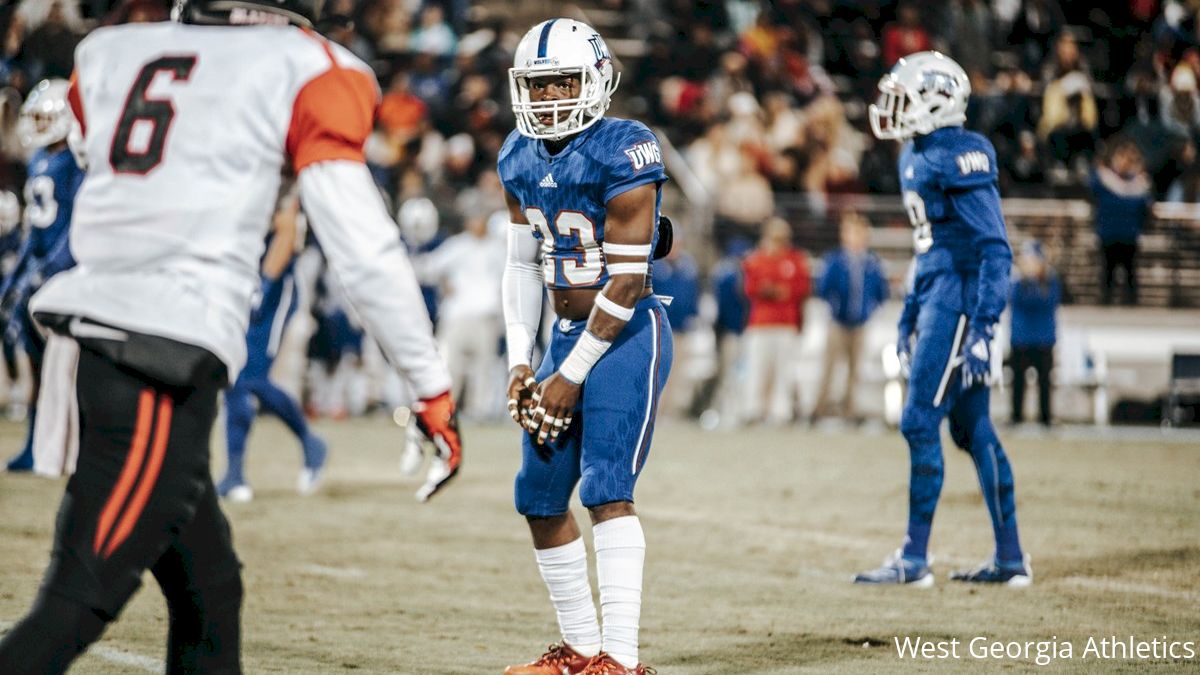 A top-flight defensive back has the ability to flip a game like few other positions. As passing offenses have proliferated in recent years, defensive backs take on more challenges, serving to heighten the importance of solid play in the secondary.
It's a high-pressure job, but the leading defensive backs in Div. II this season are more than able to handle it. The group includes the nation's leader in interceptions a season ago, All-Americans, and difference-makers who give their defenses their soul.
Vince Cooley, Ferris State
1st Team All-GLIAC as a freshman, Vince Cooley wasted no time establishing himself as a star on the national champion's defense. Cooley finished the 2021 campaign with seven pass break-ups and locked down receivers to help the Bulldogs defense limit opponents to a scant 5.8 yards per pass attempt.
WATCH: Sophomore DB Vince Cooley interviewed following Wednesday's practice! @FerrisFootball pic.twitter.com/QnscFtDGLP

— Ferris Athletics (@ferrisathletics) August 17, 2022
Khyon Fitzpatrick, New Haven
Khyon Fitzpatrick makes the move into the secondary after earning All-American honors at linebacker in 2021. He's excellent against the run and pass, evidenced last year with his 68 tackles and five interceptions.
Fitzpatrick's electric play has New Haven tabbed to win the Northeast 10 and return to the NCAA Playoffs.
Shamar Lewis, West Alabama
Shamar Lewis was outstanding coming off a knee injury last year. He picked off three passes, deflected another nine, and forced a fumble. Coming into 2022 at 100 percent, Lewis is poised for an All-America caliber year, and already has 1st Team All-Gulf South recognition in the preseason to his credit.
The veteran Lewis keys an improved West Alabama defense that will play a role in the Tigers' pursuit of a playoff berth, after coming oh-so-close in 2021.
Marcus Morgan, Newberry
After working his way into the rotation during the 2019 season, Marcus Morgan enjoyed a breakthrough as a standout for the South Atlantic champion Wolves in 2021.
Morgan is a 1st Team All-SAC honoree after making 48 tackles, three for loss, and deflecting three passes. His return in 2022 is one primary reason Newberry's picked to return to the postseason.
Deontae Overstreet, West Georgia
Few players at any level of college football can match Deontae Overstreet's savvy when pursuing the ball. The West Georgia standout forced three fumbles in 2021 to go along with an interception — and what an interception it was, picking off hero of the 2019 National Championship Game, Austin Reed, in the Wolves' defeat of West Florida.
Overstreet brings his outstanding field awareness back as a leader for a West Georgia defense capable of surprising in 2022.
Brandon Penn, Glenville State
Finished 2nd in the nation for interceptions to end my freshman season. It's only up from here🗣💯 pic.twitter.com/DjB1lax10q

— Brandon (@Brandon_penn1) November 24, 2021
Not many defensive backs piled up stats on pace with those of Brandon Penn. The Glenville State All-America candidate picked off seven passes a season ago, deflected seven passes, forced a fumble and blocked a kick.
His special-teams contributions also extended to return duties. Penn can fly, as opposing quarterbacks trying to throw in his vicinity know all too well.
Mason Pierce, Colorado School of Mines
Mason Pierce played a key role in Mines reaching the national semifinals last year. His outstanding on-ball defense resulted in 18 pass deflections, tops among all Div. II players.
Pierce also plays a part in the explosive Orediggers offense, setting Mines up with favorable field position as one of the most effective punt returners in college football.
Tristan Rankin, Mars Hill
There wasn't a more dangerous defensive back against whom to throw last season than Tristan Rankin. The Mars Hill standout picked off a nation-leading eight passes, two of which he took to the house for touchdowns.
In addition too his prolific turnover-creation, Rankin made three tackles for loss, broke up 10 pass attempts, and blocked a kick.
Nick Whiteside, Saginaw Valley State
An elite playmaker with size at 6-foot-1 and 200 pounds, Nick Whiteside just might be the best cornerback in the country. The Saginaw Valley State leader earned Defensive Back of the Year in the GLIAC as a junior, and will be primed for more as a senior despite coming off injury.
Talk about a miracle recovery@svsu_football DB Nick Whiteside tore his achilles on Jan. 2nd this year

Fast-forward about 7-months, he's back on the football field for @svsuathletics

Amazing @_nickwhiteside pic.twitter.com/Xh0PEtAeiX

— Brandon Green🍀 (@BGreenReports) August 30, 2022
Whiteside's frame gives him an edge against bigger wide receivers, without sacrificing speed to defender fleet-footed slot receivers. His versatility gives Saginaw Valley an intriguing look on defense that just might have this team fighting for a playoff berth.