SIAC
Returning All-Americans Among The D-II Linebackers To Watch
Returning All-Americans Among The D-II Linebackers To Watch
Returning All-Americans, freshmen phenoms and more headline a standout group of linebackers in the Div. II ranks for the 2022 season.
Aug 31, 2022
by Kyle Kensing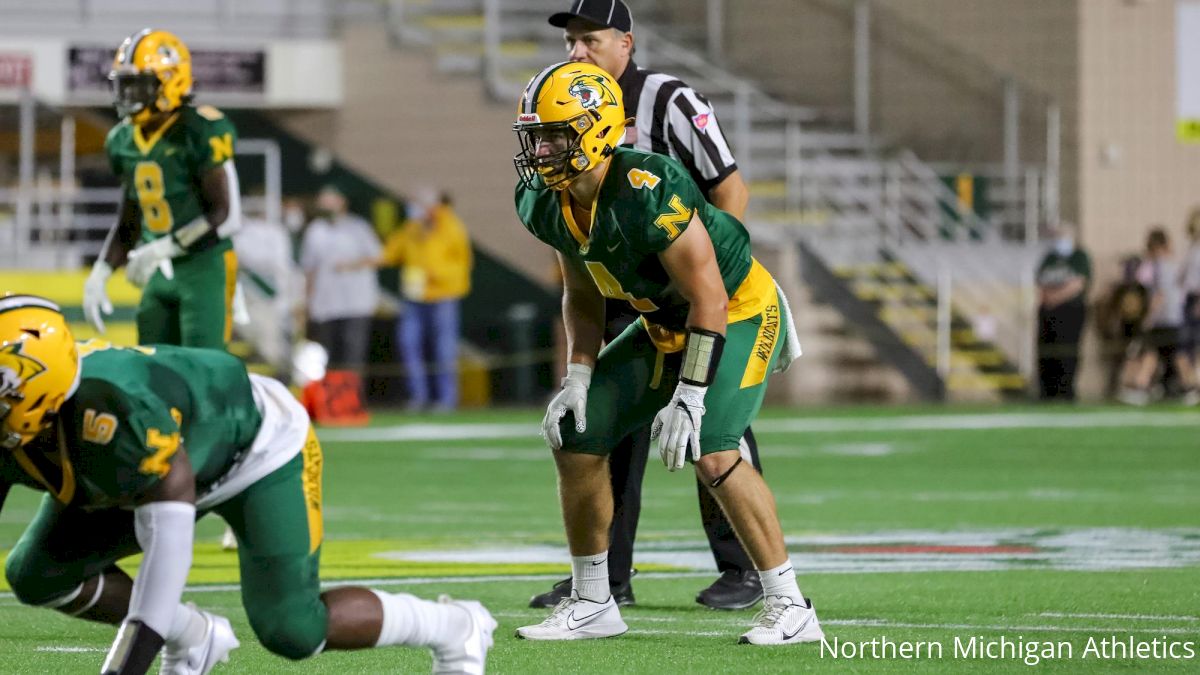 A linebacker's role in a defense has evolved with the times in college football, but the position's importance has never changed. Linebackers often function as the eyes of a defense and are often tasked with stuffing the run, but they double as vital pass-rushers and, with the proliferation of pass-heavy offenses, can even function as hybrid defensive backs.
The duties of a linebacker are diverse, a fact reflected among those to watch at the position in the 2022 Div. II season. Returning All-Americans are among the top linebackers heading into the new campaign, as well as some youngsters reached to break into the top-tier nationally.
Will Borchert, Northern Michigan
GLIAC Freshman of the Year and a 1st Team all-conference selection in 2021, Will Borchert made quite a splash in his debut campaign. Borchert made 112 tackles as a freshman and recovered three fumbles.
Borchert is a potential All-American heading into his sophomore campaign, and the cornerstone of a Northern Michigan squad looking to surprise in the always-tough GLIAC.
JT Cavender, West Texas A&M
JT Cavender completed his first full collegiate season with a laundry list of accomplishments: Lone Star Conference Defensive Freshman of the Year, Linebacker of the Year, 1st Team All-Lone Star. The accolades reflect a stellar campaign in which Cavender recorded a team-best 108 tackles with 4.5 for loss and generated two turnovers with an interception and forced fumble.
Expectations are understandably high for Cavender heading into this sophomore, with more accolades coming his way before the Buffs play their first snap of 2022.
Congratulations to @WTBuffNation JT Cavender on being named the 2022 #LSCfb Preseason Defensive Player of the Year! 🏈

🔗 https://t.co/gAdJdOUct1 pic.twitter.com/06J3YmHVRv

— Lone Star Conference (@LoneStarConf) July 28, 2022
Carter Duxbury, Winona State
Carter Duxbury earned 1st Team All-American recognition from both the AFCA and Associated Press last season, pairing with his selection as Northern Sun Conference Defensive Player of the Year. The Winona State veteran stood out as one of the nation's top pass-rushers regardless of position, registering nine sacks and 12 tackles for loss.
Winona State Football || Carter Duxbury earns Lindy's Sports Preseason 1st Team All-America status, heading into the 2022 college football season...Go Warriors!
📖- https://t.co/17bevpe7Uq
📽️- https://t.co/1P2GKtpNVP#WSUWarriorProud #GraduateChampions pic.twitter.com/apDjG5eXk8

— Winona State Warriors (@WinonaStateATH) June 15, 2022
Duxbury's tenacious rush contributed to his three forced fumbles a season ago. Opposing ball-carriers beware when Duxbury is patrolling the field.
Dexter Fitzpatrick and London Honeycutt, Mars Hill
Mars Hill finished third nationally against the run in 2021; returning linebackers Dexter Fitzpatrick and London Honeycutt are two big reasons why.
Honeycutt's 105 and Fitzpatrick's 74 tackles led a Lions defense that limited opponents to 70.5 rushing yards per game. The two were also terrors in the backfield with team-bests of nine sacks for Fitzpatrick and 4.5 for Honeycutt, and 12 and 9.5 tackles for loss respectively.
Fitzpatrick also broke up four passes, while Honeycutt made an interception and blocked a kick.
Jameon Gaskin, Valdosta State
Jameon Gaskin truly did it all for the national runner-up's defense. Gaskin, a 1st Team All-Gulf South preseason selection, made 82 tackles for the Blazers last season, 2.5 of which were for loss, while also delivering three pass break-ups, four quarterback hurries, two forced fumbles and an interception.
An uptempo offensive team like Valdosta State is only as effective as its defense allows it to be. The Blazers should be just fine with Gaskin laying the foundation on that side of the ball as the top returning veteran.
T.J. Liggett, Augustana
Driving the nation's No. 1 rush defense (41.8 yards per game), T.J. Liggett was critical to Augustana's nine wins and playoff appearance. He's again central to the Vikings' pursuit of a Northern Sun Conference championship and return to the postseason.
Liggett produced team-highs of 85 tackles, five quarterback hurries, and finished second with 10.5 tackles for loss. He was also a standout against the pass with five break-ups.
Stephan Pierre, Albany State
No surprise that the best defense in Div. II last season built around one of the division's premier linebackers.
Stephan Pierre paced Albany State's remarkable 6.2-point and 84.2 rushing yards per game yield with a team-leading 59 tackles. Pierre also produced a quarterback hurry and recovered three fumbles. His versatility makes the effectiveness of the entire Golden Rams defense possible, and will be central to their pursuit of another appearance in the NCAA Playoffs.
Abe Swanson, Grand Valley
1st Team All-GLIAC selection Abe Swanson returns to once again anchor the national championship hopefuls at Grand Valley State. Swanson was excellent as a sophomore in 2021, recording a team-best 104 tackles.
Eight of Swanson's tackles went for loss, with three sacks, and he created three takeaway opportunities with an interception and two forced fumbles. Swanson is as versatile as they come at linebacker, and the catalyst behind one of the country's best overall defenses.
Kee Whetzel, West Florida
Kee Whetzel has been a playmaker from coast-to-coast, first playing two years on the Oregon State defense before landing at West Florida in 2020. He made a splash in his debut with the Argos last season, recording a sack, deflecting three passes and forcing two fumbles.
Look for the leader of the UWF defense to produce in a big way in his senior season.