2022 Keiser vs Valdosta State
GSC Games Of The Week: A New Era Begins For Valdosta State; MC Seeks Upset
GSC Games Of The Week: A New Era Begins For Valdosta State; MC Seeks Upset
Week 1 Gulf South matchups kick off new eras and offer measuring sticks for teams around the conference.
Aug 30, 2022
by Ron Balaskovitz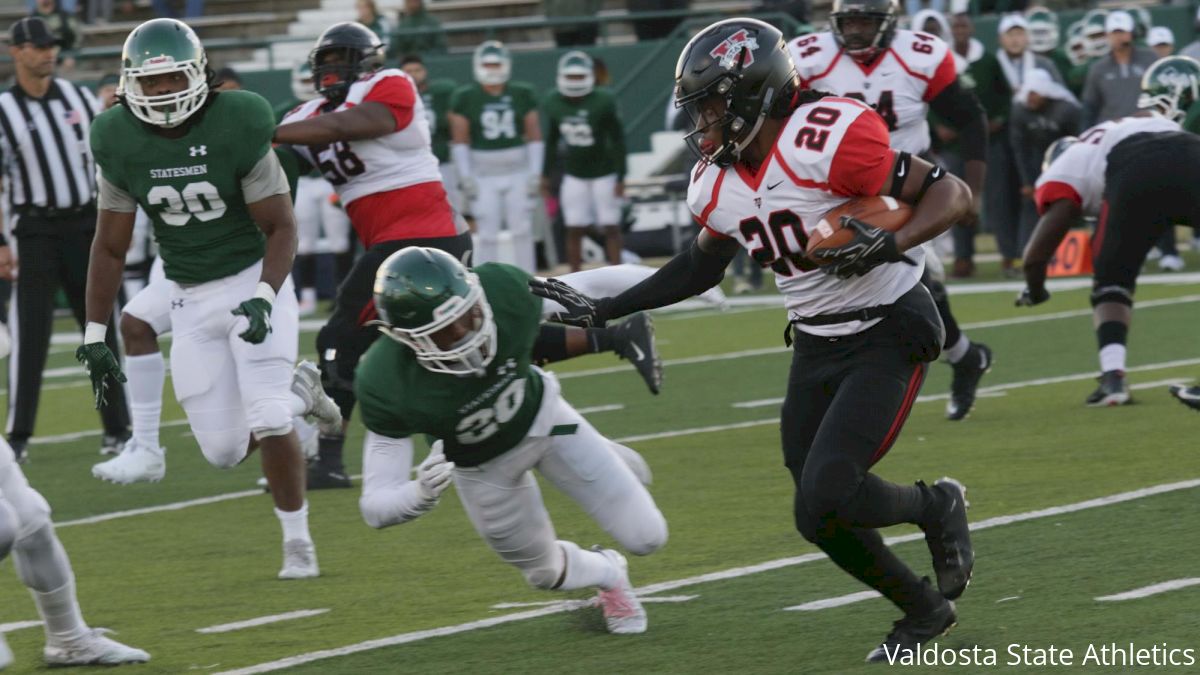 The wait is over: College football makes its return in full force.
The Gulf South Conference kicks off 2022 with plenty of intrigue, including new coaches and high-profile new players stepping into big roles.
The Gulf South has typically been a strong league in non-conference play, going 53-18 in the opening week dating back to 2012. GSC teams look to continue that trend, including in the Week 1 games to watch.
No. 3 Valdosta State Vs. Keiser
Keiser is a solid NAIA program, ranked in the Top 10 nationally after going 9-3 last season. That said, Valdosta State should roll in this one, but the main intrigue is tuning in to see the debut of new Blazers coach Tremaine Jackson, and what he'll bring to the program.
The Blazers return a loaded offense that had an NCAA record three players rush for over 1,000 yards. What Jackson ends up doing with all that talent in his debut game will be worth checking out.
Keiser opened its season last week against Warner University, rolling to a 44-7 victory in which it gained 538 yards of offense – 362 through the air. Quarterback Shea Spencer was the Sun Conference Player of the Week for his efforts.
Keiser Football starts the year in the win column! Take a look back at the highlights from the Seahawks 44-7 victory over Warner#DefendtheBeach pic.twitter.com/A8RLwkDl8R

— Keiser Football (@KeiserFootball) August 29, 2022
Mississippi College Vs. No. 18 Albany State
The Choctaws were road warriors last season, going 3-1 in games away from home. They will have a chance to make a name for themselves in Week 1, traveling to take on a ranked Albany State team in its opener.
Mississippi College will lean on a run-dominant offense that posted over 3,000 yards a season ago, paced by Marcus Williams. Williams scored nine touchdowns as a freshman.
If Mississippi College is going to pull the upset of the 2021 playoff participants, it will need quarterback DeAnte' Smith-Moore to show off his arm in the precious few passing opportunities opened out of the option offense.
𝐁𝐀𝐂𝐊 𝐀𝐓 𝐈𝐓 𝐀𝐆𝐀𝐈𝐍 🔥

Day one Gallery 📸

🔗 https://t.co/X062JLS3pM#COTM pic.twitter.com/CkKIsjG2Fm

— Mississippi College Football 🏈 (@GoChoctaws_FB) August 8, 2022
Albany State comes into 2022 looking to repeat atop the SIAC's East Division. The Golden Rams return the league's preseason Player of the Year, quarterback Dionte Bonneau, who finished 2021 with 1,763 passing yards.
Bonneau leads a group of five preseason 1st Team All-SIAC selections, including 2021's SIAC Defensive Player of the Year, Stephan Pierre. The All-American linebacker Pierre paced the 10-win Golden Rams defense, which was among the nation's best allowing a little more than 13 points per game.
Mississippi College got a taste of how stingy the Albany State defense can be last season, when the Golden Rams beat the Choctaws, 24-0.
West Alabama Vs. Morehouse
As West Alabama works to establish itself among the Gulf South's Elite teams, the Tigers open with a road trip to Georgia and against Morehouse team that picked up steam as the 2021 season went along. West Alabama, meanwhile, faded down the stretch after a promising start.
West Alabama looks to build on a 7-4 mark (but just a 1-4 finish) while breaking in a new quarterback after the graduation of Jack McDaniels. The Tigers return a pair of All-GSC defenders in linebacker Michael Anderson and defensive back Shamar Lewis. The duo combined to force seven turnovers between the two of them a season ago.
Morehouse was the opposite last season, opening the year 0-5, with all five loses by double digits. The Maroon Tigers rebounding to go 4-1 down the stretch, with all four wins coming by two scores or more. The sole loss over that stretch came against Albany State, 14-10.
Morehouse was picked to finish fourth in the preseason SIAC poll, returning a strong defensive line with all-league picks Tyler Hunter and Elijah Campbell. Hunter posted 4 sacks last season, along with a fumble recovery and a blocked kick, while Campbell collected five tackles for loss and forced three turnovers.