2022 Villanova vs William & Mary
William & Mary Football Preview: Tribe Looks To Add Bite With Key Vets
William & Mary Football Preview: Tribe Looks To Add Bite With Key Vets
Looking for an underrated team to potentially latch onto this CAA football season? William & Mary might just be the team for you.
Aug 27, 2022
by Briar Napier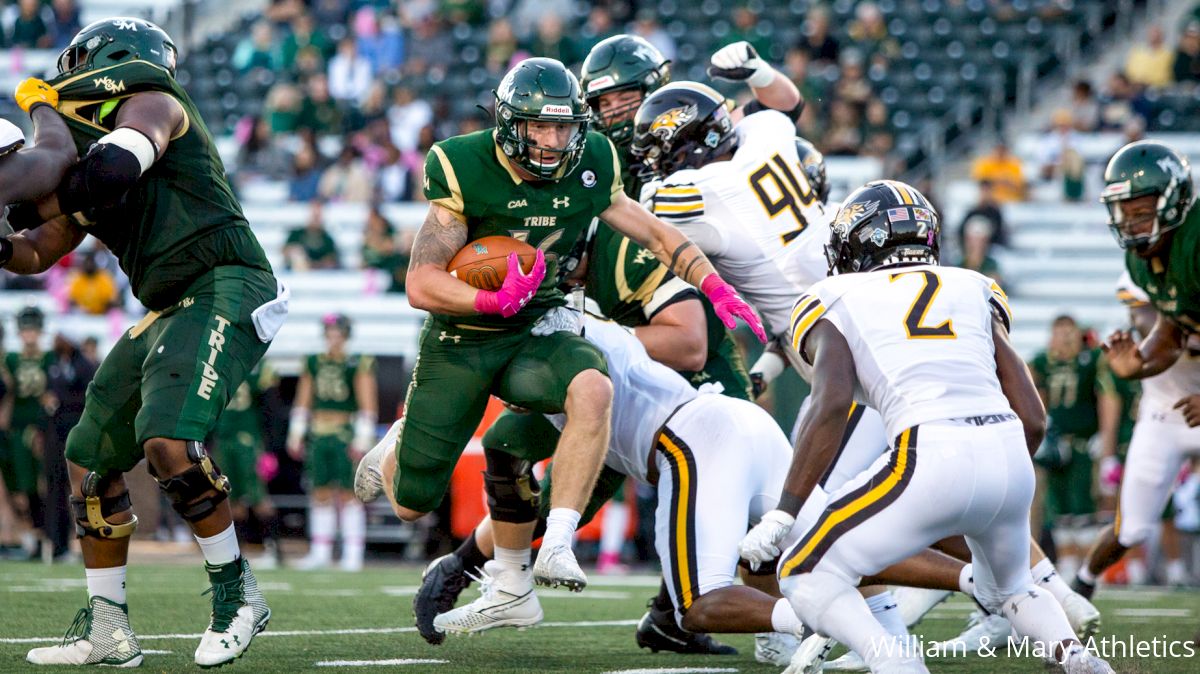 Looking for an underrated team to potentially latch onto this Colonial Athletic Association football season? William & Mary might just be the team for you.
The Tribe rocketed out to a sizzling start before flaming out late in 2021, but with one of the league's most dynamic rushing attacks, a gnarly pass rush and a run-stuffing defense, there's little reason to think W&M can't make the upper tiers of the conference worried once again in 2022.
Many returners who helped establish the Tribe as a team to watch out for this last season are back. With what they hope to be greater consistency and more variety in their play, the team could be an under-the-radar program that could find itself in the hunt for trophies very, very late into the season ahead.
Here's a look at what William & Mary football will bring to the gridiron this season, as FloFootball previews every CAA football team ahead of this season's kickoff.
2021 season review: The Mike London era had plenty of expectation when the former FCS national champion coach (with Richmond) and Atlantic Coast Conference Coach of the Year (with Virginia) was hired from Howard prior to the 2019 season to lead the Tribe, but so far, his tenure has been a bit of a mixed bag.
Sure, William & Mary had plenty of bright spots a year ago.
Quarterback Darius Wilson was named the CAA Offensive Rookie of the Year, bursting onto the scene as an emerging dual-threat star, combining with an elite corps of tailbacks, namely Bronson Yoder and Donavyn Lester, to help the Tribe finish the campaign with the most rushing yards per game (203.7) of any team in the CAA.
The rushing defense was the second-best in the CAA at 107.5 yards allowed per game, too.
So, how did the Tribe finish 6-5 overall and off the pace of the league elites?
Well, having one of the bottom-10 passing attacks in the FCS - 135.2 yards per game and nine passing touchdowns all season - will contribute to that, as will having a secondary that allowed nearly 250 yards per game through the air.
Too often, the Tribe were caught being one-dimensional on offense, and it showed in the fact it struggled to get the ball down the field consistently, posting an average of 15.7 first downs a game.
A three-game losing streak to close out the regular season immediately after upsetting then No. 4-ranked Villanova was a bit deflating, too.
Offense: Get used to the fact that William & Mary loves to run the football, because there's no reason the Tribe won't do it again this time around.
The team returns its top four rushers in Wilson, Yoder, Lester and sophomore Malachi Imoh, all of whom ran for at least 400 yards a year ago and all of whom contributed heavily to W&M having the league's best rushing attack by a fairly significant margin.
Yoder, a senior, is a dark horse CAA Offensive Player of the Year candidate after he first burst onto the scene as a Freshman All-America return man in 2019, then followed that up two seasons later with a breakout campaign that saw him named to an All-CAA team (third team) for the first time in his career.
He partly may have Wilson's breakout freshman campaign to thank for helping Yoder unlock a new dimension of his game.
The signal-caller from the Bronx in New York broke the school's true freshman records for passing and total yardage, despite playing in only nine games, but his sophomore season is going to tell a lot about his continued development and if he makes strides toward becoming a consistently effective passer.
Wilson had more interceptions (eight) than passing touchdowns (six) a year ago and didn't throw for more than 200 yards in a game once, though he can chalk up some of those mistakes to youth and inexperience.
Now, with a year of college football under his belt, there's fewer excuses. He'll also be dealing with a heavily-shuffled crew of receivers.
Top wideouts Cole Blackman and Zach Burdick are gone, leaving the door open for someone else, such as Auburn transfer Caylin Newton, brother of former NFL MVP and Heisman winner Cam Newton, to shine downfield.
Defense: It's pretty self-explanatory. In order for William & Mary's defense to become a consistent, sustainable force throughout the grind of the season, its secondary must take strides.
The pass rush and rushing defense is OK on paper, particularly after junior defensive lineman Nate Lynn, who had a 12 sacks on the interior a season ago and was named to the Buck Buchanan Award Watch List in this preseason, returned for another year of terrorizing CAA offensive lines.
Leading tackler and senior linebacker Trey Watkins (79 total stops) is back, too, with the duo being integral parts in the Tribe's rushing defense that didn't allow a single FCS opponent to go for over 200 yards or manage multiple scores on the ground.
Yet, simultaneously, William & Mary gave up at least 200 passing yards in eight of 11 games, being burned by opposing receivers quite often, despite the fact that three different players recorded multiple interceptions.
Perhaps some over-aggressiveness in the secondary is part of the issue, leaving the likes of Tye Freeland and Ryan Poole, two of the pass defense unit's top returning tacklers, to step up and lead the corners and safeties, each of whom see much of the same personnel they had in 2021, to improvement in the department for 2022.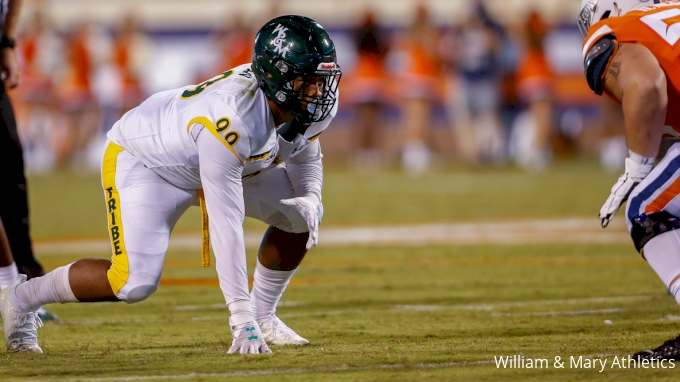 Wild card: When you share a surname with a player who had one of the best seasons in recent college football history, you're bound to garner some attention.
Sure enough, Caylin Newton's transfer to the Tribe following a stint at his brother Cam's alma mater, and a stellar three seasons at Howard, was one of the more intriguing of the CAA offseason, not just because of his family lineage, but because of his already proven pedigree in being an elite FCS talent.
Caylin committed out of high school to the Bison as a quarterback, where in his first start in 2017 he led Howard to a win at UNLV that is thought to be the biggest upset by point spread (the Bison were 45-point underdogs at kickoff) in college football history.
7 more days ⏳ @WMTribeFootball pic.twitter.com/gjIxMQL1Oc

— Alyssa McDaniel (@alyssamcd25) August 26, 2022
He won the Mid-Eastern Athletic Conference's Rookie of the Year award later that season and then the league's MVP award a year later, throwing for over 5,000 yards and accounting for 51 total touchdowns in his first two seasons, before announcing a transfer to Auburn prior to 2019.
Newton then was converted to receiver and mainly was a special-teamer with the Tigers, catching a single pass for 31 yards across two years, before leaving again and reuniting with the coach who got him to Howard in the first place, Mike London, at William & Mary.
On the Tribe's official roster, Newton is listed as a wide receiver and could unquestionably contribute on a passing unit that badly needs some help, but watch for how London - especially considering his prior experience with the player - utilizes Newton as the season goes along, with true "Swiss Army knife" potential on the football field that could see the Tribe have a player unlike few others across the CAA this year.
Game to watch: William & Mary Vs. Villanova, 1 p.m. Eastern, Nov. 12.
The Tribe likely spoiled the Wildcats' dreams of an outright CAA title in 2021 with a 31-18 upset win on the road. It marked another instance of a series between the two that William & Mary has controlled recently, with the Tribe winning three of their past four matchups.
However, they also haven't won a game against the Wildcats in Williamsburg since 2010, and with potential CAA regular-season title implications on the line with their scheduled meeting in the penultimate week of this season, it makes for a matchup certainly worthy keeping an eye on as each schools' records and standings get closer and closer to finalized.
With James Madison having left for the FBS level, Villanova is aiming to take control in the power vacuum that's suddenly opened up atop the CAA football rankings, though it'll need to get through a gauntlet of old and new conference adversaries to claim that top spot.
William & Mary is no different in that regard, and depending on how much the Tribe's offense develops, and the secondary improves, their showdown could clinch - or end - a dream for a conference title.