2022 McKendree vs Northern Michigan
Hard-Hitting Defensive Dynamos Headline GLIAC Players To Watch
Hard-Hitting Defensive Dynamos Headline GLIAC Players To Watch
Stout defenses define GLIAC football, evident among the GLIAC Players to Watch in 2022. But the league isn't without offensive firepower.
Aug 25, 2022
by Ron Balaskovitz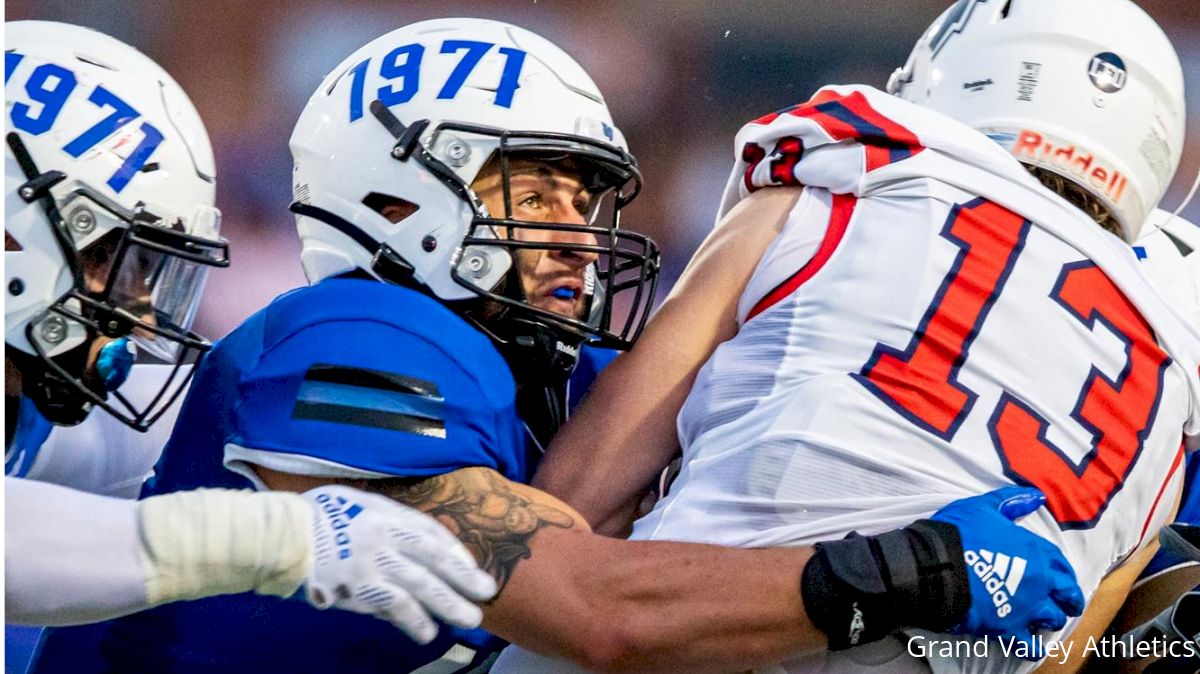 GLIAC Players to Watch As college football becomes more of an offensive game at every level, the GLIAC is a something of a throwback coming into the 2022 season. A variety of the conference's top returning players are on the defense.
That doesn't mean the cupboard is bare on the offensive side, however, with prolific passers, and young running backs who surged last season ready to put the league's outstanding defenses on notice.
Here's a look at some of the players to keep an eye on in the GLIAC this season:
Mylik Mitchell, Quarterback, Ferris State
After splitting time a season ago with Jared Bernhardt, there will be no split this season, with Mitchell, a former Kent State transfer, the undisputed starter for the Bulldogs.
Mitchell was solid in his limited role, completing nearly 65 percent of his passes and racking up 12 touchdowns, including six in a league win over Northwood, while throwing just two interceptions. Mitchell also added 188 yards on the ground, but needs to shore up the hands after putting the ball on the turf eight times.
Caleb Murphy, Defensive End, Ferris State
Murphy enters this year as a preseason All-American, and with good reason. He delivered on a monster season for the Bulldogs as a sophomore. All Murphy did was post 14.5 sacks, tops on the team by 11.5, on his way to 63 total tackles, 21.5 of which were for loss, while forcing five fumbles.
𝟮𝟬𝟮𝟭 𝗚𝗟𝗜𝗔𝗖 𝗙𝗼𝗼𝘁𝗯𝗮𝗹𝗹 𝗗𝗲𝗳𝗲𝗻𝘀𝗶𝘃𝗲 𝗟𝗶𝗻𝗲𝗺𝗮𝗻 𝗼𝗳 𝘁𝗵𝗲 𝗬𝗲𝗮𝗿

Caleb Murphy // Ferris State#GLIACFB🏈 #WhereChampionsCompete pic.twitter.com/ijBtLAdzVQ

— GLIAC (@GLIACsports) November 18, 2021
Needless to say, Murphy is the type of player that keeps offensive coordinators in the GLIAC up at night.
Cade Peterson, Quarterback, Grand Valley State
Peterson was a 2nd Team All-GLIAC selection last season and Grand Valley's MVP after passing for over 2,000 yards, rushing for nearly 600, and totaling 33 touchdowns.
In the Lakers offense, Peterson isn't going to throw it all over the yard: His career-high for completions in a game is 20, but he'll be efficient in the air to complement his production on the ground. On a loaded Grand Valley team with 18 starters back, he won't need to do it all. But as far as Peterson goes, so will the Lakers.
Abe Swanson, Linebacker, Grand Valley State
The 6-foot-1 junior anchors the GVSU defense after earning first team All-League honors a season ago, as well as a spot on the All-Region team, as well as being GVSU's Defensive Skill Player of the Year.
He was second in the league last season with 104 tackles, including eight for loss and three sacks, while also swatting away five passes, forcing two fumbles, recovering one, and returning an interception for a touchdown. Swanson was a three-time GLIAC Player of the Week winner in 2021.
Austin Schlict, Defensive End, Michigan Tech
Racking up sacks as a freshman is not an easy thing to do as most players get accustomed to the size and speed of the college game. That was not a problem last year for Schlict, who instantly turned himself into the Huskies' top pass rusher, notching eight sacks on his way to top freshman honors.
Schlict and fellow freshman Josh Cribben (four sacks) both return to give the Tech a formidable 1-2 punch up front.
Trevor Nowaske, Linebacker, Saginaw Valley State
After posting just 50 tackles over his first two seasons for the Cardinals, Nowaske made the lead during his redshirt sophomore season, posting 84 tackles, 9.5 tackles for loss, and 4.5 sacks from his linebacker spot, along with three pass breakups, a fumble and an interception on his way to All-League honorable mention.
At 6-foot-3, 235 pounds, Nowaske is a force both for his size and speed, which he parlayed into five games of 10-plus tackles.
Will Borchert, Linebacker, Northern Michigan
Borchert was the GLIAC's Freshman of the Year after leading the Wildcats' defense a season ago with 107 tackles in just 10 games, including a season-high 15 against Saginaw Valley State. Borchert's 2021 season also saw him recover three fumbles, while forcing one of his own.
While Borchert is a sure-handed tackler, the Wildcats will look for more impact plays during his sophomore season.
Myren Harris, Running Back, Wayne State
In an otherwise forgettable year for Wayne State, Myren Harris shined in his debut season for the Warriors.
A big time honor for a big time performance. Myren Harris earns GLIAC Offensive Player of the Week Honors for #WarriorFB!https://t.co/s2ySNmKPDy#WarriorStrong pic.twitter.com/1lDNMcu5H4

— WSU Athletics (@waynestwarriors) November 2, 2021
Harris immediately established himself as the top running back for Wayne State, setting a school record by averaging 7.847 yards per carry, which was also second in the nation, on his way to 1,028 yards and nine touchdowns, all in just nine games. That earned him first team All-GLIAC honors, as well as being named Wayne State's Offensive Rookie of the Year. Harris' top game was a 327-yard, four touchdown romp over the since departed Northwood.
Jalen Robinson, Defensive Back, Davenport
Robinson returns for his senior season, leading a Panthers defense that will need to continue to be one of the league's top units after the offense scored just 9.5 points per game.
At just 5-foot-10, Robinson played bigger and racked up 101 tackles, a new school record, as a junior. He was named 2nd Team All-GLIAC after posting five double-digit tackle games, including 15 and 11 stops against Grand Valley and Ferris State.