2022 West Georgia vs West Alabama
High-Scoring Offenses Shape Gulf South Players To Watch In 2022
High-Scoring Offenses Shape Gulf South Players To Watch In 2022
Explosive offenses showcase standout talent around the Gulf South, but the players to watch in the GSC aren't all on that side of the ball.
Aug 24, 2022
by Ron Balaskovitz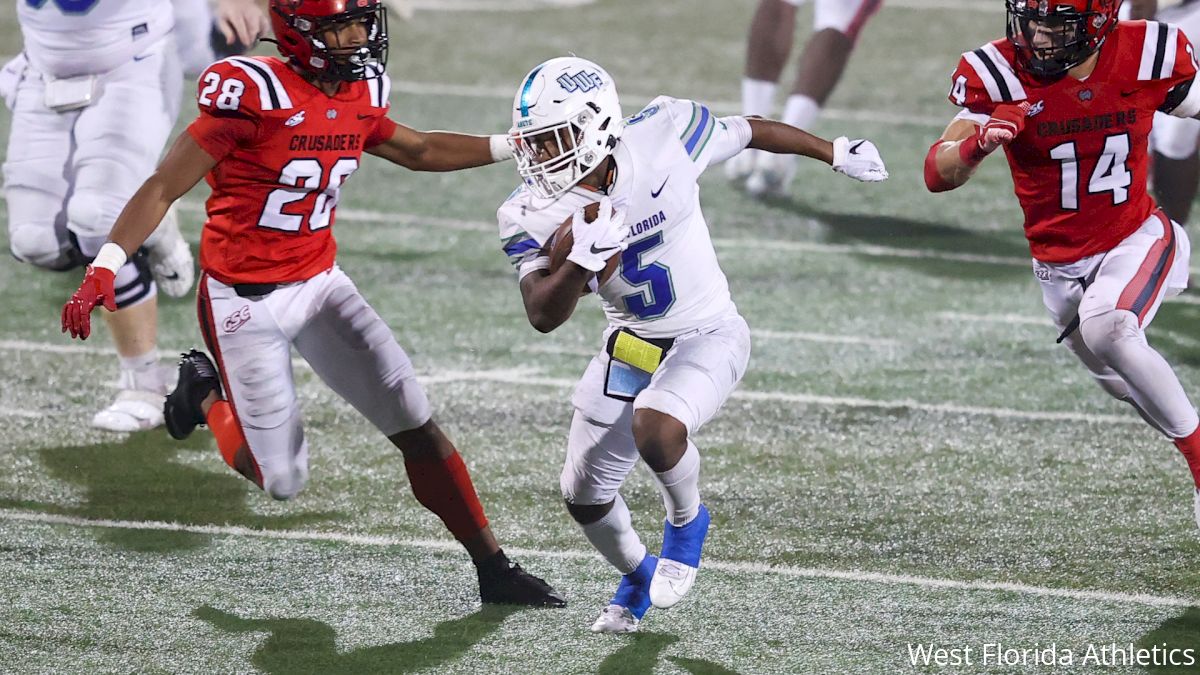 With a variety of the top offenses in the country, including two of the very best in Valdosta State and West Florida, it's safe to say that the Gulf South Conference is an offensive league. But with so many standouts on offense, that does create opportunities for defensive players to make a name for themselves. Here's a look at some of the top returning talent returning to the Gulf South Conference ahead of the 2022 season — on both sides of the ball.
Seth McGill, Running Back, Valdosta State
Over his 39 games for the Blazers, Seth McGill has racked up more than 2,600 yards to go with 37 touchdowns on the ground.
As a junior he emerged as the top threat for the national runners-up, earning All-Gulf South and All-Region on his way to over 1,200 yards and 14 touchdowns, tops in the Gulf South. Ran for a career-high 190 yards in a win over Delta State, one of six 100-plus yard games last season.
Ivory Durham, Quarterback, Valdosta State
In his first season under center, Durham shined for Valdosta. He earned 2nd Team All-GSC and 2nd Team All-Region. Durham was a true dual-threat, passing for over 3,400 yards, putting him in the top 10 nationally, rushing for over 1,000 yards — one of three Blazers to hit the mark — and finishing with 45 total touchdowns.
Expect Durham to be in the hunt for the 2022 Harlon Hill Trophy.
Out at @valdostastatefb's first scrimmage of fall camp this morning. Little preview of what Blazer fans can expect this season. @mr__Hollywood_ to @bkjr11 TD to end the day. Hear how it went from @coachjack212 tonight on @WCTV at 6&11. @BlazerAthletics #Blazers #VSU #DOG #KTF pic.twitter.com/3kV73LhXen

— Dominic Miranda (@DomMirandaTV) August 13, 2022
Shomari Mason, Running Back, West Florida
"It's the most competitive team I've been on."@willkennedynews chats with Shomari Mason following the first fall scrimmage!#GoArgos | #Arete pic.twitter.com/oe1KICQ0pV

— UWF Football (@UWFFootball) August 23, 2022
Shomari Mason became the first Argonauts running back to eclipse 1,000 yards, hitting the mark on just 120 carries, while averaging 93 yards per game. Mason's biggest game of the year came against Valdosta State when he romped for 195 yards, helping the Argos to a 61-42 win that clinched a share of the GSC title.
Mason is a two-time All-Conference selection, also earning the honor as freshman.
David Durden, Wide Receiver, West Florida
The 6-foot-2 Durden starred as the go-to target for the Argonauts, earning first-team all league honors, and All-American honorable mention during his junior year. That season included 787 yards on 34 catches in just nine games after missing two with injury.
That added up to over 23 yards per catch and nearly 90 yards per game, both second in the GSC. Durden's best game came against FCS McNeese State, when he totaled 172 yards.
Deontae Overstreet, Safety, West Georgia
Year 2️⃣ ‼️‼️ pic.twitter.com/Fm1Eyck18B

— Deontae Overstreet🏈 (@ThaRealDeon5) January 15, 2022
After appearing in 11 games as a freshman, Deontae Overstreet turned into arguably the league's top DB in 2021. He led UWG with 59 tackles, including 40 solo tackles. Overstreet also added an interception against West Florida, helping the Wolves to an upset of the co-GSC champs and then-defending national champions.
Overstreet remained strong in the postseason with an 11-tackle performance against Albany State that included a sack.
Darius Nalls, Wide Receiver, West Alabama
Darius Nalls could be poised for bigger things for the Tigers after emerging as a big-play threat last season. Nalls is the top returning receiver on a team that completed 220 passes a season ago and graduated its top two receivers.
In nine games he totaled 33 catches and three touchdowns, and should enter the year as the undisputed No. 1 option for West Alabama.
Tim Williams Jr., Defensive Line, Delta State
Tim Williams Jr. turned into a force up front, going from six total tackles in his first two seasons with the Statesmen to 40 tackles, including 7.5 sacks, in 2021.
Williams was also a force on special teams for Delta State, blocking a pair of field goal attempts on his way to a 1st Team All-GSC selection. Williams' best game came against North Greenville when he posted 10 tackles and 1.5 sacks.
FIRST TEAM ALL-GSC

Tim Williams earns his first career All-GSC nod after recording 7.5 sacks❗️
#WhereChampionsPlay🏈 pic.twitter.com/LOhQFjxXXi

— #DSUFamily (@DeltaStateFB) November 18, 2021
D'Iveon Donald, linebacker, North Greenville
D'Iveon Donald anchored the North Greenville defense a season ago, turning into the Crusaders' top tackler as a redshirt freshman. Donald posted 63 total tackles in his debut season, including five for loss, while recovering a fumble and breaking up three passes.
Another season in the Crusaders' defense should add to his comfort level as this sophomore continues to pile up more impressive stats.
Kyle Morlock, Tight End, Shorter Hawks
Kyle Morlock emerged as a bright spot for Shorter in a trying 2021, leading the team in catches and touchdowns to earn an All-GSC selection, a preseason nod to open 2022, and AFCA All-American honors.
Big congratulations to Kyle Morlock on your @WeAreAFCA All-American team selection! #flyhawks pic.twitter.com/iN4xxLXrMl

— Shorter Hawks (@ShorterHawks) December 8, 2021
The 6-foot-6 Morlock finished his sophomore campaign with 362 yards and five scores on 21 catches. He will look for more help from the Hawks' playmakers to help free him up for an even bigger junior year.