2022 St John Bosco vs Allen
New Coach Looks To Bring Stability To Allen Eagles
New Coach Looks To Bring Stability To Allen Eagles
Lee Wiginton is no stranger to pressure, and he'll be tested this week in his first game as the head coach of the Allen Eagles.
Aug 23, 2022
by Stephen Kerr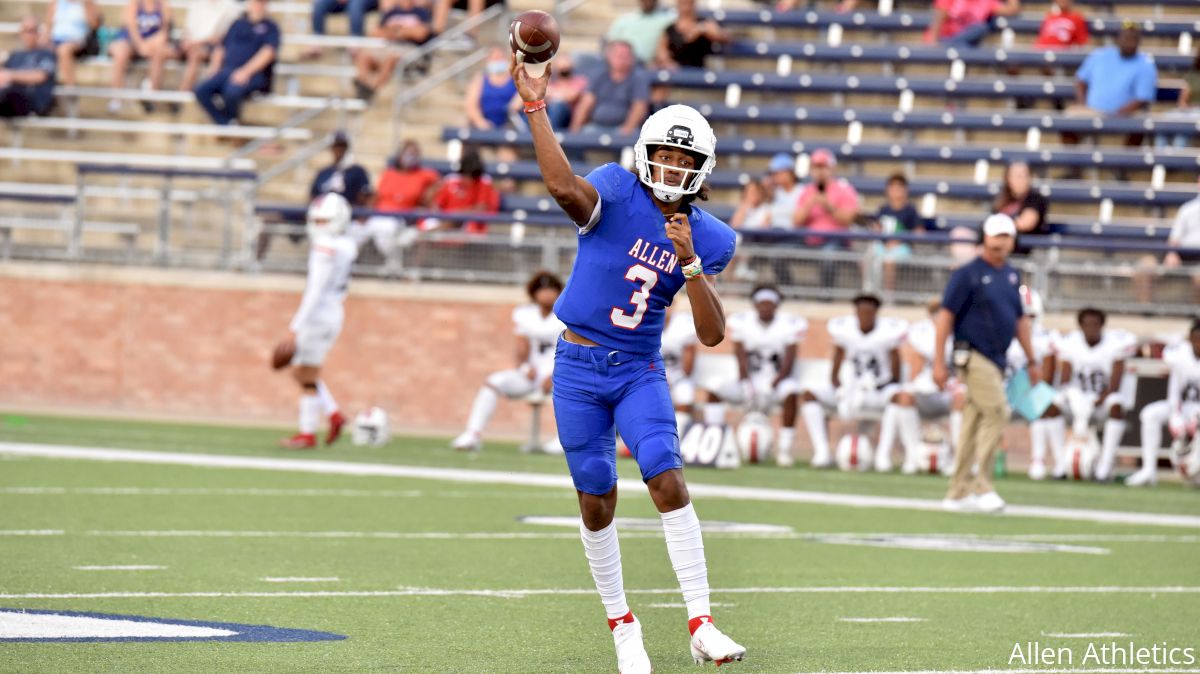 Lee Wiginton is no stranger to pressure.
A seasoned veteran of coaching high school football in Texas, Wiginton started a Midlothian Heritage program from scratch when the school opened in 2016. He promptly led the team to four district championships, a state quarterfinals appearance and a 61-19 overall record.
Prior to that, Wiginton had head coaching stints at Midlothian High, Mexia, Comfort and Bosqueville.
But last May was the biggest step yet in Wiginton's career when he accepted the head coaching position at Allen High. The Eagles were coming off an 11-3 season and a loss in the fourth round of the UIL Class 6A playoffs.
Most teams would consider three losses a highly successful campaign, but the Eagles hadn't suffered that many losses in a season in 16 years.
Wiginton becomes the team's third head coach in as many years, replacing former SMU and Arkansas head coach Chad Morris, who took an offensive analyst job at the University of South Florida. In March 2021, Morris replaced Terry Gambill, who announced his retirement after five years and a stint that included an undefeated Class 6A state championship season in 2017.
Football is king in Allen, a town located approximately 25 miles north of downtown Dallas. The Eagles play their home games in a $60 million facility that would make some college programs salivate.
Wiginton not only has big shoes to fill, he also must deal with the expectations that come with a community that takes its football as seriously as breathing. As enjoyable as his prior stops were, Wiginton is eager to accept the challenges that come with a plum job like Allen.
"It's the greatest job on the planet, and I mean that sincerely," Wiginton said. "I desire a one-school town, a town where your community is in full support of everything associated with the football program in that school. That only happens in one-school towns."
🚨EAGLE AT A GLANCE🚨#WeWillWin | 🅰️🆙🦅 | @allenstudentsec pic.twitter.com/E8h8ZPd8Qp

— Allen Eagles Football (@alleneaglesfb) August 22, 2022
Wiginton checked all the boxes the Eagles were looking for in a head coach: someone who had a solid plan for building a winning culture and an innovator who would honor the school's traditions and unite a community.
"Throughout Texas, Coach Wiginton is known as a respected leader among his peers who coaches his teams with class and integrity," Allen ISD Director of Athletics Kim Garner said in a statement following the hiring. "We are excited for the future of the Allen Eagles football program with Coach Wiginton at the helm."
After an emotional farewell to his Midlothian Heritage players, Wiginton immediately began going about the business of addressing his new team's roller-coaster ride of the previous two seasons.
"This year's seniors, they went through the COVID year," explained Wiginton, who also serves as president of the Texas High School Coaches Association. "After (that), their longtime coach decides to retire. Then they bring in an outside coach, then a coaching change... It's just been one thing after another, and they just keep standing up in such a magnificent way. It's because of the way this program was built by all those coaches."
Being active in the community is extremely important to Wiginton. He and the team already have participated in a number of events, ranging from reading to children at area elementary schools to packing meals for people in need in Honduras.
"It's different ways of teaching the young people that there's so much more to life than worrying about ourselves," Wiginton explained. "We're in a society where it's so easy to find answers. Everything is at your fingertips. What we want to do is give them practice at turning the focus away from our desires to how we can help others."
Wiginton has had a number of influencers during his coaching career, but none bigger than his father, Ken Wiginton. Ken was also a prominent high school coach in Lampasas and is a member of their Football Hall of Fame. He taught his son the importance of building relationships and trust among his players.
"My dad's the most loving coach I've ever been around," Wiginton said. "He loves everything about the profession. It starts with the kids. I was in the film room since I was born. Just seeing how much those kids meant to him and how he was so interested in their lives... he had to retire due to health reasons. Every day would be a reminder to appreciate the time you have with these young people, because it's all about relationships."
The Eagles' key to success this season starts at quarterback.
Mike Hawkins Jr. is coming off a solid sophomore season, during which, he completed 62 of 250 passes for 2,816 yards and 21 touchdowns. He has received offers from a number of high-profile Division I Power 5 programs, including Alabama, Arkansas, Oklahoma and Michigan.
"He enjoys the game and goes out there and competes," Wiginton said of Hawkins. "The way he'll do that is by every day going out there and finding something to improve upon. He's very intent on doing that."
There's a great deal of excitement surrounding the Eagles' running game, particularly freshman Caleb Smith, who already is being recruited by several colleges. Smith broke numerous records in leading his middle school team to an undefeated season. He also ran a 10.57 time in the 100-meter dash last spring.
That's a lot of hype to put on a 14-year-old, but Wiginton isn't concerned with Smith listening to all the outside noise.
"He's a very humble kid," Wiginton said. "To him, it's just another day at the office. He shows up every day and has a sweet personality. He always has a smile on his face and always shows up ready to work. I don't even know if he knows that he's the top talent he is."
The defense is led by four-star recruit defensive end Zina Umeozulu. Overall, Wiginton likes what he has seen from his defensive unit in practice.
"They're working really hard on doing the little things exactly right," he said. "It starts with effort. They're flying around with great intent and doing a great job of really starting to communicate better to where they're on the same page. If you can get a defense doing that, more times than not, good things are going to happen."
The Eagles won't have to wait long to be tested.
St. John Bosco, ranked No. 1 in the nation according to MaxPreps, visits Eagles Stadium Aug. 26 in the season opener for both teams.
The pressure to succeed will be no less intense than in previous years, but Wiginton has his own high standards.
"When you're a coach, there's so many different things on your plate," he explained. "First and foremost, I want to be the best example of myself. I want to live my life to the fullest. I want to enhance the lives of those around me. To think about expectations that others put on me, there's simply none that even come close to rivaling what I put on myself daily."