2022 St. Francis (PA) vs Richmond
Richmond Football Preview: Spiders Have Firepower
Richmond Football Preview: Spiders Have Firepower
Six years have passed since Richmond last made the FCS playoffs in 2016, part of a three-year run that included a trip to the national semifinals in 2015.
Aug 19, 2022
by Briar Napier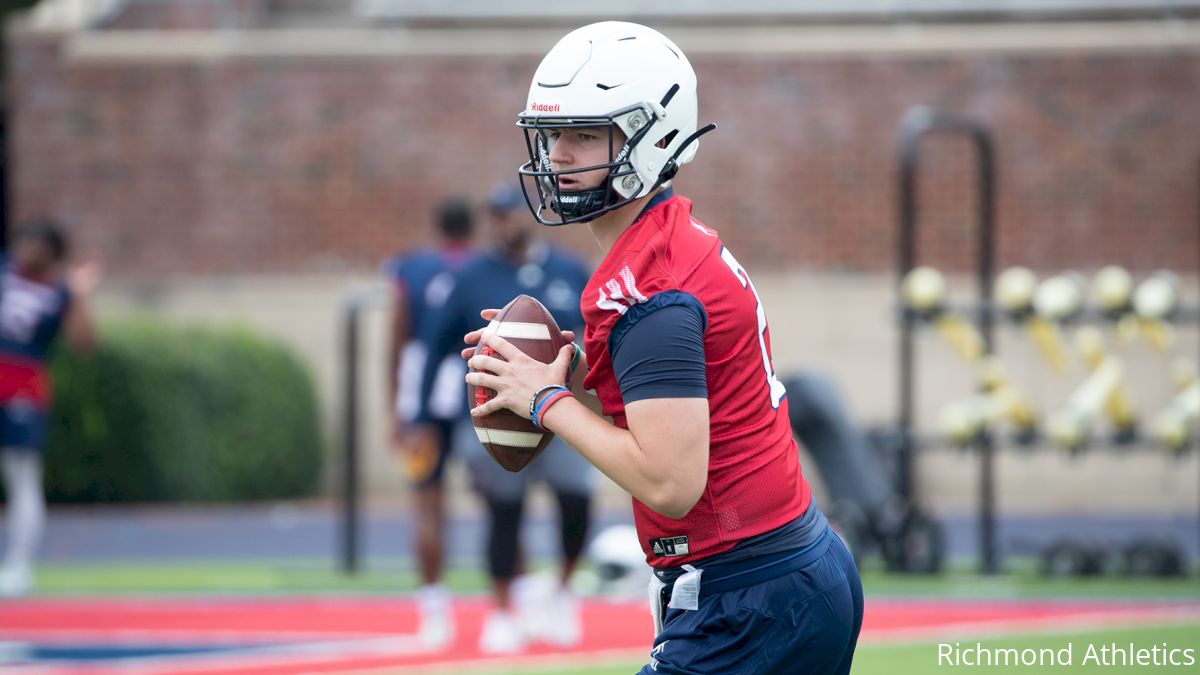 Is it time to be afraid of the Spiders?
Six years have passed since Richmond last made the FCS playoffs in 2016, part of a three-year run that included a trip to the national semifinal in 2015. The seasons since have featured many ups and downs and games the Spiders wish they could've gotten back.
With seven returners on a strong defense and two very, very important additions on offense - more on who those are later - the 2008 national champions are looking to break back into the elite ranks of the FCS level. They'll just have to remember that in CAA football, there are no guarantees.
Here's a look at what Richmond football will bring to the gridiron this season, as
FloFootball previews every CAA football team ahead of the season's kickoff.
2021 season review: If only Richmond found its footing a bit earlier.
The Spiders looked to be on a bit of a downward spiral after seven games, starting 2-5, but not losing any of the matchups by over 16 points, even in defeats to heavy hitters like Villanova, James Madison and Virginia Tech of the FBS.
In the final four weeks of the season, Richmond went on a tear, finishing the year 4-0 and scoring an average of 33.5 points per game during the run.
Grad student quarterback Joe Mancuso only played in nine games, and only significantly in eight, considering he was hurt on the Spiders' second play against Virginia Tech.
He still delivered when healthy for a solid season, accounting for 2,000 total yards of offense and 18 total touchdowns through the air and on the ground.
The defense was strong, too, tying for the second-best in the conference in sacks (31) and opponent first downs per game (16.9), while finishing third at year's end in points allowed per game (20).
Redshirt sophomore linebacker Tristan Wheeler led the charge on that side of the ball with a 114 total tackles, the second-most in the CAA. When you throw in double-digit interceptions and being one of three league teams to return a kickoff to the house in 2021, it's safe to say the Spiders were a well-rounded bunch.
The issue is that not everything came together at once.
Offense: The Spiders' offense managed to deal with losing Mancuso for nearly three full games last season, though the problem was that it wasn't very good without him.
Ironically, even though Mancuso has graduated, Richmond might be in the best position it has been at quarterback in years.
Early in the offseason, grad student Beau English likely was going to be the pick of choice to get first-team reps under center by fall camp, especially considering that he replaced Mancuso when he went down last fall.
Well, at least that may have been the plan until Maryland grad transfer Reece Udinski showed up.
The 6-foot-4 Pennsylvanian played sparingly in his one year with the Terrapins, but before that, he was a monster gunslinger at VMI, finishing his career with the Keydets as the program's all-time passing leader with 7,877 yards, to go along with 52 touchdowns.
Now at Richmond, the hype and excitement are so high on Udinski, that he was one of 35 players nationwide to be named to the Walter Payton Award Watch List this preseason, making him just one of two CAA players to receive the honor.
The other one was his top receiver at VMI, grad transfer Jakob Herres, who tallied over 3,000 receiving yards with the Keydets and paired with Udinski in 2020 to help take the program to its first FCS playoff appearance.
With the two-headed backfield of Aaron Dykes and Savon Smith (both of whom ran for over 500 yards in 2021) returning, too, Richmond's offense for the upcoming season has a very good floor and a record-breaking ceiling.
Good day for the 🕷 at Robins Stadium! 2️⃣ weeks from season opener! #OneRichmond pic.twitter.com/1iC7iYKbyV

— Richmond Spider Football (@Spiders_FB) August 21, 2022
Defense: Richmond's defense helped keep the team in some games in 2021, especially when running into some injury issues on the offensive end.
Only national champion and FCS juggernaut North Dakota State held James Madison to fewer points than the 19 the Spiders allowed in Week 7, and though Richmond's offense didn't necessarily need the help in a 31-3 dismantling of Lehigh in Week 2, it was a shutdown performance from the Spiders, as they picked off the Mountain Hawks twice and held their opponents to just 66 passing yards.
Three Spiders were named to the All-CAA first team at the end of the season, but only one of those picks in Wheeler - who evolved into a star and one of the conference's best linebackers in across a stellar year - returns for 2021, putting the pressure on the redshirt junior to live up to the pressure once again after back-to-back 100-tackle seasons in 2019 and 2021.
Richmond's low points-allowed rate was helped by the fact that it prevented teams from reaching the Spiders' end-zone very often, allowing just 26 touchdowns on the year for the lowest mark in the league behind the CAA's two playoff teams, Villanova and James Madison.
There are a couple of departures from the fantastic defensive line the Spiders, but the ones who will lead the unit, including redshirt senior and team captain Aidan Murray (44 tackles, five sacks), will try to ensure that Richmond continues to do well at controlling the trenches.
Wild card: While Udinski went to try his hand at the FBS level (and serve as backup to Taulia Tagovailoa, brother of current NFLer Tua Tagovailoa, at Maryland), Herres stayed an extra year at VMI and solidified his status as one of the best wideouts in the FCS, catching 80 balls for 978 yards and eight scores on his way to becoming a consensus first-team All-American.
With that year off from being teammates, and in a completely new setting, will Udinski and Herres click again right away, or will it take some time to rekindle the fire?
How quickly the two return to being on the same page likely will be critical in determining if Richmond plays deep into the winter or remains on the outside looking in come postseason time.
Current pro quarterback Kyle Lauletta and wideout Cortrelle Simpson helped set the standard for a potent passing connection at Richmond in 2017. If standards that high seem like a stretch, just give a watch to some VMI game film from when Udinski and Herres were shredding secondaries.
Game To Watch: Richmond Vs. Saint Francis
The season opener on the road against Virginia might not provide a good barometer to how the Spiders' season may go, so the home opener against Saint Francis the next week is the next-best choice.
The Red Flash only went 5-6 in 2021, but the defense was stout, allowing just 19.1 points per contest.
3️⃣ weeks from the start of 🕷🏈 fall camp! All practices are open! #OneRichmond #CAAFB @philoconnor11 @savonsmith10 @Joe78More pic.twitter.com/W5uacD5vfo

— Richmond Spider Football (@Spiders_FB) July 15, 2022
Projected to finish third in the Northeast Conference's preseason poll, Saint Francis should be a formidable early-season foe, but if the Spiders really want to capitalize on the hype generated by their new faces and talented returners (especially at home), they'll need to tangle SFU in their web quickly and blow the Red Flash away early on.
With the likes of Villanova, Delaware and other CAA title contenders lurking in later weeks, a significant performance that shows players like Udinski and Herres shining on the field definitely would attract some eyeballs and mark down Richmond as a team to look out for.