2022 NFL Academy Freedom Bowl - Canton
Freedom Bowl: Ten Impactful Players At This Year's Event
Freedom Bowl: Ten Impactful Players At This Year's Event
All of these players have the pedigree to become major college football players, but for now watch them flash their skills at the Freedom Bowl this month.
Aug 19, 2022
by Briar Napier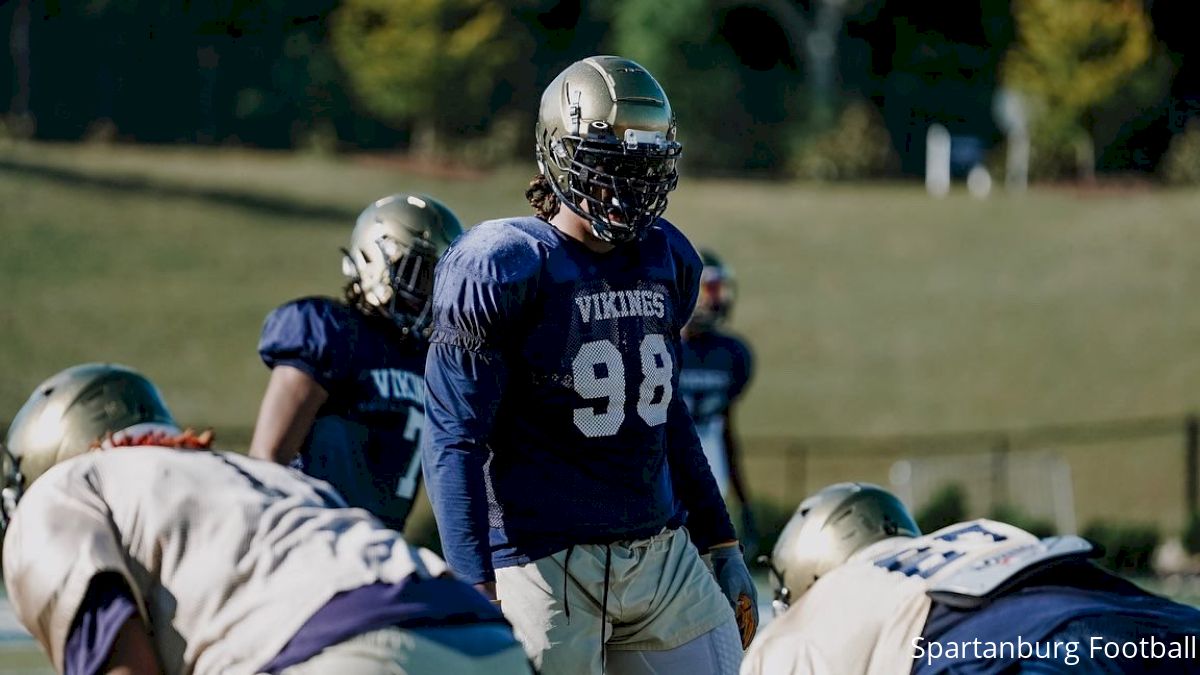 Never underestimate the amount of talent that the Freedom Bowl brings to the table.
Year after year, the annual event brings in some of the nation's finest high school football programs for early-season showdowns to kickoff the prep season, with a plethora of blue-chip studs and up-and-coming risers starting a new season with plenty of hype and expectation surrounding them and their teams.
There's a talent for just about every football connoisseur at the Freedom Bowl, whether that's a speedy receiver, a mammoth defensive end or a gunslinging quarterback. But out of all the players that'll be suiting up for the show, a few players have caught the attention of power 5 recruiting staffs.
Here's a peek at 10 players to check out at the Freedom Bowl this weekend in Georgia, which will be streamed live in its entirety on FloFootball.
KJ Bolden, ATH, 2024, Buford (Ga.)
Committed: Undecided
Don't be surprised if you see Bolden anchoring an NFL secondary one day. The No. 3 overall player in the Class of 2024 (per 247 Sports rankings), the 6-foot-1 Bolden plays on both sides of the ball for Buford but is being touted as a blue-chip safety prospect with a choice of college.
A track star in Georgia that runs the 100 meters in less than 11 seconds, Bolden showed elite speed and open field instincts even as a sophomore. That includes burning opposing secondaries as a wide receiver or when he patrols downfield as a safety and waits for opposing quarterbacks to make mistakes.
The defending Georgia Class 7A state champion, Buford's defense went on a five-game stretch in which it allowed a combined total of two points, including four consecutive shutouts. With players like Bolden in the mix, it's easy to see why the Wolves were so dominant and will continue to be.
Jelani Thurman, TE, 2023, Langston Hughes (Fairburn, Ga.)
Committed: Ohio State
A consensus four-star recruit that has the size (6-6) to be a dynamic college tight end, Thurman is the 2023 class' No. 3 overall player at the position and should be part of a loaded Buckeyes recruiting class following his commitment in July.
Thurman is a two-sport stud that also plays for Langston Hughes' basketball team, and his power and athleticism in the air (plus a massive 6-11 wingspan) makes it easy to see why he's a good fit for both sports. The son of former Georgia and NFL linebacker Odell Thurman, Jelani played on both offense and defense as a junior for the Panthers as they lost to Buford in the Georgia Class 6A title game, but nonetheless impressed as he caught seven touchdowns and tallied 61 tackles during his junior campaign.
Now expected to be one of the focal points of the Langston Hughes offense once again for three-star 2024 quarterback Air Noland, it could be a breakout season for Thurman.
Tony Mitchell, S, 2023, Thompson (Alabaster, Ala.)
Committed: Alabama
Mitchell has been a key part of the Thompson secondary since he was a freshman, filling in shifts at both safety and cornerback, but his size at 6-2 and 180 pounds, makes him more of an ideal fit for the safety position in college. Still, when you're like Mitchell and the No. 3 safety recruit in your class in all of America, you usually have the tools at your disposal to be deployed just about anywhere on the field.
#RollTide🐘 pic.twitter.com/cI5uUH2sSe

— Tony Mitchell (@DatGuyTM) August 2, 2022
Thompson went 13-1 overall and won Alabama's Class 7A title a year ago, establishing itself as the state's top team for the third straight season with a gnarly defense that allowed 10 points or less in 10 games, including five shutouts. Mitchell has been a large part of that run, tallying over 200 total tackles in three seasons to go along with eight interceptions and two defensive touchdowns.
Considering that the Crimson Tide's roster is full of blue-chippers, Mitchell may not be a significant contributor right away in college, but there's unquestionably the talent and ability there for him to break through as an eventual productive member of Alabama's pass defense.
Justice Haynes, RB, 2023, Buford
Committed: Alabama
A season before the two are college teammates at Alabama, Mitchell and Haynes will square off against each other as Thompson and Buford are slated to meet in each team's Freedom Bowl opener on Friday. Haynes is the No. 4 overall running back in his class, so expect fireworks as a heavyweight matchup is on the cards.
Haynes, the son of former NFL tailback Verron Haynes, transferred to Buford in the offseason from Blessed Trinity High School in nearby Roswell, Georgia, where he scorched defenses at the Class 5A level to the tune of a ridiculous 2,375 rushing yards and 29 touchdowns. The move should be a bit of a bump in competition for Haynes, of which he'll need if he expects to follow in the footsteps of the many esteemed running backs that have gone through the Alabama locker room.
At a listed 5-10 and 200 pounds, however, Haynes should have the size to be a productive workhorse back during his senior prep season.
Edwin Spillman, LB, 2024, Lipscomb Academy (Nashville, Tenn.)
Committed: Undecided
The No. 1 overall-ranked junior in Tennessee, Spillman's brother—2023 receiver prospect Nate Spillman—committed to Tennessee football in the offseason. With Edwin quickly turning into one of America's best prep linebacker prospects, it makes sense why the Volunteers (and many other high-major programs) want his signature, too.
The linebacker was a monster on the Mustangs' defense as the year went along. He was part of a squad that allowed just 14 total points across its final five games en route to an eventual 13-1 overall record and the Tennessee Division II Class AA state championship.
Already 6-1 and around 215 pounds, Edwin has some room to grow, both literally and figuratively, with two years of high school ball remaining for one of the Volunteer State's top prep programs.
Kaleb Spencer, ATH, 2023, Life Christian Academy (Chester, Va.)
Committed: Oklahoma
Spencer was a Swiss Army knife of sorts for the Eagles this past season after he transferred from a nearby public school prior to his junior campaign, plugging himself into a multitude of defensive roles following prior experience on both sides of the ball, including at safety and running back. But outside linebacker is where a lot of college programs see him shining on Saturdays soon.
Spencer's tweener size of 6-3 and 210 pounds gives coaches the option to slot him at a variety of positions, and as just a three-star recruit, the Sooners will undoubtedly be hoping that they snagged an overlooked gem, especially in the football-mad world of the SEC that they'll soon be joining.
Robert Lockhart III, WR, 2023, Langston Hughes
Committed: Jackson State
Part of the increasing contingent of prep stars buying what Deion Sanders is selling at Jackson State—No. 1 overall 2022 prospect Travis Hunter, who committed there, helped kickstart that movement—Lockhart chose JSU in the offseason over the likes of Colorado and Maryland.
Lockhart is the anchor leg of Langston Hughes' 4x100-meter relay team and recorded a blistering 10.75 time in the 100 meters. He has rapid speed but also a diminutive stature at just 5-7, saddling him with concerns that he's undersized.
He missed his entire junior season due to an ACL tear suffered in the spring, preventing the Panthers from having an additional deep threat at receiver during their state championship game run. But Lockhart appears ready to go for his senior season ahead, looking to follow up on a 10-touchdown sophomore campaign as he'll get to show "Coach Prime" and the rest of the country what he can do on a football field.
Peter Woods, DL, 2023, Thompson
Committed: Clemson
When Clemson and Alabama are jousting for your commitment, you're probably doing something right. Woods, at 6-3 and 270 pounds, probably won't be nailed down as an interior lineman or a defensive end in the trenches for Clemson quite yet, as his size gives him the potential to play either position, but his production as a junior during Thompson's state championship season was downright scary.
Woods—in a comeback season following a 2020 campaign in which he missed eight games due to injury—tallied 92 total tackles, 26 of which were recorded as tackles for loss and 11 of which were sacks, as most offensive lines that the Warriors played were left helpless to stop him. With an offseason to grow, that production isn't likely to stop anytime soon, but it will be of interest to see how Woods handles the talents on the Buford and Lipscomb Academy offensive lines in this year's Freedom Bowl.
Ethan Davis, TE, 2023, Collins Hill (Suwanee, Ga.)
Committed: Tennessee
Sometimes a bit lost in the shuffle on Collins Hill's loaded 2021 Class 7A state title team that had prep superstar Travis Hunter and a highly-acclaimed Missouri QB signee Sam Horn, it's going to be hard to miss Davis on the Eagles' offense this time around.
A four-star prospect and top-100 recruit on 247 Sports' lists, the 6-5 tower caught 61 balls for 755 yards and eight touchdowns for Collins Hill a year ago despite taking his sophomore year off from the sport to focus on his basketball stock, receiving offers from the likes of Georgia and Ole Miss for his second sport.
But when Tennessee football came calling in the middle of this past football season, Davis took the interest and quickly ran with it, committing to the Vols in December as his name shot up the national football prep recruiting rankings.
Raheim Jeter, QB, 2023, Spartanburg (S.C.)
Committed: Undecided
Having recently decommitted from West Virginia, Jeter has plenty of power 5 suitors as a three-star talent that helped take the Vikings to the 5A Upper State championship game in South Carolina. Throwing for nearly 3,000 yards a year ago as a talented 6-3 signal-caller, Jeter, now newly a "free agent," has a chance to impress right away in the 2022 season during Spartanburg's opener in the Freedom Bowl against Langston Hughes on Saturday.
It'll also be an emotional occasion—Jeter underwent successful surgery earlier this year after being shot in the leg in February, a harrowing moment for the young quarterback that he's spoken about finding perspective from. With his return to the field coming against one of Georgia's top football programs, Jeter will get back to doing what he loves against a team full of future college players, giving him a chance to shine in front of what's sure to be many college scouts in the Peach State this weekend.