2022 Keiser vs Valdosta State
Gulf South Conference Preview: Valdosta State, West Florida Front-Runners
Gulf South Conference Preview: Valdosta State, West Florida Front-Runners
During the Gulf South preseason media day, the coaches voted Valdosta State to the top of their poll with six of the eight first-place votes.
Aug 18, 2022
by FloFootball Staff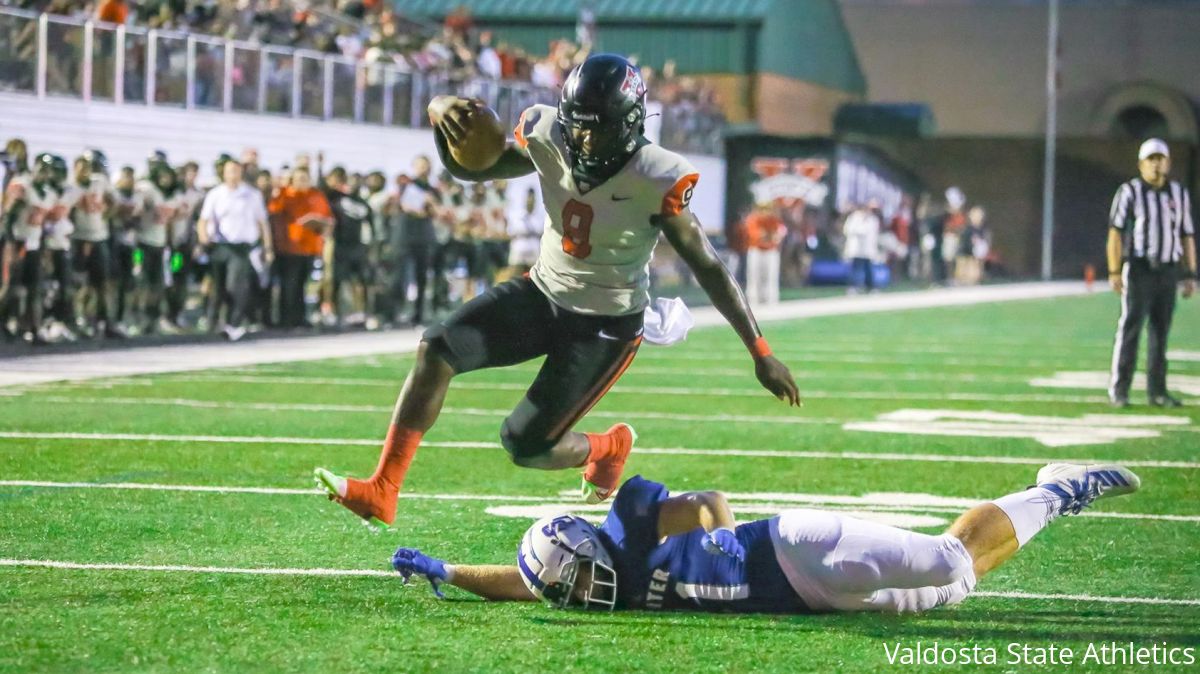 The past three seasons of Gulf South football have been ruled by Valdosta State, with the Blazers going 22-1 in the league over that time.
While that run didn't come to a complete stop last season, their stretch of unbeaten GSC play did end when West Florida knocked them off by 19 points, seeing the two teams each end the year at 6-1 in the league.
While those two have been the top dogs in the league dating back to 2018, programs on the rise at West Georgia and West Alabama have climbed to put themselves in the conversation for the best in the league.
During the league's preseason media day, the coaches saw things the same way, with Valdosta State topping the poll with six of the eight first-place votes, while West Florida grabbed the remaining two top votes.
Here's a look at the league's eight teams, in order of the Gulf South Preseason Coaches Poll.
Valdosta State Blazers
Last Season: 12-2 (lost in Division II championship game)
Head Coach: Tremaine Jackson (first season)
Tremaine Jackson will look to continue the success for the Blazers, taking over the program after two seasons as the head coach at Colorado Mesa, where he went 10-3, including going 8-2 in 2021. That final effort included a win over No. 3 Colorado School of Mines.
Jackson inherits a Valdosta State team that returns six Preseason All-GSC players, including four on offense: quarterback Ivory Durham, running back Seth McGill, specialist Jamar Thompkins and tackle Jeremiah Campbell.
McGill, Durham, and Thompkins combined to rush for 3,300 yards and 36 touchdowns, while Durham passed for over 3,400 yards and 32 scores. Needless to say, the Blazers will be loaded on offense.
Defensively, linebacker Jameon Gaskin leads the returners after totaling 82 tackles and forcing two fumbles.
The Blazers are ranked No. 3 in the national preseason polls and are slated to open the season on Sept. 1, hosting Keiser.
West Florida Argonauts
Last Season: 9-2, (lost in opening round)
Head Coach: Pete Shinnick (sixth season)
While Valdosta State may have topped the preseason polls, it's the Argonauts who have the most returning All-GSC players for 2022, with eight players honored on the preseason team.
West Florida was one of the most prolific offenses in the country a year ago, averaging over 45 points per game and clearing 5,000 yards of offense in 11 games.
Running back Shomari Mason leads the returning standouts, along with wide receivers David Durden and Larry Rembert.
Mason totaled 1,032 yards and 10 scores on the ground last season, while Durden is the top returning receiver after averaging 23.15 yards per catch to go with 10 touchdowns of his own.
The Argos do lose quarterback Austin Reed, who transferred to Western Kentucky as a graduate. Reed threw 38 touchdowns last season.
Wyatt Eget is the most experienced returning QB, but threw just 13 passes last season.
Up front, Juac Angoi and Jacob Bruce both were preseason All-GSC selections.
On defense, linebacker Kee Whetzel and defensive back Shannon Showers lead the returners.
Stonewalled at the line of scrimmage #GoArgos | #Arete pic.twitter.com/LJN3ZdiWrE

— UWF Football (@UWFFootball) August 17, 2022
West Florida opens its season at home against Warner on Sept. 3.
The Argos also announced that starting in 2022, all home games will be played at on-campus Pen Air Field, after the first six seasons saw their home games played at Blue Wahoos Stadium.
West Georgia Wolves
Last Season: 9-3, (lost in second round)
Head Coach: David Dean (fifth season)
Since taking over in 2017, David Dean has had the Wolves on the cusp of the GSC title twice, including a 7-1 mark in 2018.
This year, the Wolves enter at No. 12 in the AFCA poll after being tabbed third in the GSC poll.
West Georgia looks to build on a defense that gave up just over 20 points per game last season and returns a pair of All-GSC players in defensive lineman Marzavion Dix, and safety Deontae Overstreet.
Dix was all all-league pick last season with 2.5 sacks, while Overstreet was an all-region pick after a team-best 59 tackles.
Harrison Frost returns at QB after passing for over 3,600 yards last season to go with 25 touchdowns, while Terrill Cole is his top returning target, catching 48 balls for 683 yards last season.
West Georgia opens its season at home against Carson-Newman on Sept. 1.
West Alabama Tigers
Last Season: 7-4
Head Coach: Brett Gilliland (ninth season)
Since capturing the GSC title in 2017, the Tigers have been unable to repeat those heights, finishing fourth or lower each season since.
West Alabama started 6-0 last season, but faded down the stretch to the tune of 1-4, falling to Valdosta, Delta State and West Florida in league play.
The Tigers return a trio of All-GSC players in receiver Darius Nalls, linebacker Michael Anderson, and defensive back Shamar Lewis.
Last season, Nalls totaled over 400 yards on 33 catches. Anderson, a graduate student, collected 55 tackles, two forced fumbles and an interception a season ago, while Lewis collected 36 solo tackles in the back, forced four turnovers and broke up a team-best six passes.
The Tigers will be breaking in a new QB after the graduation of Jack McDaniels, who threw all but six of the team's passes last season.
West Alabama opens its season at Morehouse College on Sept. 3.
Delta State Statesmen
Last Season: 5-6
Head Coach: Todd Cooley (eighth season)
Delta State is another team looking to reach its heights from previous years, last winning the league in 2014, and not finishing higher than third since.
The Statesmen struggled away from home last season, going just 1-4 in their road games, but also were a team hit by some hard luck, losing four of their six games by a single score.
Dohnte Meyers leads the returning talent after grabbing 55 passes for 665 yards a season ago, while Tim Wlliiams Jr. anchors the defense up front after totaling 10 tackles for loss, 7.5 sacks, and blocking a pair of kicks.
The work doesn't stop. The guys were 🔒 in on day 3 of #CampDelta2022 pic.twitter.com/u0D0pLcfJZ

— #DSUFamily (@DeltaStateFB) August 8, 2022
The Statesmen face the task of replacing their top two rushers from last season, who racked up nearly 1,300 yards to go with 15 scores. Patrick Shegog and Cole Kirk split time, combining for 2,600 yards and 13 touchdowns, but tossing 10 interceptions.
Delta State begins the 2022 campaign at Kentucky State on Sept. 3.
Mississippi College Choctaws
Last Season: 4-6
Head Coach: John Bland (eighth season)
Since joining the Gulf South in 2014, it has been tough sledding for the Choctaws, with the team going just 19-53 in that span. Their best season came in 2019, when they were 5-5, with a 4-4 league mark.
Mississippi College looks to build off last season's 4-6 team that somehow managed to go 1-5 at home, and will need to improve a defense that surrendered 21 points or more in all but one game against Division II opponents.
Nick Walker is the top returning player for the Choctaws, making 29 solo tackles last year with two for loss, three interceptions and a pair of pass breakups.
Marcus Williams is one of the top threats returning for Mississippi College, rushing for 515 yards and nine scores during his freshman season in a run-heavy offense that totaled nearly 3,000 yards on the ground, but completed just 26 of 71 passes.
Quarterback Deante Smith-Moore also returns after rushing for over 500 yards and six scores.
The Choctaws open the year at Albany State on Sept. 3.
North Greenville Crusaders
Last Season: 5-6
Head Coach: Jeff Farrington (ninth season)
The Crusaders enter their fourth season of Gulf South play and have held their own in the early going, winning multiple league games in each year and posting five wins last season, their most overall since the 2016 season.
Last season was boom or bust for North Greenville, winning all five games by double figures, while losing all six games by 10 points or more.
The Crusaders return a pair of strong defenders this season, looking to boost a unit that gave up nearly 28 points per game, in D'Iveon Donald, who racked up 62 tackles, broke up three passes and recovered a fumble on the way to the league's Freshman of the Year honor.
Kwame Livingston anchors the defensive line after making 44 tackles to go with two sacks and a forced fumble.
Myles Prosser is the league's top punter, returning to the Crusaders after averaging over 44 yards per kick last season, 19 of them going for over 50 yards, including 18 inside the 20.
The Crusaders open the year against FCS Furman University on Sept. 1.
Shorter Hawks
Last Season: 3-7
Head Coach: Zach Morrison (fourth season)
After going 1-43 the previous four seasons, Shorter College found its way into the win column three times, but was unable to pick up a win in GSC play, stretching its conference losing streak all the way back to 2015, when the Hawks beat prospective member Mississippi College during their initial year in the league.
Those three wins for the Hawks were their most since 2014 when they went 3-8.
The Hawks do return a pair of standouts for the 2022 season, led by tight end Kyle Morock, who led the Hawks with 362 yards and five scores during his sophomore campaign.
Defensive lineman Bryan Rice also grabbed preseason All-GSC honors after posting 38 tackles, three sacks and five QB hits as a sophomore.
The Hawks open the 2022 season at Brevard College on Sept. 3.