2022 St John Bosco vs Allen
Allen Vs. St. John Bosco Preview: Nation's Best Collide
Allen Vs. St. John Bosco Preview: Nation's Best Collide
Two top teams from two of the country's most passionate high school football states - Texas' Allen and California's St. John Bosco - are set to collide.
Aug 22, 2022
by Briar Napier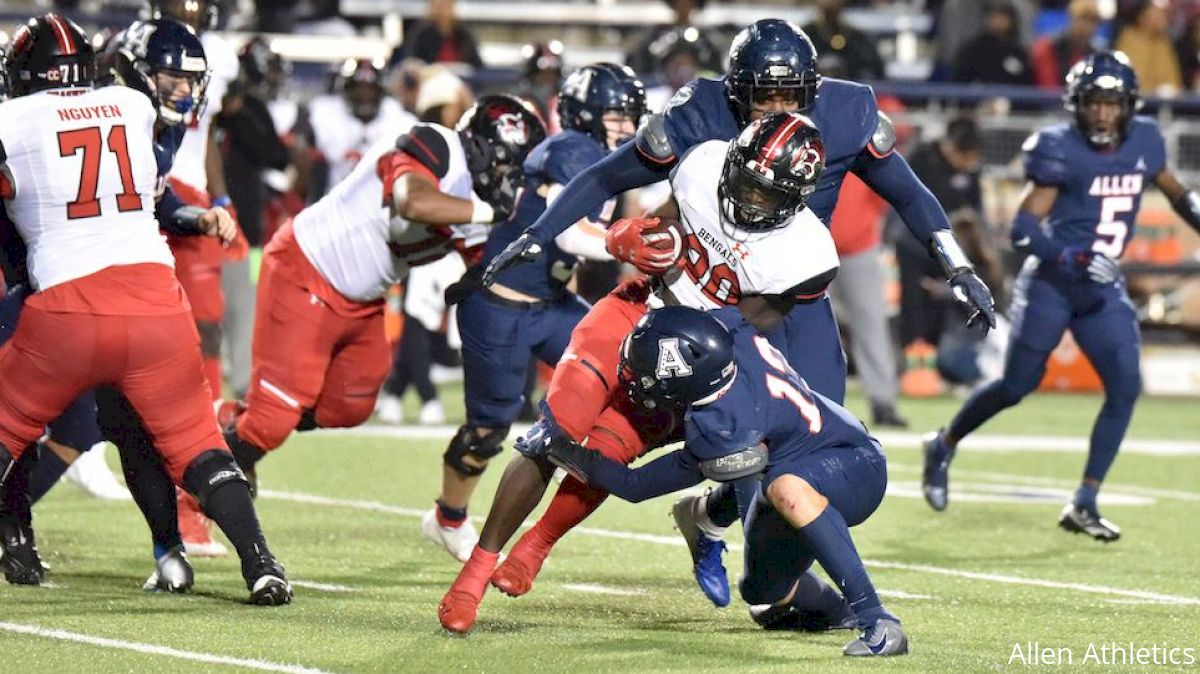 Friday night football seems to always deliver as a time-honored tradition in small towns and giant high school campuses across the country.
At the highest levels of the prep game, where some of the future stars of the college and professional ranks break out, the levels of talent on display are unlike anywhere else in America.
Two of the top teams from two of the country's most passionate high school football states - Texas' Allen High School and California's St. John Bosco - are set to collide to start their 2022 seasons.
The matchup will take place in Allen's colossal Eagle Stadium on Aug. 26 at 8 p.m. Eastern. It's a setting worthy of a meeting of two teams often in the hunt for national titles.
Want a lowdown of what and who to look out for on the Eagles' and Braves' squads?
Here's a look ahead at the blue-chippers and the recent histories of each school prior to them duking it out later this month on FloFootball, live from the Lone Star State:
Allen (Allen, Texas)
2021 season: 11-3, lost to Southlake Carroll in UIL 6A Division I quarterfinals
Notable football alumni: Kyler Murray, Jalen Guyton, Cedric Ogbuehi
The lowdown: Probably best-known for its massive home field (Eagle Stadium) that rivals some Division I venues in quality, Allen also is known for being one of football-mad Texas' best programs over the past decade-plus.
The Eagles have won five state championships since 2008 and have produced a boatload of high-major college players, the most notable of whom is former Heisman Trophy-winning quarterback Kyler Murray, who twice was named Mr. Texas Football under center for Allen. He led the school to three straight state championships.
The school hasn't made it back to the state title game since 2017, however, and it had one of the biggest coaching vacancies in all of high school football this past season after Chad Morris (the former head coach of SMU and Arkansas) returned to college football as an offensive analyst at South Florida.
Lee Wiginton, who had been the head coach at Midlothian Heritage since the program started in 2016 and built it into a Class 4A power, was hired to lead Allen, and he'll get thrown in the deep end right away in facing one of the country's most historic prep football programs.
Still, Allen has won at least 10 games 16 years in a row, establishing that no matter who the coaches on the sideline are, the talent is oozing out of the seams inside the school.
That is evidenced by a pair of electric 2024 recruits in quarterback Michael Hawkins, who had 29 total touchdowns as a sophomore while throwing for over 2,800 yards, and defensive end Zina Umeozulu, a four-star recruit (via 247 Sports) who has offers from just about every powerhouse program in college football.
Featuring a high-octane offense that scored at least 35 points in 12 of 14 games last year, plus a new coach who averaged 42 points a game in 2021 at his previous stop, Allen undoubtedly is going to bring the heat when St. John Bosco visits Eagle Stadium, a venue in which the Eagles are 60-1 all-time.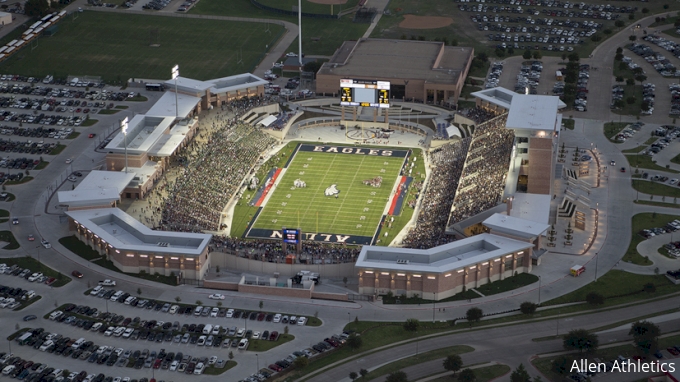 St. John Bosco (Bellflower, California)
2021 season: 10-2, lost to Anaheim Servite in CIF Southern Section Division 1 semifinals
Notable football alumni: Josh Rosen, DJ Uiagalelei, Trent McDuffie
The lowdown: Located about 15 miles outside of Anaheim, St. John Bosco over the past decade has evolved into one of the nation's top prep programs, churning out elite recruits while playing in what arguably is the top high school football conference in America, the Trinity League.
With three state championships and two unofficial national championships (as considered by MaxPreps) since 2013, the Braves have eight of 247Sports' top 50 players in the state of California for the Class of 2023, all of whom have either pledged to play for a Power 5 school or are fielding many, many collegiate offers.
Uncommitted defensive end Matayo Uiagalelei, the younger brother of former No. 1 overall recruit and current Clemson quarterback DJ Uiagalelei, and his play against what's usually a monstrous Allen offensive line will be something to monitor, as the 6-foot-5, five-star behemoth looks to make some waves in his senior year as one of the top players at his position in the country.
Additionally, if he sees quick pressure, that usually helps open the door for 2024 five-star safety Peyton Woodyard, a Notre Dame commit, to make noise in the secondary.
Air @_pierceclarkson 👀
Week 0 is THIS week‼️Check out this sweeeeet play by @boscofootball @cifss | @booher_logan | #PrepZone pic.twitter.com/GCukMVGP0v

— PrepZone (@prepzone) August 17, 2022
Back on offense, the quarterback-wideout tandem of Pierce Clarkson and DeAndre Moore Jr. (both of whom are committed to play at Louisville) should make for an electric connection following Moore's offseason transfer from nearby Los Alamitos, which lost to Bosco in last season's playoffs.
The duo should fit nicely into the 37.8 points-per-game offense coach Jason Negro helped call the shots on in 2021, a stunning number, considering the heft of the competition the Braves face.
And, though few opponents escape out of Eagle Stadium unscathed, Bosco fans can take comfort in the fact that their team hasn't lost to an out-of-state school - home or away - since 2017. That has translated to an 11-game winning streak.
Bosco likely feels like it's due for another national crown after the COVID-19-affected 2020 season messed with travel, allowing Trinity League rival Santa Ana Mater Dei to claim the position last year.
What better way is there to start the grind this year than by beating one of Texas' best football teams in one of the high school level's most menacing stadiums?