Independent
Nevada Vs. New Mexico State Preview: Two New Eras Usher In 2022 Season
Nevada Vs. New Mexico State Preview: Two New Eras Usher In 2022 Season
New eras for both New Mexico State and Nevada kick off on Aug. 27 when Jerry Kill and the Aggies welcome Ken Wilson and Nevada to Las Cruces.
Aug 18, 2022
by Kyle Kensing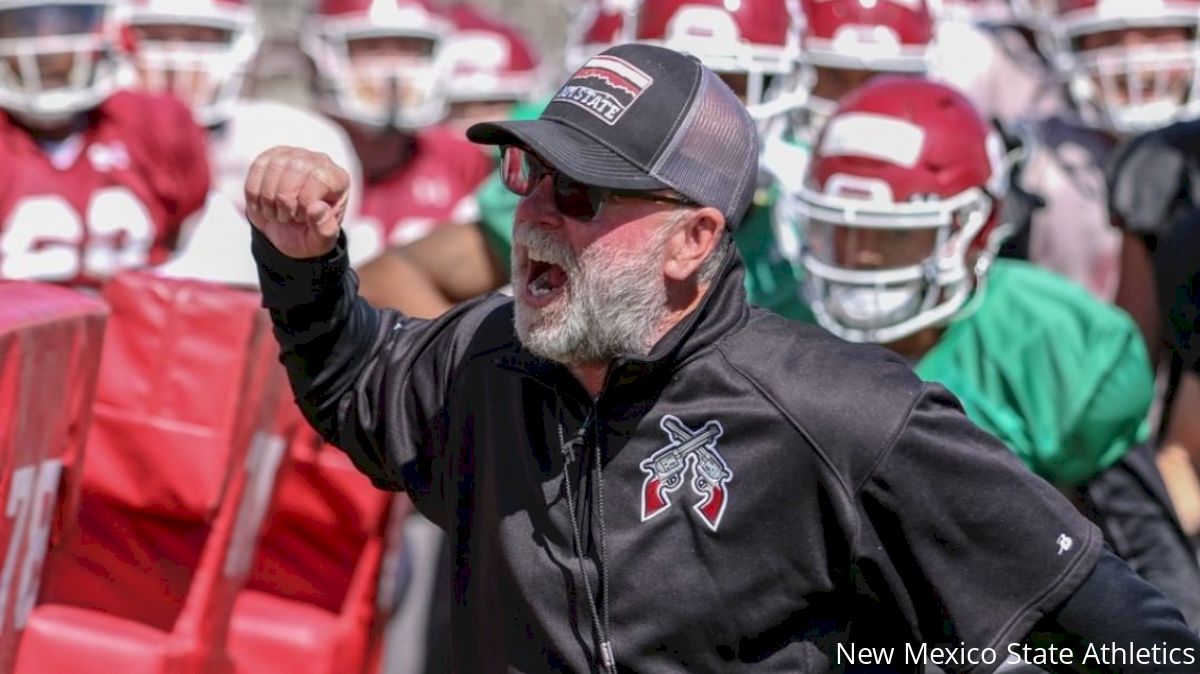 The Jerry Kill era of New Mexico State football officially kicks off on Aug. 27, but it's not the only debut set for the Aggies' 2022 season opener against Nevada.
After eight years under the direction of Brian Polian and Jay Norvell, Nevada athletic brass returned to the Chris Ault coaching tree with its hire of Ken Wilson. A long-tenured assistant to the legendary Ault, Wilson was in the Pac-12 at Washington State and Oregon from 2013 through 2021.
Wilson helped turn around the defenses at both programs, and now looks to elevate an already successful Nevada program back to the conference title-contending and Top 25 potential of the peak Ault years.
What To Watch From Nevada
Norvell's tenure as head coach introduced a shift in offensive philosophy for the Pack, adopting an air-raid system that powered quarterback Carson Strong to the fifth-highest passing average in the nation a season ago (347.9 yards per game).
Strong is gone, and so is the air raid. Wilson's hire of former UCLA tight ends coach Derek Sage to the offensive-coordinator post suggests a considerable redistribution to the run game — Nevada ranked next-to-last nationally in rushing yards and third-to-last in attempts last year — and perhaps more of a throwback to the Ault days.
Sage coached wide receivers under Ault in 2004 when the coach's Pistol offense became the talk of college football. Time has passed and philosophies evolve, but the combination of power-based looks with RPO and spread principles remains as effective as ever.
Chip Kelly, with whom Sage coached the previous four seasons at UCLA, modified his hurry-up spread scheme from his days at Oregon to a system more comparable to Ault's. Last season, it came to fruition with the Bruins averaging 36.5 points per game, 13th-most in the nation.
UCLA made effective use of tight ends in the passing game throughout Sage's tenure, from Caleb Wilson to Devin Asiasi to Greg Dulcich. Nevada's tight-end room is full of new faces like Oregon transfer Cooper Shults and JUCO transfers Dyson Frank and Jacob Munro. Expect at least one to factor prominently into the Pack's aerial attack.
Who exactly is throwing those passes is a mystery for now. Nate Cox started the bowl-game loss to Western Michigan and threw one of his two touchdowns on the season. Oklahoma State transfer Shane Illington attempted 120 passes in two seasons with the Cowboys, and threw seven touchdowns with two picks.
No matter who is behind center, look for a healthy dose of Toa Taua. A decade after Nevada had a running back in the race to lead the nation in rushing yards (Stephon Jefferson), don't be surprised to see the powerful Taua have an opportunity to do the same. He approached 800 yards in 2021 despite Nevada's imbalance of run and pass.
It's October 2nd and Toa Taua is really out here ghosting people 👻#BattleBorn // #NevadaGrit pic.twitter.com/RROgnQokH3

— Nevada Football (@NevadaFootball) October 2, 2021
On defense, Nevada alum Mike Bethea and former Oregon assistant Kwame Agyeman share coordinator duties. Bethea previously oversaw defense at NAIA member Ottawa University, while Agyeman was present at Oregon for its transformation from one of the most porous defenses in the nation to one of the toughest.
The Ducks' defensive turnaround (41.4 points allowed per game in 2016 to 16.5 in the Rose Bowl-winning 2019 campaign) had the unmistakable look of SEC influence from former Nick Saban assistant Mario Cristobal. A similar inspiration should define Nevada on that side of the ball, which means stout run defense and aggressive pressure applied in the backfield.
Tackle Dom Peterson is the lone returning starter up front, but a significant pillar around which the co-coordinators can build. He made 10 tackles for loss and 5.5 sacks a season ago, significant numbers from a player on the interior. The Pack have little else returning in the front seven beyond Christopher Love, but do welcome back a variety of contributors in the secondary.
JoJuan Claiborne and Tyson Williams combined for 10 pass break-ups, and accounted for four of Nevada's 14 interceptions, 26th-most in the nation.
What To Watch From New Mexico State
When first-year New Mexico State offensive coordinator Tim Beck first broke into coaching at his alma mater, Pittsburg State, in 1987, the Gorillas' defensive coordinator was Jerry Kill. The two again overlapped at Pittsburg State in the early '90s when Kill returned for a stint as offensive coordinator.
Their reunion almost three decades later came last year at TCU, Beck's first stop since a long tenure with the Gorillas that included the 2011 NCAA Div. II national championship. Pittsburg State employed a multifaceted rushing approach that went to the ground routinely without spurning the pass. Those teams had run distribution similar to Kill-coached squads at Northern Illinois and Minnesota, where in each of the coach's last full seasons (2010 and 2014), the top two ball-carriers each exceeded 200 and 100 carries.
In both instances, quarterbacks Chandler Harnish and Mitch Leidner carried more than 100 times and scored at least seven rushing touchdowns. Kill's track record suggests that New Mexico State's ongoing quarterback battle will go to the signal-caller who gives the Aggies similar versatility.
Dino Maldonado rushed for 68 yards on 11 carries last season backing up Jonah Johnson. The returning reserve is vying for the vacancy Johnson's transfer left with a group that includes Diego Pavia, a JUCO transfer. Pavia quarterbacked New Mexico Military Institute to the 2021 NJCAA national championship with a dual-threat game that produced 1,728 yards passing; 21 passing touchdowns to just one interception; and 658 rushing yards with seven touchdowns on 110 carries.
Regardless of who is at quarterback, there will be plenty of carries to go around among the running backs — of whom there are a variety. One-time Michigan Wolverine O'Maury Samuels is the top returning ball-carrier, having rushed for 202 yards with a touchdown a season ago.
Among the corps of newcomers is Ahmonte Watkins, a 4-star prospect in the 2021 recruiting class who spent last season with Kill at TCU. Watkins can be used effectively as a rusher or pass-catcher out of the backfield, and has the makings of a potential, breakout star for the Aggies.
The New Mexico State defense is likely to show influence similar to that of Nevada, with the Aggies adding their own coordinator from the Cristobal tree in Nate Dreiling. Dreiling spent a season on the Ducks defensive staff before last year's tenure at Southeast Missouri.
Both programs' willingness to tee off with aggressive pass-rush bodes well for linebacker Chris Ojoh, a breakthrough performer for the Aggies in 2021. Ojoh's 16 tackles for loss and six sacks were both team-highs.
New Mexico State also returns Trevor Brohard to the linebacker corps, with Lazarus Williams at end. The trio set the foundation for the entire Aggies defense.