2022 Stony Brook vs UAlbany
Stony Brook Football Preview: Seawolves Have Talent, Needs To Fill
Stony Brook Football Preview: Seawolves Have Talent, Needs To Fill
You can't sleep on Stony Brook football. It's a fairly consistent program that has seen two trips to the FCS playoffs since joining the CAA in 2013.
Aug 16, 2022
by Briar Napier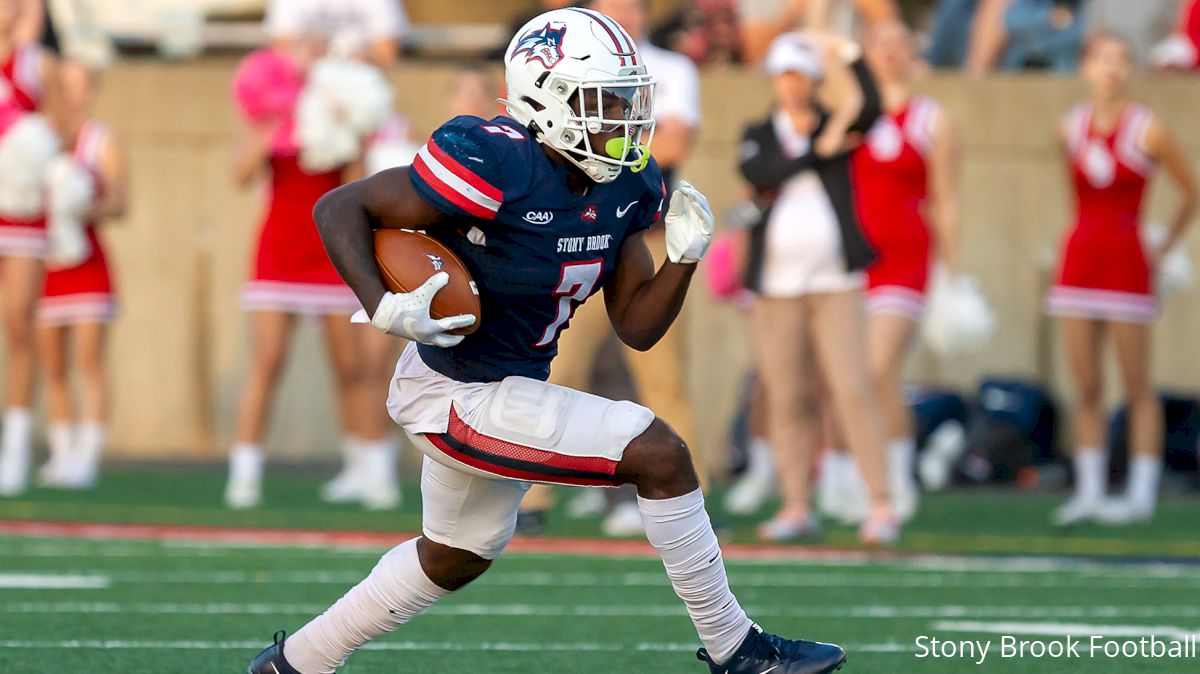 You can never quite sleep on Stony Brook football.
A fairly consistent program that has seen two trips to the FCS playoffs since joining the Colonial Athletic Association in 2013, the Seawolves are almost always a tricky opponent to play against, often featuring veteran leadership, both on and off the field.
Can Stony Brook fans say they're satisfied? That's a different question.
Many of the pieces were there for the Seawolves to burst into the upper echelon of the CAA standings last year, but various mishaps and breakdowns throughout the schedule resulted in a losing season and slipping down the pecking order.
Now, with some stars returning, there's some additional hype. Whether or not Stony Brook can capitalize on it remains to be seen.
Here's a look at what Stony Brook football will bring to the gridiron this season, as FloFootball previews every CAA football team ahead of this season's kickoff.
2021 Season Review
While the rest of the Seawolves' athletic teams officially joined the CAA earlier this summer, their football team has been part of the league for nearly a decade.
As for Stony Brook's most-recent campaign in the sport, it was a bit of a mixed bag.
The Seawolves had the CAA's second-best rushing attack behind All-CAA first-team pick and all-around stud Ty Son Lawton and a defense that allowed the third-fewest total yards per game in the league at 330.1.
That made it all the more surprising that Stony Brook finished under .500 at 5-6 overall and had some stinkers on its resume, such as a loss to basement-dwelling New Hampshire at home and another underwhelming defeat at lowly Towson.
The quarterback play was rough, as Tyquell Fields had more interceptions (10) than touchdowns (nine), while a general lack of ferocity on the defensive side of the ball (league-low six interceptions, league second-fewest 16 sacks) made for some inconsistent play, as the duds were mixed in with some solid results, such as the 34-17 victory over a then-ranked Delaware in Week 7.
Offense
If you haven't seen Ty Son Lawton run wild in a game before, you need to. The conference's reigning rushing champion torched CAA defenses to the tune of 1,088 yards and 10 touchdowns on the ground in 2021, making the redshirt senior a favorite this year to not just repeat the feat as an All-CAA selection, but also be one of the frontrunners for the Offensive Player of the Year.
Stony Brook, with the exception of James Madison, ran the ball more times than any other school in the league last season, and with the Dukes now gone, the Seawolves officially have the most run-heavy returning offense in the league.
Though Lawton should be primed for another monster season, football is impossible without a quarterback, and Stony Brook needs a new one after Fields' graduation. The options under center are unproven, to say the least.
Redshirt senior Joshua Zamot has attempted 14 passes in four years, redshirt sophomore Drew Guttieri has appeared in one college game and the other three quarterbacks on the roster are freshmen.
Whomever the gunslinger is, they'll at least get a solid wideout combo in redshirt junior Shawn Harris Jr. (31 receptions, 586 yards, three touchdowns) and grad student Delante Hellams Jr. (31 receptions, 357 yards).
Still, this is an offense that revolves around a strong running game, and that identity shouldn't change for 2022.
Defense
If it weren't for New Hampshire's Josiah Silver (deservedly) stealing the spotlight and the accolades as the league's top defensive freshman last year, Stony Brook's Tyler King would've been the man to watch out for when it came to sophomore studs across the league.
The Pennsylvanian linebacker was spectacular in his first season for the Seawolves, leading the team with 95 total tackles and 12.5 tackles for loss, both of which ranked sixth overall in their respective categories across the league.
As all three reigning All-CAA first-team picks at his position either graduated or no longer are in the league, King, who himself earned a second-team selection, could make a case this year as the league's top returner at linebacker and is solidified in stone as a force to be reckoned with on the Stony Brook defense.
Between he and grad student Reidgee Dimanche (79 tackles in 2021), the linebacker corps will be solid, but the pass rush and ability to create interceptions must improve elsewhere across the unit.
Returning defensive back Randy Pringle was responsible for half of Stony Brook's total interceptions in 2021 with three, and with very few proven transfers on the roster, he may have to shoulder much of the heavy load in the secondary this time around, too.
The defensive line undoubtedly is the biggest question mark, as the returning sack leader at the position, redshirt junior Keith Winfrey, had exactly a half-sack to his name in 2021. Others who now are gone from the program, or play in other positions, made up the difference in the trenches.
Considering that picks and quarterback pressure are often related, more time in the pocket equals more time to scan the field for open men. It made for an eyesore on a fairly-strong Stony Brook defense last year and has much room to grow for this upcoming season.
Wild Card
In an era of which the college football transfer portal has evolved to be closer to NFL free agency, Stony Brook coach Chuck Priore, who is entering his 17th season on the Seawolves' sideline this year, has instead opted for an old-school approach.
A total of 47 players on the listed roster this season (many of whom likely eat into the FCS limit of 63 scholarships per team) are either true or redshirt freshmen, meaning there will be a big group of youth on the field at nearly all times for the Seawolves this season.
It's a strategy that's worked in developing a multitude of players to have great careers, but it's also a patient and slow approach that has seen teams in Priore's tenure never be outright bad. The Seawolves have never won less than five games in a full season since his 2006 appointment, but also are rarely elite, either, with only four seasons in which Stony Brook has won seven or more games in Priore's tenure.
Essentially, the Seawolves' fate this year rests on how quickly the talent develops. In some positions, they need that development to come quickly.
🚨 #SCTop10 𝗔𝗟𝗘𝗥𝗧 🚨@jayden_cook2's one-handed grab came in at No. 6 on @SportsCenter's top plays 🙌

🌊🐺 x #HOWL x @NCAA_FCS pic.twitter.com/rLMPY0Vz4H

— Stony Brook Football (@StonyBrookFB) August 4, 2022
Game To Watch: Stony Brook Vs. William & Mary
Love elite rushing attacks? This is the game for you.
The CAA's two most powerful teams on the ground in 2021, William & Mary and Stony Brook have only met four times (and never since 2017) since the Seawolves joined the conference in 2013, but more often than not, the meetings have been barnburners.
The overtime classic they had in 2014 springs to mind, as does the 2017 matchup when the Tribe nearly completed a 21-point comeback, only to lose because of a 10-second runoff due to a false start call before they could attempt a game-tying field goal.
Lawton will bring the horns in the Stony Brook backfield this time around, but William & Mary's two-headed rushing monster in quarterback Darius Wilson and tailback Bronson Yoder makes for a worthy challenger.
The game may come down to which defense can withstand the onslaught longer, and as both programs finished in the top-half of the CAA in rushing defense last year, the two teams may be swinging right to the finish once again.