2022 McKendree vs Northern Michigan
GLIAC Preview: Ferris State, Grand Valley Battle For Supremacy
GLIAC Preview: Ferris State, Grand Valley Battle For Supremacy
Reigning Div. II NCAA champion Ferris State remains the team to beat in the GLIAC, but perennial power Grand Valley leads the charge to contend in 2022.
Aug 16, 2022
by FloFootball Staff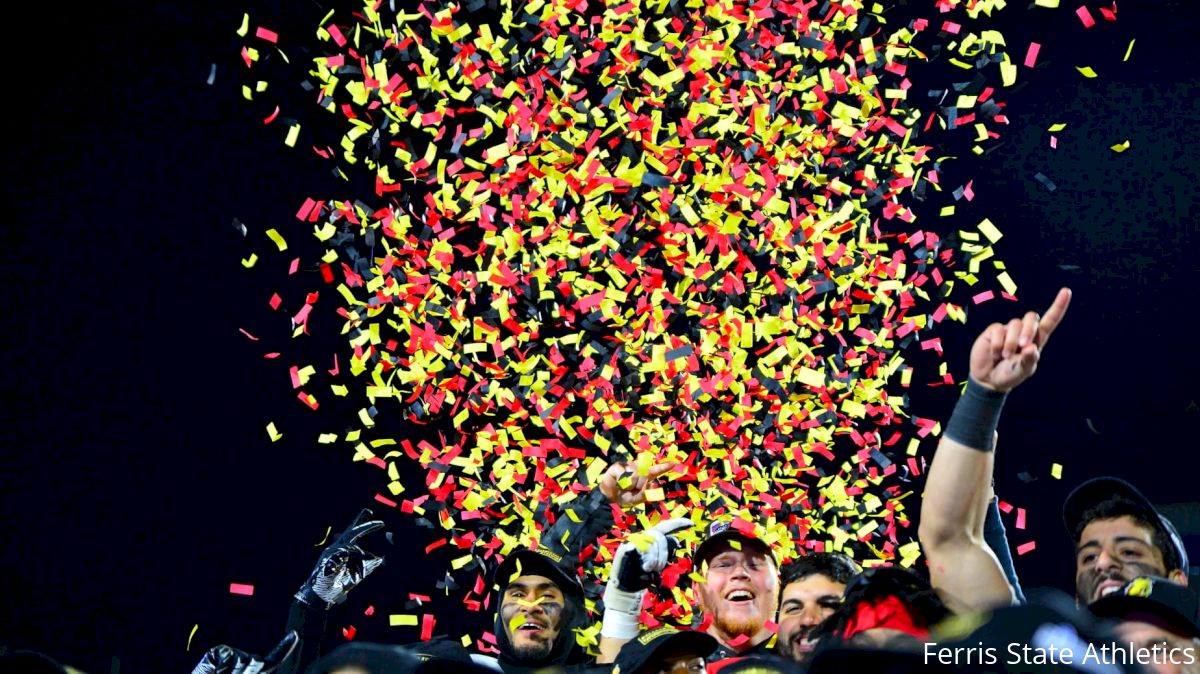 The top of the Great Lakes Intercollegiate Athletic Conference will likely come to a battle between two longtime powers and rivals, with defending Div. II national champion Ferris State and four-time national champion Grand Valley State tabbed as the league's top teams by its coaches back during the offseason.
Based on the coaches' opinions, the league is divided into three tiers of teams coming into 2022: Ferris State and Grand Valley at the top; Michigan Tech and Saginaw Valley in the middle; and the trio of Northern Michigan, Wayne State, and Davenport battling it out at the bottom.
Ferris State is tabbed as the title favorites, garnering 35 points and five of the seven first-place votes, while Grand Valley was close behind with 32 points and the remaining two first-place selections.
The GLIAC saw a change in its membership this offseason, with longtime league member Northwood University leaving in all sports for the Great Midwest Athletic Conference. Northwood had been a member of the GLIAC since 1972. Their departure leaves the league at seven teams for the 2022 football season.
Here's a look at each of the league's seven teams ahead of the 2022 season, in order of the GLIAC Preseason Poll.
Ferris State Bulldogs
Last Season: 14-0, National Champions
Head Coach: Tony Annese, 10th Season
The defending nation champions open in the top spot both in the league and national polls. Both Lindy's and College Football America tab the Bulldogs as the preseason No. 1, and with good reason.
Ferris State is the winningest Division II team in the country over the past seven seasons, has gone undefeated in the GLIAC over the last three years, reached the national quarterfinals five consecutive times, and are 41-2 over the last three seasons.
The Bulldogs return a pair of preseason All-Americans in defensive end Caleb Murphy and punt returner Marcus Taylor. Taylor averaged near 17 yards a return last season, including a score, while Murphy dominated up front with 14.5 sacks and 21.5 tackles for loss. Taylor is also the top returning receiver after grabbing 64 passes for 863 yards and six touchdowns.
Junior quarterback Mylik Mitchell returns after splitting time with Jared Bernhardt, who graduated after accumulating over 2,700 yards of offense and 37 touchdowns. Mitchell completed nearly 65 percent of his passes to go with 12 scores and just two interceptions.
Ferris State opens its season on Sept. 1 as the Bulldogs host Central Washington.
Grand Valley State Lakers
Last Season: 10-2, Lost in Second Round
Head Coach: Matt Mitchell, 12th Season
If there's a team that could end Ferris State's run of dominance in the GLIAC, the Lakers are set up to do it. Grand Valley returns 18 starters from last season's team, including eight All-GLIAC honorees from a roster that reached the 2nd Round of the NCAA Playoffs and went 6-1 in the league. Grand Valley also played undefeated Ferris State to within a single score, the most competitive game on the defending champion's docket.
Expectations are high, as the Lakers are ranked No. 4 in the Lindy's Preseason Top 25, and No. 8 in the College Football America rankings. It's easy to see why.
Friday 🏈 📸. Great opening week of Laker Football. #AnchorUp pic.twitter.com/Bd4AVMyDAC

— GVSU Football (@gvsufootball) August 13, 2022
Grand Valley will feature a preseason honor candidate at each position on the roster, including at quarterback. Cade Peterson returns after passing for 26 touchdowns last season while totaling over 2,800 yards of offense. His top three targets from last season in Hunter Rison, Cody Tierney, and Jacob Miller all return, as does the leading rusher outside of Peterson, Tariq Reid.
Linebacker Abe Swanson and his 104 tackles from a season ago also return.
The Lakers open the 2022 campaign on Sept. 1 when they host No. 3-ranked Colorado School of Mines.
Michigan Tech Huskies
Last Season: 6-4
Head Coach: Steve Olson, 5th Season
After struggling through the first three seasons under Steve Olson, the Huskies broke through in 2021. While going from 5-5 to 6-4 overall wasn't a massive jump, it was in league play where Tech made the leap. After winning eight GLIAC games in Olson's first three seasons, the Huskies went 5-2 last season in the league, losing only to Ferris State and Grand Valley, their most wins in conference play since the 2015 season.
Quarterback Will Ark returns after passing for over 1,700 yards and 14 scores, paired with top receivers Jordan Janssen, who hauled in 44 balls, and Darius WIllis, who had five touchdowns as a freshman.
Defense is where Tech shined a season ago. Even while facing top offenses the Huskies held opponents to less than 19 points per game and forced 22 turnovers. Braxton Blackwell heads up the defense and is the top returning tackler from a season ago. Austin Schlict burst onto the scene last year with a team-best eight sacks during his freshman campaign, while fellow freshman Josh Cribben added four. Michael Bates Jr. anchors the secondary for his junior season after nabbing four interceptions last season.
Tech opens the season on Sept. 1 with a home game against Wisconsin-Platteville.
Saginaw Valley State Cardinals
Last Season: 7-4
Head Coach: Ryan Brady, 3rd Season
The Cardinals jumped from 5-6 in Brady's first year, to 7-4 last year, including a two-game improvement in league play.
Saginaw Valley has its work cutout to repeat that performance this year, graduating All-GLIAC running back Tommy Scott, who totalled over 1,000 yards last season, and 12 of the offense's 31 touchdowns.
Matt Considine returns at QB for the Cardinals after passing for nearly 1,000 yards in five games last season. Considine struggled at times, completing less than 50 percent of his passes and giving up 10 interceptions. He'll be pushed by sophomore Colby Newburg, who in eight games of action completed 54 percent of his throws along with five scores and a single interception.
Defensively, Trevor Nowaske is the top tackler back, wrapping up 84 ball carriers last year. He along with junior DB Michael Woolridge and senior DL Nathan Talakai combined for 14.5 sacks a season ago.
The Cardinals host West Virginia Wesleyan on Sept. 1 in their season opener.
Northern Michigan Wildcats
Last Season: 4-7
Head Coach: Kyle Nystrom, 4th Season
The Wildcats will look to break through after climbing to four wins last season, up from a 1-9 mark the year before COVID hit. Northern will be seeking its first winning season since 2010 when the Wildcats went 6-4.
The big improvement for Northern will need to come on defense, where it gave up north of 26 points per game and surrendered more than 2,000 yards on the ground.
Quarterback Drake Davis returns after leading Northern in rushing with 505 yards to go with five scores, while also completing 60 percent of his passes for just under 1,600 yards and 11 touchdowns. Running backs DJ Stewart and Tyshon King also return after teaming up for over 700 yards and four scores, while both average over five yards per carry. Wyatt Davis led Northern in yards and touchdowns at receiver during his freshman season.
Will Borchert shined in his debut season for the Wildcats, racking up 112 tackles, while John McMullen returns for his senior year after a team-best eight sacks last season.
Northern Michigan begins its season on Sept. 1 at home against McKendree University.
Wayne State Warriors
Last Season: 2-9
Head Coach: Paul Winters, 19th Season
While going just 2-9 last season, there were bright spots for the Warriors, particularly on offense where a strong ground attack was third in the league, averaging over 180 yards per game while seeing a pair of All-GLIAC running backs in Myren Harris and Kendall Williams.
Both running backs return, with Harris topping 1,000 yards and tacking up nine touchdowns a year ago.
The Warriors will be breaking in a new QB this season, with Josh Kulka the presumed favorite to start after totaling over 500 yards in just two games last season while passing for a trio of scores.
Senior Julius Wilkerson anchors the defense that will be looking to improve after yielding nearly 33 points and 390 yards per game last season.
Wilkerson totaled 104 tackles and 3.5 sacks last season.
One area Wayne State will look to improve is the turnover margin. The Warriors forced just 13 last season and were minus-nine in overall margin, due in part to losing 13 fumbles.
Wayne State travels to Slippery Rock on Sept. 3 to begin its season.
Davenport Panthers
Last Season: 3-8
Head Coach: Sparky McEwen, 5th Season
Picked last by all but one coach in the league, the Panthers face a big challenge if they're going to contend in 2022. Improving offensively is the highest hurdle.
The Panthers struggled to move the ball and score last season, to put it mildly, averaging just 9.5 points per game and scoring only 12 touchdowns in 11 games. During the 2021 season the Panthers used five different quarterbacks and topped 20 points just once. Jaier Harden led the team with 348 yards last season, while Kyshawn Richards chipped in with 231. Roy Livingstone is the only returning receiver who caught double-digit passes.
While the offense faces plenty of question, the defense is where Davenport has held its own, ranking in the league's top half three-straight seasons. Senior DB Jalen Robinson returns after posting 101 tackles. The Panthers return their top-five tacklers from a season ago.
The Panthers open the 2022 season on Sept. 3 with a road trip to Truman State.