2022 Hampton vs Delaware
For Delaware Coach Ryan Carty, Home Is Where the Heart Is
For Delaware Coach Ryan Carty, Home Is Where the Heart Is
In the search for a new Delaware head coach, the hope was for someone who'd be passionate about Blue Hen football and its fans. The answer was Ryan Carty.
Aug 11, 2022
by Stephen Kerr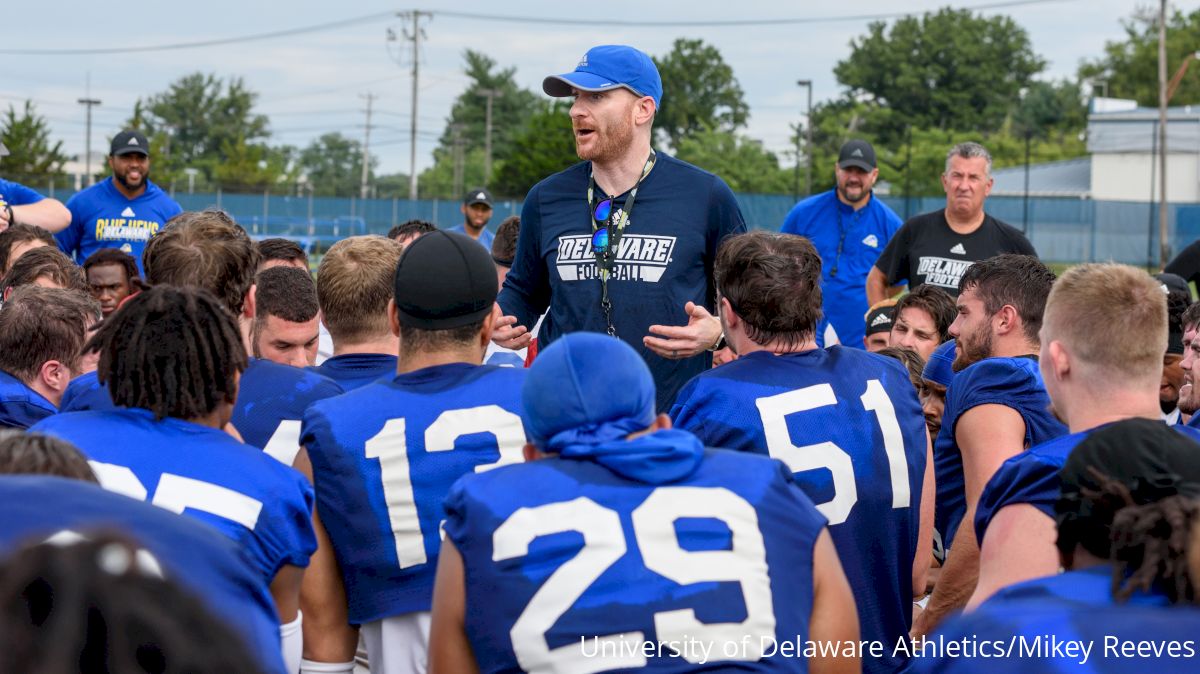 When the University of Delaware began the search for its new head football coach following the exit of Danny Rocco last fall, it was looking for more than just an Xs-and-Os wizard.
The hope was for someone who would be passionate about Blue Hen football and its fans - a coach who knew from experience what it took to bring home a national championship.
Athletic director Chrissi Rawak and school president Dennis Assanis didn't have to look far.
The man they chose had not only won an FCS national championship as an assistant with another program, but also as a player in their own backyard.
Ryan Carty was a backup for a number of quarterbacks during his time with the Blue Hens from 2002-2006.
After redshirting as a freshman, he watched the likes of Andy Hall, Sonny Riccio and Joe Flacco all lead the Blue Hens to glory. It was Hall who took the team to the 2003 I-AA (now FCS) national championship.
Following his playing career, Carty spent 11 years on the coaching staff of CAA rival New Hampshire and four years as Sam Houston State's offensive coordinator, where he led them to a national title in the 2021 spring season.
As impressive as Carty's accomplishments were, the one thing that made him stand out from the Blue Hens' other coaching candidates was his previous ties to the program.
"Ryan is clearly an incredible coach," Rawak wrote in a letter to UD fans. "He has been to two national championship games and won them both. He is incredibly smart, driven and humble. What separates Ryan as the absolute best choice amongst a terrific group of applicants - was that he is one of us."
Before the UD job became available, Carty hadn't thought much about becoming a head coach. He was enjoying success running an offense for a program that had won 21 consecutive games over the past two seasons, before bowing out in the FCS quarterfinals last fall.
Now, Carty isn't holding a clipboard on the sidelines as a backup or assistant. He's the man in charge.
"There's times I gotta pinch myself," Carty said of coming back to his alma mater. "I'm very blessed, fortunate and privileged to be in a place that cares so much about their student-athletes and their football program. Sometimes, I have to look around and remember how lucky I am that I got a chance to have this opportunity."
Football runs deep in the Carty family.
His father Kevin coached at Somerville (New Jersey) High, where Ryan threw for 3,504 yards and a state-record 43 touchdowns his senior season. His two older brothers, Kevin Jr. and Sean, also played college ball and are successful high school coaches. Kevin Jr. was a quarterback at North Carolina and William and Mary, while Sean played wide receiver at Rutgers.
Being a coach's son never is easy, especially when you play for him, but Carty wouldn't hesitate to do it again.
"That probably shaped me more than anything," Carty said. "I can't imagine doing it another way. There were some obvious difficulties. There were one or two times a day I got yelled at for doing absolutely nothing wrong because he hadn't yelled at me that day. As tough as some of those things are when you're young and you don't necessarily get it, the fact I got to spend my formative years hanging out with my dad and spending more time than anybody else got to spend with their dads is priceless."
Carty was one of the last recruits of Blue Hens coach Tubby Raymond, who retired prior to the 2002 season.
During his four years, Carty played in 14 games, throwing for 192 yards and a touchdown. He also rushed for 119 yards and two scores. His lone passing touchdown came during the 2003 national championship season, helping Delaware to a victory over Southern Illinois in the first round of the playoffs. He was a co-captain during his senior season when Flacco, who went on to win a Super Bowl with the Baltimore Ravens, became a starter as a junior.
Flacco's younger brother Tom, the former Towson quarterback who captured CAA Offensive Player of the Year honors in 2018, joined Carty's staff as a volunteer assistant this season. Carty has remained close to Joe and his family over the years.
"My relationship with Joe has been great," Carty said. "We were friends in college, and we maintained our friendship afterwards. Obviously, he was playing and I was coaching, so we didn't see each other a lot, but we'd always text here and there and whenever we got a chance hop on the phone. I love Joe, and he's not only a great football player but a great person who comes from an unbelievable family."
Coaches often say players can learn a lot from watching on the sidelines. While Carty can't quantify specifically how much knowledge he gained playing mostly as a backup, he soaked up just as much from watching the coaches he played under.
Hired by then-offensive coordinator Chip Kelly, Carty served as New Hampshire's tight ends coach, before taking over as offensive coordinator/quarterbacks coach. The Wildcats finished each of those seasons ranked in the CAA's top five in total offense.
The team made the FCS playoffs in each of those years, going 8-6 in the postseason and reaching the semifinals in 2013 and 2014. Under his guidance, UNH quarterbacks combined for 18,656 yards and 171 touchdowns in 80 games.
While still in high school, Carty could often be seen at Blue Hens practices, studying up on head coach K.C. Keeler's no-huddle spread offensive scheme. Keeler had just taken over the program, where he coached until 2012. In 2014, he accepted the head coaching position at Sam Houston State.
Keeler, who compiled an 86-52 record and led Delaware to its 2003 national championship, hired Carty as SHSU's offensive coordinator.
Since 2018, the Bearkats have advanced to the playoffs two consecutive years and captured two conference titles. They were a 10-0 during their championship season, ranking first in total yards (4,403), first in touchdowns (45), third in first downs (204) and seventh in passing yards per attempt (8.6).
"I learned so much from Coach Keeler, especially how to manage people and how to deal with the day-to-day troubles that might pop up," Carty recalled. "How people feel when they leave a conversation with you is a lot more important than what you say to them."
Under Rocco, the Blue Hens made the postseason in 2018 and the 2021 spring season. A disappointing 5-6 record last fall was the second losing season in three years, and Rocco was dismissed last November.
Make that 3⃣ preseason ranking for the 🔵🟡

📰➡️ https://t.co/13t61IqSJn#BleedBlue302 | #BlueHens | #BuckleUp pic.twitter.com/4feWOu7q8P

— Delaware Football (@DelawareFB) August 8, 2022
Nevertheless, UD has earned recognition in three preseason polls. Stats Perform ranked them 19th in its FCS Preseason Top 25. The Blue Hens come in at No. 15 in the Hero Sports poll and No. 20 in the 2022 Athlon Sports Preseason Top 25. The CAA coaches picked them second in their preseason poll behind Villanova.
The Delaware defense placed four players on the 2022 Preseason All-CAA Team. Carty also will be counting on fifth-year senior quarterback Nolan Henderson to have a comeback year after an abdominal injury sidelined him most of the 2021 fall season. The previous spring, Henderson led the Blue Hens to a 7-1 record and a berth in the FCS semifinals.
"It's a really unique situation (having) your head coach being a former quarterback and doing it at a high level," the 6-foot-1, 195-pound Henderson said at CAA Football Media Day last month. "Just that next-level thinking, being able to have conversations like that a lot of times, if you're not a quarterback... that's pretty rare coming from your head coach. I appreciate what he's done, kind of taking my game to the next level, and I think we're just scratching the surface."
The Blue Hens officially will kick off Carty's first season as a head coach Sept. 3 against Navy.
Can't wait to see the Tub packed with our amazing fans, helping us bring HENergy against Delaware State!#BleedBlue302 | #BlueHens | #BuckleUp https://t.co/TPUSi7pKiT

— Delaware Football (@DelawareFB) August 10, 2022
As flattering as it is to be ranked as one of the CAA's top teams by his peers, Carty knows it all comes down to what happens once his team takes the field.
"Our expectations are that we're going to go out there and play really hard," he explained. "We're going to play smart, fast and physical. Whatever happens after that will take care of itself."