2022 Maine vs Stony Brook
Maine Football Preview: Will Black Bears Thrive Under Former Star?
Maine Football Preview: Will Black Bears Thrive Under Former Star?
Orono, Maine, is an isolated destination in the CAA, but that hasn't stopped the University of Maine football team from putting its name on the map.
Aug 9, 2022
by Briar Napier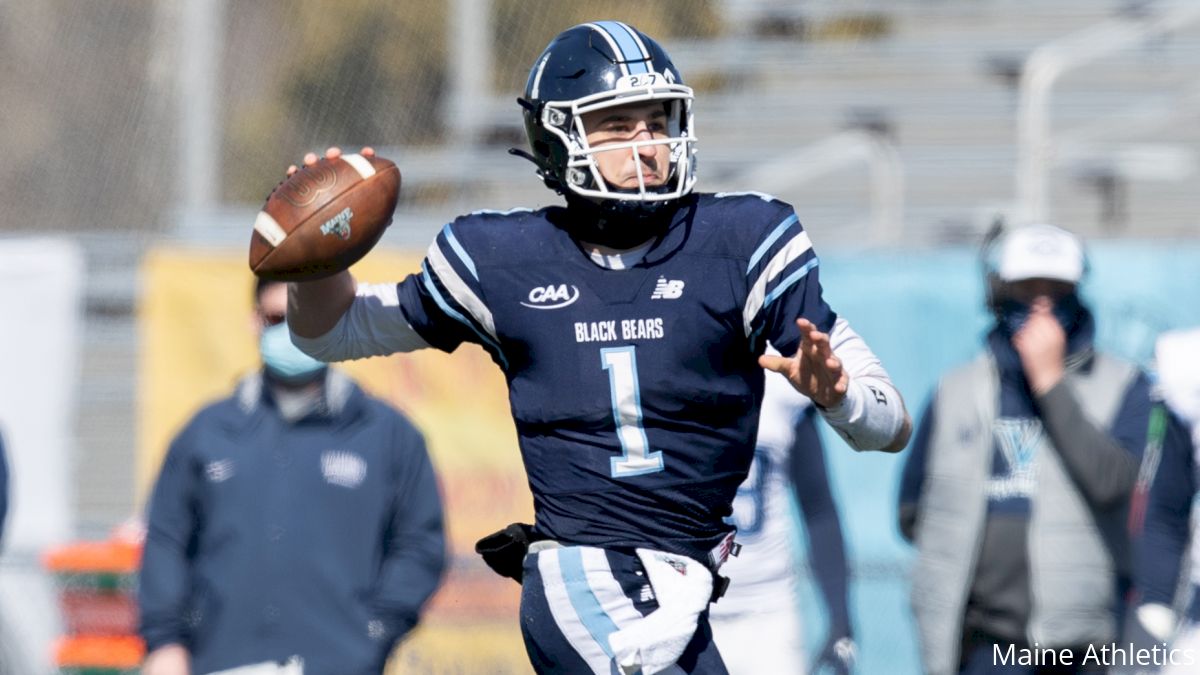 Orono, Maine, is one of the more isolated destinations in the Colonial Athletic Association, but that hasn't stopped the University of Maine football team from putting its name on the map recently.
The Black Bears are four years removed from being one of the final four teams left standing in the FCS playoffs and have a deep history of sending talent to the NFL. Still, it's a time for turnover at Maine, following the offseason departure of its former head coach - though a former star for the program is back in Orono to try to save the day.
Following three consecutive seasons in which they've hovered around .500, the Black Bears are looking to burst back through into the upper tier of the league for 2022. There's definitely the capable talent available to do it, but will Maine be able to find itself up to the challenge?
Here's a look at what Maine football will bring to the gridiron this season, as FloFootball previews every CAA football team ahead of this season's kickoff.
2021 season review: The Black Bears' 2021 campaign had its share of ups and downs. Maine managed to beat rival New Hampshire for just the second time in a decade and picked up a win against a FBS opponent (at UMass on Nov. 13) for just the fourth time in history, but a toll of injuries, particularly at quarterback, limited the Black Bears to just a fifth place finish in the CAA.
Despite those ailments, coach Nick Charlton did well to rally the troops after a 1-4 start to the season and a seven-game injury to his starting signal-caller, Joe Fagnano, by helping lead Maine to a 5-1 finish and a spot as the fourth-best offense (25 points per game) in the conference at year's end.
Charlton accepted a job in the offseason as UConn's new offensive coordinator and quarterbacks coach, however, leaving Maine to retool its coaching staff for the season ahead.
An experienced team last year, with eight of its nine All-CAA picks being either seniors or graduate students, the Black Bears will be looking to find some new veteran leadership this time around under new coach and former player, Jordan Stevens.
Offense: Fagnano should be the man under center when Maine trots out for its season opener Sept. 3 at New Mexico.
The senior and Pennsylvania native is one of the CAA's best arm talents when healthy, but following an ankle injury suffered at the hands of James Madison early last season that sidelined him for nearly two months, Fagnano's pocket mobility will be something to monitor as the 2022 season gets going.
A highly-accurate college quarterback who has tossed 31 career touchdowns to just six interceptions, he'll also finally aim to get a full breakout season under his belt after playing just eight games the past two seasons due to his injury and the pandemic-impacted spring 2021 season limiting dates on the schedule.
With Maine's top two wideouts from a year ago, Andre Miller and Devin Young, now gone, who does Fagnano have to throw to?
One answer to that question might be senior tight end Shawn Bowman, a red-zone threat who led the Black Bears in receiving scores (four) last year and should be one of the league's top returners at his position.
As for true receivers, Boston College grad transfer Kobay White immediately could become a star at the FCS level after being a two-time receptions leader for the Eagles, though knee injuries have limited him to just one game in two seasons.
Junior running back Freddie Brock (720 rushing yards, team-high 10 total touchdowns) also should be one of the Black Bears' top playmakers once again.
Defense: Maine's defense certainly was not its strong suit in 2021, and the string-pullers on the Black Bears' coaching staff have acted accordingly by promoting from within. Jared Keyte moved from linebackers coach to defensive coordinator for the upcoming year.
The former collegiate quarterback has some work to do in fixing a Black Bears defense that not only allowed the third-most rushing and passing yards per game in the CAA last year, but also one that graduated by far its top tackler in linebacker Ray Miller (103 total stops in 2021), along with numerous other starting pieces.
Improving the pass rush is one way to trudge forward, though, as Maine was nailed to the very bottom of the league standings in sacks with just 12 total all season. By comparison, New Hampshire's Josiah Silver had 12.5 sacks by himself in 2021.
On the bright side, two freshmen in last year's secondary - Buggs Brown and Shakur Smalls - impressed in pass coverage, despite their youth in combining for five of Maine's 10 total interceptions.
They'll both take on bigger roles this season as sophomores, but if the duo continues to impress, the Black Bear pass defense might be one of the breakout units of the CAA season.
Replacing Miller at linebacker is no easy task, but junior Xavier Nurse (60 tackles) should be next in line to try and fill his shoes.
Wild card: So, what is there to know about Jordan Stevens, the former Black Bears defensive lineman hired to coach his alma mater late last year?
The Maine native turned a four-year playing career with his home college into a brief assistant coach gig as a defensive line coach there from 2011-2014, being on staff for two FCS playoff appearances, before moving on to be an assistant at Yale for seven years.
Stevens was the assistant head coach and co-defensive coordinator for the Bulldogs during his final three seasons there, coaching on Yale's Ivy League-winning 2019 squad and helping the Bulldog defense finish with the lowest opposing third-down conversion rate (22.1%) in the entire FCS last year.
Maine hasn't hired an alum as head football coach since Jack Cosgrove in 1993, a move that turned out to be worth it, as he coached 23 seasons and took the Black Bears to five Division I-AA/FCS playoff appearances in his tenure.
Stevens has a long way to go before he reaches that mark, of course, but with some proven defensive credentials and a prior history at his new employer, there's plenty of reason for optimism as Maine heads into Year 1 of the Stevens era.
Game To Watch: Vs. Villanova, 1 p.m. (Eastern) Oct. 1. (link above)
A CAA opener doesn't get much bigger than a date with powerhouse Villanova at home, and though the Wildcats have largely controlled the series over the past decade, there has been a correlation in that timeframe of if Maine beats Villanova, a good season is usually to come.
In 2013, the Black Bears won a 37-35 thriller, one of the crown jewels of a 10-win season that included a trip to the second round of the FCS playoffs.
Five years later, Maine did one better by beating Villanova again (this time at home), before going on a magical tear to the FCS semifinals for the deepest postseason run in program history.
The 130th chapter of Maine Football has begun ... #BlackBearNation | ⬆️ pic.twitter.com/1VhzS55Yan

— Maine Football (@BlackBearsFB) August 8, 2022
If the Black Bears look good out of the gate against their three prior nonconference foes (New Mexico, Colgate, Boston College), Fagnano is healthy and firing and the defense makes strides under its new coaching staff, Villanova-Maine quickly could be elevated into a titanic early-season matchup for both teams.