2022 Div. II Preview: Reigning Champ Ferris State Sets The Bar
2022 Div. II Preview: Reigning Champ Ferris State Sets The Bar
Coming off its first national championship in program history, Ferris State heads into 2022 the team to beat in Div. II. But plenty of contenders await.
Aug 9, 2022
by Kyle Kensing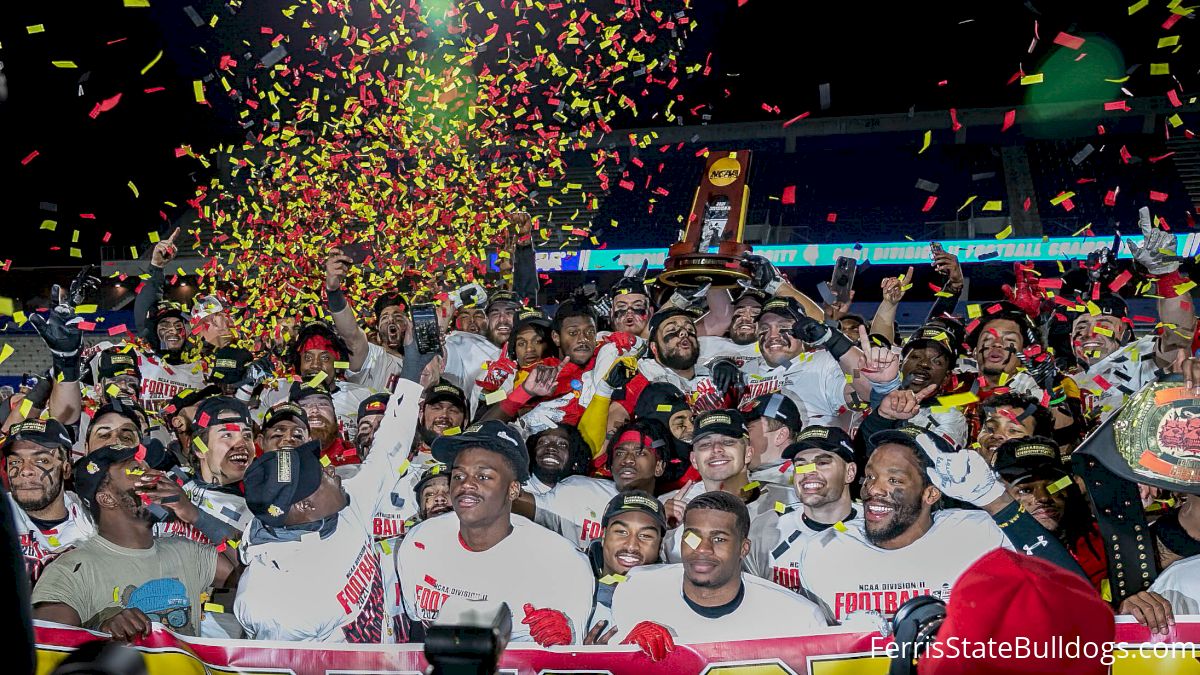 Ferris State waited three long years after losing one of the most dramatic college football games in recent memory. Leaving no doubt in their rematch with powerhouse Valdosta State en route to the program's first-ever national championship, the Bulldogs look to make the wait even shorter before No. 2.
But with Ferris State heading into 2022 as the top dog, no shortage of contenders will challenge its place atop Div. II. Count modern-day dynasties in Northwest Missouri and the aforementioned Valdosta State, budding powerhouse West Florida and Shepherd among the leaders in pursuit of the defending champs.
CIAA
Bowie State enjoyed a special 2021, winning 12 consecutive games between its only two defeats: Week 1 against Div. I Delaware State, and in the playoff quarterfinals to Valdosta State.
Dual-threat quarterback Ja'rome Johnson is tough to replace, but the Bulldogs are tough on both lines. Preseason all-conference selections Quinton Bobo and Mark Murphy set the tone up front offensively, while Joshua Pryor returns as one of the most disruptive defensive lineman in the nation.
Fayetteville State matched Bowie State's perfect CIAA regular-season mark but dropped the CIAA Championship in a defensive battle, 17-7. Quarterback K'Hari Lane looks to lead the Broncos back to the league title game and reverse last season's heartbreak.
GREAT AMERICAN
Harding's flexbone offense led the nation in rushing yards each of the last two complete seasons (2019 and 2021), producing more than 370 and 390 per game. Paul Simmons' program complemented its persistent rushing attack with a stifling defense that held opponents to fewer than 13 points per game on average.
An experienced corps of returning starters on defense positions Harding for another GAC championship push and potential playoff contention. Ouachita's own run-heavy attack returns TJ Cole and Kendal Givens, who combined for 40 rushing touchdowns and more than 2,300 yards. The perennial GAC heavyweight Tigers bring their streak of 13 consecutive winning seasons and four straight campaigns with at least nine wins into 2022.
GLIAC
Challenges to reigning national champion Ferris State's crown begin in conference play, including from fellow 2021 playoff participant and perennial power Grand Valley State. Check back for FloFootball.com's complete GLIAC season preview as we go in-depth on the league ahead of the 2022 season.
GLVC
With 2019 and 2021 conference champion Lindenwood off to FCS and the Ohio Valley Conference, UIndianapolis is tabbed to return to the GLVC peak for the first time since 2018. Toriano Clinton, who ranked second in the nation with 169.4 yards per game in 2021, returns to pace the Greyhounds.
Truman State must replace the nation's top rusher from a season ago, Cody Schrader, but the Bulldogs are not lacking for experience elsewhere up and down a roster that closed last season with a win over Hillsdale in the America's Crossroads Bowl.
GREAT MIDWEST
Defending G-MAC champion Findlay heads into the new season picked to repeat, and with some unfinished business lingering. The Oilers lost their 1st Round playoff matchup to Shepherd when a late rally effort fell just short. Findlay returns an imposing front seven that includes Ervin Besingi on the line and Grey Banicroft at linebacker.
Findlay can expect competition to the top spot from Tiffin, which matched the Oilers' eight wins a season ago. Tiffin's always-prolific passing attack should remain explosive with Anthony Lowe back at receiver. Lowe is one of the nation's top pass-catchers, having hauled in 70 in 2021.
GULF SOUTH
A Gulf South representative has appeared in each of the last five National Championship Games, including a pair of title wins split between Valdosta State and West Florida.
Although Valdosta State welcomes a new head coach, the Blazers figure to be right back in the hunt once again. After its stunning, 1st Round exit against Newberry, UWF will not be lacking for motivation when it returns with a likely preseason top five ranking. Look for this and more in FloFootball.com's upcoming GSC preview.
LONE STAR
The LSC says goodbye to longtime standard-bearer Texas A&M Commerce, which is headed to the FCS Southland Conference. But Midwestern State — which finished 2021 with the best in-conference record at 6-1 — is back. So, too, is a tough Angelo State bunch coming off an 11-win campaign.
Running back Nathaniel Omayebu III powers Angelo State, the preseason pick to again represent the Lone Star in the NCAA Playoffs. But while the Rams garnered the most votes in the LSC's preseason poll, Midwestern State checks in right behind while West Texas A&M and UT Permian Basin each received their own first-place votes. The Lone Star also welcomes in Central Washington, a 2021 playoff participant out of the GNAC.
MIAA
While Northwest Missouri has set itself apart as the banner-carrier in recent years, there's plenty more to MIAA football. Nebraska-Kearney and Washburn both joined the Bearcats in the 2021 playoff field. The Lopers should again contend for a postseason berth with such returning talent as outstanding dual-threat quarterback TJ Davis, leading sack-producer Tell Spies, and receiver Cody Nelson.
Northwest Missouri remains the team to catch, however, with quarterback Mike Hohensee, and defensive tackles Zach Howard and Elijah Green leading the way.
MOUNTAIN EAST
A pair of double-digit-game winners in Notre Dame College and Frostburg State a season ago should set the pace for the Mountain East again in 2022. Frostburg State closed 2021 on a five-game winning streak but missed the Playoffs. With record-setting quarterback Graham Walker back behind center, the Bobcats will be primed to rectify that error.
Graham Walker set Frostburg State records - in third he hit his seventh TD to Kyle Belack with 395 through the air! #MECFB pic.twitter.com/ePqOt12sUj

— Mountain East Conf. (@TheMountainEast) November 12, 2021
Meanwhile Notre Dame College returns its own star quarterback in Chris Brimm, a contender for the Harlon Hill Trophy. The two standout QBs power offenses that averaged north of 40 points per game, both of which poised to again light up scoreboards in the season to come.
NORTHEAST-10
Stonehill exits, bound for FCS, but the Northeast-10 welcomes back defending champion New Haven. The Chargers scored a dominant 1st Round win in last year's Playoffs and took Kutztown to the wire of their 2nd Round matchup. New Haven ranks in the top 15 of the College Football America Yearbook preseason poll behind a veteran roster that includes UAlbany transfer standout receiver Dev Holmes and defensive back Khyon Fitzpatrick.
Only Assumption played New Haven to within 10 points in Northeast-10 competition a season ago. The Chargers open 2022 with an opportunity to avenge one of its only losses, however, squaring off with fellow 2021 playoff participant Bowie State.
NORTHERN SUN
2021 Harlon Hill Trophy finalist Brandon Alt again quarterbacks Bemidji State, one season removed from leading the Beavers to their first-ever 10-win finish. They hit that milestone with a 1st Round playoff victory over Northern Sun rival and the league's preseason favorite, Augustana.
Although the Vikings dropped the rematch with Bemidji State in the postseason, there's plenty from 2021 that bodes well for Augustana heading into 2022. The Vikings return All-American defensive back Eli Weber, a playmaking dynamo who contributed two picks, 2.5 sacks and seven tackles for loss in '21.
PSAC
The always-tough PSAC should remain one of the nation's deepest conferences in 2022, starting with last year's most exciting postseason team, Shepherd. The Rams won a pair of thrillers en route to the semifinals, beating both Notre Dame College and league rival Kutztown on final-second touchdowns by reigning Harlon Hill Trophy recipient Tyson Bagent.
Kutztown and Shepherd are picked to jockey for PSAC East Division supremacy, while another 2021 playoff team, Slippery Rock, shared preseason first-place in the West with IUP.
RMAC
Colorado School of Mines made headlines in years past for its explosive offense, but first-year Orediggers coach Brandon Moore oversaw an evolution into Mines boasting one of the best defenses in the nation as coordinator. Moore takes over for a program that came just one possession shy of the 2021 National Championship Game, and returns the dynamite pass-rushing duo of Nolan Reeve and Zach Hester.
A six-game winning streak after losing a hard-fought decision to Mines powered Western Colorado to 10 wins and a berth in the postseason. A backfield of quarterback Connor Desch and runnning back Josh Cummings should have the Mountaineers contending in the RMAC again this season.
SOUTH ATLANTIC
Newberry's breakout 2021 is expected to carry over into 2022, as the reigning SAC champion Wolves edged Lenoir-Rhyne in the league's preseason poll. The SAC is always tough from top-to-bottom, and FloFootball.com is previewing the league in its entirety ahead of the 2022 season.