2022 Rhode Island vs Monmouth
Monmouth Football Preview: Hawks Aim To Make Mark In First CAA Season
Monmouth Football Preview: Hawks Aim To Make Mark In First CAA Season
Monmouth football has gotten some tastes of success at the FCS level recently. It's safe to say it wants more and will look to do so this year in the CAA.
Aug 5, 2022
by Briar Napier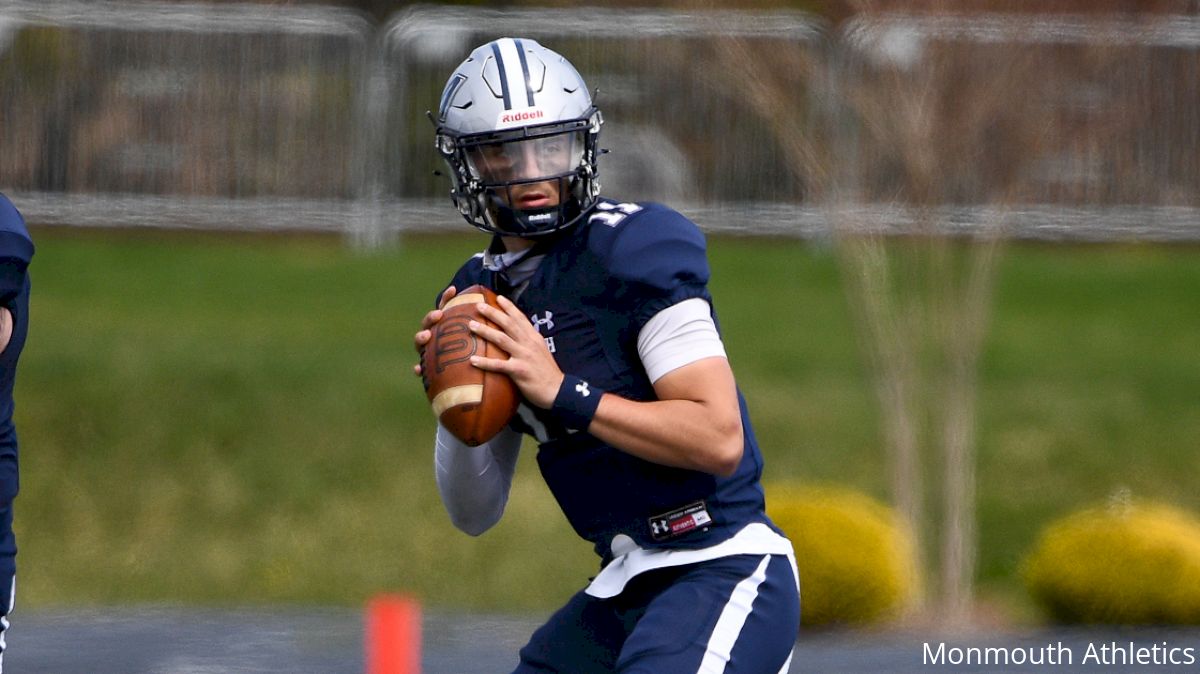 Monmouth football has gotten some tastes of success at the FCS level recently.
It's safe to say it wants a little more.
The Hawks, based in West Long Branch, New Jersey, officially have made the move from the Big South Conference to the Colonial Athletic Association for the upcoming season, and they aim to continue a trail of league titles under legendary coach Kevin Callahan - the only leader Monmouth football has ever known.
However, the CAA has a known reputation for being one of the top conferences in all of FCS football.
For the Hawks to swim, rather than sink, they need to show that their quality adjusts to the change in environment right away. How quickly that happens, if it does at all, will define where Monmouth sits in the standings at season's end.
Here's a look at what Monmouth football will bring to the gridiron this season, as
FloFootball previews every CAA football team ahead of this season's kickoff:
2021 season review: Just brutally shy of winning a third consecutive Big South championship last season, Monmouth had the league's highest-scoring offense (30.8 average points per game) and a seven-game conference winning streak to set up a winner-take-all showdown with Kennesaw State in the regular-season finale.
However, it was the Owls who prevailed and got the Big South's bid to the FCS playoffs as a result, though the Hawks have a lot of positivity to go off of from the successful season.
Quarterback Tony Muskett was named to the All-Big South first-team, despite being only a sophomore, with the 6-foot-2 gunslinger now entering his upperclassmen years with an ongoing streak of a passing touchdown thrown in every one of his college games.
Additionally, after wrapping up his 30th season at the helm at Monmouth in 2021, Callahan doesn't appear to have any sign of slowing down, either. Why would there be any reason to with three postseason appearances since 2017, after all?
Offense: Callahan has given Muskett the reins under center since the day he stepped on campus. So far, it's working wonders.
Across his 15-game career at Monmouth, Muskett has thrown for 3,690 yards and 34 touchdowns, compared to just eight interceptions, leading the Big South in four statistical passing categories last season and proving himself to be one of the top emerging quarterbacks at the FCS level.
His newest challenge will be repeating some of those accolades in a brand-new conference, but not only is it not just a one-man show on the Hawks' offense, that sentiment couldn't be further from the truth.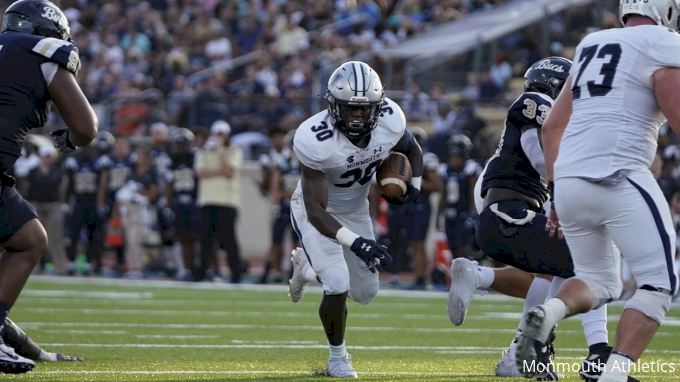 Redshirt senior running back Juwon Farri joined his quarterback as a 2021 All-Big South first-team pick, despite missing three games due to injury. If Farri finally manages to get another uninjured, or otherwise unaffected, season under his belt - like he did in 2018, when he scampered for over 1,000 yards in 11 games - there truly could be no ceiling to where his game could go, as evidenced by his selection to this preseason's Walter Payton Award Watch List.
The departure of the Hawks' top three wideouts from 2021, including first-team All-Big South talent Lonnie Moore IV, stings a bit, but Callahan hit the portal hard to try and find their replacements, eventually finding two graduate transfers at the position in Darrion Carrington (Yale) and Ugo Obasi (Virginia).
Junior Dymere Miller (20 catches, 267 yards, one touchdown this past season) also could see an increased role based on his returning production and prior familiarity with the offense.
Defense: Defensive coordinator Andy Bobik has been a near-constant member of Callahan's coaching staff since the very beginning, serving in the role in all but one season since 1993.
It's one of the longest coach-coordinator pairings in the cutthroat world of college football, regardless of level, and that chemistry has helped formulate some very, very good Monmouth defenses as of late.
The Hawks held Big South foes to 17 points or less five times in 2021 and had a keen tendency to get to the opposing quarterback, finishing second in their old league with 28 sacks in 11 games. Four players recorded at least three sacks.
Senior linebacker Ryan Moran (58 total tackles, 3.5 sacks) was one of those players and likely is tipped for a larger role, following the graduation of one of his pairings at the position (Eddie Hahn) and transfer of top pass-rusher Lorenzo Hernandez (team-high five sacks) to Western Kentucky.
However, it's the Monmouth secondary that particularly could take a step forward in 2022, something that almost is a requirement for the unit, considering the types of high-octane passing attacks it will see in the CAA.
Senior corner Tyrese Wright returns as the team's reigning tackle leader (71), while graduate defensive back Eddie Morales III also is back following a three-interception season, with both men solid in the shutdown role last year. Monmouth had the lowest opposing third-down conversion rate (34.8%) in the Big South.
As long as it adjusts to its new league quickly, the Hawks should be a solid defense in 2022.
Wild card: Monmouth isn't the only new football team in the CAA this season, but it is the only new team that has a head coach who already has dealt with switching from one conference to another before in his tenure - and he's done it twice.
Callahan has been the only coach in Monmouth football history, building the New Jersey school from a fledgling non-scholarship, independent program to one that now has seven conference championships, numerous postseason appearances and several NFL alums.
First seasons for the Hawks in new leagues generally have gone pretty well.
Monmouth won the Northeast Conference in its debut year in 1996 and finished with a winning record in its first year in the Big South in 2014.
Only time will tell if history repeats itself in the CAA, but considering Callahan has experienced how to handle it (and done so with minimal problems), it'll truly be a matter of the fewer growing pains, the better for the Hawks.
Game To Watch: Vs. New Hampshire, 7 p.m. (Eastern) Sept. 1 (link above)
It's an easy pick, being the first CAA game in Hawks history, but it's a game that's additionally intriguing for the fact that the Wildcats should make for a good barometer of where exactly Monmouth stands in the conference for the season ahead.
The Wildcats struggled mightily in 2021, finishing just 3-8. They were chained to the basement of the CAA but do have a new coach in alum and former star quarterback Rick Santos, who was inducted into the school's athletics hall of fame for his time playing for UNH.
The first home game of a new coaching tenure always adds an extra jolt of energy, and how Monmouth handles the new environment and opponent - the two schools have never faced off - could be telling. Plus, despite being at or near the top of the Big South for several seasons, CAA coaches and media relations directors picked the Hawks to finish 10th in this season's league preseason poll, giving Monmouth some extra bulletin board material to get motivated from.
How it performs at New Hampshire will give a peek in revealing whether those pollsters were spot-on or dead wrong.