2022 Delaware vs Villanova
Delaware Football Preview: New Coach Carty Hopes To Give Blue Hens A Spark
Delaware Football Preview: New Coach Carty Hopes To Give Blue Hens A Spark
Delaware football doesn't like doing second-best very often. The good news for Blue Hens fans? They might just have the talent at they need to succeed.
Aug 3, 2022
by Briar Napier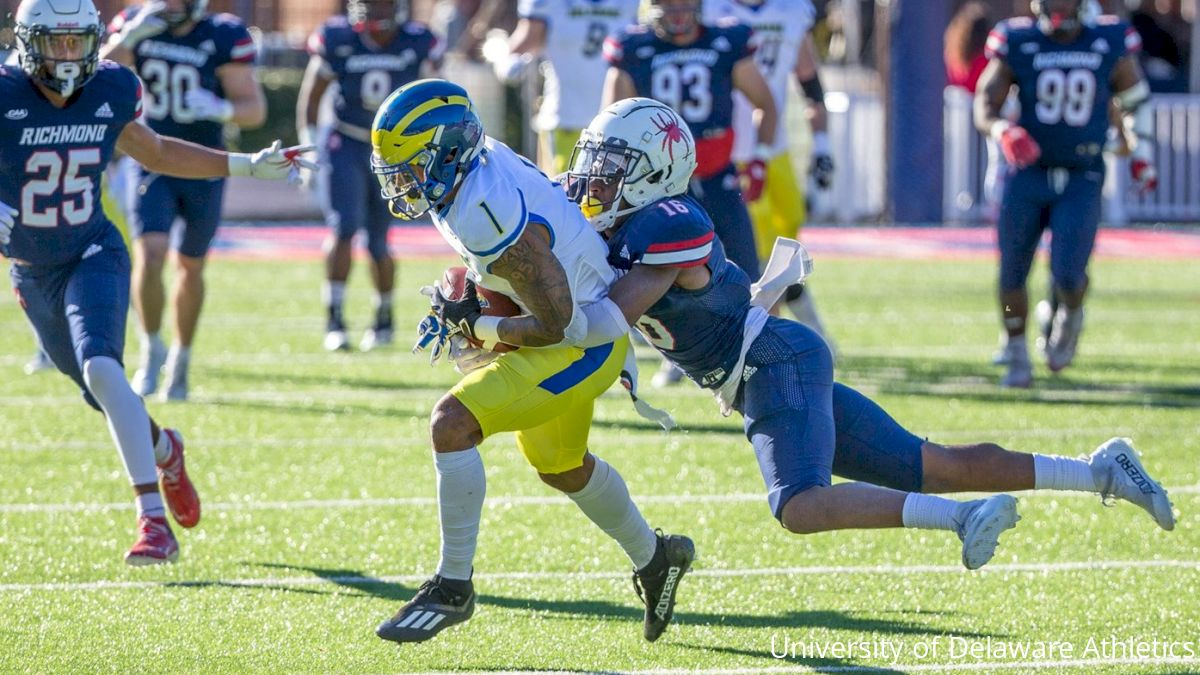 Delaware football doesn't like doing second-best very often.
One of the most successful Division I-AA/FCS programs of the past few decades, the Blue Hens churn out plenty of NFL and other professional football talent with a tradition of winning. So, when that doesn't happen - as their last head coach found out the hard way - changes come quickly.
From having just two head coaches from 1966-2012 to now its fourth (including one interim coach) in a decade, UD still has its flashes, but overall is looking for an identity to latch onto for the 2022 season.
The good news for Blue Hens fans? They might just have the talent at their disposal to hit the ground running and thrive right away.
Here's a look at what Delaware football will bring to the gridiron this season, as FloFootball previews every CAA football team ahead of this season's kickoff:
2021 season review: The two-time Colonial champs got a rude awakening in 2021, following an epic 2020-2021 season that saw the Blue Hens make the FCS playoff semifinals for the first time since 2010.
Picked to finish second in the CAA's preseason poll last year, Delaware instead slumped to a 5-6 overall (3-5 CAA) record that saw coach Danny Rocco fired at season's end.
Many of the projected heavy hitters for the Blue Hens never quite going or saw some terrible luck. Preseason All-CAA quarterback Nolan Henderson suffered a season-ending injury four games into the year, tempering a bit the production values on offense of Delaware's other elite weapons, including running back Dejoun Lee and wide receiver Thyrick Pitts.
The Blue Hens' defense, full of accomplished individual talent, was mostly OK as a unit, but it couldn't make up the difference to ensure that Delaware remained a threat to compete in the CAA. At least punter Tyler Pastula earned a first-team All-CAA nod at the end of the season, though.
Offense: Expectations were sky-high for Henderson last season under center after a breakout campaign in 2020-2021, one which he ranked third in the FCS in completion percentage and looked poised to follow the elite lineage of UD quarterbacks, which includes the likes of Rich Gannon, Joe Flacco and Pat Devlin.
However, after being shaken up following a sack in Delaware's win over UAlbany in Week 4, Henderson never again returned to the field, and the Blue Hens felt the sting, going 2-5 through the rest of the schedule.
The good news for Delaware fans is that he's back for his sixth year in Newark and has a point to prove, and he's got his top target in Pitts, who has 1,798 receiving yards and 13 touchdowns in his five-year Blue Hens career, back for another go, too.
Tailback is the bigger question, as Lee hasn't returned, with redshirt junior Quincy Watson (169 yards, one touchdown) and grad student Khory Spruill (143 yards, one touchdown) likely to see some split carries, especially early in the season.
There are some new faces on the coaching staff, including wide receivers coach/pass game coordinator Terence Archer and running backs coach Andrew Pierce, and that likely means there's going to be some growing pains on the offense to start out. The trick for UD is how quickly it gets over them.
We need YOU to bring the HENergy all season long. Help us pack the Tub and get your tickets now!

🎟️➡️ https://t.co/1EJcsKBJCJ #BleedBlue302 | #BlueHens | #BuckleUp pic.twitter.com/4gQuI0OM5V

— Delaware Football (@DelawareFB) August 1, 2022
Defense: The Delaware defense really must feel like it has something to prove this year.
Outsiders must think so, too, because the Blue Hens have four players listed on the defensive side of the ball for the Preseason All-CAA Team, by far the most of any school in the league.
Two of those players are on the defensive line in seniors Artis Hemingway and Chase McGowan, who have combined for 18.5 sacks over their UD careers as anchors in the trenches.
Fifth-year linebacker Johnny Buchanan was an All-CAA second team nod, while leading the Blue Hens with 81 tackles this past season and having set a new career best with 6.5 tackles for loss in the process.
The cream of the crop, however, might be graduate defensive back and team captain Kedrick Whitehead, a two-time All-CAA first-team pick and former All-American who's widely considered to be one of the top shutdown corners in the FCS.
There's plenty of attention on the Delaware offense this season (and for good reason), but defensive coordinator Manny Rojas's job may be the most important on the staff, as electric offensive numbers mean little if there are too many points given up on the other side of the ball.
Wild card: Rocco's firing, especially so soon after winning his second CAA Coach of the Year award in 2020-2021, was a shock to some. One way or another, it's time to see if athletic director Christine Rawak's swift move was worth the risk.
UD alum - and member of the 2003 national title team, Ryan Carty, was hired in December for his first head coaching role after being the offensive coordinator for 2020 national champion, Sam Houston State and serving under his college coach, the man who helped win Delaware that then-Division I-AA title nearly 20 years ago, K.C. Keeler.
A highly-regarded developer of quarterbacks who helped guide Bearkats signal-caller Eric Schmid to the most passing yards in FCS in 2020-21, Carty now gets to pair with an experienced arm in Henderson, and that could make for an electric combination.
It helps that Carty already has experience recruiting in the Colonial, having served as an assistant for a decade with New Hampshire in various roles. Sam Houston State had gone 21-0 in the previous two seasons leading up to Carty's departure, so if it was a winner that the UD brass was looking for, it seems like it has one at the FCS level in its ranks.
Time will tell if things come to fruition, however, especially in Carty's first time being the head man on a coaching staff.
Game To Watch: Vs. Villanova, 1 p.m. (Eastern) Nov. 19
It's well-known that the CAA football scene has often gone through some combination of James Madison, Villanova and/or Delaware over the past decade.
But, with the Dukes having left for the Sun Belt Conference and FBS level this offseason, that leaves the Wildcats and the Blue Hens to duke it out among themselves and the rest of the conference.
With the teams projected to finish No. 1 and No. 2 in the CAA preseason poll, this season's Battle of the Blue very well could be for a conference title and critical seeding in the FCS playoffs, though the recent history between the two schools is decidedly one-sided, with the Wildcats having won 10 of the past 11 meetings.
There's still a long way to go before the stakes become more clear, but if Carty's system proves to be effective throughout the season, it could make for a thrilling regular-season finale with plenty of various implications in the mix.