2022 Stony Brook vs UAlbany
UAlbany Football Preview: Great Danes Look To Find Form From Years Past
UAlbany Football Preview: Great Danes Look To Find Form From Years Past
UAlbany football was looking good after a trip to the postseason in 2019, but after a 3-12 record in games across the two seasons since, there's work to do.
Aug 2, 2022
by Briar Napier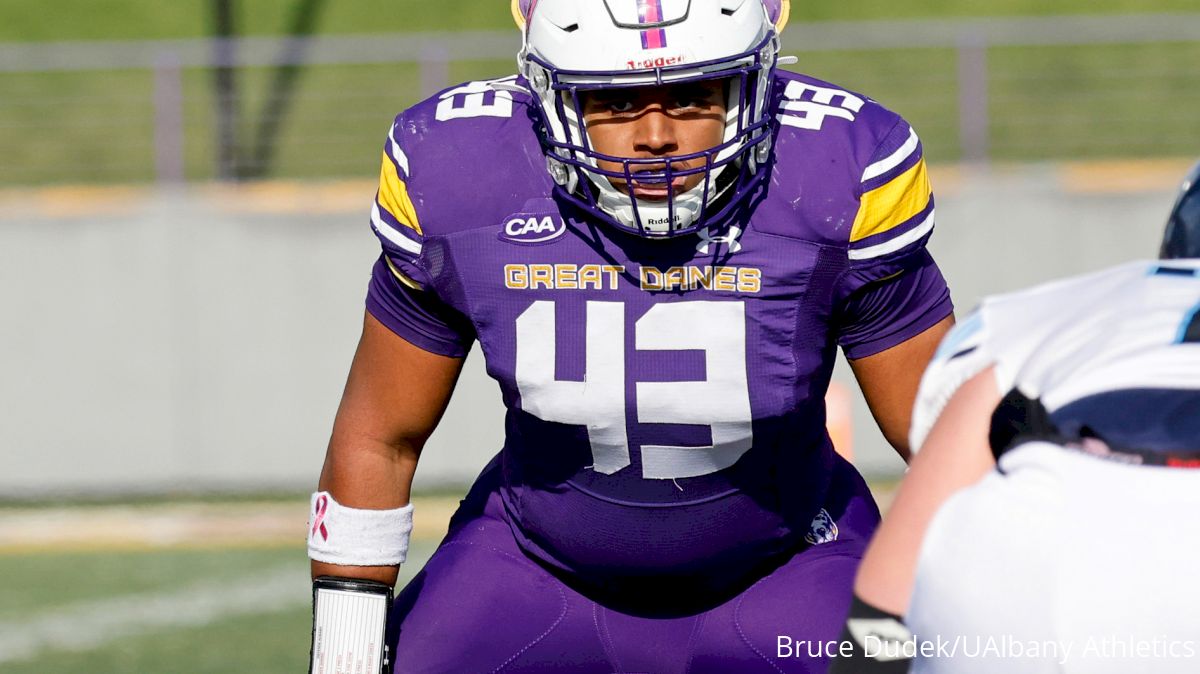 The world of college football comes at you fast.
The state of UAlbany football was looking up following a trip to the postseason in 2019, but after a combined 3-12 record in games across the two seasons since, it is abundantly clear that the Great Danes have some work to do to get back to where they were.
Coach Greg Gattuso will enter his ninth season in charge with a point to prove, having signed a contract extension during the offseason that keeps him at the helm through 2024. After a last-place CAA finish this year, unlike other years in his tenure, there's nowhere to go but up for the Great Danes.
We report TOMORROW 🚨

Football season is upon us...#BeGreat #WinTheDay 🟪 🟨 pic.twitter.com/syVJ7dCQ8O

— UAlbany Football (@UAlbanyFootball) August 1, 2022
Here's a look at what UAlbany football brings to the gridiron this year, as FloFootball previews every CAA team ahead of this season's kickoff:
2021 season review: Just two years after winning its first FCS playoff game in program history, UAlbany found itself struggling to field a competitive team with the players who remained.
Gattuso's unit slumped to a 2-9 record (1-7 CAA) to finish at the bottom of the league and with the worst record across a full season since the former Pittsburgh and Maryland assistant joined the Great Danes' sideline in 2014.
The offense struggled to put up points (18.9 per game), despite having first-team All-CAA running back Karl Mofor, whose 13 total touchdowns accounted for half of UAlbany's cumulative total (26) from last season.
Keeping defeats within a touchdown against the likes of Delaware and Villanova proved there were some flashes of quality over the course of the year, but UAlbany likely will want to forget that much of the 2021 season happened and move toward getting back to the top half (or better) of the CAA.
Offense: Though the hole left by Mofor at tailback will be a huge one to fill, the one left at quarterback arguably is even more gaping.
Former signal-caller Jeff Undercuffler oozed NFL potential with his pro-level size (6-foot-5, 231 pounds) and fantastic play in 2019, throwing an FCS-best 41 touchdowns to just 10 interceptions en route to numerous individual honors.
But, following the shortened 2020-2021 season and a 2021 campaign in which he regressed a bit while battling injury, Undercuffler entered the transfer portal in the offseason and eventually found his way to Akron.
Sophomore Joey Carino likely is the early favorite to be his replacement, following 530 passing yards with three touchdowns last year in a backup role, but a pair of FBS transfers in Matt Valecce (Colorado State) and Reese Poffenbarger (Old Dominion) also should be gunning for the starting job.
Outside of Mofor and the quarterbacks, no UAlbany player had more than eight carries a year ago, leaving essentially an open competition at tailback between returners Jose Lopez-Quinones and Lavarey Banton, along with transfers Todd Sibley (Pitt) and Conrad Perry (Sacred Heart).
Promising sophomore wideout Roy Alexander (37 catches, 560 yards, three touchdowns) returns following a solid freshman season, however, though there may be even more weight on the Florida native's shoulders as one of the few proven options on the UAlbany offense.
Defense: Considering both of the Great Danes' best players on defense last season were true freshmen, and they weren't often absolutely battered, there is some potent potential within the ranks.
Linebacker Jackson Ambush finished in the top 10 across the league in total tackles (89) last season and was one of just five freshmen to make an All-CAA team. The 6-footer got a nod on the third team, joining teammate Jared Verse (a first-team pick) in the process.
However, because Verse transferred to Florida State during the offseason, the Great Danes will need to make up for his 9.5 sacks from a year ago on the defensive line elsewhere.
Though UAlbany had the second-best pass defense (behind Villanova) in the CAA last season at just 162.9 yards allowed per game, it was consistently gashed on the ground. The Great Danes allowed the most rushing yards per game in the league (184.6) by an over 20-yard margin.
Senior and four-year starter Anthony Lang (42 total tackles in 2021) could be depended on to give the defensive line some veteran bite in Verse's absence, but there's a long way to go until UAlbany can be considered an efficient run-stopping team.
Wild card: Thanks to a couple of in-conference transfers - both on the field and in the coaches' box - UAlbany may find itself in favorable field positions more often this season.
Punter Tyler Pastula is a Great Dane after spending the 2021 season at Delaware, where he led the CAA with 42.5 yards per kick and was rewarded for his skills with a spot on the All-CAA first team.
Considering UAlbany ranked in the bottom half of the league in most punting statistics last year, Pastula's presence and precision should be a big boost to the Great Danes' special teams unit, especially considering that the junior already has succeeded in the conference before.
Speaking of Delaware, back on the offensive side of the ball, new coordinator Jared Ambrose, who helped take the Blue Hens to the FCS semifinals in 2020-2021 in the same role, brings plenty of pedigree, having coached three CAA Offensive Players of the Year across stints with the Blue Hens and Towson.
As Ambrose will double as the quarterbacks coach of the Great Danes, UAlbany hopes he can bring some creativity to an offense that is in need of it.
Game To Watch: Vs. New Hampshire, 7 p.m. (Eastern) Sept. 10 (link above)
The Great Danes may only have had one CAA win this past year, but their 20-7 victory over New Hampshire in UAlbany's penultimate league game was as complete of a performance as it put up across the entire season.
In the upcoming rematch to kick off the Great Danes' CAA campaign, there will be a new face on the Wildcats' sideline. Former assistant and UNH star quarterback Rick Santos was hired as the head coach following the retirement of Sean McDonnell in the offseason, giving the Wildcats a new leader on the coaching staff for the first time in 23 seasons.
As UAlbany is projected to finish 12th in the CAA standings, the New Hampshire game will be an early-season test and opportunity to get off to a better start than 2021, when the Great Danes started the season 0-8.
UAlbany holds a three-game winning streak in the series, as well, including a run of five wins in their past six meetings.